New England Patriots vs Atlanta Falcons: Preview, Odds and Prediction
Hal Bent/FanSided via Musket Fire

Fansided
The New England Patriots are facing off against the Atlanta Falcons in Super Bowl 51. Here is a preview of the game.
For the Atlanta Falcons this is their second Super Bowl appearance in franchise history. For the New England Patriots, it is the seventh trip in the past 16 years under head coach Bill Belichick and with quarterback Tom Brady. It is the franchise's record ninth Super Bowl and the eighth under the ownership of Robert Kraft.
The big game will be held at NRG Stadium in Houston, Texas and kickoff at approximately 6:30 p.m. ET. It is broadcast of the FOX network with Joe Buck and Troy Aikman in the booth. Westwood One has top pairing Kevin Harlan and Boomer Esiason in the radio booth. Local flavor will be provided in the Boston area by Bob Socci and Scott Zolak on 98.5FM the Sports Hub.
At this point regular season record mean nothing. Both teams have played well in the playoffs and were fortunate to have strong teams who may have been a poor match up for them in their division eliminated.
New England saw Oakland go from top seed to Wild Card team when they lost their starting quarterback, Derek Carr. Oakland could not get past a flawed Houston team in the Wild Card round. Second seed Kansas City was unable to get past Pittsburgh in the Divisional round despite having a home game and a more balanced team. With Travis Kelce and Tyreek Hill adding juice to the offense and a strong defense, the Chiefs looked like a bad matchup for the Patriots.
Atlanta had the number two seed in the NFC and saw the number one seed Dallas Cowboys fall to an undermanned Green Bay Packers team in the divisional round of the playoffs. Despite a powerful offense and solid defense, Aaron Rodgers willed his team to victory on the road. Green Bay was then exposed against Atlanta for their lack of solid blocking on the offensive line, impact players able to make a big stop on defense, and just not enough offensive playmakers.
Both teams are in the big game on Sunday night and here is what you need to know:
PREVIEW:
The Atlanta Falcons enter Super Bowl 51 with an offense which topped 500 points scored in the regular season. 33.8 points per game, the Falcons' offense was difficult for any offense to slow down. Offensive coordinator Kyle Shanahan turned a team that struggled in 2015 with consistency into a juggernaut in 2016.
Quarterback Matt Ryan had another stellar season and is in line to be named the NFL MVP. For good reason, as Ryan completed almost 70% of his passes for just under 5,000 yards and 38 touchdowns and just seven interceptions (all statistics from Pro-Football-Reference unless otherwise noted). Averaging over 300 yards per game, Ryan had a ridiculous quarterback rating of 117.1 as he distributed the ball to his large number of playmakers.
All-Pro wide receiver Julio Jones and Pro Bowl running back Devonta Freeman both put up video game numbers in 2016. Freeman rushed for over 1,000 yards while adding 54 receptions and topping 1,500 yards from scrimmage. Jones had 83 receptions for 1,409 yards and a ridiculous 17 yards per reception average.
Behind Freeman is the explosive Tevin Coleman who had over 900 yards from scrimmage this year and free agent wide receiver Mohamed Sanu was a perfect fit opposite Jones. Sanu had 59 catches for 653 yards in his first season in Atlanta. The Falcons even found a contributor at the number three receiver position from the scrap heap grabbing the explosive Taylor Gabriel (16.5 yards per reception average and six touchdowns) after he was cut by Cleveland.
New England went 3-1 without Tom Brady as the Rooney, Mara, and other powerful owners in the NFL used their puppet NFL commissioner Roger Goodell to attempt to punish the Patriots for their arrogance and continued excellence (since there was no real evidence that the team actually conspired to deflate footballs and any equipment violation would be a fine at most for punishment). When Brady returned at age 39, he came back with a vengeance.
In a dozen games, Brady completed 675 of his passes for 3,554 yards, 28 touchdowns and only two interceptions. The team won 11 of 12 (and should have at least taken Seattle to overtime in the one game they lost coming up short despite having the ball on the two yard line and four shots to score with less than a minute to play) and Brady carved up every defense he faced.
Despite the loss of All-Pro tight end Rob Gronkowski, the Patriots continued to roll on offense in 2016. Running back LeGarrette Blount grounded out over 1,100 yards rushing and 18 touchdowns. James White piled up over 550 yards receiving with 60 receptions and Dion Lewis returned from injury mid-season to add another weapon to the offensive backfield.
As usual, Julian Edelman led the way with 98 catches for 1,106 yards. Free agent Chris Hogan had just 38 catches but they were for 680 yards and a 17.9 yards per reception average. Rookie Malcolm Mitchell pitched in with 32 catches for 401 yards despite battling injuries and free agent tight end Martellus Bennett battled injuries all season but piled up 55 catches for over 700 yards and seven touchdowns.
For Atlanta, the defense struggled mightily early in the season before building confidence by shutting down the anemic Rams and 49ers heading into the playoffs. Slowing Seattle and Green Bay is no easy feat and the defense has peak at just the right time for the Falcons as they ready for a tough test against New England.
The Patriots led the way on defense allowing just 15.6 points per game, even better than the mighty Denver and Seattle defenses. However, those numbers were helped by games against the Rams, 49ers, Broncos, and Jets. With that said, Ben Roethlisberger and the Steelers saw that this defense is athletic, smart and will force opponents to drive multiple times using bottom of the depth chart players on offense to get yardage.
It is a matchup of a top offense paired with a top defense against an unstoppable offense with a suspect defense rounding into form at the right time. In these situations, the game gets determined by which team has the advantage in style and whose players execute on the field.
After busting the "outside-the-pocket-and-making-plays-extending-the-play-with-their-mobility" quarterbacks Aaron Rodgers and Russell Wilson by blitzing them and forcing them to get rid of the ball quickly, the Falcons face an offense that loves to be blitzed and wants to get the ball out of the quarterback's hands as soon as possible. This is not a good matchup stylistically for the Atlanta defense.
On the other side, Julio Jones is a matchup nightmare for every defense in the NFL. The Patriots have had success slowing A.J. Green, Demaryius Thomas, Brandon Marshall, and DeAndre Hopkins this season and should be confident that they can keep Jones from being too explosive in Super Bowl 51 with star cornerback Malcolm Butler and bigger cornerbacks Eric Rowe and Logan Ryan working in tandem with All Pro free safety Devin McCourty.
ODDS:
Super Bowl 51 has seen a lot of action in Vegas (as usual) with the odds opening with New England three point favorites and basically remaining static. Go right down the list of sportsbooks and this line is not moving.
Bovada, Caesar's Palace, WestGate of Las Vegas, BetOnline, MyBookie, Intertops, 5Dimes, TopBet, BetNow, GT Bets, Sports Betting, SportBet, Station Casinos, the Mirage Las Vegas, Wynn Las Vegas and more all opened with New England as three point favorites in Super Bowl 51 and the line remains at three heading into Sunday.
Most of the action on this matchup has been with the over/under. Jumping between 58 and 60 points, the consensus for the sportsbooks appears to be that there will be offensive fireworks on Sunday night.
Of course, being the Super Bowl there will be the usual casual bettors with their Super Bowl squares and all of the entertaining prop bets. Whether it is the length of the National Anthem performance, total points at the end of each quarter, more turnovers, missed extra points, total sacks, most yards receiving, rushing or passing, coach's challenges, and of course the coin toss there is something for everyone to wager on when it is the Super Bowl.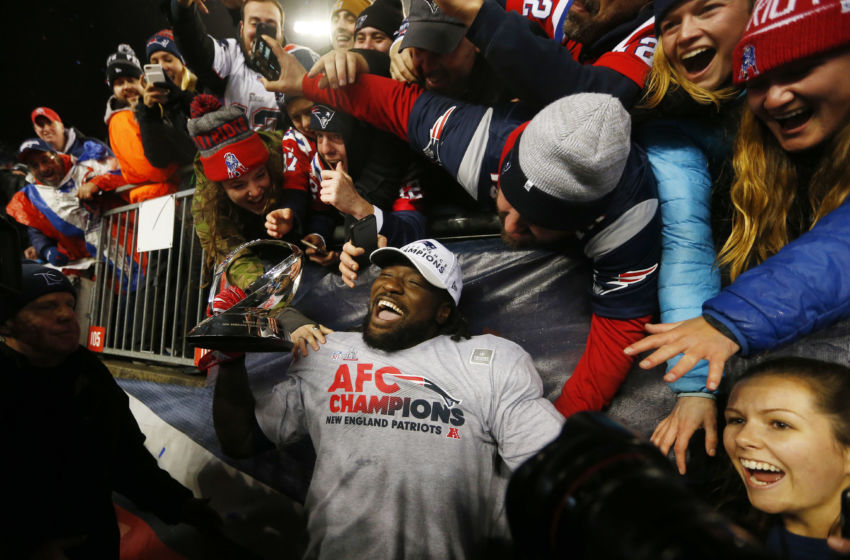 PREDICTION:
With the point spread so low, Vegas seems to be counting on a close game. Traditionally, the Super Bowl seemed to have a long stretch of blowouts from 1984 through 1999 with just two games decided by ten points or less in that period. Even early in NFL history, many of the Super Bowls were one-sided affairs lacking drama.
With the Rams' win over the Titans in Super Bowl 34 ("one yard short"), New England's dramatic win over the Rams in Super Bowl 36, and two three-point victories in Super Bowl 38 and 39 the big game finally had some riveting action and close finishes. Other than the Super Bowl 48 blowout by the Seahawks, the Super Bowl has been a competitive game for over a decade.
This matchup looks like it should be entertaining as the Patriots have had close, competitive games in each of their six previous Super Bowls with Bill Belichick in charge. When a top scoring offense meets up with a top scoring defense in the Super Bowl the advantage is with the defense. Six times the number one defense played the number one offense in Super Bowl and only in 1989 when the 49ers rolled over the Broncos did the top offense top the defensive stalwarts.
Remember, in 2013 the Broncos were the favorites by three points with a record-setting offense and got destroyed by Seattle's ferocious defense. Defensive coordinator Bill Belichick's number one defense for the New York Giants slowed down the unstoppable Buffalo Bills in Super Bowl 25 giving the Giants an upset victory.
The New England defense may not seem like a number one defense but the numbers do not lie. Other than a hiccup against Seattle in week ten (a game where the Patriots still should have taken to overtime after having a first and goal at the two-yard line with less than a minute to play and not scoring the tying touchdown) and against Miami in the second half of their week two game (after the team was clearly shaken after they lost quarterback Jimmy Garoppolo to injury), the New England defense has been boring and consistently efficient.
Taking nothing away from Atlanta's historic and explosive offense, but Bill Belichick has a defense that matches up well with Atlanta. Add in the fact that the New England offense–unlike Seattle and Green Bay–is a terrible matchup for Atlanta's young defense and this is a game that seems to be pointed toward success for the Patriots.
Barring a run of unexpected and uncharacteristic turnovers and mistakes by New England, expect a close first half before the Patriots pull away in the second half as they wear down the Atlanta defense and force Atlanta's offense off the field by bottling up the running backs and neutralizing Julio Jones.
Final score: NEW ENGLAND 34 – ATLANTA 20
This article originally appeared on