Miami Dolphins offensive recap Vs Bengals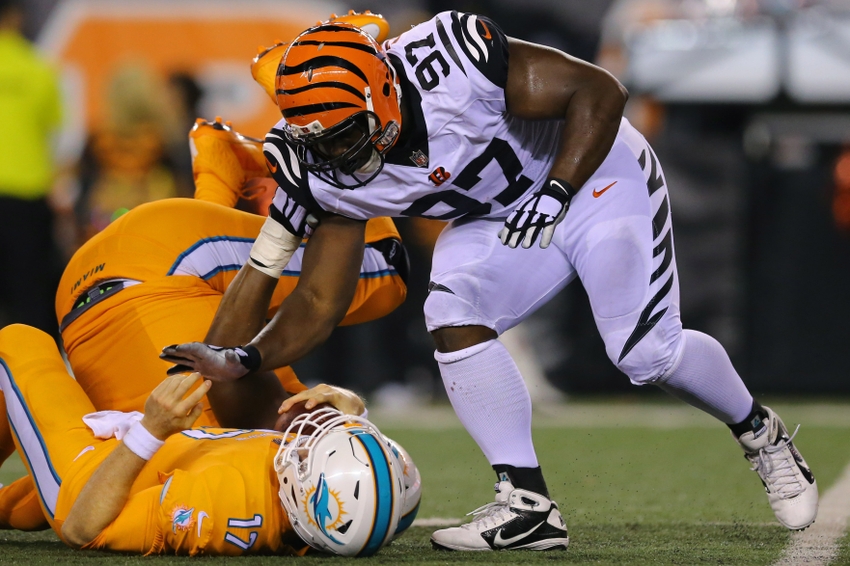 As most had expected the Miami Dolphins lost this one to the Bengals. There may be many ways to describe this game but none of them good.
The Miami Dolphins sit with a 1-3 record having 11 days to rest and get ready coming off a short week. You could call this the sky is falling game. Looking at social media one can find calls for almost any member of the team to be banished from the coach to the quarterback or the front office. Welcome to being a Dolfan not much has changed.
Ryan Tannehill 74 yard TD to Kenny Stills.
Ryan Tannehill 74 yard TD to Kenny Stills other angle.
Ryan Tannehill 74 yard TD to Kenny Stills one more angle. This play was perfect in every way sans the route Stills ran that was said to be broken. Unfortunately it is the lone play that stands out positively from this game on offense. There was some runs that could have been added however they are not available.
Ryan Tannehill's strip sack. Their front four were brutal all night.
Ryan Tannehill's strip sack other angle. The Dolphins front four need to get back to being like this.
Jay Ajayi showed some drive running hard and catching passes out of the backfield getting the bulk of carries averaging 5.5 yards a carry on his six attempts. The Dolphins were able to run the ball for 4.8 yards per carry however it was a small sample size.
Kenyan Drake was used sparingly as was Damien Williams (named starter) despite having as good or better yards per carry than Ajayi, even Isaiah Pead was worked in. Drake had 15 yards on two carries, while Williams had nine yards on two attempts and Pead had three carries for five yards.
The pass is supposed to be setting up the run however with Ryan Tannehill having an off-night that should have been flipped on its ear. The backs were having good results (sans Pead) and more effort could have been afforded to establish a running game in between allowing field goals. Coach Gase even alluded to the opposition tempting him to do so; well take advantage of it then.
Adam Gase is a rookie head coach instilling a new running system by rotating as much as 4-5 RB's in a game and having to have those spots allocated. This style might work and even work well with a more established team firing on all cylinders but not this Dolphins team that has seen so much turnover. There is continued growing pains with this system and by the time it catches on there could be far more dire circumstances to even notice it.
Churning the roster is encouraging, but put in players that have shown more than flashes like Drake and Grant. Mike Shanahan wouldn't be insistent at rotating 4 RB's when Drake has shown enough to start and he probably would have found a way to get Grant involved. Darren Sproles had a 73-yard catch-and-run for a TD weaving defenders while Grant is being used as a placeholder downing touchbacks.
This will serve as the poster play, there are many more just like this. By about three and sometime closer to two seconds just four defenders sent are on top of Ryan Tannehill while his receivers are not even out of their routes.
A precious extra second coinciding with an open receiver, there just were not enough moments like this to make a difference.
It doesn't get much worse than this and there were no excuses so this is all on Ryan Tannehill. A bad day for him trending towards his worst, he was 6-of-29 after the TD pass.
There was one point in the game (here) Gase called a time out to make sure the correct play was called. However the end result was still bad with a total pocket collapse. ( Film appears to be slowed down somewhat).
While the different offensive line had helped to get better running there was bad pass protection as they were continually harassed. The five sacks allowed from just four or fewer rushers are bad but Ryan Tannehill's poor pocket presence contributed greatly. Jawuan James would have been benched this game if not for all the injury on the offensive line. Play calls had favored the left side away from James' side finally and some nice run pick ups came as a result.
Two thirds of the starting OL did not suit up and the results looked the same as past efforts. When the OL has been healthy and all have started the game they came off looking like world beaters in the past. While it is not expected to have a fully healthy OL most of the time, having it that way only seven times over the last two seasons is not expected as well and it goes on.
Having everything flow through Jarvis Landry is not ideal in this "passing league", most teams have true number one receivers outside to keep the safeties honest. That being said it is understandable doing so when there is no running game and the pass protection is not trustworthy.
Game notes
• The Miami Dolphins were dead last in the NFL in time of possession before this game. It looks like they will stay last with the Bengals having 16:04 more time. (the no-huddle should be factored in)
• Kraig Urbik started at center for Anthony Steen who was/is hurt. Laremy Tunsil started at left tackle for Branden Albert who was/is hurt. Billy Turner took up the LG spot that was vacated. This makes 2/3's of the OL starters not playing.
• In the past the bemoaning was not using the running game enough, this season it is over not even establishing one.
• Dolphins rookie Laremy Tunsil got his first action at left tackle his natural position.
• Jawuan James does not look anything like the player he was last year. Last year he was an above average lineman. Once again he allowed the opposing lineman to dictate the flow of traffic at the line of scrimmage but so did everyone else sans Kraig Urbik.
• A.J. Green had more yards receiving than the entire Miami passing offense. Early on Kenny Stills had a 74 yard bomb for a touchdown, the Dolphins were in the four WR set and oddly enough would shy away from using it most the rest of the game.
Final words
Ryan Tannehill looked bad, as did a lot of other QB's week 3. It was a bad game for him and his offense but more so on him this time. Every QB has bad games, this could get better we will see.
One thing in the Miami Dolphins favor is having home games the next three weeks (Titans, Steelers, Bills), then the bye followed with one more home game (Jets). This makes for a 44-day span between road games which is the longest for any NFL team post-merger.
More from Phin Phanatic
This article originally appeared on