Lions defense comes up big in 28-13 Win over the Saints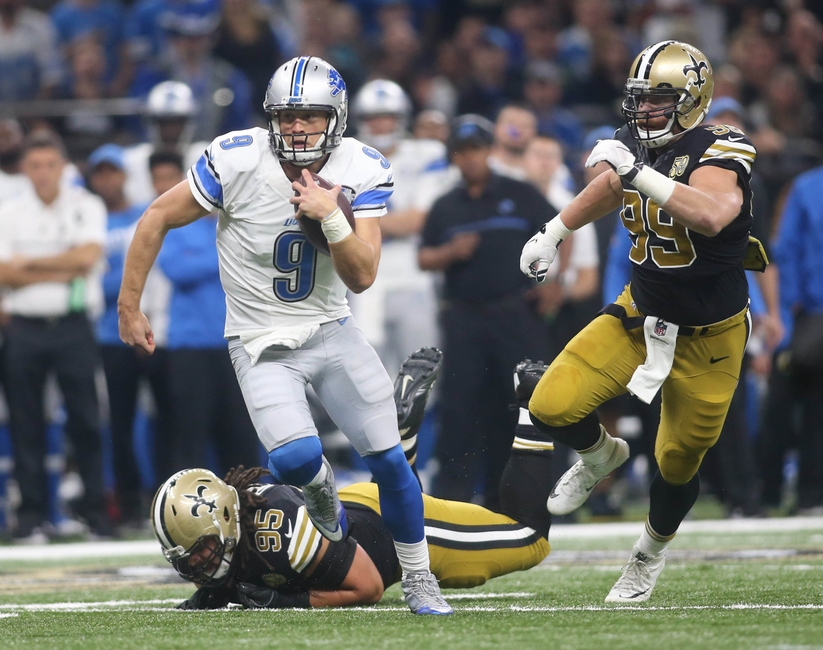 Golden Tate had 145 yards in Sunday's win over the Saints.
The Lions were outstanding against Drew Brees and the high-powered New Orleans Saints, winning 28-13. It was Detroit's first game where they didn't trail in the fourth quarter. The Lions' secondary dominated with three interceptions and held Drew Brees to his first game without a TD since 2009. The Lions move to 8-4, alone atop the NFC North.It was a nice change of pace for Lions fans, who for once got to relax at the end of the game. Check out my quarterly notes from the game blow.
1ST QUARTER
New Orleans received to start the game. A bad snap on 3rd & 1 over Drew Brees' head forced a quick Saints punt on the first drive of the game. The Lions got the ball on their own 47 yard line. Golden Tate lined up in the backfield and ran for nine yards on first. Matthew Stafford somehow eluded a sack, scrambled to his right and found Dwayne Washington for a first down. Roberts caught a pass for another first inside the New Orleans 20. Theo Riddick was stuffed on third down so Matt Prater came out and drilled the short field goal. Detroit led 3-0.
Brees got the ball but Mark Ingram looked to be the focal point of the offense early. The Lions stuffed Tim Hightower on another 3rd & 1. After pretending to go for it, the Saints punted again. Dwayne Washington converted a first down but a Graham Glasgow false start backed the Lions up. On 3rd & 11, Stafford fired an absolute rocket to Eric Ebron – who made the catch with Vonn Bell draped all over him. Stafford hit newly re-signed WR T.J. Jones on a quick hitter for 5 yards and then Washington converted the first down as the quarter ended.
End of First: Detroit-3, New Orleans-0.
2ND QUARTER
Stafford found Tate found Tate downfield for a 35-yard gain inside the Saints 15. A strike to Anquan Boldin got Detroit to the goal line. Detroit decided to throw it instead of pounding it in and Stafford found Ridick for a 1-yard TD pass (his 20th of the season) for a 10-0 lead. The Saints couldn't get anything going on their next drive and Detroit had the ball back with 10:42 left in the first half. Stafford found Riddick who was stopped just shy of a 1st down. The Lions punted with nine minutes left.The Saints were finally able to get something going after Ingram popped a huge run into Lions territory.
They weren't very effective outsive a few plays from Ingram. The Lions were helped out by a penalty which caused the Saints to settle for a field goal. They cut the Detroit lead to 10-3. Andre Roberts caught a comeback for Detroit's third consecutive first down and Detroit looked to be rolling with under 2:00 left in the half. Ebron caught three straight passes to get into the Saints' red zone. An incompletion to Tate was followed by a near sack, forcing Detroit to settle for a field goal. They went up 13-3, with a minute left. Brees hit Brandon Cooks to get to the Lions 31 yard line. Rafael Bush disrupted a near TD pass, and New Orleans took the field goal.
Halftime: Detroit-13, New Orleans-6.
3RD QUARTER
The Lions began the second half with the ball and a nice completion to Golden Tate. On 3rd & long, Stafford connected with T.J. Jones for a 36-yard completion into Saints territory. An incompletion to Anquan Boldin forced Prater to attempt his third field goal of the day. He drilled it, yet again and the Lions went up 16-6. Drew Brees finally got over 100 passing yards on the day with a completion Willie Snead. Glover Quin knocked down a deep ball to Cooks. Quin followed that up with an incredible sideline interception, with 6:15 left in the third.
Zach Zenner ran up the gut for 8 yards. Stafford nearly connected on a deep shot to Andre Roberts but the pass was slightly behind and dropped. He scrambled for a 10-yard first down run, though, to keep the drive going. Boldin made a big third down catch to put the Lions inside the red zone. The Lions couldn't compete a pass on first or second, then were came up short on 3rd. Prater hit his fourth field goal of the game and Detroit went up 19-6. Drew Brees connected with tight end Colby Fleener to get past midfield. An incompletion was overruled in New Orleans' favor.
End of 3rd: Detroit-19, New Orleans-6.
4TH QUARTER
Glover Quin lowered the boom on a hit that kept Cooks out of the end zone just barely. On the next play, John Kuhn leaped in TD to make it 19-13, with 13:32 left in the quarter. Riddick ran for five then caught a pass for another conversion. Stafford, under heavy pressure found the strength to heave it to Golden Tate who took it in for a 66-yard TD.  The Lions went up 25-13 after the score. New Orleans took over with just under twelve minutes left. Three straight incompetions, including a Darius Slay pass deflection forced another Saints punt.
Zach Zenner came out with two effective runs up the gut for a first down. Zenner popped another run – behind great blocking from Taylor Decker and Travis Swanson – for nine more yards. An incompletion led to a fifth Prater field goal, this time 52-yards. Lions went up  28-13. The Saints came out in desperation and tricked Brees into a Tavon Wilson interception. It was an amazing play by Wilson and it gave Detroit the ball with just over five minutes left. Miles Killebrew got his first career interception to seal the game.
End of Game: Detroit-28, New Orleans-13.
3 STARS OF THE GAME
1. Matthew Stafford
Stafford was excellent on Sunday. He made the play of the game, scrambling out of intense pressure and flicking it downfield. He finished 30-42, for 341 yards, 2 touchdowns and a passer rating of 111.3.
2. Glover Quin
Quin made big plays all day. He had a pretty sideline INT that changed the momentum of the game in the second half. He finished with 5 tackles, 2 passes deflected and the pick. I thought about putting Prater here but when you win, there's lots of good performances.
3. Golden Tate
Tate the great had a 66-yard TD catch in the fourth quarter. Tate had his best game of the year, finishing with 8 catches for 145 yards and the touchdown.
-Follow Matt on Twitter @MattUrben88 & Like the SLR Facebook Page!
More from SideLion Report
This article originally appeared on