Lamar Jackson wins the Heisman Trophy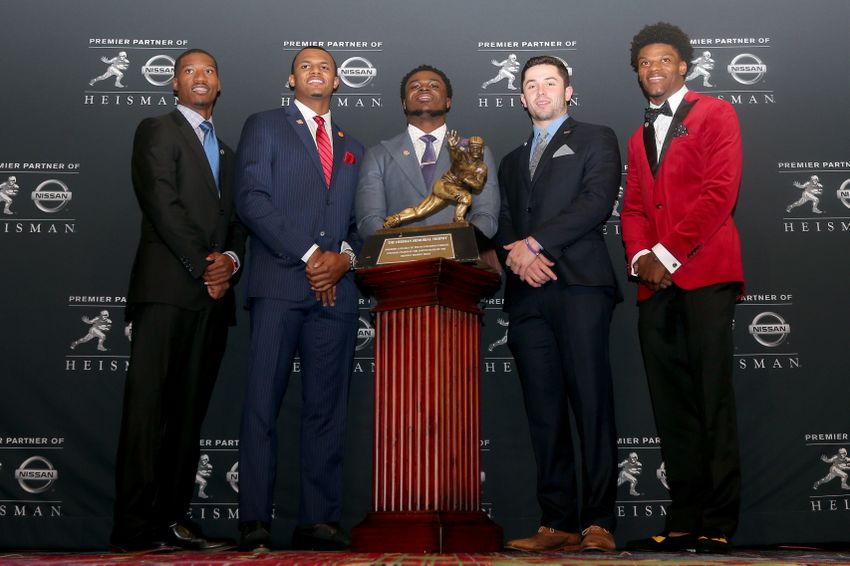 Lamar Jackson, as predicted, has won the Heisman Trophy in historic fashion
Louisville quarterback Lamar Jackson was the favorite to win the Heisman trophy from day one, and those odds stood the test of a long college football season. With 2,144 Heisman votes, his victory was the sixth-largest margin in the history of the award.
Clemson quarterback Deshaun Watson finished in second, while Oklahoma quarterback Baker Mayfield finished in third. Watson finished third last year behind Derrick Henry and Christian McCaffrey.
Jackson is the youngest Heisman winner of all-time, five years younger than Jameis Winston. Jackson also swept each region of the country, something that did not happen last year when McCaffrey won the west coast region.
Here are the final results of the 2016 Heisman ballot:
Final Heisman voting totals: pic.twitter.com/mkFnw6M87j

— Nicole Auerbach (@NicoleAuerbach) December 11, 2016
Two defensive players finished in the top-ten this year, Jabrill Peppers and Jonathan Allen. Peppers was one of five finalists for the award, despite Allen still receiving more first place votes.
In his sophomore season, Jackson
threw for 30 touchdowns and nearly 3,400 yards. His 21 rushing touchdowns were the most by a quarterback this season. Jackson will face LSU in the Citrus Bowl on New Years Eve after leading Louisville to a 9-3 season.
Interestingly in attendance for the Heisman presentation was former Brown Johnny Manziel, the most recent recipient on stage. He awkwardly stood next to Tim Tebow, a man of polar opposite style.
This article originally appeared on