Joe Buck is providing play-by-play on everyday activities and it's absolutely epic
Quarantine Day 1 million: We're starting to feel it.
The lack of sports is cutting us all deep – including legendary sportscaster Joe Buck.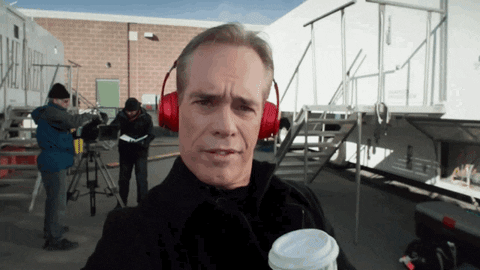 But, luckily, Mr. Buck has a solution to his and our heartbreak.
I have good news for you –
While we're all quarantined right now without any sports, I'd love to get some practice reps in. Send me videos of what you're doing at home and I'll work on my play-by-play. Seriously! https://t.co/txAGBLPBGz

— Joe Buck (@Buck) March 22, 2020
'Quarantine Calls' is off and running … All. Week. Long. And we're not slowing down any time soon. Keep checking back as we keep adding calls. Here we go!
Day 1
It might have been National Puppy Day on Monday, but we're always here for dog content. Joe gave us an epic call on Mina Kimes' dog Lenny (or is it "Scraps"? The jury's still out) playing fetch with a half-eaten football. The slow-mo is absolutely majestic.
HOLY MACKEREL THE GREAT @Buck DID PLAY BY PLAY FOR LENNY!!!!!!!!!!!!

donating to https://t.co/eQXzjOxFtD right nowhttps://t.co/FndJOWUH0M

— Mina Kimes (@minakimes) March 24, 2020
Next, this young guy would not give up. The Brady jersey is certainly fitting here, if a little bit of a retro look these days, especially against what looks like a brotherly competitor clad in Russell Wilson gear. Sorry for the reminder, Seahawks fans.
This one might make @patriots fans a bit sad…although Brady wishes he had these moves. @Brogan1197 tag your charity and take care of those boys, I might be seeing them on a Sunday one day! pic.twitter.com/bROi7PPwDE

— Joe Buck (@Buck) March 24, 2020
For the most part, family is always on your side – for the most part. Then again, there's Chicago media personality Adam Hoge, who taught his son the hard way that there are no easy buckets. Come on, dad! That's clearly goaltending.
Watch out Breen…if @foxsports ever gets @NBA, I'm getting ready. @AdamHoge, tag a charity and then maybe order your kid a present to make him feel better after this one 🏀. pic.twitter.com/WJMGnrmBsa

— Joe Buck (@Buck) March 24, 2020
It's always a good time to up your darts game.
Plus, you've got to admire the angle on this one.
I have a feeling @letitflytom has won his fair share of drinks with skills like this. @PatrickMahomes would be proud. Let us know who you are donating to @letiflytom #bluesbrothers 🎯 pic.twitter.com/WyrkK0hPB6

— Joe Buck (@Buck) March 24, 2020
And now, it's Joe Buck with too much sauce! Those wings look delicious … and they really make us want football back. Dang it, Andrew!
We need to be friends. pic.twitter.com/zVtykOv6fK

— Joe Buck (@Buck) March 24, 2020
We're not sure what's better on this one: the epic trick shot or Buck's commentary. Off the backboard, nothing but (the bottom of the) cup.
Ok Mardy. (I can only hear that in an Ozark twang). Here ya go! Now donate something!!!!!! pic.twitter.com/Pt4Q0bA0wA

— Joe Buck (@Buck) March 24, 2020
Last but not least, this is the one you've all been waiting for. The one that's for all the marbles, if you will. The "sports" video that took the internet by storm last week just leveled up, courtesy of Joe Buck.
This an an ancient one from like last week. @jellesmarbles blew up the internet with this gem and informs us the blue marble is named Comet and the yellow one is Pollo Loco. That said – I did my best. My smallish brain went from "marbles" to "balls" midway thru – old habits. pic.twitter.com/DsaGuHhli6

— Joe Buck (@Buck) March 24, 2020
Day 2
We might all be quarantined, but the stay at home life isn't bad for everyone. While some parents might be trying to keep their kids entertained with all this newfound free time, it looks like it's the other way around for Dad David Freitas.
TAKE 3. @kaceefreitas sends us this one of her husband @davidfreitas getting VIP service from their kids. pic.twitter.com/iWumJUxydD

— Joe Buck (@Buck) March 25, 2020
Joe Buck loves dog content just as much as the rest of us. In this epic stick battle, did we really think that anyone could beat Bruce Wayne, otherwise known as Batman. I mean, that good boy is just superhuman.
When this is all over, THIS is a sport I would still watch. "Bruce Wayne" is the greatest athlete competing right now. Thanks for the video @robertklemko, let us know who you donate to! pic.twitter.com/7rWrdbs6FO

— Joe Buck (@Buck) March 25, 2020
You heard it here first: This little guy will be tearing up the green by 2030. Even though he brings to the table an unusual form, he's putting the ball where it needs to be.
If they ever reboot #HappyGilmore, we found the guy!! What do you think @adamsandler? Thanks for the video @ThereseVinal, you have a cutie here. Let us know where you donate too! pic.twitter.com/LM1W3Jjd6D

— Joe Buck (@Buck) March 25, 2020
In such a difficult time, Joe Buck reminds us of the importance of family. In this case, while Jon can't enjoy his retirement with his entire family, he's happy to have his grandson by his side, while they enjoy being outside.
Retirement looks good on you already, Jon.
Hey @sarajbenincasa, I hope my daughters take this good care of me when I retire one day. Jon, hope you have a happy retirement, and may you keep losing games of combat with Finn for many years to come! Cheers!! pic.twitter.com/tyrl4B8dgB

— Joe Buck (@Buck) March 25, 2020
We don't know about you, but we'll never get tired of hearing Joe Buck say, "Booyah."
But on this day, Booyah wasn't leaving anything up to chance, because he's clearly no fan of the water like his good pal Chance.
This round of "chase me and I'll chase you back" goes to the golden retriever. Better luck next time, Booyah.
Booyah vs. Chance is the content we all need right now. Thanks to my @foxsports colleague @LauraOkmin for sending this in. It's always special to take a moment and remember the great Stuart Scott. pic.twitter.com/wXpTDcRopE

— Joe Buck (@Buck) March 26, 2020
Day 3
Talk about a setup! This indoor tennis court is next level.
You know what else is next level? The Hackney family's tennis skills. And coupled with Joe Buck's play-by-play skills, we've got a grand slam on our hands.
Did the Hackney Family create a 5th major? I would love to see @rogerfederer take on @rafaelnadal on carpet. Great job boys and thank you @hackneytraci for sending this in. #Quarantennis #goodnight pic.twitter.com/VEMfqRwLwm

— Joe Buck (@Buck) March 26, 2020
Joe Buck warns us not to try this one at home.
But seriously, don't try it, because the grocery store line is out of the door and this is just a waste of precious Oreos, which Isaac's wife is aware of apparently. Still, it was fun to see Isaac try to accomplish his goal.
I usually don't have to tweet, "Don't try this at home," but for the love of God, DONT TRY THIS AT HOME. @worldofisaac, if you get an @oreo deal out of this, you owe 10% to charity. pic.twitter.com/tpeitoDeQM

— Joe Buck (@Buck) March 26, 2020
Who would've thought that air traffic controllers get a great workout in while guiding planes? But really, it makes a lot of sense.
On top of that, they are doing great work – especially in such a difficult time. Joe Bucks appreciates them and all of their effort.
To the hundreds of thousands of people still going out and keeping people safe and doing their jobs, thank you. Great work here (not sure if this is actually you @RyanPastorino), and I can confirm this is not an #ad for any one airline. pic.twitter.com/fZo5WySD5z

— Joe Buck (@Buck) March 26, 2020
Day 4
MLB Opening Day was supposed to take place on Thursday, and while we'll have to wait a little longer to enjoy America's favorite pastime on the major league level, we can still get a taste of it on the small scale – really small.
Check out this near in-the-park home run from the speedy Walker Sumerel.
This one felt especially good to do since a lot of us wish we were watching @MLB about now. From the look of it, Walker Sumerel might be there one day!! This kid can fly!! Thanks for sending this in @chiefsums and I hope the Springville Mets are back in action soon! pic.twitter.com/YANhp5Qotv

— Joe Buck (@Buck) March 27, 2020
Looks like we've got some more canine action on our hands. Dabo – effectively named after Clemson football coach Dabo Swinney – is a creature of habit, just like his human namesake.
The dog version takes the same path, over and over, and the human version just wins over and over.
We will all be like #Dabo when we can safely leave our houses. Great work @sfurm12, don't forget to make a donation to someone who can use some help right now. cc: @ClemsonFB pic.twitter.com/k21s7UWxpF

— Joe Buck (@Buck) March 27, 2020
Football is often regarded as the most physical game in America, but with the way the Santom family approaches the game of basketball, we might need to rethink that notion.
Have you ever seen a more aggressive game of living room 2-on-2?
I hope the Santom family inspires @KingJames family to post something similar. Even though we don't actually see a made basket…I appreciate the effort here. Thank you @michellesantom, I hope you guys stay safe and no one breaks any bones. pic.twitter.com/rs47G1GMHo

— Joe Buck (@Buck) March 27, 2020
And finally – FINALLY – the content we've been waiting for: majestical chickens enjoying their afternoon on what looks to be a homemade seesaw!
This one was weirdly mesmerizing. @aimeeleighyoung should set up a webcam and sell subscriptions to this 🐔 pic.twitter.com/3tVNlcSO4I

— Joe Buck (@Buck) March 27, 2020
Day 8
This has got to be one of the most valuable football strips of all time. Toilet paper is the hottest commodity on the market these days, and Joe Buck's colleague Chris Spielman is not about to let his wife run off with the last roll.
When it comes to paper goods, not even your family is your friend. You earned it Chris – go hoard that toilet paper!
I think it's safe to say that on Day 16 (or is it 17) of the Quarantine, my @FOXSports colleague @chris_spielman has lost it. 🧻 pic.twitter.com/tPpDjTm0SP

— Joe Buck (@Buck) March 28, 2020
With such a crazy amount of free time on our hands, the possibilities are endless. But for some, it can be a bit overwhelming. In those moments, remember to take a second and breathe.
Or really, take as many seconds as you need, because what else do you have to do right now?
Is this my pal @PFTCommenter's rejected #Zoolander audition tape or just a guy, pondering why @CharissaT won't call him back? 🤷🏻‍♂️ pic.twitter.com/JYBBmS1MVk

— Joe Buck (@Buck) March 28, 2020
Let's be honest, most people don't like creepy crawlers – especially in the house. So it's always best to learn at an early age how to get rid of them.
This young man will become a big man, starting today, taking out one spider at a time.
Spiderman, you've got a challenger.
Some kids have Confirmations, some have Bar Mitzvah's, but in @BurtzlaffMike's house, you become a man when you are tasked with eliminating unwanted spiders in the house. Good job kid! 🕷 pic.twitter.com/1gOKjJr7j5

— Joe Buck (@Buck) March 28, 2020
Going bald can be embarrassing, but don't worry, Joe Buck partners with PGA tour and former No. 1 golfer Justin Thomas to give tips and tricks to make even the thinest of locks look luscious.
Here's my buddy @pgatour player @JustinThomas34. Is this the most captivating video? No. Is it relatable to 75% of the men that will see it? Yes. Yes, it is. Justin, we can DM about who to go see. Also, I did the @JordanSpieth line per your request so now make a donation! pic.twitter.com/bwzAhCgPyB

— Joe Buck (@Buck) March 28, 2020
Day 9
You know that one saying about Vegas? Well, not everything stays in Vegas – especially if it's an injury.
Oh man – this video hurts more and more every time we watch it. Apparently, she walked it off no problem, but that's a night she surely won't forget.
And on this one, Buck even brings in a special guest: his wife, Michelle.
Brought in an expert -thanks for the loan out @espn!Got to ride shotgun to @michellebeisner for this call.Let's see- Vegas, an empty hallway, a six year layoff, and guessing alcohol?!??What could possibly go wrong??Thanks for the video @jukeysmoot. Clearly fun people/good sports pic.twitter.com/yEXeemxzUZ

— Joe Buck (@Buck) March 29, 2020
As the days pass, things are starting to get wilder and wilder. And while we know some of you missed spring break, let's try to keep it PG.
Mike Pereira and his wife are engaged in some intense games at the kitchen table, and before you know it, clothes are flying everywhere.
Hey, at least they're staying home.
May we all be so lucky to be quarantined with someone we get along with like my boy @MikePereira. This one might be NSFW, but no one is at work so I guess…enjoy? Love you Mike!! pic.twitter.com/aPEMAhu0rz

— Joe Buck (@Buck) March 30, 2020
If we had a scorecard we'd give this stunt a 10 out of 10!
Not just one, but two flips – and can we just admire how great his hair looks as he flies through the air? Let's add on a few style points for that, too.
This is what you get if you cross @Simone_Biles and Indiana Jones. This is almost as impressive as that mane he has on his head. I wish we could see the first 1000 times he tried it though… pic.twitter.com/r6exf2vfbj

— Joe Buck (@Buck) March 30, 2020
When the NBA resumes – or maybe the NFL – this kid might have a shot. He's got a cannon and it's accurate.
We might have just gotten a glimpse at the next big star.
Please don't let this come out that it was doctored because I loved it. @wjdipietro, be honest, how many times did you try this before it went in?? pic.twitter.com/RhhokofJUH

— Joe Buck (@Buck) March 30, 2020
This young man must have been a hit in college because his beer pong skills are off the charts.
Don't worry about his butterfingers on his end of the table – he performs when it matters most, sinking every shot.
If you ever need a partner, find this guy.
This is the Wilt 100 point game of beer pong…but WITH video. Tremendous feat @smacksophone! pic.twitter.com/LcGmbDtCrv

— Joe Buck (@Buck) March 31, 2020
These twins have the attitude we all need right now – giggling, laughing, smiling and just having a good time.
If you're not feeling the happiest, we understand, but watching those two play with a beach ball double the size of their heads might just be exactly what you need today.
Cute twins @Jeff_Mathheus. You can already see the athletic genes shining through. pic.twitter.com/G7YPmcEiqO

— Joe Buck (@Buck) March 31, 2020
While this quarantine is providing us with some much-needed family time, just remember — if that bonding turns to disagreement, a little exaggeration can go a long way:
— Joe Buck (@Buck) March 22, 2020
We're patiently waiting for more, Mr. Buck.
And let us not forget, the best part about the legendary sportscaster spending his free time giving color to your home videos is that it's all for a good cause.
If your video gets posted you have to pledge to donate to a cause during this quarantine. Even if it's a dollar. Send something! I'm pledging to the St. Louis Community Fund. I'll do some this week! And supply me with some details please. Here's my house.

— Joe Buck (@Buck) March 22, 2020
Buck joined Colin Cowherd on Monday to discuss his 'Quarantine Calls' and more.
.@Buck joins @ColinCowherd & talks quarantine calls, stories of his father & missing sports as a fan: pic.twitter.com/0LPBurlMlU

— Herd w/Colin Cowherd (@TheHerd) March 27, 2020
Stay tuned for more Joe Buck gems.