Green Bay Packers: Week 10 special teams recap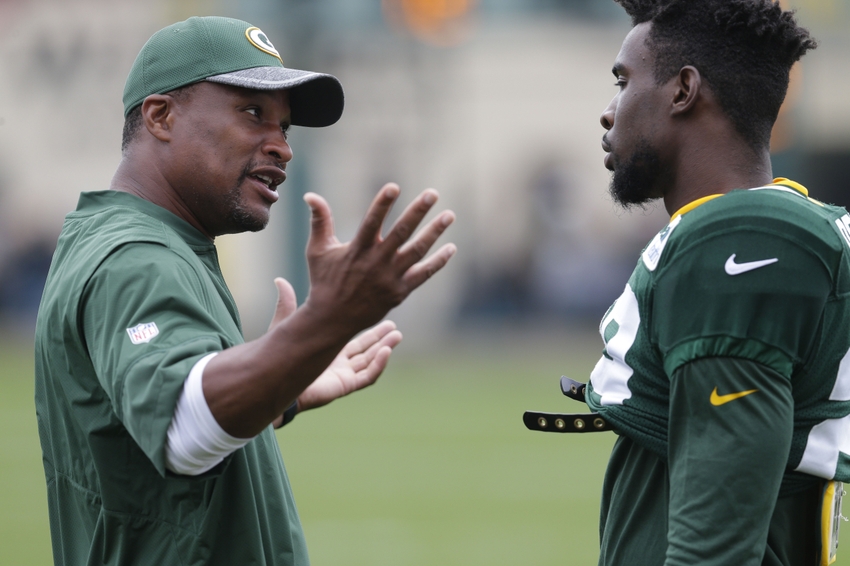 The Green Bay Packers followed up a dreadful effort against the Indianapolis Colts with an even more miserable defeat to the Tennessee Titans to fall to 4-5.
The defense was atrocious, letting the Titans score on their first four possessions and giving up 47 points on the afternoon.
The offense couldn't strike early to keep the team in the game nor finish enough drives late to mount a meaningful comeback attempt.
The special teams wasn't anything to write home about, either.
Let's see why.
The Kicker
Kickoffs:
Touchback
Touchback
TEN 13; 28 yard return (TEN 41)
Touchback
*Onside Kick* Out of Bounds (TEN 40); *GB Penalty* (TEN 45)
Touchback
Scoring:
Extra points: 1/2
Field goals: 2/2 (Made: 29, 38)
As Green Bay has struggled in recent weeks as a team, not even their kicker has been able to free himself from the malaise.
In the past four weeks, we have seen the usually-reliable Mason Crosby missing kicks like it's his job. He didn't miss a field goal this week — though his two makes did little to stave off the eventual blowout — but he missed is second extra point kick of the season.
These two extra point misses are his only ones under the 2015 rule changes — which put extra points on the 33 yard line instead of the 1 yard line — but  it is alarming to see his misses overall starting to pile up.
After making 91 of his 95 total kicks including playoffs (38/42 field goals, 53/53 PATs) from the start of 2015 until Week 6 of this year (23 games), Crosby has now missed 4 of his past 19 total kicks (7/9 field goals, 8/10 PATs) in the past four weeks. Most of these happened when the games were still in contention, so they could have possibly made a difference in the outcome.
Beyond the scoring issues, his kickoffs are also seeming to be a problem; how much of that falls on him is up for debate.
There were only two kicks which didn't become touchbacks, but neither worked favorably for the Packers. Crosby kicked a short one on his third try; it was returned for a large chunk of yardage to give a Tennessee team already having its way with the Green Bay defense a favorable start to another drive. The other was a late onside kick; those rarely are recovered by the kicking team, but this one went out of bounds, again gifting yardage to the Titans.
I've been telling people to not worry about Crosby becoming a problem since the Chicago game, but with at least one missed kick in three of the past four games — and his kickoffs also providing the Titans with favorable situations in multiple games — it is time to be concerned.
The Punter
Punts:
43 yards (TEN 20); Touchback
48 yards (TEN 15); Fair Catch
54 yards (TEN 27); 12 yard return (TEN 39); *TEN Penalty* (TEN 29)
57 yards (TEN 20); 11 yard return (TEN 31)
Yet again, I am sad to admit that Jacob Schum may have been the best special teams contributor for the Packers in a game this year. I'm even sadder to admit that says somewhat less than usual this time around.
Schum started off his day with a touchback on a short kick, further compounding what was a terrible waste of opportunity to start Green Bay's afternoon.
His other kicks went better, but his two which had the most distance were eminently returnable. Schum was saved on one of those by a Tennessee penalty, but his furthest boot ended up garnering the 2nd-worst net yardage of his four attempts.
The same issue that continues to pop up with Schum was yet again apparent, especially on the final two kicks. He was able to get plenty of distance — which, at his best, is his biggest flaw — but it detracted from his supposed best asset (his kick placement).
Still, Schum for the most part did what his skill-set allowed him to. In a game with so many places to point towards for why they lost (believe me, my article this week about that particular tangent was a chore to whittle down), Schum was not one of them.
Not exactly a glowing endorsement of him, to be sure, but worth noting with how much of an issue this position has tended to be for the Packers in recent memory.
The Return Units
Punts:
*Muffed Punt* TEN Recovery (GB 24); *GB Penalty* (GB 12)
Fair Catch (GB 22)
2 yard return (GB 46)
12 yard return (GB 37)
Kickoffs:
*Onside Kick* GB Recovery (TEN 49)
Touchback
Touchback
Touchback
Touchback
Touchback
23 yard return (GB 34)
Touchback
28 yard return (GB 20)
While Schum didn't detract from the Packers' efforts much, the return unit definitely did.
For the most part, they weren't called upon often — though there were 9 kickoffs, 6 were touchbacks — but we didn't see much good from them when they were.
There were a couple good plays of course — being aware during the game-opening onside kick was great, and the 12 yard punt return was a nice effort as well — but none of that made nearly enough of a positive impact to make up for the one gigantic screw-up by Trevor Davis.
On the first punt return chance, Davis muffed the catch, giving Tennessee another quick possession.
This was even worse than it sounds based on the situation: Green Bay had already fallen behind 28-10 and just got their first defensive stop of the contest. With Davis unable to get the ball under control, he handed Tennessee the possession right back, and they piled on yet another TD to put Green Bay down 35-10.
Special teams rarely loses a game on its own, and that obviously was not the case here. But at the point where this muffed return happened, the Packers could have potentially turned things around.
A 28-10 deficit would still be on the docket, but the Packers offense did move the ball at times; maybe they do so again, cutting things down to 28-13 or 28-17, effectively turning the game into a two-possession contest with plenty of time left. At worst, it gives the defense a reprieve and puts off a four-possession deficit at least for another drive.
Since that's not how things went, this game was pretty much done before halftime even hit. again that isn't all on the special teams, but it was effectively an early nail in the coffin to Green Bay's chances.
The Coverage Units
Punts:
Touchback
Fair Catch (TEN 15)
12 yard return (TEN 39); *TEN Penalty* (TEN 29)
11 yard return (TEN 31)
Kickoffs:
Touchback
Touchback
28 yard return (TEN 41)
Touchback
*Onside Kick* Out of Bounds (TEN 40); *GB Penalty* (TEN 45)
Touchback
The coverage team may be the least to blame (outside of Schum) for the failures of this team on Sunday, but that says more of the lack of opportunity to make mistakes than anything.
Most of the kicks in this game were either touchbacks (4 kickoffs, 1 punt) or plays the coverage team didn't have much of a chance to do anything (the onside kick). Still, there were bad plays by these guys, even if the damages were mitigated by other factors.
The third punt was returned for 12 yards; that ended up giving Tennessee an extra two yards due to a penalty by the Titans. The third kickoff was returned for 28 yards; that didn't lead to a score, but that was in part due to where Tennessee ended up on the field during that drive (the Packers' 40 yard line — an area teams are more likely to risk going for it on 4th down) and the low amount of time left for Green Bay to try scoring should they fail on 4th down (:10 on the clock, one timeout left; just enough for a Hail Mary — which was intercepted).
Those mistakes and miscues didn't end up hurting Green Bay's chance, but they are the kind of situations which can and will pop up throughout the course of a season. In many of those future cases, Green Bay probably doesn't come out so fortunate.
This entire unit may not have caused the horrendous defeat, but they did little to help out a team in desperate need of some kind of spark. Green Bay is proving their other units are unable to make the positive contributions on their own to win games for whatever reasons this year (be it injuries, ineffective players, or stale play-calling), so they could need these special teams groups to step up in a major way to get them on track.
If not — and let's face it, "not" is probably the answer — this team will continue to flounder and falter their way to a profoundly disappointing ending to their 2016 season.
This article originally appeared on