Drew Brees' future with the Saints: Just pay the man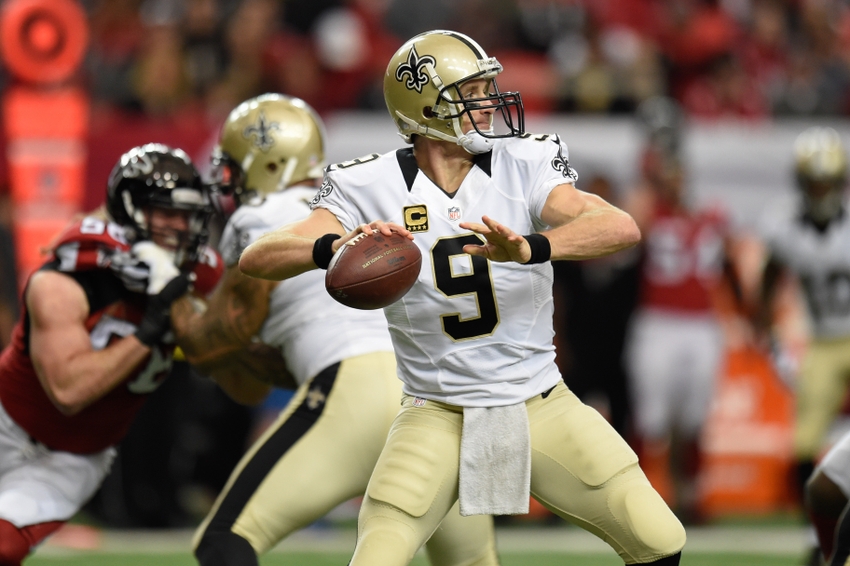 Reports are coming out today that recently stalled contract talks between Drew Brees, his agent, Tom Condon, and the New Orleans Saints, Mickey Loomis, all have resumed going into week one of the 2016 regular season.
Sources are saying Brees is seeking a four-year $100 million deal.  That deal would make him the highest paid quarterback in the NFL and would be the richest contract in NFL history based on a yearly average of $25 million.  This would eclipse the recent Colts contract with Andrew Luck, a six-year $140 million a year deal worth a $23.3 million yearly average.
The Houston Texans recently agreed to an absurd four-year $72 million contract with Brock Osweiler based on nothing but having won a Super Bowl due to an amazing defense.  Trent Dilfer anyone?
The Saints' signal caller has stated, that he will cease contract negotiations if a deal isn't reached prior to the beginning of the regular season on September 11th.  That gives the Saints little more than five days to make something happen or deal with Brees' contract going into 2017 as a free agent.
Brees is no doubt a bonafide future first ballot Hall of Famer and one of the most prolific passers in NFL history.  His assault on the record books hasn't abated since he came to the Saints in 2006 as a castoff from San Diego.  Passed on by every other team in the league due to concerns about a recently injured shoulder, the former Purdue Boilermaker came to New Orleans and the rest is  history.  His career superlatives are too numerous and already known to repeat here.  In short, he's been the Who Dat savior and earned the sacrilegious nom de guerre Breesus for what he's brought to the New Orleans Saints, the city of New Orleans, and the Gulf South region in general.
The Current State of Drew Brees
Brees finished the 2015 season with 4,870 yards passing, 32 touchdowns, 11 interceptions, and a quarterback rating of 101.0.  Frustratingly, he didn't make the Pro Bowl, but his numbers certainly say he should have.
Rumors of fading arm strength seemed to be put to rest.  The only worrisome stat from the 2015 season is the number of touchdowns. Red zone issues have popped up frequently with ample opportunities to get in the end zone that have ended in field goals, missed field goals, and failed fourth and goal attempts.  That deficiency is more a sign of the Black and Gold's offensive line and running game woes, than in any drop off for Brees.
Turning 38 next January, the man hasn't shown any signs of slowing down.
Impact of Brees' Salary
The issues surrounding signing Drew Brees going forward have little to do with his talent.  Yes, $25 million a year is a staggering figure by any metric.  But, when compared to what other certainly less qualified quarterbacks around the league are being paid these days, the state of the market is way out of whack. If you want a marquee quarterback on your roster, you're going to pay dearly for his services.
Brees' current contract has him making a $30 million impact on the Saints' salary cap this season, so saving $5 million a year in the four-year future can be spun as a bargain.
The Black and Gold has already seen the impact from the limitations of having one player account for nearly 20% of your payroll. This obstacle has stymied the Saints in the 2016 free agent market.  The team has been ineffective in bringing in any talent on the offensive line to protect the $30 million man, as well as settling for some marginal upgrades on defense and tight end.
Bottom Line
Ultimately a quarterback's value to a team has to be measured in wins.  Coming off of back to back 7-9 seasons, Drew Brees' success is being overshadowed by the concessions the team has had to make, in order to pay him.
Who Dat Nation would love to see Drew Brees take this into consideration and come off with his ultimatum to Mickey Loomis. This compromise on his part could at least show some humility on his part of wanting to build a winner in New Orleans.
Sure there are teams out there who win with a "game manager" quarterback.  Osweiler being a prime example and Trent Dilfer are huge examples in present day and historical context for sure. But the teams that typically bring home the Lombardi Trophy are those with quarterbacks like Favre, Brady, Manning, etc.
So, unfortunately, Brees and Condon are in the cat bird seat, and the Saints will ultimately have to succumb to their demands.  Plans need to be made going into next season to actually bring in some offensive line help, as well as a true quarterback to groom as Brees' replacement. Garrett Grayson doesn't appear to be that guy.
Having Brees playing for another team is a sickening prospect, akin to seeing your girlfriend kissing another guy.  For those unfamiliar with that feeling, I can tell you when Bobby Hebert came back to the Superdome as an Atlanta Falcon, it felt sickening. His arms spread like a raptor descending on its prey, after beating the Saints in his first game back after being released.
And then there's the nauseating image of Archie Manning in a Houston Oilers uniform to bring the point home.  To the Saints front office, just pay the man.
This article originally appeared on