Buffalo Bills: Update on the Biggest Controversial Play This Season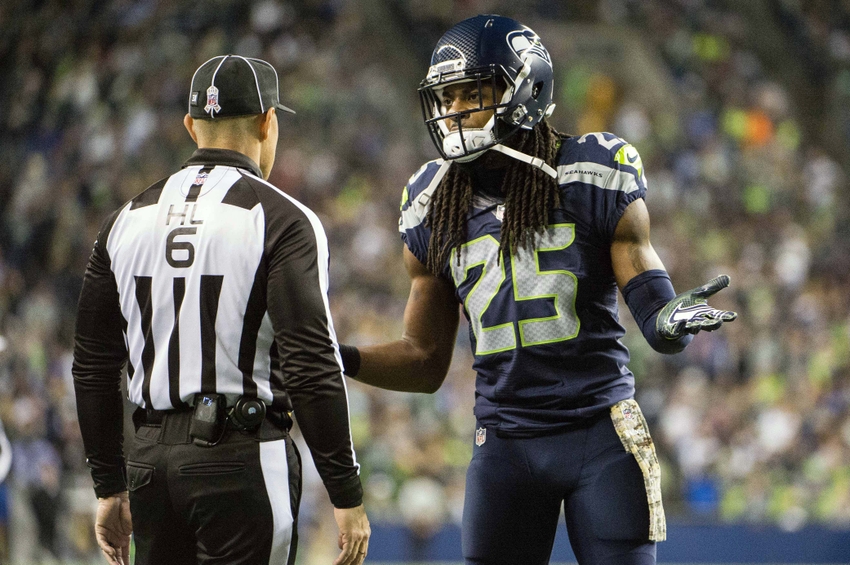 It has been a touchy topic with Buffalo Bills' fans recently and something I have been waiting to post about.
Who knew one play could cause so much hate, consequences and never-ending opinions? I mean, I guess it was a nice warm-up to the whole Trump thing, but we could've done without the officiating on this one play.
I'm going to try and keep my personal anger out of this piece and leave that to you guys, but a lot happened at the end of the first half on Monday night — when the Seattle Seahawks hosted the Buffalo Bills — and I think it's important to clarify it all.
For the most part, I've been waiting to do this post to see how the NFL reacted to everything and what Roger Goodell would do about everything. Now that he has opened up about the play, I think it's a better time to judge the play.
First off, let's make sure we are all talking about the right play. It was a 53-yard field goal that Dan Carpenter was attempting to end the first half that stirred up a lot of controversy. Before the ball was snapped, Seattle Seahawks cornerback Richard Sherman jumped offsides — which was an easy call.
As the play went on and Carpenter got closer to kicking the football, Sherman was determined to block the field goal and — although he got a hand on the ball — ended up running into Dan Carpenter. This should've been just as easy a call to make as the offsides penalty.
As Carpenter grabbed his knee and Sherman stood up hoping he didn't get a roughing the kicker call, the refs began to huddle and discuss the play. After a little bit of discussion, they ultimately decided to penalize Sherman for being offsides, but not for roughing the kicker. You could see the anger on Rex Ryan's face.
Since the trainer came out on the field to attend to Carpenter, he had to sit out at least one play. In order to stop the clock and get another field goal try, the Bills were forced to spike the ball with seconds remaining. However, the refs called a delay of game on Buffalo for some odd reason, resulting in a 5-yard penalty.
With the delay of game penalty, Dan Carpenter was able to come back in and attempt another field goal, but from 5-yards further out. Carpenter would miss the field goal and the Bills would go on to later lose 25-31 in a close game.
That's when the play hit social media and began stirring up all types of discussion on whether the refs were right or wrong. Quickly, everyone agreed that it was a missed call by the refs and they began to get roasted for it — by everyone.
Now, we all know that refs are going to miss calls from time to time — and it's something that happens rather often — but when it's a call that is as obvious as this one, you have to scratch your head.
To help clarify how everything has been handled, let's split this up into four different parts: the refs, Richard Sherman, Dan Carpenter and Roger Goodell. We'll start with the much-hated-and-for-good-reason refs.
It's always interesting to see how the refs react after a controversial call, so let's see what they had to say about this crazy play.
The play at the end of the first half of the Buffalo Bills' Monday night matchup with the Seattle Seahawks caused a lot of anger and raised a lot of questions.
It has been agreed that the decisions and missed calls by the refs were completely wrong, so we were all waiting to see what they had to say about it after the game. Much like past incidents similar to this, the refs admitted their wrong-doing.
Walt Anderson was the head ref of the game and had a lot of explaining to do. When asked why there wasn't a roughing the kicker penalty called, Anderson said:
"We were shutting the play down, that would be my call. I just didn't feel like the actions and the contact, because we were shutting the play down, warranted a foul."
He was then asked why Dan Carpenter had to sit out for one play after he got attention from the trainers. Here's Anderson's response:
"With the trainer coming on, and Buffalo out of timeouts, we ended up having an injury timeout. Even though they were out of timeouts, it counts as a fourth timeout. There is no penalty assessed, unless you get to the fifth one, for that, but it does require him to go out for one play."
Lastly, Anderson was asked why he was still standing over the ball as the play clock ran down — ultimately resulting in him calling a delay of game penalty on the Bills. Anderson said:
"Anytime we end up with the team coming out, we end up putting a regular ball out, bringing in the kicking ball, we will hold up the play, just for the teams to get their substitutes in and then we will move off the ball. If there was that little time left, then that's probably a mistake on my part in terms of not pumping the play clock back up. But I was not aware that it was that far into the play clock."
If you ask me, those three responses can be shortened up into a few words: "We had no idea what was going on." Now, you would think at that point, it would be necessary to go into the replay and look at it. Regardless of what rules the NFL has on using instant replays, this was the perfect example of why replays are sometimes NEEDED.
Dean Blandino, the NFL's head of officials, didn't waste any time in clearing things up for the fans. At halftime, Blandino took to Twitter to clear up what Anderson couldn't:
Blandino would later address the delay of game penalty on the Bills, as well as what they plan to do from here on out:
"Well it was definitely more than 40 seconds and there was a conversation on the field between a couple of officials and the umpire was actually over the ball," he said. "Any time the play clock goes down under 20 seconds we want to reset it if we are still over the football. It looked like the play clock had run down probably to five or six seconds so we want to reset the play clock there when the officials are actually conversing and delaying the snap. I think that's what happened there."
Blandino continued:
"We are absolutely going to address it," Blandino said. "Anytime you have a sequence like that at any point during the game we want to see what happened and just walk through the steps of where the breakdown was. Regardless of the outcome of the game, we are going to address the situation with our crew."
Well, the only thing I learned after hearing the story from the ref's perspective is that Blandino should be out on the field during gameday, not Anderson.
Let's move on to the next person involved in this, the player who started it all: Richard Sherman.
Richard Sherman tried to tell us he didn't do anything wrong, but do we really bill-ieve him? I say, "buffa-no."
Let's be honest with ourselves, here. When we were all watching the play, there was no doubt that this was a dirty play.
Anytime you hit the kicker, it's a dirty play regardless. When a team is going for a field goal, the defense always has ONE thing on their mind no matter what — don't hit the kicker. If you are unclear of the rule, click here.
However, Richard Sherman was intent on defending his case instead of owning up to the fact that he hit the kicker and should've been penalized for it. After the game, he took to Twitter like he always does and posted this:
The audacity to say something like that is just beyond my comprehension. Think of all the ways a player can block a kick — without hitting the kicker.
First off, there's no reason to get that close to Carpenter — close enough to where you need to touch the ball before he kicks it, keeping mind that he was only able to get that close because he was offsises.
Second off, tumbling down into a kicker's knees is a pretty staight-forward unnecessary roughness call — whether you were already offsides or whatever other excuse Sherman has.
Lastly, not owning up to the fact that you screwed up isn't exactly showing respect to the game. At least the refs had the self-discipline to admit they were wrong.
Eventually, Sherman was fined by the NFL for the play and had a lot to say about it. Listen to this, though, he was only fined just over $9,000 for something that — even though it didn't — could've ended a kicker's season, if not his career. When your leg is planted in the ground and someone at full speed comes rushing in on it, it's bad news bears (or bills in this case).
Speaking on the fine, Sherman said the following.
"They made sure that they made it unappealable because they said they can't hear the whistle on the film," Sherman said. "And they said I hit him after the whistle, which was not true, but you can't really appeal something that's he said/she said."
He continued:
"The league responds to public pressure on a number of issues, and they've shown the ability to fold under public pressure," he said. "This is just another one of those opportunities. The public sees things in slow-motion, super slow-motion, so the league feels a reason to try to justify things. That's the way of our league. It just shows you. They may find new ways to surprise you."
Richard Sherman's reaction to everything has been disappointing — and not just because I'm a Buffalo Bills' fan. Just being a football fan in general is enough to be disappointed in Sherman.
We have two more sides to hear from, though, and the next one is actually a bit entertaining. Let's get to Carpenter's side of the story — more importantly his wife's reaction.
Dan Carpenter hasn't been very vocal on the situation, but his wife has done the talking for him.
After the play, Dan Carpenter went down and started to hold his knee — which started to raise concerns. Whether he was just acting to try and draw a penalty or if it was real, Carpenter was not injured on the play — thankfully.
As the game went on and even days after the game, it seemed like everyone wanted to share their opinion on what happened. However, one person stayed rather quiet the whole time — Dan Carpenter himself.
Instead, his wife came out and blasted Richard Sherman all over Twitter — noted, Carpenter didn't even retweet any of it.
She ended up sending out a tweet that hinted at castrating Sherman for his actions. Unfortunately, some people took it the wrong way and led to her deleting the tweet. She would later post this:
After the first tweet was sent, Sherman would actually reply to her:
When asked about her apology, Sherman didn't believe it was real.
"It's not surprising at all," Sherman said Wednesday. "This is a day and age, you've got the Ku Klux Klan running around. People say whatever they want, and there's very little consequence. For her to say something like that and then have a B.S. apology like she did, it's just the way of the world. I don't let it bother me. It's something I'm very used to. It's just the way people are, the way people were raised."
In my opinion, he deserves all the B.S. he gets, especially after he couldn't even own up to the fact that he did what he did. That's what I call B.S., Sherman.
We have one last side of the story to view and it's the NFL Commissioner's poor decisions that make this whole matter worse.
Roger Goodell had a chance to regain some trust with fans if he was fair in dealing consequences over what happened. Safe to say, Goodell failed.
Roger Goodell never seems to get it, at all.
For years, he has been giving out fines and suspensions on a case-to-case platform. The problem is that he will give harsher consequences to one player, compared to someone else who did something even worse.
I'm not sure if he even sees what's going on or even reads about what the players did wrong. He probably just asks for the name of the person in question and if it's someone who has a big influence on the game, they don't get a big fine or lengthy suspension.
Yes, Richard Sherman is one of the best cornerbacks in the game right now, but that doesn't mean his dirty hit on Dan Carpenter should receive a less fine than one given to Chase Reynolds of the Los Angeles Rams:
Goodell only giving Sherman a $9,115 fine was disappointing, but it didn't end there.
He really lost me when he started to talk about the officials in the game. For a while, people have been demanding that the NFL use full-time referees. It makes sense, if they're going to rule the outcome of the game, they should be studying the game just as much as the players are.
Goodell went on to say:
"As you see there are officiating mistakes in other leagues and they're full time officials," Goodell said. "I don't think that's going to eliminate the human element. What we want to do is get the best people on the field to officiate the game to the highest levels. Our officials work incredibly hard and the reality is they do a great job. But they're going to miss calls. So what we try to do is have replay available to try to address those issues. But then you have an issue that you have to balance, and we call it the unintended consequences. How much replay do you want to have? Because it can slow the game down to a halt. So it goes back to the pace of game. If you can challenge every play, we're going to spend more of our time watching video. We replay all scoring plays and I get this reaction from fans quite a bit, and partners. A touchdown play, everybody's focused on it, it's a great play, it's a great time to celebrate, but we're not sure if it's really a touchdown yet so it takes the celebration out of it. So you have to find that balance in there where you use technology to improve officiating."
Goodell doesn't understand that the more he changes the rules and adds rules and does this and that and changes the game — that's all stuff that the refs have to stay in tuned with and follow along. Since Goodell is changing the rulebook every week, these refs don't even know what sport they're officiating.
If they were full-time, they would be better off.
As for the punishment for the officials, no fine or suspension.
That's right, the only punishment they get is a less chance to officiate a postseason game. In the past, officials have been fined their game check, suspended or even both. Not this time.
Overall, Roger Goodell didn't really do anything to right the situation and kind of just blew it off as if it was nothing.
Not to mention, no one seems to be even talking about the potential Deflategate 2.0. Remember, Walt Anderson — the referee for the Bills-Seahawks game — was the referee during the original Deflategate mashup with the Patriots.
This article originally appeared on