5 Wide Receivers the 49ers May Target in 2017 Free Agency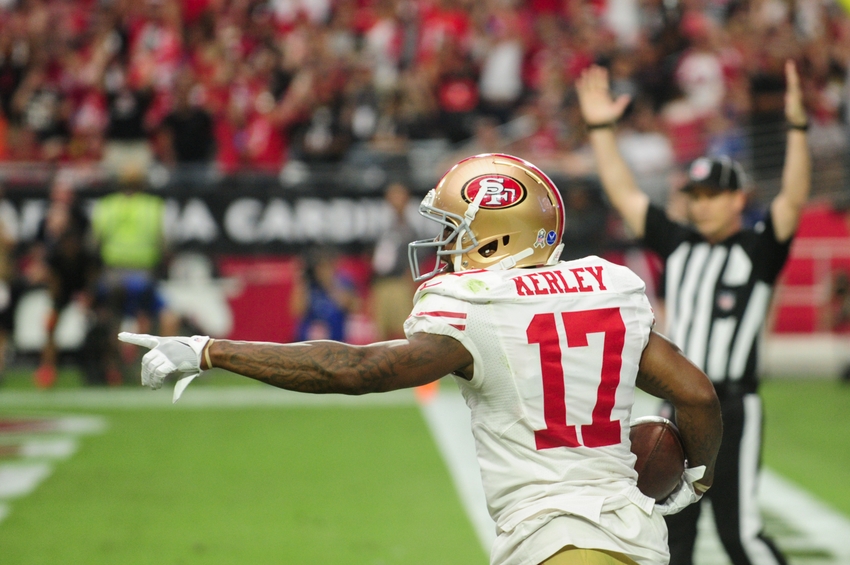 The San Francisco 49ers desperately need help at wide receiver this offseason and may look to free agency as an option. Let's take a look at five possible free-agent wideouts the Niners may consider.
The San Francisco 49ers won't have to worry too much about slim salary-cap space this upcoming offseason.
NFL Week 13: 5 Coaches on Hot Seat
According to Over the Cap, the Niners will have $47,514,014 in projecting cap space, which doesn't include any carry over from this season. This gives the team a substantial amount of money to make some drastic improvements this offseason, even if the Niners have to overspend a bit.
They could use the help.
Wide receiver is one glaring position of need. Currently, San Francisco boasts just one receiver, Jeremy Kerley, who has over 400 yards on the season. No. 1 wideout Torrey Smith hasn't been much of a factor. And the 49ers haven't gotten a ton of production out of depth targets like Quinton Patton and Aaron Burbridge.
Free agency isn't exactly general manager Trent Baalke's biggest calling card. Who knows if he, or even head coach Chip Kelly, will be here in 2017. Assuming the latter is, who would be some ideal free-agent wide receivers San Francisco should consider on the market?
Let's take a look at five possibilities.
No. 5: Justin Hunter
Current Team: Buffalo Bills
If the Niners don't want to get into a bidding war and/or overpay a top-tier wideout, targeting current Buffalo Bills wide receiver Justin Hunter might be a good idea.
Hunter, 6-foot-4 and 196 pounds, is a big-bodied target who has started to flourish under head coach Rex Ryan as a favored red-zone threat for the Bills offense. He's already tied his career high in touchdowns (four), and three of those have come within opponents' 20-yard lines.
He signed a one-year deal with Buffalo after being cut by the Miami Dolphins earlier this season. But maybe the former second-round pick of the Tennessee Titans in the 2013 NFL Draft just took a little longer to develop.
San Francisco could use his big-bodied abilities to provide a large target for whoever is under center for the 49ers next season.
No. 4: Jeremy Kerley
Current Team: San Francisco 49ers
This one should be fairly obvious. Current Niners wide receiver Jeremy Kerley was picked up in a trade that sent former offensive lineman Brandon Thomas to the Detroit Lions earlier this season. And that deal has been a steal for San Francisco.
Kerley leads the 49ers with 448 receiving yards on the season and has emerged as a solid slot receiver in head coach Chip Kelly's offense.
While Kerley's numbers have taken a bit of hit ever since quarterback Colin Kaepernick took over, Kerley is still an upgrade over the oft-injured slot guy Bruce Ellington, who is out for the year with a hamstring injury.
Kerley is a free agent after this season, but he'd likely come back to the Niners on a cheap deal. With so many other positions of need, re-signing him makes plenty of sense.
No. 3: Brian Quick
Current Team: Los Angeles Rams
The 49ers don't exactly have height as a major attribute of their receiving corps. But current Los Angeles Rams wideout Brian Quick — 6-foot-4 and 209 pounds — does possess the height advantage so many teams covet.
He's having a career year as well. Quick has 30 receptions for 445 yards and three touchdowns, all career highs, in an inept Rams offense. And he's hitting the prime of his career at 27 years old.
Quick is in the final season of his five-year deal with Los Angeles. It's not a lucrative contract by any means, but a change of scenery and a coach who has a little more use for offensive skill players might be able to put Quick's abilities to use.
No. 2: Michael Floyd
Current Team: Arizona Cardinals
Wide receiver Michael Floyd might be a bit difficult to pry away from the Arizona Cardinals this offseason, who might be looking to re-sign him with the pending retirement of standout wideout Larry Fitzgerald.
But money talks, so the Niners might be able to talk the 6-foot-3, 220-pound first-round pick of the Cardinals into coming to Santa Clara.
Floyd is having a down year, as almost everyone on Arizona is this season, so that might drive his price tag down a bit from his current $17.29 million contract.
Just like Rams wideout Brian Quick, Floyd is entering the prime of his career at 27 years old. And he'd be a welcome addition to a Niners offense in desperate need of playmakers.
No. 1: Alshon Jeffery
Current Team: Chicago Bears
Let the bidding wars begin for the guy who promises to be one of the most coveted free agents on the market this offseason.
Current Chicago Bears wide receiver Alshon Jeffery is in the middle of a four-game suspension for violating the NFL's policy against performance-enhancing substances. This, and the fact his numbers are nowhere close to those he put up in 2013 and 2014, should drive his price tag down a bit.
Still, plenty of teams are going to be coveting the 6-foot-4, 230-pound matchup nightmare.
Jeffery is going to be the target of numerous teams looking to add receiving help this season, so he won't come cheap. And he should get a decent pay raise from his $14.6 million contract and franchise tag placed on him in 2016.
But the 26-year-old standout's impact would be significant. And it would force opposing teams to respect his presence on the field, even if San Francisco has questions under center next season.
This would be an ideal pickup for the Niners in free agency. But Jeffery would likely have his choice of teams, so the 49ers would have to be willing throw plenty of cash in his direction.
This article originally appeared on