2017 NFL Draft: Royce Freeman Scouting Report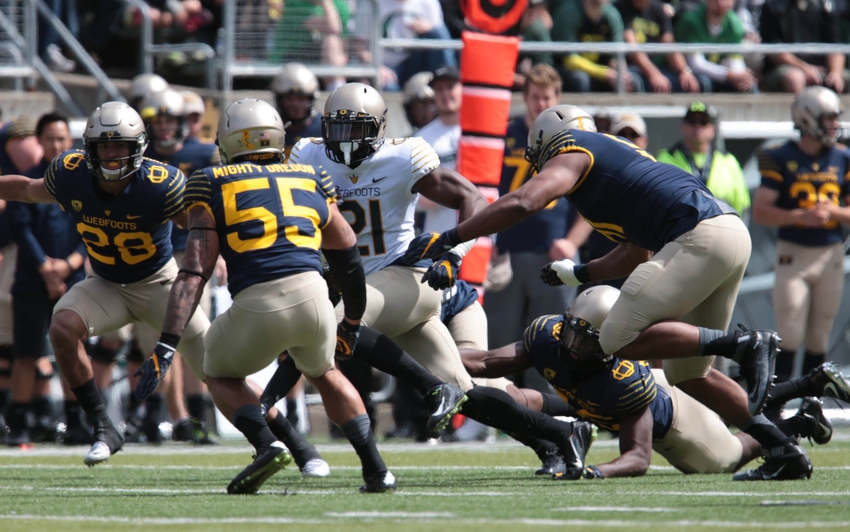 The 2017 NFL draft contains a cornucopia of running back talent, is Royce Freeman one of the best?
Freeman would be entering a 2017 NFL draft full of running back talent so he'll need a stand out season to break from the pack. That said, Freeman ultimately could be the most successful of all of the running backs not named Leonard in this draft.
He could even be better than Christian McCaffrey. And I'm a big fan of his.
In the Chip Kelly era, it's hard to know how good a running back from the Oregon offensive system is in reality. The option based aspects of the offense tend to hide the runner's flaws in vision and they've been very successful with speed running backs since the sheer speed and defensive confusion makes them successful.
More from With the First Pick
That said, Freeman isn't one of those type of backs. He lacks that straight line speed that so many Oregon backs have had but he has much better vision and balance. So much so that he appears to be faster than he really is on the field.
His vision allows him to find holes that no one else can see and takes away good angles for defenders so he can squeeze a few more yards out.
Unfortunately his lack of great tools will probably mean that draft evaluators will grade him lower in comparison to the physical freaks that Freeman will be competing with in the 2017 draft process.
Be wary of any draft pundit who has Nick Chubb rated much higher over Freeman. Both don't have amazing physical traits and produce thanks to their combination of vision and balance. Freeman isn't coming off of a major knee injury like Chubb is currently doing.
Draft Grade: high 2nd
I don't think that I'd take him over Fournette or McCaffrey right now, but I'd probably take him about the same time as Cook.
This article originally appeared on