2017 NFL Draft: Eastern Washington Cooper Kupp Scouting Report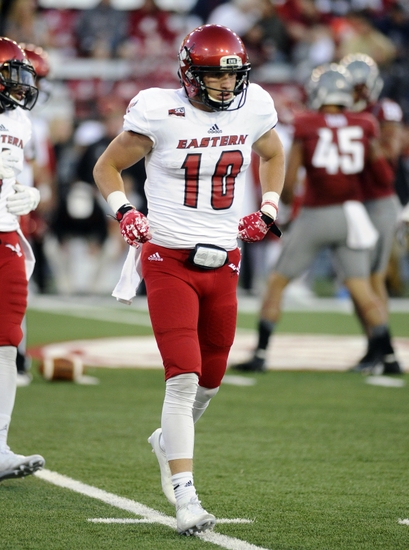 Eastern Washington's Cooper Kupp is a slot receiver who has had a great college career and looking to do the same at the next level.
Cooper Kupp does his damage working out of the slot where he excels at finding openings in the defense. He routinely runs crisp routes and presents the quarterback with a reliable target. Kupp has more size and bulk than the prototypical slot receiver which gives him an advantage.
He is able to use his body to box out the defender and fight through contact. His solid frame also helps him work across the middle and handle the hits delivered by linebackers.
Kupp flashes breakaway speed that helps him pick up yards after the catch. He's someone can turn a drag route into a big play. Kupp is also capable of working deep down the field, but does some more with posts and crossing routes rather than a streak.
More from With the First Pick
He's a hard-nosed player who will helps as a blocker and isn't afraid of taking a hit. His toughness is something that will come in handy at the next level. It's likely he'll need to contribute on special teams early in his NFL career. Kupp also has some experience as a return man.
While Kupp has good hands, there are times where he'll bobble the ball which results in drops. He also doesn't show great body control which hurts his ability to adjust to poorly thrown balls.
Overall, Kupp is a solid prospect who'll be able to make a contribution as a slot receiver and special teamer. His upside is limited, but he also has a low floor.
Current Draft Status: Late 4th Round
This article originally appeared on