3 power forwards the Miami Heat could trade for in playoff push
Frank Urbina/FanSided via All U Can Heat

Fansided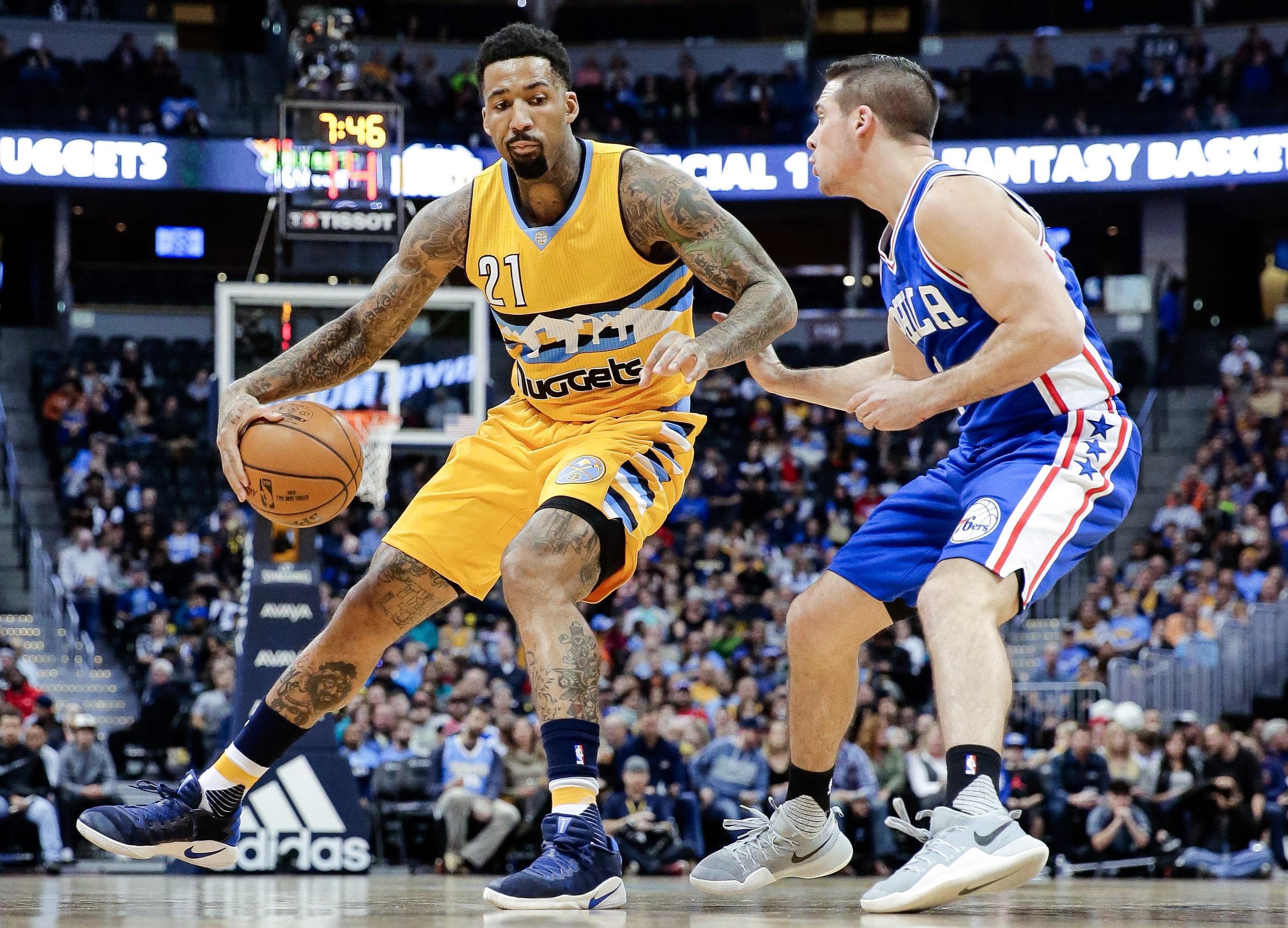 With the trade deadline quickly approaching, we take a look at three power forwards the Miami Heat could make a move for.
There are just 15 days remaining until the 2017 NBA trade deadline. The Miami Heat, currently one of the hottest teams in basketball, have reeled off 11 wins in a row. Thanks to that incredible run, they sit two games behind the Detroit Pistons for 8th-place in the Eastern Conference. So it's time to surmise: Is there a power forward out there that Pat Riley could potentially make a move for to help with a playoff push?
That's no knock on their current starter at the position — Luke Babbitt — by the way. Over his last 11 games, Babbitt is shooting 47 percent from three, with a plus/minus of plus-4.8. He may not be the driving force behind the winning streak, but he's certainly had a hand in it. However, even with his improved play, Babbitt has only averaged a meager 5.0 points and 2.8 rebounds in that span. He is simply a limited player, fit to do just one thing — shoot.
So if the Heat legitimately consider themselves playoff contenders, they need to get more out of their starting 4. Luckily, there are a few players at that spot rumored to be available for the right price. It's impossible to know if Miami will be buyers or sellers when the trade deadline arrives, but it's still fun to speculate.
Let's take a look at three power forwards the Heat could deal for in the next two weeks. (Sorry, no Blake Griffin's or Paul Millsap's. Those guys are way out of the Heat's price range. Whole point of this is to get a player — for cheap — who would help with a run at the playoffs. Not mortgage half the team away to get a superstar.)
Phoenix Suns SF/PF P.J. Tucker
I know what some of you are thinking: "Who?"
P.J. Tucker may not be a known commodity to the casual NBA fan, but that doesn't change the fact that he's a very serviceable role player. Despite his limited height (6-foot-6 on a good day), Tucker has solid girth (250 pounds) that helps him with his best asset — his defense. Over the past 11 game, the Heat lead the league in defensive rating. Adding another top-notch defender like Tucker couldn't hurt.
Although he may not be your typical stretch-4, Tucker is a career 34.9 percent three-point shooter. That's right around league average. And because he has spent the last four seasons in Phoenix, he's learned how to function next to a center who is similar to Hassan Whiteside in Tyson Chandler.
Tucker may not be the flashiest passer, but he's still a decent distributor. He has the ability to find cutters (something Justise Winslow specializes in) or big men with lobs.
He's also a versatile defender, who can switch between covering perimeter-oriented forwards and back-to-the-basket 4's. Tucker averages 1.5 steals per game in 28 minutes of action.
Also, advanced metrics like Value Over Replacement Player (VORP for short) love him. Tucker's VORP is a healthy 1.1, good for 76th in the NBA, ahead of players like Serge Ibaka and Steven Adams. (For comparison's sake, Babbitt's VORP is -0.1, which ranks him 332nd overall.) And finally, the Suns net rating is 1.7 points better with Tucker on the floor.
Clearly, Tucker is a good player who doesn't have the raw stats to back it up. Regardless, he would be a major upgrade at the position for Miami. How do we make this happen?
Heat trade Tyler Johnson to the Minnesota Timberwolves; Phoenix Suns trade PJ Tucker to Miami; Timberwolves trade Tyus Jones to Miami and Shabazz Muhammad to Phoenix
Just four days ago, reports surfaced that the Suns offered the Minnesota Timberwolves: Tucker in exchange for Shabazz Muhammad. The Heat could theoretically get into discussions by dangling a young, enticing guard in Tyler Johnson to the Timberwolves, and turning it into a three-team deal.
The Suns would be getting the player they originally wanted in Muhammad. Outside of TJ Warren, they lack scoring on the wing; Muhammad certainly helps them fill that hole.
Despite the fact that the Timberwolves would not get the player they requested (Tucker), whispers of that trade came out before Minnesota suffered an unfortunate loss to their starting rotation.
Zach Lavine ('Wolves starting 2-guard) tore his ACL over the weekend and will miss the rest of the season. So in this hypothetical, the Heat would send them Johnson in an attempt cover for his absence. Johnson isn't quite the athlete Lavine is, but he's no slouch either. He's also still just 24 years-old, with a ton of upside. He'd fit nicely with the youth movement they have going on. (Not to mention, Miami would get out of paying him $38.5 million over two seasons starting in 2018-'19.)
And the Heat receive Tucker; a rugged defender who can stretch the floor just enough to not clog the paint, and has a touch of play-making ability. Along with a young point guard (Tyus Jones) who has a lot of potential, but doesn't get enough playing time with the Timberwolves.
Tucker makes the Heat's starting 5 more formidable and Jones can be groomed into being a more-than-serviceable backup point guard. This trade is what we would call a win-win-win.
Philadelphia 76ers PF Ersan Ilyasova
Ersan Ilyasova is in a situation very similar to Tucker's. He's on the last year of his current deal, and not young enough to be a part of the team's future. Even despite knowing he isn't going to be in Philadelphia much longer, that hasn't stopped Ilyasova from posting the best numbers of his career.
As a member of the Sixers, he's averaging 15.6 points, 6.2 rebounds, and 2.2 three-pointers per contest. He's shooting 46 percent from the floor, and 38 percent from three. Ilyasova's VORP is 0.8, which puts him right behind Kristaps Porzingis, but ahead of Klay Thompson and Eric Gordon. And the Sixers' net rating is 7.4 points better when Ilyasova is on the floor.
He is the exact type of stretch-4 you would want next to Whiteside. A good shooter who's not limited to scoring behind the three-point line. Ilyasova doesn't get enough credit for his ability to get buckets in a variety of different ways.
Moreover, although he may not be a great defender by any stretch, he's got solid size at 6-foot-10, and quick enough feet to be serviceable in that area. Plus, playing next to Whiteside would help mask those deficiencies.
So let's think: Who on the Heat would strike enough interest from Philadelphia to make a deal plausible? Even after the years of legendary tanking, and trusting of the process, there's still one area their team is lacking. And that's in quality guard-play. I suggest the following:
The Sixers trade Ersan Ilyasova and Richaun Holmes for Miami's Tyler Johnson and Wayne Ellington
Though this trade would cause some distress among Heat fans (Tyler "Bumpy" Johnson has a cult-like following in Miami), it works out for a multitude of reasons.
The Heat would get the stretch-4 they've been missing since Bosh went down. Ilyasova is just 29 years-old with a lot of his prime left.
Additionally, Miami has a glut of guards on their roster. There's Johnson, Dion Waiters, Goran Dragic, Rodney McGruder and Wayne Ellington all currently fighting for minutes. Josh Richardson hopes to return from his foot injury before the All-Star break too, so that's another guy to factor into the rotation.
Trading Ellington, at least, wouldn't change the Heat's fortunes. He's a shooter, yet has converted under 35 percent of his attempts from three this season. Ellington's just not good enough at his role to warrant that much playing time (which is why he's been on seven teams already).
On the other hand, Miami losing Johnson (nice asset, signed to a long-term deal and not even 25 yet) would hurt. So to recompense, they get Richaun Holmes in return.
Holmes is quietly one of the highest-upside players in the NBA. His per-36 stats (average of a player's numbers if they played 36 minutes) are through the roof: 15.4 points, 9.7 rebounds, 1.7 blocks, and 1.7 threes. His Win Shares per 48 (number of wins contributed by a player over a 48-minute average) is 0.166, which is 128th in the league, ahead of freaking Carmelo Anthony and Dwyane Wade. Holmes is also under contract for three years, on a very team-friendly deal.
That's in addition to Ilyasova, whose pick-and-pop abilities fit nicely with Dragic, and three-point shooting give Whiteside room to operate. Even though he is going to be a free agent after this year, an offseason that included re-signing Waiters, James Johnson, and (potentially) Ilyasova would be a successful one. It would give Miami a solid (and relatively young) core for years to come.

Denver Nuggets SF/PF Wilson Chandler
After getting traded from the Knicks to the Denver Nuggets in the infamous Carmelo Anthony deal, Wilson Chandler's career has been quiet. Maybe that has something to with him missing all of last season with a labral tear in his hip. Or it could have to do with the fact that Denver is a slightly smaller market than New York City.
Whatever the reason, times have changed. Chandler's bounced back in a major way, both in his play, and in his ability to make headlines. He's averaging a career-high in points, rebounds, and assists — 15.5, 6.7, and 2.1 respectively . Chandler is shooting 45 percent from the floor and 34 percent from three (below average, but still hitting 1.5 per game). Of the three players I've mentioned, Chandler is easily the most versatile (at least offensively). Here he is dropping 26 on the Lakers last week.
By way of headline-grabbing, Chandler just recently made a big splash too. Five days ago, it was reported by the USA Today that he was unhappy with his bench role in Denver.
Chandler is locked into a contract for two more seasons after this one. Meaning he may be stuck. When he re-signed with Denver in 2015, it was on a four-year, $46.5 million deal. At the time, it seemed ludicrous. But now that teams got a major bump to their salary cap thanks to the NBA's new TV agreement? It's a steal. (I mean, Solomon Hill signed with New Orleans for basically the same amount, and he averages six points per game. Come on.)
In essence, Chandler is a good player putting up numbers. He can play a bunch of different positions. He would be a vast improvement over Babbitt or McGruder. So how do we rescue him from Denver?
The Heat trade James Johnson and Josh McRoberts for Wilson Chandler
The Nuggets get a versatile player, who would be a solid addition to their rotation. James Johnson could play a similar role to Chandler in that he can be used as a 3 or a 4 (or even a small-ball 5).
Josh McRoberts' inclusion is for salary-matching purposes, but maybe a fresh start helps him find his form (or regain his health). Even with McRoberts, the Nuggets are still saving money in this swap. His contract and J. Johnson's combined are worth less than Chandler's. Not to mention that the latter of the two is a free agent after this season anyways. The extra $6 million saved by Denver could help them re-sign their unrestricted free agents after this season.
Denver is currently the 8th-seed in the Western Conference playoff race, so trading Chandler for an injured player in McRoberts, and a (somewhat) lesser player in J. Johnson, may not make sense. But should the playoffs even be their goal? Teams headed for the 8th-seed, with losing records (the Nuggets are currently 23-28), should probably just tank it (sorry, Heat fans.)
And to close, Chandler helps Miami with his scoring and floor spacing, by creating opportunities for others, and with his defensive capabilities (he can defend 2-4).
So there it is. Three plausible trades Riley could swing to help bolster Miami's starting 5. While writing this, news began to leak of a Jahlil Okafor-to-New Orleans trade being near completion. We are still over two weeks away from the deadline, so if deals are already coming through, that could be a sign we're in store for a wild February 23rd. Stay tuned.
This article originally appeared on