Las Vegas Raiders
Las Vegas Raiders
Raiders-Giants matchup lacking enthusiasm this year
Published
Nov. 30, 2017 2:33 p.m. ET
When the Oakland Raiders drew a home game against the New York Giants this season, all eyes were hoping to see a star-studded affair featuring two strong passing attacks led by solid and established veteran quarterbacks.

That, however, won't be the case when the teams meet Sunday in Oakland, Calif.

The Raiders will be missing their top two receivers -- Amari Cooper, who is in the concussion protocol, and Michael Crabtree, who will be serving a one-game suspension stemming from his on-field altercation with the Denver Broncos' Aqib Talib last week.




Meanwhile, the Giants will not only be without their top receivers, Odell Beckham Jr. and Brandon Marshall, both of whom are on injured reserve with ankle injuries, but in a shocking twist announced this week, long-time starting quarterback Eli Manning will be on the bench.

Manning's backup, Geno Smith, will make his first start since Oct. 23, 2016, when he was a member of the New York Jets.

Manning, who has been the Giants' starting quarterback since midway through his rookie season in 2004, declined an offer by the team to continue his consecutive-games started streak, which will end at 210, in exchange for allowing the coaching staff to get Smith some meaningful game snaps.

"I just didn't think that you start knowing that you're going to come out of a game to keep a streak alive," Manning said this week. "That's not fair to me, that's not fair to Geno."

With Smith set to make Giants history as the man who will officially end Manning's iron-man streak, head coach Ben McAdoo is generally pleased with how well the offense is taking to having the former Jets starter running the huddle.

"Geno looked sharp today," McAdoo said after practice Wednesday. "He's working hard at it. The communication part of things is early and ... when the ball is snapped, he knows where he wants to go with the ball. He's decisive, and I'm excited to watch him play."

Smith, who is taking things one week at a time -- he knows that the organization also wants to look at rookie Davis Webb, a third-round draft pick this year -- said he is excited but added that he is trying not to get too wound up.

"I'm not looking too far ahead or behind," he said. "I look forward to this week. I think it's going to be a great matchup with Oakland. They're a pretty good team. They're down a couple guys, but they're still playing tough defense. So, we just got to go out there and execute."

Raiders coach Jack Del Rio said he remembers Smith from the last time the quarterback came to town, that being in 2015 with the Jets.

"I know that Geno's an athletic quarterback," Del Rio said. "He's been in the league for a while and has some experience and certainly is capable if you don't disrupt him."

While Del Rio and his staff are trying to figure out how to deal with the Giants' change in quarterbacks, the Raiders also are working feverishly to find a solution to their depleted receiver position.

It won't be easy considering the production missing due to the absence of Cooper and Crabtree. The two have combined for 1,001 yards on 84 receptions with 11 touchdowns in the Raiders' 14th-ranked passing offense.

Del Rio is turning to some of his younger players to fill the void.

"We've got guys that we will be counting on," the coach said. "Cordarrelle (Patterson), Johnny Holton, Seth Roberts, and then we're bringing up Isaac Whitney. So, we'll have our guys ready to go."

Patterson joined the Raiders this season after spending the first four years of his NFL career with the Minnesota Vikings. He has appeared in 11 games with one start for the silver and black. He has 186 receiving yards on 21 catches on the season, with seven receptions for 117 yards coming in his past two games.

Holton, a second-year player, saw a season-high 46 game snaps during last week's win over Denver, in which he recorded two catches for 53 yards, giving him four receptions for 161 yards and two touchdowns for the season.

Roberts, a third-year receiver, has appeared in 10 games for Oakland this season, with six starts. He has 262 yards on 24 receptions and one touchdown.

With the 5-6 Raiders looking to ascend in the AFC West, Del Rio is doing his best to make sure that his new players are in tune with what needs to be done, and also that his full squad is away the 2-9 Giants are not a team to be taken lightly.

"I mean, for us, we're just scratching and clawing and trying to do everything we can to get the next win," Del Rio said. "Our margin for error has really been eliminated. We've got to play good football. We've got to play as well as we can.

"We've got to win. We've got to try and get every win possible, and we've got to find a way to come out of this ballgame with our sixth win."


---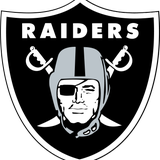 Get more from Las Vegas Raiders
Follow your favorites to get information about games, news and more
---