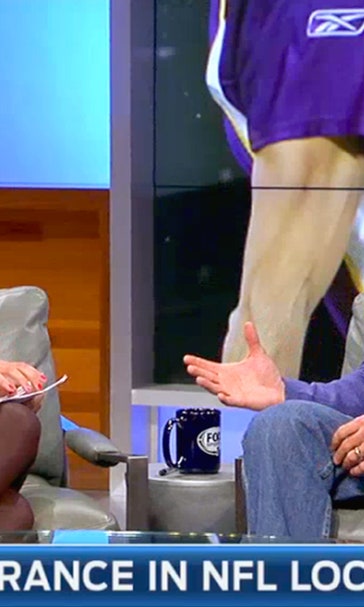 Kluwe on FOX Sports Live: I 'may have been a little too harsh' on Vikings coach
BY foxsports • January 8, 2014
Resigned to never playing in the NFL again after alleging that his former special teams coordinator spewed anti-gay comments in his direction, former Minnesota Vikings punter Chris Kluwe told FOX Sports Live Tuesday night that he no longer wishes that his ex-coach "never coaches again" and that his original letter "may have been a little too harsh."
Kluwe appeared on the nightly show to discuss the aftermath of his scathing letter on Deadspin.com on Jan. 2 that accused Vikings assistant coach Mike Priefer of using gay slurs in his presence and of trying to get rid of Kluwe from the team.
In his original column, Kluwe quoted his coach as saying, "We should round up all the gays, send them to an island, and then nuke it until it glows."
Priefer has denied the allegations, and several current Vikings came out publicly to support their coach.
Kluwe wrote about his goal going public being "to make sure that Mike Priefer never holds a coaching position again in the NFL, and ideally never coaches at any level."
Kluwe also called Priefer a "bigot" while labelling the team's general manager Rick Spielman and then-head coach Leslie Frazier (fired after end of regular season, but not as a result of Kluwe's allegations) of being "cowards" for trying to silence Kluwe from publicly advocating for gay rights, as he did on many occasions before and during the 2012 season.
Tuesday Kluwe sounded a bit more introspective than vindictive. "After thinking about it, after reflecting on it, I don't think an appropriate punishment is if he never coaches again," Kluwe told host Charissa Thompson. "I think it would be better if he got therapy, if he got counseling, and then a year or two from now, come back into the league as a role model, help out with LGBT groups, and show people that this is an important issue."
While the ex-punter said he was heartened that the team seems to be taking the issue seriously by opening its internal investigation, Kluwe seems resigned to the end of his NFL playing career. "It's a sad, but true, fact in the NFL that you can be blacklisted," he said. "I think I was fired from the Vikings for my stance on same-sex marriage."
Later in the show, FOX Sports Live opened up the conversation to NFL analysts Donovan McNabb and Brendan Ayanbadejo as well as MLB analyst Gabe Kapler, all former professional athletes, to take the temperature on the state of tolerance in today's professional sports locker room.
---
---