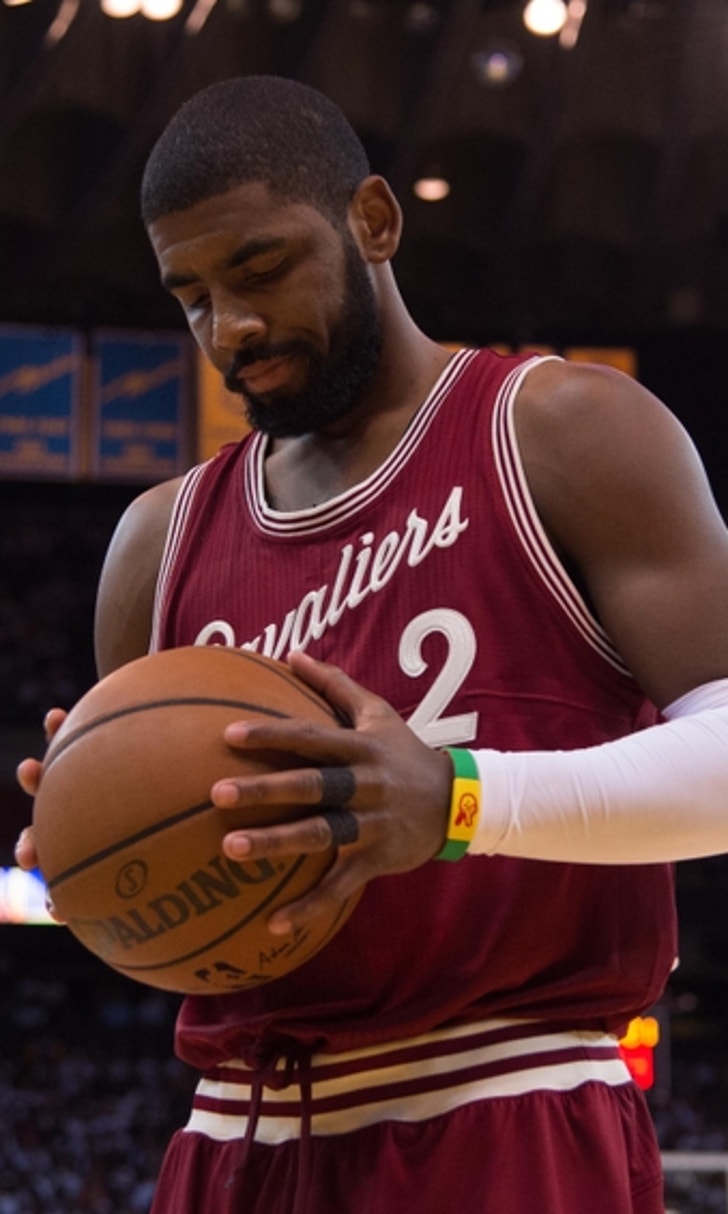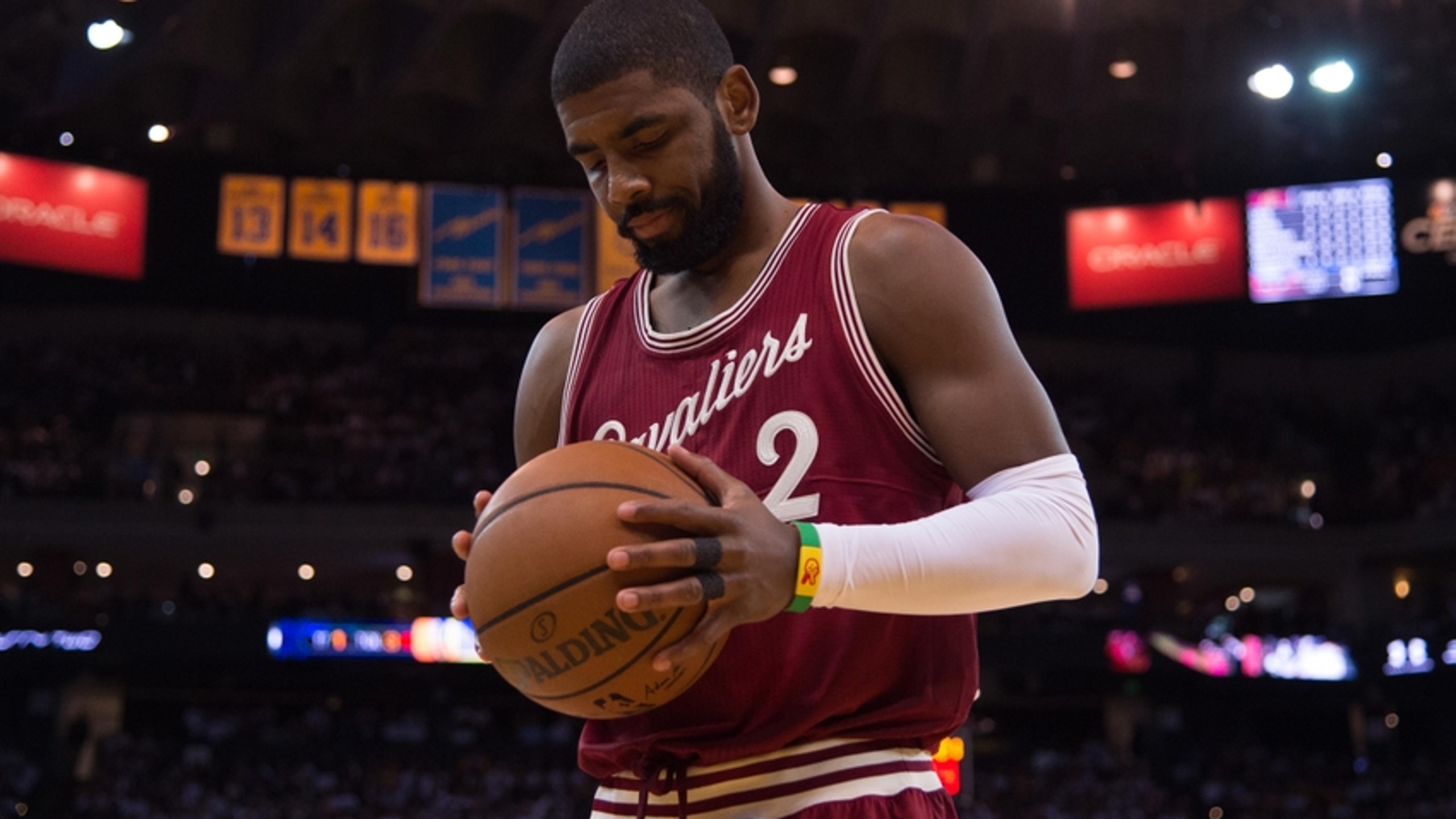 Cleveland Cavaliers: 3 Reasons Kyrie Irving Must Be an All-Star
BY Fansided and Nathan Beighle/FanSided via King James Gospel • December 28, 2016
The Cleveland Cavaliers found a gem in Kyrie Irving, and now the 24-year-old from Duke could be looking at another All-Star spot.
Just a spot? No, Kyrie Irving should be looking at his second All-Star game start, and his fourth appearance. He hasn't done too much damage in these games except for his second appearance where he was an absolute beast. He scored 31 points on 14-17 shooting in the 2014 All-Star game.
Kyrie Irving has been having a career-year this season. Irving, who was without another superstar till LeBron showed up in 2014-2015 season, has grown up immensely while under the mentorship of the King himself.
According to Dave McMenamin of ESPN, Irving has yet to take control like he could and claims to have the Alpha instant:
Want your voice heard? Join the King James Gospel team!
"I'm naturally an Alpha," Irving told ESPN.com in a wide-ranging interview during a preview event for his new Nike sneaker, the Kyrie 3, on a gray Sunday afternoon in late November. "I know I am. I know I am. I have that type of personality but I also understood coming to this team, I couldn't be all of what I envision myself being in terms of taking control."
With LeBron in town, we may never see the true Kyrie Irving in his prime be able to take control, but his numbers this season have been fantastic, and that is the number one reason that he should be an All-Star.
Kyrie Irving's numbers are insane.
The three-time All-Star is having a career season for his Cavaliers.
His 23.6 points per game ranks thirteen in the NBA, and his three-point percentage is better than any of those players above him.
More from King James Gospel
Per game, Kyrie Irving is averaging fewer points than Isaiah Thomas and DeMar DeRozan– two of the threats to his starting spot. His 5.8 assists are not the highlight of his stats but they are good enough to mention.
Kyrie, who has played every minutes this season at point guard, has consistently been improving his team. He has an +8.5 points per game which is a testament to his impact on the Cavaliers.
He is also shooting  an effective field goal percentage of 53.6, and his true shooting percentage, who averages in free throw shooting, is a career-high 57.6%.
Along with all those, Kyrie Irving's 22.3 player efficiency rate is a career-high also. This is just unreal. Coupled with the fact that he plays along two other All-Stars in Kevin Love and LeBRon James, Kyrie Irving's numbers have been spectacular this season.
The Cavaliers are the East's top-dog.
It is no shocker that the best teams have the most All-Star. The Golden State Warriors, who recently did move to the second best team behind the Cavaliers, almost have guaranteed four All-Stars.
With the Cavaliers the top-dog in the East and the power rankings, they should easily get all three of their "Big 3" in the All-Star game. Like previously stated, it is not about getting into the game for Kyrie; it is about starting.
His talent has shown off on many occasions to capture several key victories for the Cavaliers including a game-winner with 3.4 seconds left on Christmas Day to seal a victory over the Warriors.
The Cavaliers, because of Kyrie, have been able to succeed as several key stats. His passing ability has helped them average the leagues second most three per game only behind the three-point heavy Rockets. Behind Uncle Drew (Kyrie's nickname) and LeBron James, the Cavaliers are also a top ten team in assists.
This team seemingly has everything put together, and they will continue to thrive as Kyrie Irving has yet to hit his peak.
He does what others can't.
Kyrie Irving is unstoppable. His ability to draw fouls and finish in one-on-one situations should not be taken for granted. This tweet by Adam Mares, a writer for VICE Sports, perfectly shows how Kyrie is separated from the rest of the NBA.
The certain, important aspects of Kyrie's game are his great-and-butter. Kyrie has shown his brilliance throughout several crucial circumstances this season, and this 24-year-old still has six good years left.
Kyrie Irving is incredible. It should be a no-brainer for those voting that Kyrie Irving be a starter in this upcoming All-Star game!
---
---