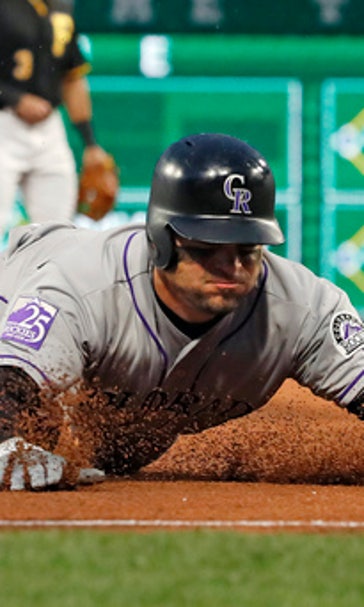 Rockies' Bettis, 3-relievers shut out Bucs at snowy PNC Park
April 17, 2018
PITTSBURGH (AP) Chad Bettis found a simple solution to ward off the cold.
''I just concentrated on executing pitches,'' the Colorado Rockies right-hander said.
Bettis pitched into the eighth inning and combined with three relievers on a five-hitter, leading the Rockies over the Pittsburgh Pirates 2-0 on a snowy Tuesday night.
Bettis (3-0) allowed five hits in 7 1/3 innings with three strikeouts and two walks.
''He used his entire arsenal effectively. He pitched,'' Colorado manager Bud Black said. ''It was a very effective outing. He kept them off balance and there weren't a lot of hard-hit balls.''
Bettis worked quickly, contributed to a relatively swift game time of 2 hours, 31 minutes.
''I think you intuitively want to work at a good pace in weather like this,'' Black said. ''Their pitcher was working fast, too.''
Bryan Shaw and Jake McGee followed, and Wade Davis pitched a perfect ninth for his NL-leading eighth save in eight chances.
Colorado improved to 5-1 on a seven-game trip that started in Washington, and the Rockies are 9-4 on the road overall.
The announced attendance was 8,869, but there appeared to be fewer than 2,000 fans at PNC Park. The Pirates offered ticket vouchers for games later in the season to fans who came through the turnstiles.
''Walking in from the bullpen, I was a little concerned because it was really cold,'' Bettis said. ''But I put on some (handwarmers) once I got to the dugout and I was fine.''
Trevor Williams (3-1) threw six innings in short sleeves despite the 34-degree temperature at first pitch. He gave up two runs and four hits, and he has allowed five runs in four starts this season.
Williams grew up in San Diego and played at Arizona State. He had never pitched in snow before.
''I'm hoping that this is going to be the last one,'' Williams said. ''It's tough waking up and seeing a blizzard outside, but it's tough for them, too.''
Bettis has pitched at least five innings and given up two runs or fewer in each of his four starts this season. He has a 1.47 ERA in his past six starts, including his final two outings of 2017.
''He lives on the margins,'' Pittsburgh manager Clint Hurdle said. ''He changes speeds. He's got a little quick pitch in there that he ran at us a few times, as well.''
Colorado went ahead in the first when Gerardo Parra drew a one-out walk, took third on Charlie Blackmon's single and scored when Carlos Gonzalez grounded into a forceout. Blackmon has eight RBIs in his last four games.
Rookie Ryan McMahon, who entered hitting .074, singled in a run in the fourth to make it 2-0.
''It definitely felt good,'' McMahon said. ''I've had bad stretches before in the minor leagues, but this is the big leagues and it's not as easy as some guys make it look.''
Pittsburgh did not get a runner past first base until Jordy Mercer doubled leading off the eighth. After Mercer moved to third on pinch-hitter Adam Frazier's groundout, Bettis was replaced by Shaw.
Sean Rodriguez bounced to McMahon, the third baseman, who threw out Mercer at home. McGee induced Gregory Polanco to hit an inning-ending pop out.
Mercer had two hits as the Pirates lost consecutive games for the first time this season.
Corey Dickerson popped out for the final out, ending his 11-game hitting streak.
TRAINER'S ROOM
Pirates: 2B Josh Harrison (broken left pinky) rejoined the team a day after being placed on the disabled list. Harrison has broken the same finger two seasons in a row when hit by pitches. ''The odds of that have to be infinity-to-1,'' Harrison said. ... RHP Joe Musgrove (strained right shoulder) is scheduled to throw off the mound Thursday for the first time since going on the DL. He is scheduled to throw three bullpens before beginning a rehab assignment in the minor leagues.
UP NEXT
Rockies LHP Kyle Freeland (0-2, 4.50 ERA) is scheduled to face RHP Chad Kuhl (1-1, 5.74) on Wednesday. Freeland is 1-1 with a 4.63 ERA in two career starts. Kuhl has lost both career starts against Colorado with a 5.73 ERA.
---
More AP baseball: https://apnews.com/tag/MLBbaseball
---
---