Why Alabama hiring Steve Sarkisian is a brilliant move
BY foxsports • September 5, 2016
After winning five national championships and establishing himself as the single greatest coach of his generation (if not all-time), Nick Saban has earned a reputation for a few different things.
He is a tireless recruiter. A meticulous game-planner. An outside-the-box thinker who is willing to do anything (within NCAA rules) to help his team win games.
(Cue the record scratch)
Wait, what???
Honestly, I know it sounds crazy to think about Saban -- a man who famously has the same morning routine every single day of his life -- as an outside-the-box thinker and one who is willing to evolve with the times, only that's exactly what he is. He proved it with a shocking move Monday -- one that no one could have seen coming a week ago -- when he hired former USC head coach Steve Sarkisian as an offensive analyst for the Crimson Tide's football staff.
Now on the surface, the move doesn't seem like much and will almost certainly be met with the same tired, overplayed jokes across the internet. We'll hear plenty about "Sark After Dark" from the unoriginal, sarcastic internet mob and plenty of folks will comment about "getting the band back together" with Sark and Lane Kiffin re-living their USC glory days in small, coed filled bars across the Deep South.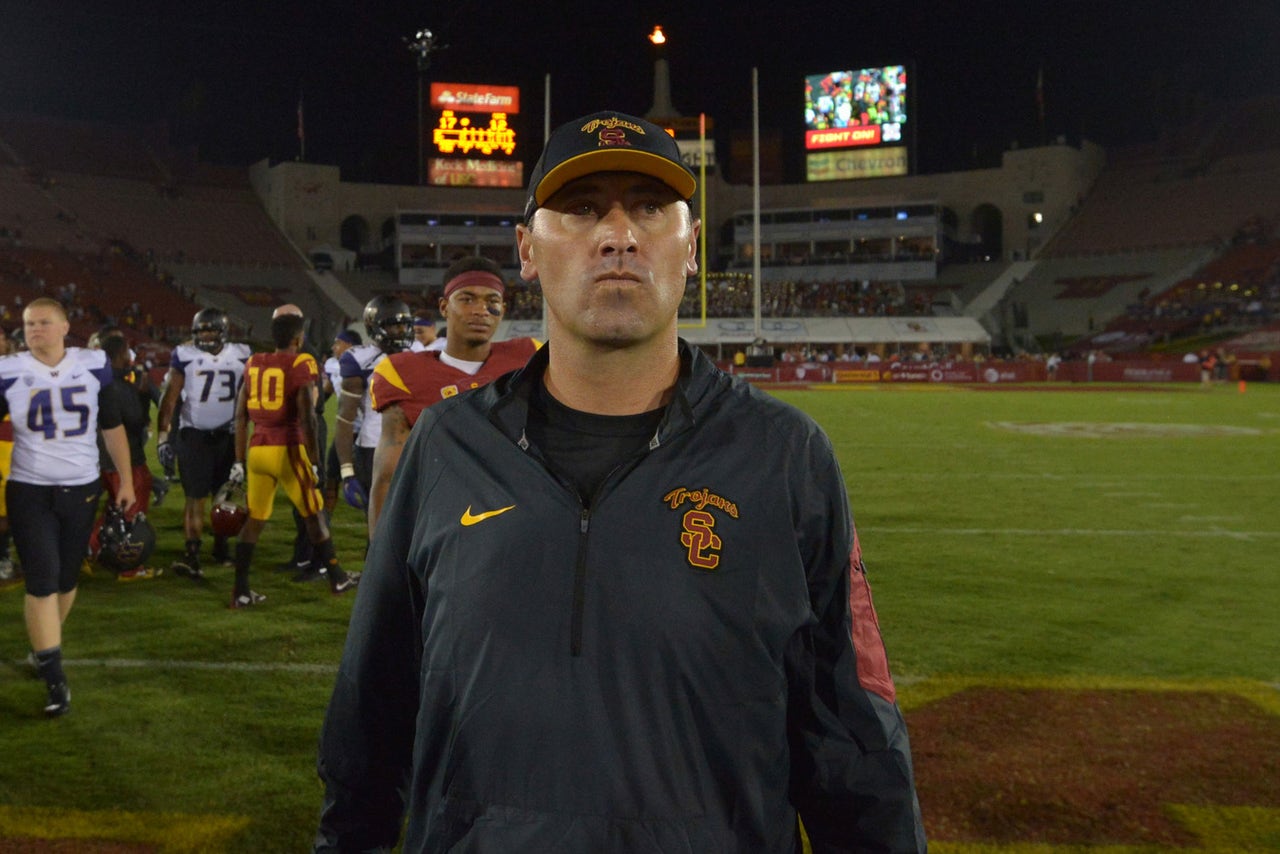 Former USC coach Steve Sarkisian
And while that's cute, here is realistically what Saban is getting: A totally overqualified intern; a grown man with major head coaching experience taking on a role which is usually reserved for a 22-year-old right out of college. It's basically the equivalent of a 12-year-old getting piano lessons from a concert pianist, or a middle school hiring a five-star chef to runs its cafeteria. Assumed Sark has cleaned up his act (and with how diligent Saban is in all areas of life, you have to assume he did his homework), this is an all-upside, no-risk, high-reward proposition.
Remember, for everything that happened at USC over the last couple years (and at Washington before that), Sarkisian actually has a pretty sparkling resume for a guy who is only 42-years-old. At an age when most guys have even gotten their first head coaching job yet, Sark has been a head coach at a major Power 5 school for six-and-a-half years and he took his teams to bowl games in five of those seasons. In the process, he also took a Washington program -- which was winless the year before he arrived -- to the postseason within two years, and that was after winning a national championship as an assistant at USC.
Nick Saban now has 5 fmr FBS head coaches on #Alabama staff: Steve Sarkisian, Lane Kiffin, Mario Cristobal, Bobby Williams & Mike Locksley.

— Bruce Feldman (@BruceFeldmanCFB) September 5, 2016
Simply put, Sarkisian knows offense. And now he'll spend his days sitting in an Alabama film room breaking down the Crimson Tide's personnel. How could this possibly have any downside?
It doesn't. And it once again proves that when it comes to his own team, Saban is as forward-thinking as anyone in the business.
Remember, when Saban hired Kiffin a few years ago, it was all the same internet chatter, all the same "what is he thinking?" questions. And while Kiffin became an easy target for rival fans, he completely re-invented his career in his two seasons in Tuscaloosa. In the process, Alabama has produced two of its greatest offensive seasons ever under his watch -- with the Crimson Tide taking home another national championship last January. It seems likely that Alabama wouldn't have won that title game against Clemson 45-40 if Saban hadn't handed the keys of the offense over to Kiffin two seasons ago. And based on the 52 points Alabama scored Saturday against USC, it seems like they haven't missed a beat entering this year either.
Hiring Sarkisian is also further proof that Saban's greatest strength might be his ability to put his ego aside and bring in smart people to work around him.
Alabama now has five former head coaches on their staff and it certainly isn't hurting their overall output. Besides the day-to-day stuff that we don't see, there is the tangible stuff we do see. Kiffin has completely flipped Alabama's offense on its head. Offensive line coach (and former FIU head man) Mario Cristobal has helped recruiting in South Florida, where the Tide have signed Calvin Ridley and a handful of other contributors, and have five guys already committed for next year.
That's right, "forward-thinking" isn't a word that an outsider would normally use to describe Saban.
But it's definitely the case, proven again by the Sark hiring on Monday.  
Sure, it might not amount to much of anything. Or it might just be the latest sign that when it comes to college football, Saban is miles ahead of everyone else.
Aaron Torres covers college football for Fox Sports. Follow him on Twitter @Aaron_Torres, Facebook or ATorres00@gmail.com.
---
---