Yarcho's Pick Six: Buccaneers End Drought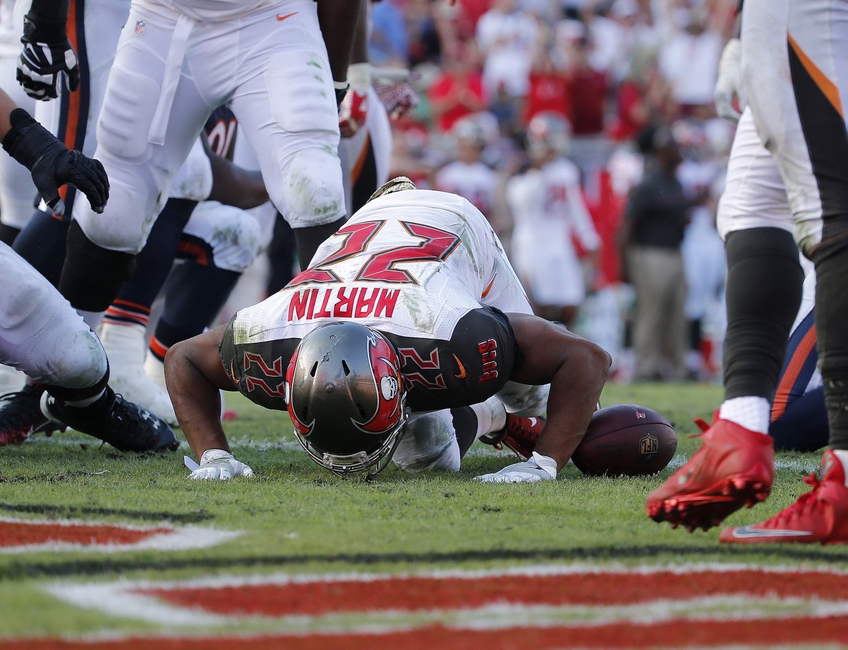 The Tampa Bay Buccaneers were 0-4 at home headed into Sunday's game with the Chicago Bears. That all changed with a convincing 36-10 rout of their former NFC Central rival.
Finally! Sunday, the Tampa Bay Buccaneers put together – by far – their most complete game of the season in all three facets of the game, obliterating the Chicago Bears 36-10. The defense was dominant, forcing four takeaways, a safety, and a touchdown. The special teams was outstanding as Bryan Anger continued to look like a Pro Bowl punter and Roberto Aguayo was perfect on the day. Finally, the offense put together an outstanding game – while Mike Evans had only four catches and no touchdowns.
It was nice to see a game like this, especially at Raymond James Stadium, as the Bucs are in position to stay alive in the playoff hunt – especially with every other NFC South team losing, With that in mind, let's pick six!
Six Topics Suitable For Discussion
1.) Where has this defense been all year? The Buccaneers' defense had two interceptions – one by Chris Conte returned for a touchdown to open the scoring, the other by Brent Grimes – two fumble recoveries, four sacks, and a safety. They held Jay Cutler to 16/30 for 182 yards and a touchdown, which was a fluke hail Mary to end the first half that just happened to be deflected into Cam Meredith's hands. They controlled the line of scrimmage and played their best game as a unit so far this season. Jordan Howard did finish with 100 yards rushing, but was taken out of the game in the second half as Tampa began to really pull away. If they can somehow manage to put together this kind of defensive performance on a weekly basis, they might just make a run.
2.) Jameis Winston was on fire. Winston was making some amazing throws against the Bears, and doing it for the most part without Mike Evans who didn't get his first reception until the third quarter. The Bears were doubling Evans all game long, with a safety shading towards him over the top. If the Bucs were going to win, they were going to have to do it without Evans dominating. Winston, instead, offered the Bears a heavy dose of Cameron Brate who finished with a career high seven receptions for a career high 84 yards and a touchdown. Cecil Shorts had a few catches, Adam Humphries had five, and Freddie Martino found himself the recipient of his first career touchdown on a 43-yard bomb from Jameis. Not only that, but Martino's touchdown was set up by Jameis Winston making arguably the play of the year when he eluded Bears defenders, ran 20 yards backwards into his own end zone, then threw a bullet to Mike Evans;
Winston had easily one of his best games of his career, despite the makeshift offensive line and one of the best receivers in the NFL being removed by a quarter of the opposing defense.
3.) Welcome back, Doug Martin! It wasn't the prettiest of performances, but Martin started getting himself back into the swing of things as he played for the first time since week two. Martin finished with 33 yards on 16 carries, but found his way into the end zone in the fourth quarter behind the blocking of Gerald McCoy who was lined up at fullback. The Bears run defense is no joke and they shut down the Bucs' run game no matter who the back was. That considered, it was just good to get Doug some live action reps as he continues to make his return from the hamstring injury.
4.) Is Roberto getting his head right? Not only was Roberto Aguayo 4/4 on extra points, he was also 2/2 on field goals, hitting from 30 and 27 yards. No, they weren't the longest of field goals, but every one of his kicks were right down the middle. None that almost went wide, none that ricocheted off the upright and in. They were dead on. Maybe this kid is starting to put things together.
5.) The offensive line needs to get healthy. With Joe Hawley out and Evan Smith getting injured, the Buccaneers had fifth round pick Caleb Benenoch and Ben Gottschalk, who was called up from the practice squad, in today's game. If this is the line the Bucs trot out against Kansas City, Jameis Winston will be beaten to a pulp. The line is far more efficient with Hawley at center and Kevin Pamphile at guard. Pamphile is still going through concussion protocol and can hopefully be back for next Sunday's game.
6.) Speaking of the offensive line… What the hell is Demar Dotson's problem?! Does he hate this team? He killed two drives on his own from holding penalties. Dotson was crying last year about wanting a new deal then ended up getting hurt. This year, he got his deal and is having the worst season of his career. Falling in line with Dotson is second year tackle Donovan Smith who has struggled mightily. The two of them have drive killing penalties called on them at least once each per game. It has to get cleaned up or there's going to be some shuffling next season.
Six Numbers To Consider
22 – Jameis Winston's age, which makes him the youngest QB in history with 40 touchdown passes
19 – Touchdowns thrown by Winston this season, the most ever by a Buc through nine games
5 – Touchdown receptions by Cam Brate, fourth most in a season by a Bucs tight end in a season
1 – Career touchdowns by Chris Conte, who returned an interception for a touchdown Sunday
15 – Interceptions by Brent Grimes since the 2013 season, third most in the NFL
21 – Career rushing touchdowns by Doug Martin
Six Top Performers
6.) Roberto Aguayo – We knock him when he's bad, he was perfect today. Give the guy a little praise. Hopefully this is the start of everything coming together for him.
5.) Adam Humphries – Five receptions for 46 yards doesn't sound like much, but Humphries made some outstanding, clutch catches in this one.
4.) Cam Brate – Career highs in receptions and yards for one game, plus a touchdown. Brate was Winston's go-to guy today.
3.) The Secondary – Their best game, as a unit, by far. Held the Bears to under 200 yards passing, held Alshon Jeffrey to four receptions for 47 yards. They had two interceptions, a touchdown, and a goal line stand with a pass defensed intended for Jeffrey. That drive would result in a fumble recovered by the Bucs. Outstanding job by this unit overall on Sunday.
2.) Jameis Winston – His fourth career 300 yard game, youngest player in history with 40 touchdown passes, now seventh on the Buccaneers all-time passing leaders list. One heck of a day for Jameis. He dominated this game by throwing guys open and not forcing the ball to Evans.
1.) The Defensive Line – Four sacks, two forced fumbles, a safety, consistent pressure. What more can you ask for? This was the type of performance we expected on a weekly basis from these guys. With Noah Spence continuing to develop, along with Gerald McCoy, Robert Ayers, and Clinton McDonald all healthy and back at it? These guys can make some noise.
Six Reasons For Optimism Moving Forward
6.) Although it was a rough day on the stat sheet, the offense seemed to click much better with Doug Martin on the field. The threat of him alone opened up a lot of play action passes for Winston.
5.) This defensive line can wreak havoc when McCoy, McDonald, and Ayers are healthy. Add in Noah Spence and they're starting to put something together.
4.) The list of no name position players on offense are getting it together – and Winston is beginning to trust them.
3.) The secondary had its first solid game, and it's certainly something to build on. Vernon Hargreaves was targeted five times and only gave up one catch for thirteen yards – his best game as a Buc. Grimes didn't slip and he got an interception. Conte didn't give up any huge plays due to blown coverage. They just have to keep it up.
2.) Dirk Koetter seemed to open the playbook up quite a bit this week. That's a trend that needs to continue with the way the offense played.
1.) If the Buccaneers can split the next two weeks between Kansas City and Seattle, that puts them at 5-6 with New Orleans twice, Carolina, Dallas, and San Diego remaining. They still have a shot…
Six Super Bowl Bets
1.) New England Patriots – Same ol' same ol'
2.) Dallas Cowboys – Rookie quarterback, rookie running back…is this real life?
3.) Oakland Raiders – They were off, but they've looked outstanding this season
4.) Kansas City Chiefs – I'm as guilty as anyone about overlooking these guys
5.) Seattle Seahawks – No clue how they've won so much with Russell Wilson struggling most of the year
24.) Tampa Bay Buccaneers – Not going to the Super Bowl this year, but still have the chance to make some noise.
Six Final Words (In your best Donald Trump voice)
Beating the Chiefs would be "yuuuuuuuge"
More from The Pewter Plank
This article originally appeared on