Will a wave of injuries derail a special team?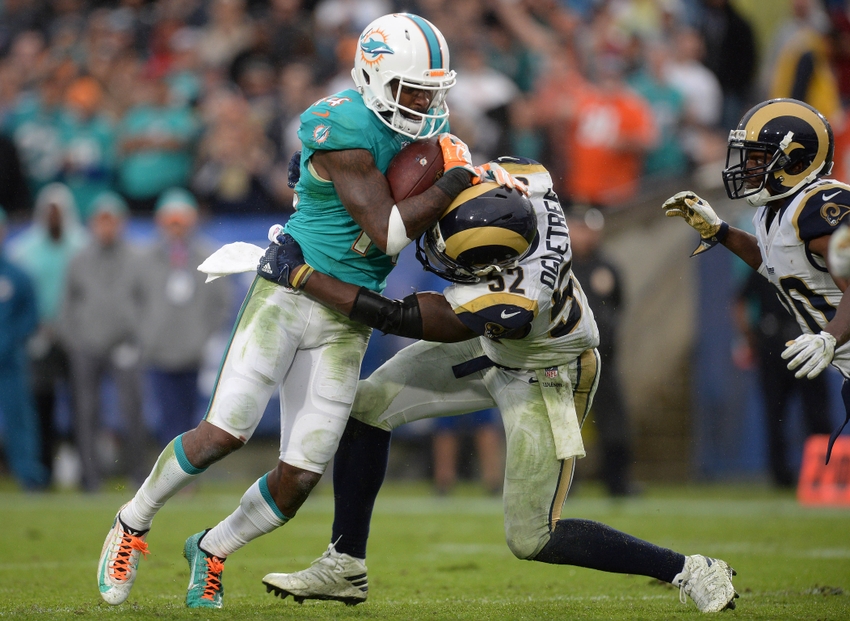 Just when the Dolphins starting five offensive linemen were starting to gel and dominate, leading to four straight wins, their two most decorated members and their first round draft pick got injured again, putting the win streak in jeopardy.
If I had told you at the beginning of the season that the Dolphins would lose Reshad Jones, Jordan Cameron, Mike Pouncey, Branden Albert, Koa Misi, Xavien Howard, Earl Mitchell, Arian Foster, Dion Sims, Dion Jordan, Laremy Tunsil and Mario Williams for at least one game in their first 10, what would you have supposed that their record would be in those games? 2-8? 3-7? 0-10?
You'd have been wrong.  I've been wrong.
This team, coming off a 4th quarter comeback against the Rams, scoring 14 points in the final five minutes of the game, is in the zone. On a rainy day when they were missing Albert and Pouncey to start the game, and then lost Tunsil about midway through, they somehow came through with the victory.
As would be expected playing with only two of their offensive line starters and three backups, Ryan Tannehill was under constant pressure from the Rams talented defensive line, and Jay Ajayi was unable to find any running room. This had the look of the typical Tannehill era game when the blocking was breaking down, receivers were dropping balls, and the quarterback was taking hits that made the announcers wince. You know that type of game. Dolphins defense hangs tough for a while, the offense continues to be inept, and eventually the defense cracks and gives up the score that puts the game away.
But not today. And evidently, not this season.
The play of the game was the touchdown on which Jarvis Landry scored. If you haven't seen the play, google it now and come back; I'll wait. Landry scores!
With the Dolphins on the Rams 10 yard line, Tannehill threw a typical over the middle dumpoff to Landry, hoping to get a bit closer for a 3rd down touchdown try. Unfortunately for the Rams, Landry, and a whole bunch of Dolphins had a different idea. With Landry wrapped up in the arms of the Rams defenders, all of those backup offensive linemen who had been getting abused all day by the Rams, finally started getting some payback, pushing the pile to the end zone, while Landry kept moving his feet and chugging to the goal line. Like a rugby scrum, the Dolphins showed the fight and determination that is the mark of a contender, getting Landry into the end zone for the team's first points of the day, while Rams defenders lay on the ground around them.
Contender. Yes, I said it. Contenders win games like today, against a rookie quarterback and a popgun offense. Contenders win games like they have the past few weeks, with kick returns, interception returns, stifling defense, accurate passing, 200 yard rushing games, whatever it takes. If there is a button on the controller for each of those things, Adam Gase and Vance Joseph have been mashing all of them. And let's not forget special teams coach Darren Rizzi, whose special teams units have been money in the bank.
And Tannehill. Dare we say that he's good? No seriously, at the beginning of this season, were we sure? But you have to give it to him. Dude gets crunched time and time again and just keeps getting up. His throws on those last two drives today were so money, thrown where the defenders had no chance of intercepting them. He used his legs, shifted around in the pocket, and kept getting the ball to his wide receivers. Five wins in a row. On a day when he could have easily packed it in and taken the loss, with the built-in excuse that the offensive line was decimated, he didn't. With Dan Marino and Bob Griese looking on, he delivered.
Props to all those guys who went out there today, and really stepped up. The defense was again very good. The "Beleaguered" Byron Maxwell is in danger of getting a new nickname. More like "Grand Puba" Maxwell so long as his solid play doesn't "Slow Down". And Tony Lippett, what can you say? I for one had no faith in his ability to play tight coverage, but he has turned it on in the past five weeks, tackling and batting down passes, and doing everything you could ask from a big, long corner.
The defensive front seven was its usual run stopping, active self, with Kiko Alonso, Ndamukong Suh and my dude Jason Phillips keeping the Rams dangerous running back Todd Gurley in check for the most part.
The Dolphins are now 6-4. 6 games to go in the regular season. In the hunt. Trending upwards. Whatever you want to call it, this team has it.
I believe.
More from Phin Phanatic
This article originally appeared on