What to make of the Seahawks next opponent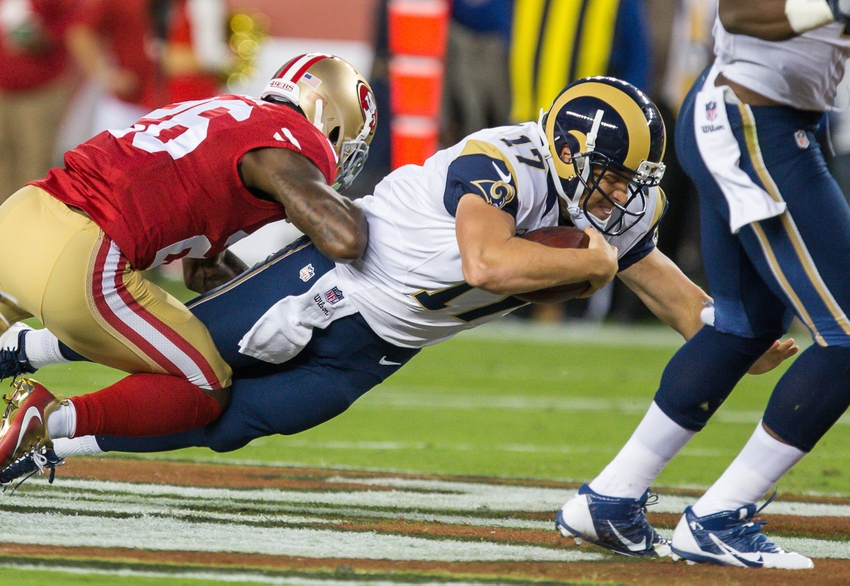 Traditionally, the Seattle Seahawks have struggled on the road against the Rams. Will it be any different now that the team has relocated to Los Angeles?
Real grass vs artificial turf.
Outdoors vs a domed stadium.
An invigorated, enthusiastic fanbase vs……. um, not that.
Will it be any different for the Seahawks this Sunday as they travel to Los Angeles to play their old nemesis the Rams? The Edward Jones Dome has been sort of a house of horrors for the Hawks in recent years, as they've only managed to win 2 of their last 6 road meetings between the two teams. And it's not as if they've lost to good teams. Austin Davis, of all people, was the starting QB in a 28-26 win over Seattle in 2014.
But this will be a new environment for the Rams, and they're coming off an embarrassing showing in a 28-0 loss to San Francisco on Monday night, making it harder than ever to get a feel for just what type of challenge Seattle can expect to face this time around.
The Rams still boast one of the most fearsome defensive fronts in the game, led by Aaron Donald, Michael Brockers and Robert Quinn up front. They would figure to wreck havoc upon Russell Wilson, who's playing on a gimpy right ankle behind a suspect offensive line.
But is that unit all that much better than the Ndamukong Suh-led group they just faced against Miami?
Meanwhile, Seattle's defense looked as dominant as ever versus the Dolphins, and there's no question Miami's offense is substantially better than the Case Keenum-quarterbacked group the Rams will throw out against them this weekend.
Keenum was awful, and it still appears the Rams have once again chosen to go with a mediocre-at-best collection of wide receivers. Meanwhile, their offensive line was mostly pushed around by the 49ers, as the dangerous Todd Gurley only managed 47 yards rushing.
Much will be made in these days leading up to the game about that recent negative history Seattle owns in road games against the Rams. Perhaps too much.
I expect the game to be a lot like the Dolphins matchup. Seattle's defense will control LA's offense, giving Wilson just enough breathing room to eke out a win on the road.
Then the real question becomes, were the Rams that bad on Monday night, or are the 49ers perhaps not so bad themselves. Seattle hosts San Fran in week #3 at Century Link Field.
More from 12th Man Rising
This article originally appeared on