Week 14 Grades For Buccaneers' Win Over Saints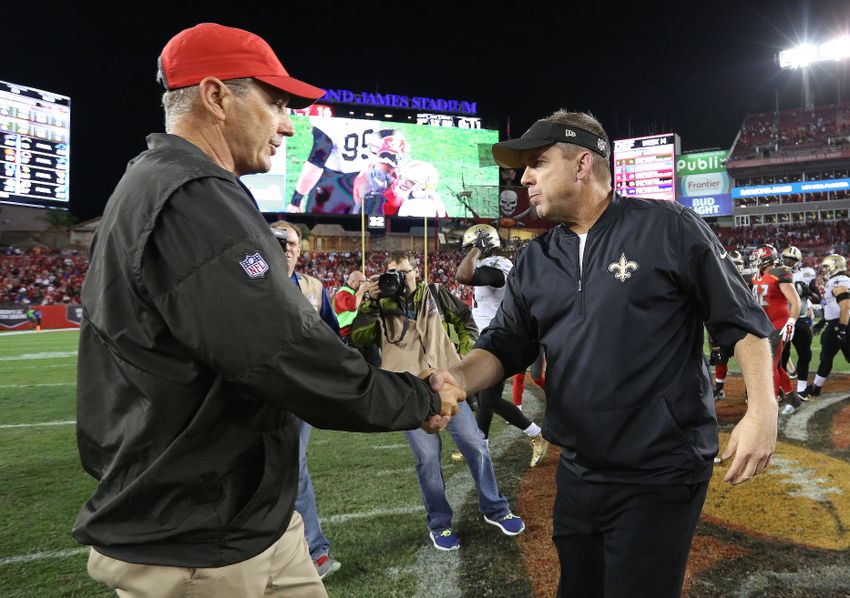 Well, the streak is alive and well. Despite only putting up one touchdown, the Buccaneers were able to escape with a 16-11 win on Sunday afternoon in front of the home fans.
VS.
| | | | | | |
| --- | --- | --- | --- | --- | --- |
| | 1 | 2 | 3 | 4 | T |
| Buccaneers | 3 | 10 | 0 | 3 | 16 |
| Saints | 0 | 8 | 3 | 0 | 11 |
The Buccaneers played just well enough to win on Sunday afternoon, beating the division rival Saints by a score of 16-11. The victory was Tampa Bay's fifth in a row, which improves its record to 8-5 overall.
The rest of the league didn't help out at all, so the Bucs are still in the same position that they were in heading into this week. They sit tied with the Falcons for first place in the NFC South, while holding the final NFC wild card spot.
The 16-11 win didn't come easily, but most wins in the NFL don't. The fact that Tampa Bay is winning games like these is promising.
Now, let's see how the team did on its weekly report card.
QUARTERBACK: C+
Jameis Winston wasn't great on Sunday, but he wasn't bad. He was just average. The 22-year-old completed 16 of his 26 passes for 184 yards. For the first time since high school, he didn't score a touchdown, but he played well enough to get the Bucs a win. Therefore, he gets a C+.
More from The Pewter Plank
Considering the opponent, Winston didn't play as well as he could have. The Saints don't have a very good defense, yet no. 3 didn't manage to find the end zone. He missed a couple of early throws, which made the Bucs settle for a field goal three different times in Saints' territory.
Nonetheless, he stepped up and made some big throws at some key times to keep Tampa Bay on top. He was especially impressive with his legs, extending plays to make things happen despite the fact that his offensive line was porous.
Winston was without some key receivers, as he has been for most of the year. But, with Cecil Shorts and Adam Humphries both missing, he made do with what he had and got the Bucs a victory.
His C+ isn't great, but hey, Cs get degrees, right? Apparently they can get victories as well.
RUNNING BACKS: C
There was nothing special about what the Bucs did in the run game on Sunday. So again, they'll get an average grade for the backfield.
The fact that the backfield is completely healthy for the first time since week two should be a big deal. But, it just wasn't this week. Doug Martin had another below-average performance, rushing for 66 yards and a touchdown on 23 carries (2.9 yards per carry). Charles Sims returned from injured reserve to run for 17 yards on four carries, while Jacquizz Rodgers gained nothing on just two carries.
The Bucs still managed to rush for over 100 yards as a team, which is why the grade isn't worse. Also, Tampa Bay's backfield was instrumental in clock management. The team held the ball for 33 minutes and 15 seconds, which was much better than New Orleans' 26:45.
Even still, there were some issues with the way the ground game was handled. Martin couldn't get much going, which made the play call on the Bucs' own goal line even more puzzling. He was stuffed behind the line for a safety, effectively handing all of the momentum to the Saints. Additionally, where was Rodgers? During the week, there was talk of an expanded role for no. 32. Well, he had two carries.
Tampa Bay needs to find some more production out of its backfield down the stretch. That's for sure.
WIDE RECEIVERS AND TIGHT ENDS: C
Well, we have another position group that gets a C for Sunday's performance. There really isn't much to say about what Tampa Bay did in the passing game. Sure, Jameis Winston did enough to win, which means the receiving corps did enough to win as well.
Cameron Brate was once again the team's leading receiver. He caught four passes on five targets for 47 yards, so his performance certainly wasn't anything special. It was just enough. The same can be said for Mike Evans, who caught four of his eight targets for 42 yards. This week was Evans' second straight sub-par performance, but with teams starting to key in on him, that's no surprise.
Last week, Freddie Martino stepped up for the Bucs. This week, no one really did. Charles Sims did make an impact in the passing game, catching two passes for 33 yards. But, there wasn't much to write home about from anyone else. Josh Huff, making his Buccaneer debut, didn't show much of anything.
Tampa Bay needs Adam Humphries to recover from his concussion, and soon. He was sorely missed this week, as no one really made up for the production that he has consistently had this season.
OFFENSIVE LINE: D
Yikes. The old joke "the offensive line was offensive" applies to the performance of Tampa Bay's line on Sunday. The only reason that the group gets a D is the fact that the Bucs still managed to win.
There wasn't a lot of running room on Sunday, and Jameis Winston was being chased out of the pocket all day. The Saints continued to bring a lot of pressure, but the Bucs couldn't handle it. Overall, Winston was sacked only twice, but got hit six times. New Orleans finished the day with eight tackles for loss as well.
Not only was the offensive line struggling to stop the Saints' pass rush, but it also couldn't stop shooting itself in the foot. Donovan Smith committed three penalties on the afternoon, which has become a regular occurrence. The second-year tackle has had discipline issues all year, and they've seemingly gotten worse. Encouragingly, Joe Hawley stayed penalty-free.
The Bucs will need their offensive line to step up if they want to keep things going in the next few weeks. Demar Dotson and Luke Stocker were missed, and the team needs them back. They face the dominant Cowboys next week before meeting the Saints again. By the time the team makes the trip to the Superdome on December 24, the offensive line will need to be able to handle the pressure that New Orleans brings.
DEFENSIVE LINE: B+
The numbers don't shine so much, but Tampa Bay's defensive line was solid on Sunday. It was getting pressure on Drew Brees pretty consistently, but only came up with one sack. Even still, a B+ is fitting for how the line got after the quarterback and stopped the run.
Robert Ayers got the lone sack for the Bucs, but Gerald McCoy and Noah Spence were in the backfield all day. Ayers got four hits on the quarterback, and considering the fact that the Saints got away with some pretty obvious holds, it was a strong effort from the rest of the defensive line. Additionally, Spence came up with a huge play in the game when he batted away a Brees pass at the line of scrimmage to force a punt.
The line also played a key role in stopping the run, as New Orleans managed just 46 yards rushing on the afternoon. Shutting down the run was big, as it left the direction of the Saints' offense solely with the passing game.
Tampa Bay's ability to get after the quarterback has been one of the biggest reasons for this current five-game winning streak. Defense has been at the center of the team's turnaround, and if the front four can stay hot, its playoff chances will be much higher.
LINEBACKERS: A
The Buccaneer defense as a whole did a fantastic job on Sunday afternoon. The linebacking corps was a massive part of that, led by Kwon Alexander and Lavonte David.
As mentioned in the previous slide, the Saints picked up just 46 yards on the ground. That was a big deal for the Bucs, as it forced Drew Brees to try to win the game on his own. Of course, he wasn't able to do that. He didn't find the end zone, and he turned the ball over three times. A lot of that was on Alexander and David.
Alexander racked up seven tackles (six solo), including one for loss. David had similar numbers, picking up five tackles (all solo) and a tackle for loss. Both of them were instrumental in stopping the run, while also playing exceptionally in pass coverage. No. 58 tipped a Brees pass into the hands of Vernon Hargreaves, getting a major assist on VH3's first career interception.
It was big for the linebackers to have a game like this against New Orleans. Next week, things get much tougher. Cowboys rookie running back Ezekiel Elliott is having a monster year. In 13 games, he has rushed for 1,392 yards and 12 touchdowns. If Tampa Bay's linebackers can't step up again, the winning streak will definitely be in jeopardy.
DEFENSIVE BACKS: A+
Look, any time you can keep Drew Brees out of the end zone, you deserve major props. The veteran star finished with a quarterback rating of 28.7, and his offense managed just nine points.
For the second straight week, he threw three picks. All three came at big moments in the game. Vernon Hargreaves' first career interception led to a Tampa Bay field goal, and Keith Tandy came up with his second game-clinching pick in two weeks. Brent Grimes mixed in his third interception of the season as well.
The Bucs have turned around their secondary in a big way. Even with Chris Conte and Jude Adjei-Barimah out, they've seen Tandy and Javien Elliott step in and step up. Everyone has been able to step up at the right time, and it's been impressive. During this winning streak, Tampa Bay has beaten Alex Smith, Russell Wilson, Philip Rivers and now Drew Brees. That's not too bad.
Things don't get any easier next week. Yes, Dak Prescott is a rookie quarterback. Normally, rookie quarterbacks have their growing pains. However, it just doesn't seem like he's had much pain at all. He has led his team to an 11-2 record, while throwing for 3,139 yards and 20 touchdowns. That presents a tall task for the Buccaneer secondary, especially considering the fact that Prescott has thrown just four picks this season.
But that conversation is for later in the week. The secondary shut down Brees on Sunday, which gets them an A+. That's big-time.
SPECIAL TEAMS: B+
Back in the offseason, I talked about the need for the Bucs to fix up their special teams. They certainly have, and it was obvious on Sunday.
Roberto Aguayo was perfect on the day. He connected on field goals of 41, 39 and 26 yards, while also making his lone extra point attempt. In a game that was decided by five points, Aguayo was a big difference-maker.
However, punter Bryan Anger changed the game. He's done that all year long, but even more so on Sunday against the Saints. He punted four times and landed two inside the 20. One of those was downed right at the goal line on a spectacular play by Josh Robinson and rookie Ryan Smith. The play changed the momentum of the game once again, and the Bucs defense stepped up with a stop as a result.
Now, a second quarter sequence is the only reason that this grade isn't an A. First, newcomer Josh Huff botched a kickoff, which left Tampa Bay with possession at its own one. On the following play, the Saints stuffed Doug Martin for a safety. On the following kick, Anger booted it out of bounds to set New Orleans up at midfield. The sequence gave the Saints a lot of momentum, keeping them in the game despite their early struggles. Luckily for the Bucs, their defense stepped up and held the Saints to a field goal at the end of the half.
That'll do it for this week's report card. With all the grades averaged out, Tampa Bay gets an somewhere around a C+. The grade isn't all that impressive, but the performance was enough to get the only letter that matters: W. At 8-5, the Bucs remain very much in the playoff conversation ahead of a Sunday night matchup in Dallas next week.
This article originally appeared on