Teryl Austin Responsible for Lions Defensive Issues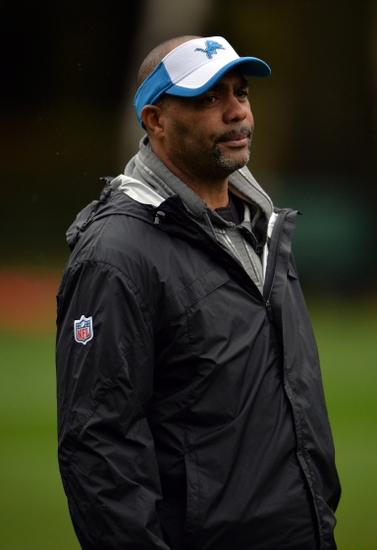 While it may seem self-evident for Defensive Coordinator Teryl Austin to have responsibility for the Detroit Lions defense, it doesn't always work that way. Players will make mistakes or just plain get beat by the talented guys on the other side. The coordinator role can be obscured by the players.
Yet in watching Detroit's thrilling 39-35 opening win over Indianapolis, one thing was patently clear:
Teryl Austin had a terrible game as the Lions defensive maestro.
If Austin once again refuses to fix an obvious schematic weakness, the Lions could drop what should be one of the easiest wins on the schedule.
The context matters here. Indianapolis started a hobbled Jack Mewhort at left guard between a rookie center and a left tackle in Anthony Castonzo who is roughly Riley Reiff's equal. Detroit's strength is the defensive line, and it showed early. Austin dialed up some twists and asynchronous rushes, where one rusher waits a count and then acts off how the O-line reacts to the initial action. That's how Kerry Hyder got his second sack.
After the first couple of drives, the front four got vanilla. The stunts and twists largely went away. There were no "heavy" sets, no real variety in spacing or alignment. Austin made it too easy for the dilapidated Indy line to handle a deep and talented front. Haloti Ngata, Devin Taylor and Tyrunn Walker are all skilled guys but also need some schematic help to pressure the QB. They did not get it, and it showed on the back end.
This is where Austin dropped the ball. All summer we have known the weakness of the Detroit Lions defense is covering the middle of the field and the deeper sidelines. The Colts proved this was not some preseason phenomenon.
From the folks at Pro Football Focus,
Luck was executing high-level throws all afternoon, picking apart the Lions' pass coverage with ease. Luck was incredibly effective when throwing deep down the middle of the field, where he completed 11-of-13 passes for 203 yards and three touchdowns on passes at least 10 yards downfield.
The primary culprit was not necessarily any one player, though DeAndre Levy certainly showed a lot of rust. No, the biggest issue was communication and transitions in coverage. The first (first!) Jack Doyle TD is a great example:
#VIDEO: Andrew Luck mantiene con vida a los #Colts

Pase de 16 yardas a Jack Doyle para TD#ForTheShoe #INDvsDET https://t.co/WS6Hz6vYUp

— NFL México (@nflmx) September 11, 2016
Levy is expecting Nevin Lawson to pick up Doyle on the deeper outside, but Lawson doesn't anticipate that Levy will turn him over so quickly. Even if Lawson picks up on what Levy is going, he probably cannot get outside fast enough to do anything about Doyle's route and a strong throw from Andrew Luck.
Communication
There were communication and transition issues like this throughout the game. While Levy needs to play better, Austin has to be aware that his linebacker isn't getting it done and adjust. That's what coaches are supposed to do when the players cannot execute the designed plays. Teryl Austin needed to adapt his strategy to fit what the talent on the field had a chance of accomplishing.
Some straight man coverage would have helped. It couldn't have hurt. Relieving Levy and fellow LB Tahir Whitehead of any responsibilities in the run game also would have helped. The front four was controlling the Indy run pretty well, and a run from outside the 10-yardline wasn't going to result in the touchdown or a big play. Indy is a big-play offense, something Austin didn't account for well enough in his calls and game plan.
Of course the Colts offense deserves some credit. Luck settled into a groove after a shaky start and picked the Detroit defense apart even when the coverage was solid. That's where the vanilla pass rush factors in. It was plainly obvious the Lions back seven couldn't cover the diverse Colts passing attack. 
More from SideLion Report
Throw those cover guys a bone and amp up the pass rush. Make Luck get the ball out quicker or move him off his spot and take away part of the field by pushing the passer to the other side. But Teryl Austin dug in his heels and is complicit in Luck's big day.
Looking Back and Forward
Remember this happened last year, too. For whatever reason, in last season's crushing opening loss to San Diego, Austin continually had both his defensive tackles rush to the outside and abandon the A-gaps. The Chargers picked it apart and clawed their way back. Austin didn't fix this odd, eminently exploitable issue until after the second game. That week Minnesota gashed the Lions for 199 rushing yards.
Lions fans better hope Teryl Austin realizes the err of his ways as the team prepares for the Titans. While they are a completely different type of offense from Indianapolis, that doesn't make them less dangerous. If Austin once again refuses to fix an obvious schematic weakness, the Lions could drop what should be one of the easiest wins on the schedule.
This article originally appeared on