Ryan Pace Has Chance to Alter Legacy of Chicago Bears GMs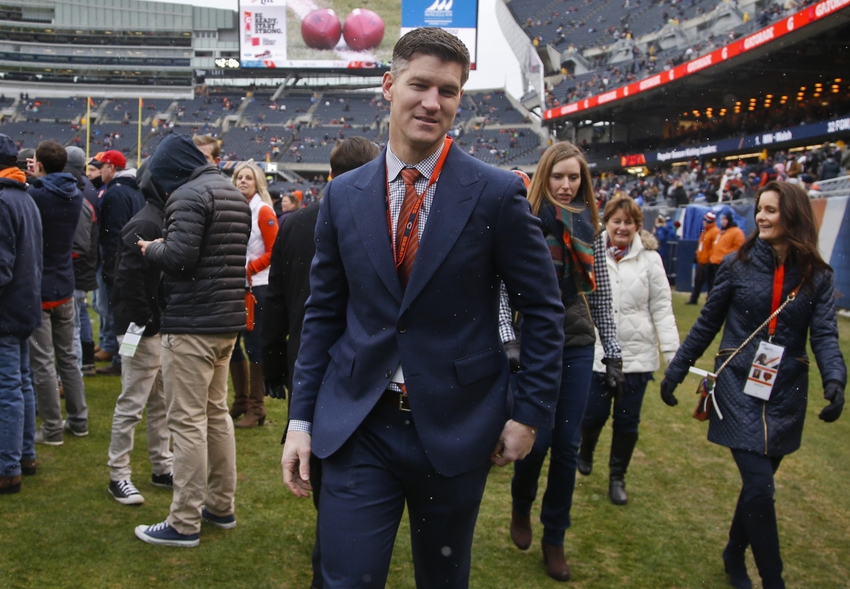 Over the years Chicago Bears GMs have done a lot of good things. They've built some amazing defenses and dominant ground attacks.
They found Hall of Fame linebackers and running backs. Even a standout offensive lineman or two. Ryan Pace has at least begun to uphold that end of the bargain. However, there is one area where Bears executives have been almost batting .000 at the plate. An area that is considered the most important in pro football and indeed all sports. For the life of them, they can't find good quarterbacks.
The irony of this is palpable since Chicago was a major proponent of the position going mainstream. Sid Luckman, the Bears' only Hall of Fame QB, along with Sammy Baugh helped establish the idea of the forward pass as the future of football. Johnny Unitas gets the credit for making it famous but not without Luckman doing what he did in the 1940s.
For a time Halas was constantly investing top picks in quarterbacks, and having success too. Then for whatever reason he got away from that mode of operation in the 1950s. The Bears haven't really gotten away from that since. They rarely use higher picks at the position and when they do it's clear they don't have the people in charge who know what to look for.
Just look at their history in the Super Bowl era. The following list is all the picks made in the 4th round or higher and the GMs who made them.
Bobby Watson (1968-1973)
Bobby Douglass (2nd round, Kansas)
Garry Huff (2nd round, Florida State)
Jim Finks (1974-1983)
Jim McMahon (1st round, BYU)
Bill Tobin (1987-1992)
Jim Harbaugh (1st round, Michigan)
Peter Tom Willis (3rd round, Florida State)
Will Furrer (4th round, Virginia Tech)
Mark Hatley (1997-2000)
Cade McNown (1st round, UCLA)
Jerry Angelo (2001-2011)
Rex Grossman (1st round, Florida)
Kyle Orton (4th round, Purdue)
Looking over that list, it will make some fans cringe and others just shrug their shoulders. Of those nine names above, six of them ended up throwing more interceptions than touchdowns. Just one made the Pro Bowl. That was McMahon in 1985. What's amazing about him is he was the only QB Finks drafted above the 4th round. He didn't do it until his eighth year in charge. Yet even that pick became somewhat of a disappointment.
Pace has no idea how wide open a window he has before him. A window to change the culture of Chicago football and establishing a legacy only George Halas currently has. A legacy of bringing the Bears to the forefront of modern football with a top quarterback under center. One Pro Bowl and one championship from nine quarterbacks in 50 years. It's doubtful the bar could be set much lower.
Ryan Pace does have one advantage though. An advantage only Finks held among the other Bears GMs. He's seen the best up close and personal. Pace spent eight years in New Orleans watching Drew Brees forge his Hall of Fame career. Watched how he worked, practiced, thought and competed. Finks saw the same thing with Fran Tarkenton back in Minnesota. He understood what to look for, and so does Pace.
That more than anything should give Bears fans hope that the young GM can finally flip the script.
More from NFL Mocks
This article originally appeared on