Ron Rivera Upset Over Line of Questioning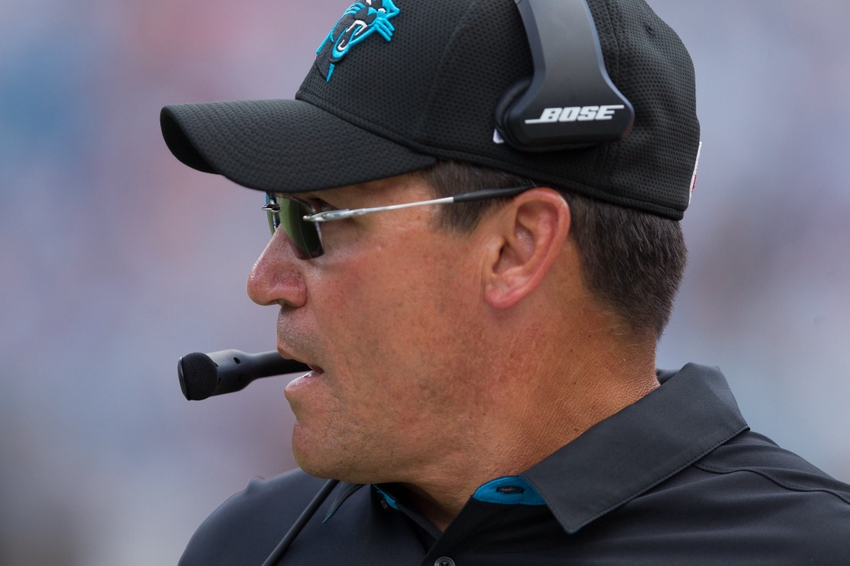 Carolina Panthers head coach Ron Rivera exited his weekly press conference early on Monday after getting upset over questions regarding the health of Luke Kuechly…
The play in question was a block on Carolina Panthers All-Pro linebacker Luke Kuechly during Vance McDonald's 78-yard touchdown run after the catch. San Francisco wide receiver Quinton Patton came across the field and drove Kuechly out-of-bounds with a blindside block that allowed McDonald to score easily.
The Panthers' linebacker returned to action during the next series and promptly intercepted San Francisco 49ers quarterback Blaine Gabbert. However, he did not meet with the media following the game leading to the question Rivera faced during Monday's press conference.
"Really? He got blocked. Let's not try to create something that's not there," Rivera told reporters Monday. "He got hit on the shoulder pad from the side. We're trying to print something that's not there … I don't think that's a fair question, I really don't."
The Carolina Panthers are still awaiting review of how the organization handled quarterback Cam Newton during the season opener at Denver. Newton absorbed multiple hits to his helmet during the game and and both the NFLPA and NFL agreed to further investigation. The NFL fined two Broncos' players, but no results from the NFLPA investigation have been disclosed.
This isn't the first time Rivera has been questioned regarding his handling of star players in regards to the concussion protocol. As recently as last season, Rivera was asked about his handling of Newton during a game with the New Orleans Saints.
"We follow the rules here," Rivera said, via Bill Voth of Black and Blue Review. "Don't question my integrity when it comes to those things. Understand that. I try to be as forthright as I can when I answer your questions. When I'm doing that, the least I could do, is get the common courtesy that I'm being believed."
"Okay, I take it very seriously and it is not up to me to make those decisions and these calls. It's up to the doctors, just so you understand that. I'm being very upfront with this and very forward because it does bother me. I'm not the doctor. I'm not the one who makes these decisions. We have a protocol and we follow the protocol. We had a player stay out for, what, three or four weeks? And at no point in time did we force that young man onto the field because we believed him. So please, do not question me on this."
Rivera was referring to Kuechly, who missed three games after suffering a concussion during the season opener last year. Regardless, it appears that the Carolina Panthers are developing a history with concussion protocol and Rivera has already grown tired of the media questioning his intent.
More from Cat Crave
This article originally appeared on