Panthers Three Takeaways: Week 9 vs. Rams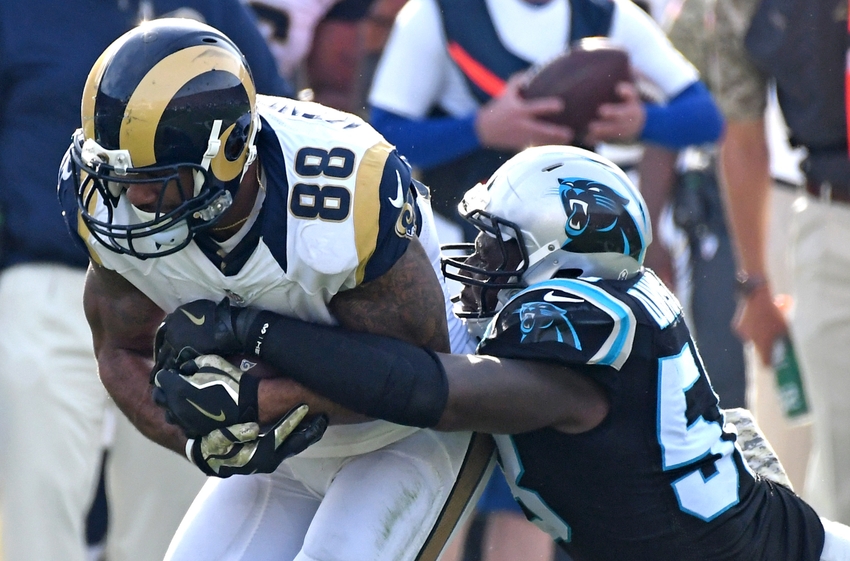 In Week Nine, the Carolina Panthers traveled to the City Of Angels and picked up a victory against the Los Angeles Rams in a 13-10 final…
Don't call it a comeback story, but the Carolina Panthers are in the win column for two weeks in a row.
After starting the season 1-5, the Panthers picked up their third win of the season on Sunday against Los Angeles in a 13-10 defensive showdown. Both teams in the contest failed to muster much offensively with both teams under 350 yards of total offense and the Rams under 300 until a long drive in the closing minutes.
But when it mattered most, Cam Newton and company found a way to get into scoring position. In addition, Carolina did not commit any turnovers while a Rams' interception late in the third quarter turned into the deciding three points for the Panthers.
While Carolina still sits at the bottom of the NFC South, what did they do to top the Rams on Sunday?
No Thompson, Not Much Kuechly, No Problem
Veteran Thomas Davis stepped up in a huge way on Sunday, leading the team in tackles with 11 and adding the leaping interception as well. Shaq Thompson was out on Sunday and Luke Kuechly was visibly hampered by a groin injury. Kuechly's four solo tackles register as tied for his lowest mark of the year, but the physical force of Davis made up for it entirely.
"It definitely feels better when you win the football game traveling this far, but at the end of the day, we focused in, we locked in as a football team, and we knew that it was a tough task. We knew what we had to do and we came here and got it done," commented Davis postgame.
Offensive Line Struggles…Again
At this point it should come as no surprise to Panthers fans, but yet again the offensive line continued to not get the job done on Sunday.
Cam Newton was sacked five times against the Rams, including a hard lick from safety Mark Barron that may have warranted a personal foul for helmet to helmet contact. This week did not feature veteran center Ryan Kalil, who was sidelined with a sprained shoulder.
Gino Gradkowski, Kalil's backup, was tasked with blocking stud defensive tackle Aaron Donald who finished the day with two sacks and three tackles for loss. Mike Remmers, having been moved to left tackle with Michael Oher out, picked up another holding call this week for number six on the season, an amount that triples any other offensive lineman for the Panthers.
Newton Effective Enough
This season has not been the same for the reigning MVP, quarterback Cam Newton, but this week he found a way to get it done on the road. Newton spread the ball to three main targets with Greg Olsen, Kelvin Benjamin, and Ted Ginn Jr. all coming down with five receptions. Newton finished the day 20-of-32 for 225 yards and a touchdown.
Postgame, Newton talked about the toughness of the contest stating, "It's (the game) not pretty, and in most cases throughout the year, all games are not going to be pretty, but I am just happy and proud. Everybody just kept pushing through, and just did their job."
Next week, the Panthers play host to the Kansas City Chiefs.
More from Cat Crave
This article originally appeared on