Oakland Raiders Opponent Preview: Get to Know the Houston Texans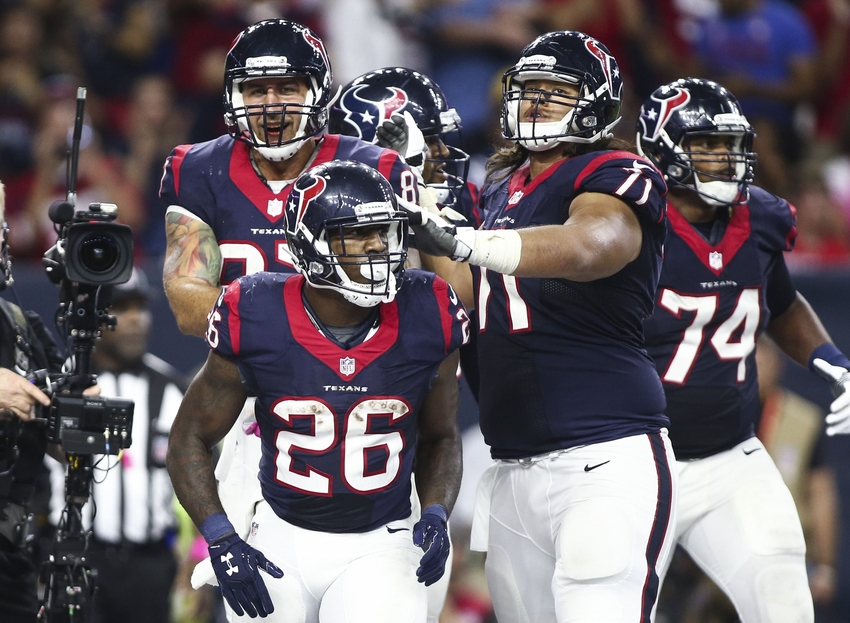 Here is everything you need to know about the Week 11 opponent of the Oakland Raiders, the Houston Texans.
As always, let's go to Sun Tzu for some wise words.
If you know the enemy and know yourself, you need not fear the result of a hundred battles. If you know yourself but not the enemy, for every victory gained you will also suffer a defeat. If you know neither the enemy nor yourself, you will succumb in every battle."
For the second consecutive game, the Raiders will play in primetime. This time, it'll be on Monday Night in Mexico City.
Let's get to know their Week 11 opponent, the Houston Texans.
The Texans are an interesting team, and it's hard to put a finger on exactly how good they are. Let's take a deeper look to find out what this team is all about — what are their strengths, their weaknesses, etc.
We'll start with the coaching staff:
Head Coach: Bill O'Brien
Offensive Coordinator: George Godsey
Defensive Coordinator: Romeo Crennel
Special Teams Coordinator: Larry Izzo
O'Brien is tough to figure out — meaning, it's hard to tell just how good of a coach he is.
The Texans have boasted some talented teams during O'Brien's tenure, but it seems like they slightly underperform. In his first two years with at the helm, Houston finished 9-7 in each season, and made the playoffs once.
In 2016, the Texans are off to a 6-3 start, a very good mark.
Romeo Crennel is the most notable member on O'Brien's staff, as his success with New England is very well known. And since he took over Houston's defense, he's done quite well here, too.
Let's take a look at Houston's 3-4 defense:
LDE Jadeveon Clowney
NT Vince Wilfork
RDE Christian Covington
LOLB Whitney Mercilus
LILB Benardrick McKinney
RILB Brian Cushing
ROLB John Simon
CB A.J. Bouye
CB Kareem Jackson
CB Jonathan Joseph
SS Quintin Demps
FS Andre Hal
The Texans are 4th in the NFL in total yards allowed per game, at just 317.4. They are best defending the pass, ranked 3rd in the league at 196.8 yards allowed per game.
Against the run, however, Houston is quite weak. They surrender 120.7 yards on the ground per game, which ranks 26th. They allow 20.9 points per game, which ranks 12th.
The Texans have a takeaway problem, registering only 8 on the year (4 interceptions and 4 fumbles), which is the third lowest mark in the league.
Houston's pass rush has suffered without J.J. Watt — with 17 on the year, they rank 25th in the league.
So basically, the secondary is very, very good. And everything else is below average.
But they do have some talented players on this side of the ball, including Clowney, Mercilus, McKinney and Bouye.
Mercilus leads the way with 4.5 sacks, with three other plays at either 3 or 3.5. McKinney is the team's leading tackler. Clowney is having a quality season now that he's healthy.
Bouye may not be a household name, but he should be. He's been a shutdown corner this year, and is actually PFF's #1 CB at this point of the season. An undrafted free agent in 2013, Bouye is set to be a free agent at the end of the the season, and he's earning himself a handsome payday.
Bouye missed last week's game, however, and his status for the game against Oakland is unknown. The same can be said for Vince Wilfork, who if he can't go, will be a big absence in the middle of Houston's defense.
The game plan for Oakland's offense should be exactly the same as it was against Denver. With a stout secondary but a weak run defense, the Raiders should look to get Latavius Murray going yet again. Control the clock and dominate the trenches.
Let's take a look at Houston's offense:
QB Brock Osweiler
RB Lamar Miller
WR DeAndre Hopkins
WR Will Fuller
TE C.J. Fiedorowicz
LT Duane Brown
LG Xavier Su'a-Filo
C Greg Mancz
RG Jeff Allen
RT Derek Newton
The Texans offense, at least in theory, is all about speed. With the new additions of Lamar Miller, Will Fuller, Braxton Miller, Tyler Ervin to a team that already had DeAndre Hopkins, Houston fields an offense that would make Al Davis proud.
The problem is that the Texans have not figured out to utilize all of that speed, and the offense has sputtered most of the year.
Lamar Miller has been the lone bright spot for this team. After a slow start, he anchors Houston's 5th ranked rushing offense. Miller has 720 yards on the ground (4.5 YPC) with 2 touchdowns.
Brock Osweiler has been a disaster. In the first year of a 4-year, $72M contract, Brock leads the NFL's worst passing offense, at just 187 yards per game.
Osweiler is completing 58% of his passes, with 11 TDs and 9 INTs. He has been awful to say the least. And as a result, DeAndre Hopkins has been largely ineffective. With 45 catches for 482 yards and 3 TDs, Hopkins is well of his usually production.
Houston's offensive line, even though Duane Brown is the only notable name, is actually one of the league's better units. Their 17 sacks allowed ranks them 8th in the NFL.
The plan for Houston's offense is quite clear, and that's to put the ball in Lamar Miller's hands. The Raiders will need to focus on containing Miller, and making Osweiler beat them through the air.
The blueprint for success here is very similar to the Denver game. Stop the run, and make the other team beat you through the air.
And as already mentioned, the blueprint for success on the other side of the ball is also similar to the Denver game.  Establish Latavius Murray early, and keep that rolling against Houston's weak run defense.
If the Raiders can play anywhere near as well as they did against the Broncos, they will certainly walk away with their second primetime victory in a row, and move to 8-3 on the season.
http://justblogbaby.com/2016/11/15/jbb-podcast-raiders-vs-texans-preview/
This article originally appeared on