Oakland Raiders' First-Round Pick Solid in Debut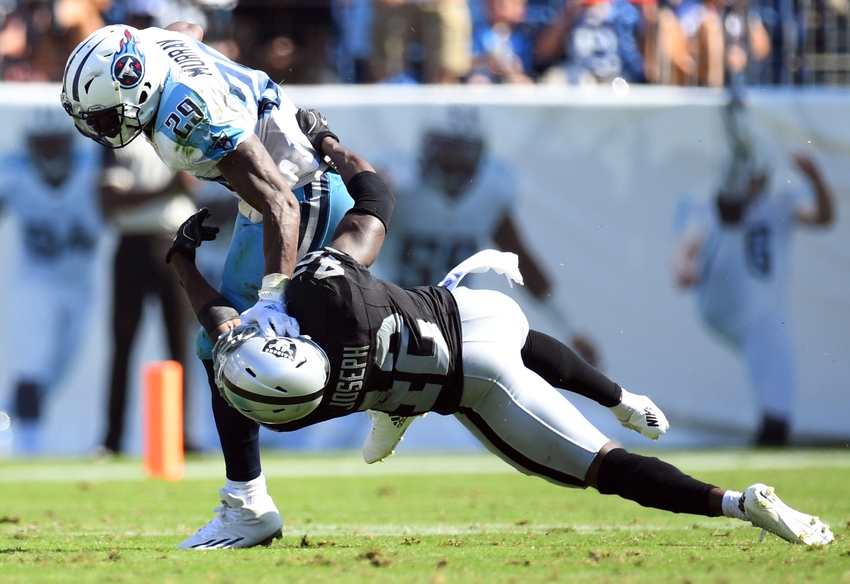 It took a little while for the Oakland Raiders to use 2016 first-round pick Karl Joseph at safety. But he arrived just in time to help the Raiders go to 2-1 after three games.
The Oakland Raiders defense gave up 1,000 yards and 69 points in the first two games of the season. Opposing quarterbacks seemed to land bombs in that secondary at will. And all the while, 2016 first-round pick, Karl Joseph sat on the bench.
The Raiders wanted to ease him into action after he tore his ACL in college last year. But their historically bad performance on defense made them start their first-round pick Sunday. So all eyes in Raider Nation were on Joseph to see how much he could help.
For the first time, this season, the Raiders didn't give up a long TD pass or get killed tight ends.  And instead of giving up over 30 points like they did in the first two contests, they only surrendered 10. The Raiders didn't allow a touchdown with Joseph on the field.
He was in the locker room to getting an IV when the Titans scored their touchdown in the second half. If not anything else, his sheer aggression gave his defensive teammates a spark. And at the same time, he thoroughly impressed is teammates.
Sean Smith told CSNBAYAREA, "Karl was coming up hitting. I was surprised that somebody small was throwing his body in there against those big backs they have. He came in, played fast and made good calls. I was happy for him."
Statistically, Joseph made a solid impact on the game, leading the team with 10 total tackles on Sunday. He made key tackles on running plays that broke through the line of scrimmage. And he also made tackles to keep runs after the catch from turning into big plays.
It was a solid debut for Joseph!
More from With the First Pick
This article originally appeared on