NFL Playoffs: 5 reasons Tampa Bay Buccaneers will make it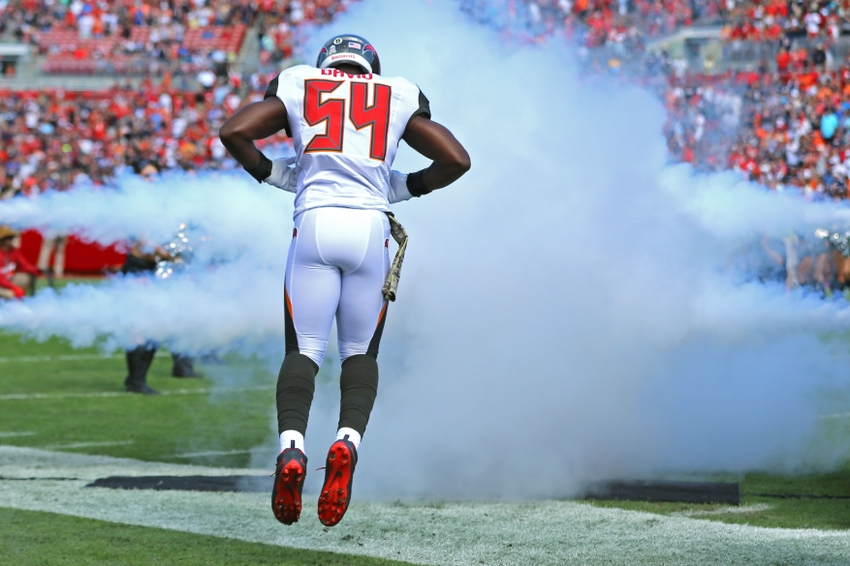 The Tampa Bay Buccaneers are 6-5 and one game out the playoffs. Do they have enough talent to make a postseason push?
5. Jameis Winston
Love him or hate him, Winston is a winner. Sure he is good for one or two terrible throws per game, he is almost too confident in himself, and being a "winner" isn't a real tangible trait. However, the confidence is which he exudes can be felt by his teammates, and he creates an atmosphere that makes his team better.
Aside from the confidence he gives his team to outperform their levels, he is getting better as well. Winston started the season with eight interceptions in his first four games. Since then, he has thrown three interceptions in his last seven games. He is figuring out what works, and most importantly he is not letting the game get too big for him.
Most of his interceptions came in first halves of games and came on his first two drives. Winston had a similar problem at Florida State. Early on he would get too excited, force a pass or make a bonehead throw, but as the game went on he would turn into a cool and collected player. In the past three or four weeks, we have seen almost exclusively the cool and collected Winston.
If this variation of the second year quarterback can become a consistent theme, the Buccaneers have one heck of a leader under center, and with that will find themselves in any game for the foreseeable future.
4. Mike Evans
With the retiring of Calvin Johnson, it was time to add a new wide receiver to the top tier of performers in the NFL. This year, there is no doubt that Evans is establishing that he is in the elite at the wide receiver position.
To date, Evans is second in yards, tied for first in touchdowns and third in receptions. He also ranks eighth in yards per catch for players with at least 50 receptions. He just recently became the fourth wide receiver of all-time to start with three straight 1,000 yard seasons.
In the same form of Megatron, Evans is a type of player that you can just throw the ball in the air to and he will come down with it. He has tremendous leaping, size and body control ability and with that combination becomes one of the most lethal offensive weapons in all of the NFL.
What is better than having a quarterback growing into a significant NFL starter? Having a perfect match for him at wide receiver at an equally young age to grow with him. The Buccaneers have the perfect duo in Winston and Evans and it gives them the ability to stay in any game.
The Bucs have players such as Russell Shepard, Cecil Shorts and Adam Humphries benefitting from the attention that Mike Evans brings. To clear up space for these average names, and to continue to rack up stats doing it can show to the elite ability of Evans, and can show that on any given Sunday this can be the passing game in the NFL.
3. Doug Martin
Of course, as the season wears on and the weather gets colder, the spread it out and pass offenses get more and more one-dimensional. These winter months are those in which running the ball are key to establishing an identity.
The Bucs came into this season wanting to be a run first team. Doug Martin got injured, and they still tried to be a run first team behind Jacquizz Rodgers. Now that Martin is back, this team will continue to be a run-first team, but as displayed in their three-games winning streak, they will be successful at it.
The Bucs currently rank fourth in the NFL in carries per game. However, in yards per attempt, they rank 27th. Doug Martins injury had a lot to do with it, but so far this year he is also averaging just 3.0 yards per attempt.
However, in his first game back from injury he put up a touchdown to ignite the three-game win streak, and against the Chiefs and Seahawks, two of the elite run defenses in the NFL, he ground out 150 yards on 47 combined carries. It was the presence of the run that can free up Evans, and the opponents will get easier in the coming weeks.   
The Bucs three-headed playmaking monster may be hitting its stride at the right time and they may have a chance at a December run because of it.
2. Road Warriors
This could along with Winston and the confidence he instills. A nobody believes in us mentality can show in football games, and it may give the Bucs the confidence to win some tough games down the stretch.
So far this season, the Bucs have stayed alive by winning on the road. This team is 4-1 on the road this season. That includes a win over the Falcons, Panthers, and Chiefs. Now, in the thick of the playoff race, they will have to rely on winning a couple of big road games to stay alive.
The Bucs have to go to San Diego, New Orleans, and Dallas. On paper, it may look tough, but this team may be able to pull out two of those games. Jameis Winston went into the Superdome last  season and beat the Saints. Given this team's ability to almost play better on the road it would be no surprise to see them go 6-2 on the road down the stretch.
Winning two of those games would help flip the script for a lot of positioning in the NFC playoff picture. With being 4-1 on the road, they are only 2-4 at home, but if they can find one more strong home effort and ride their road success, they are in the thick of the playoff race.
1. Pass Rush
One way to beat teams with quarterbacks Philip Rivers, Drew Brees, and Dak Prescott on the road is to get after them all game with a fierce pass rush. The Bucs defense may not be known for its talent on paper, but this team is getting better every week and they are getting after the quarterback.
The Bucs currently rank ninth in the NFL in sacks with 27. During their three-games winning streak, the team has come alive with 10 sacks. This had led to nine turnovers over these three games. With their surge in takeaways, the Bucs now are tied for third in the NFL with the most takeaways in the league.
A lot of their success in rushing the passer has to do with their second round rookie Noah Spence. Spence only has one start but is used rotationally as a pass rusher. He has seen plenty of snaps this season and has taken advantage. To date, he has 5.5 sacks, tied with Gerald McCoy to lead the team. On top of that, Spence has three forced fumbles. That is just one behind Lavonte David for the team lead as well.
McCoy and David are hands down the rocks and most important pieces of this Bucs defense. Now, all of the sudden they have a third major impact player to force turnovers and create havoc. The Bucs defense is not complete, but it is getting better every week. Combined with a three-headed monster arising on offense, the Bucs could have just enough gas to get into the playoff mix this year. One thing is for sure, though, playoffs or not, this Bucs team is here to stay for the foreseeable future.
This article originally appeared on