Know your enemy: One-on-one with the Ramblin' Fan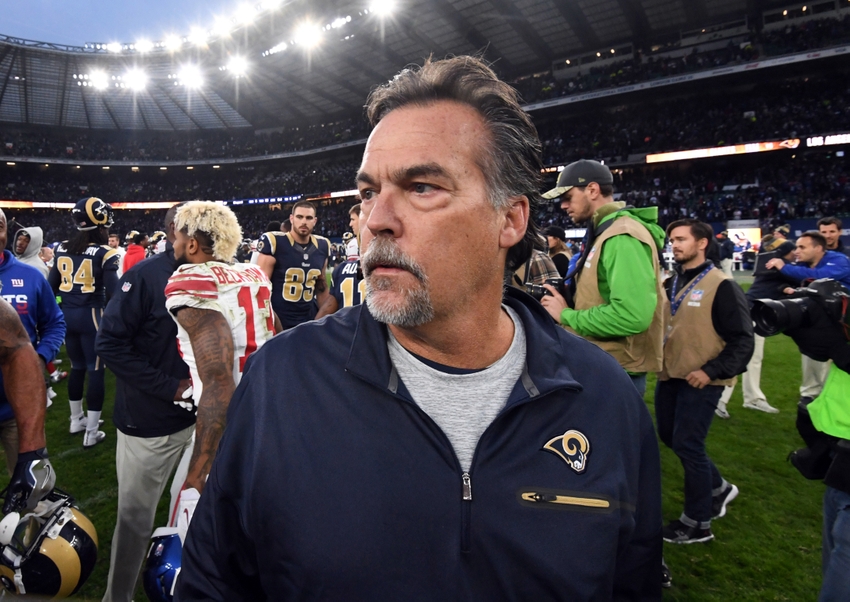 It's almost impossible to get to know every team during a season. Not everyone will be familiar with the ins and outs of the Saints' upcoming opponent, the Los Angeles Rams. So Who Dat Dish went one-on-one with Rams' blog Ramblin' Fan to get some insider info.
First, some background. The Rams are 4-6, tied with the Saints, and 3rd in the NFC West. Seattle leads their division at 7-2, so their road to the playoffs is somewhat more difficult than the Saints. But that doesn't make the team any less desperate.
Jeff Fisher
Fisher, entering his fifth season as the Rams' head coach, has never finished a season with a winning record. He's never finished a season at .500. With three more losses this year, he'd tie Dan Reeves for the most losses in coaching history. With four, he'd eclipse the mark.
Fisher entering his fifth season as the Rams' head coach, has never finished a season with a winning record. He's never finished a season at .500. With three more losses this year, he'd tie Dan Reeves for the most losses in coaching history. With four, he'd eclipse the mark.
Obviously, with a team that's been rebuilding for so long, you expect better results eventually. Fisher's job is very much on the line, and his performance through the end of the year could make or break his career. So you can expect him to come prepared.
Their roster
The Rams will start the first overall pick Jared Goff for the second straight week. He didn't exactly struggle last week against Miami, but his performance was limited by his offensive playbook. Fisher and the coaching staff never gave him a chance to really air the ball out.
Instead, they ran the ball through Todd Gurley. Gurley, a phenomenon in his first year, has struggled heavily in his second. We've asked Dan Parzych of Ramblin' Fan about Gurley's year, so we'll have more on that later. Gurley did go on to have his best game of the year against Miami, so there's reason for concern with the talented back heading into Sunday.
The Rams have kept their season alive on defense. They have one of the best defenders in the league at DT in Aaron Donald, and a very competent front seven besides. Payton praised MLB Alec Ogletree for a standout year, as well as DE Robert Quinn.
But the Rams haven't faced an offense as dangerous as the Saints this year. We'll see how they hold up.
Anyway, sorry for the delay. Let's get started with our conversation with Ramblin' Fan. We asked a few questions, and they were kind enough to give us the breakdown.
1. Jared Goff got his first start last week against the Dolphins. What did you see from the first year QB? Is he still a work in progress? Do you expect the coaches to let him air it out more this week against the Saints?
There's no question Jared Goff is still a work in progress, but he deserves a little benefit of the doubt when considering the Rams don't give him much to work with when looking at their weak receiving corps. I expect the coaching staff to allow Goff to take more risks down the field against the Saints, just to see if the rookie is capable of providing even the slightest spark to finally get the offense rolling. 
2. We all know about how disruptive Aaron Donald is at DT. But the Rams defense has really put up impressive numbers recently, and Donald can only be a part of that success. What, would you say, are some things the Rams do especially well defensively?
Despite how disappointing this season has been for Los Angeles, the defense deserves plenty of credit for the way they've been able to get to the quarterback as of late. Just seeing the Rams sack Cam Newton five times a few weeks ago shows how well this defense has been all season, but it's a shame the offense continues to let them down. Hopefully, the defense can continue to find ways of applying the same pressure on Drew Brees during Sunday's game. 
3. The Saints have one of the better receiver groups in the league. And with Brees throwing the ball, any receiver is dangerous. How well do the Rams cornerbacks stack up against their pass? How deep is the group?
There's no question the Rams cornerbacks are going to have quite the work cut out for them against the Saints' receiving corps, but it doesn't help the team recently waived Troy Hill following his DUI arrest before signing him to the practice squad. Los Angeles has seen success against some very talented receiver groups this year such as the New York Giants and Arizona Cardinals, but I expect New Orleans to give them more trouble since they're desperately fighting for their playoff lives. 
4. Todd Gurley's struggles after an impressive rookie season have been well publicized. What, would you say, is the biggest cause for the drop in production? Poor QB play? Offensive line play? Poor play on Gurley's part?
The main reason why Gurley has struggled so much is due to having a poor quarterback along with a weak receiving corps. Defensive opponents have been stacking the box more since they know Los Angeles isn't much of a threat through the air, so it's been easier to contain Gurley. Now that Case Keenum has finally been benched, let's hope the switch to Goff will benefit Gurley over these final six games. 
5. What are you optimistic about heading into 

Sunday's

 matchup with the Saints? Where do you expect to have an advantage? Do you expect a win?
When looking at how poorly the Rams' offense has looked (39 points over their last four games), it's tough to feel confident heading into Sunday's game against the Saints. Not to mention New Orleans is coming off back-to-back losses by a combined five points, so you know there will be an extra chip on Brees' shoulder to come out firing in this one. I expect the Saints to pull off the home win in this one. 
You've made it this far. But we've only got half the conversation. So please, check out Dan Parzych over at the Ramblin' Fan for the second half of the conversation, where we break down the Saints.
This article originally appeared on