Jerry Jones says Tony Romo will start upon his return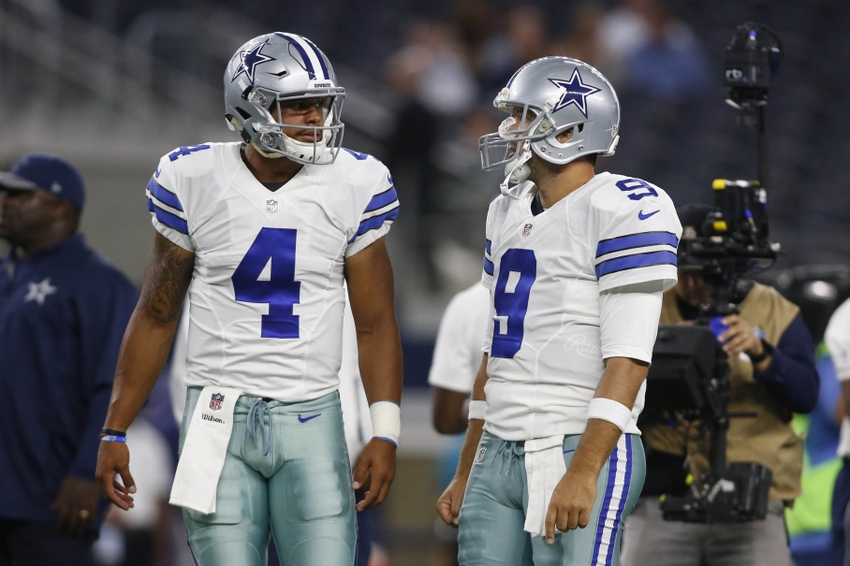 Rookie quarterback Dak Prescott has been impressive in his first two starts for the Dallas Cowboys.
Facing two division rivals in the New York Giants and Washington Redskins to open the 2016 regular season, the man who broke every single passing record at Mississippi State has put his team in position to win both games, losing a 20-19 heartbreaker to the Giants in Week 1 before getting his first professional victory on Sunday against the Redskins, 27-23, in which he went a solid 22-of-30 for 292 yards.
However, Dallas Cowboys owner and general manager Jerry Jones says that there will be no controversy whatsoever, telling ESPN.com that Tony Romo is his guy and that's all there is to it. When asked if he'll be a bit more patient with Romo's return with Dak playing so well, Jones simply replied "not necessarily." Jones went on to say that Romo had a great exam prior to Sunday's game and says that the Cowboys' offense will just run better with the veteran quarterback at the helm.
The controversial Cowboys owner has never been shy of letting it be known that Tony Romo is his guy and while Romo is still at least "two to three more weeks" away from being out of danger as it relates to his spine, Jones is confident that the team is put in a better position to win with the third-highest rated quarterback of all time.
"Tony's situation, when he's back, will be about whether he's functional. We're a better team. We play better."
That will certainly be the question when Romo returns, won't it? Will he be functional? At 36 years old, he still obviously has the desire to get out there and try and finally lead the Dallas Cowboys to their first Super Bowl in more than two decades, but will his body hold up?
Check out these other NFL posts from FanSided:
Top 10 craziest NFL fan bases
Top 15 NFL Draft busts of all-time
Top 15 Heisman winners who flopped in the NFL
For once, however, it's clear that if Tony Romo can't hold up, the Cowboys have a quarterback waiting in the wings to take over.
What do you think, Cowboys fans? When he's ready to return, do you play Romo over Prescott if the rookie continues to impress?
Dak Prescott will get his next chance to shine this Sunday night as the Cowboys play host to the Chicago Bears.
This article originally appeared on