Jay Cutler Failure Came Down To Tragic Coaching Losses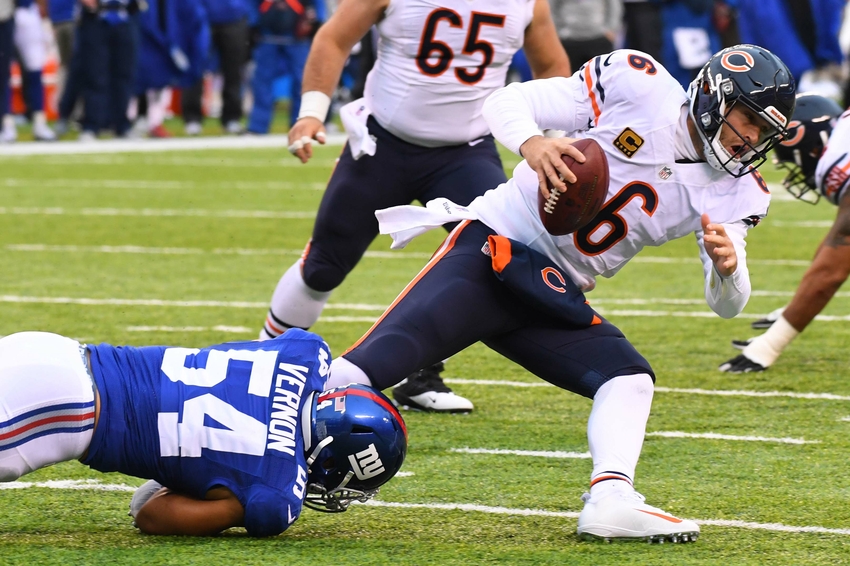 Some say he's a good quarterback. Some say he's a bad quarterback. In the end history will end up showing that Jay Cutler is a just plain unlucky quarterback.
The latest proof of this is the fact he's suffered his second injury of the 2016 season. Both of which come at critical points for a quarterback. The first was the thumb on his throwing finger, the second such injury he's suffered to that body part. Now he emerged from the loss in New York with a banged up shoulder. It's not clear yet if he's done for the season but the odds are not in his favor that this point. All told this could spell the end of his career with the Chicago Bears.
So what will the legacy of Cutler end up being? There are many narratives to spin. Some will call him a moody, self-important player. Others will claim he was a better teammate and person than many realize and is still so misunderstood. If one were to break his career down though and ask where it went wrong, they could break it down to three key events.
Each of them involving the loss of a coach.
Mike Shanahan – 2009
Ten years ago the Denver Broncs made Cutler the 11th overall pick in the draft. Former head coach Mike Shanahan felt he could become the key to helping the franchise get back to their Super Bowl contender form. By 2008 Cutler was the starter and looked like an emerging star. He threw for over 4,500 yards and 25 touchdowns while reaching the Pro Bowl. The offense he was in fit his talents perfectly. The arrow was pointing up.
Unfortunately a bad collapse at the end of the season that saw the Broncos blow a chance at the playoffs forced the team into a tough decision. Shanahan was fired. Something Cutler vehemently tried to prevent, feeling it would ruin something good. Denver thought bringing in young wizard Josh McDaniels would solve that problem. Instead McDaniels alienated Cutler right away and he soon demanded a trade out of town.
Mike Martz – 2012
His first year without Shanahan in Chicago, Cutler threw a career-high 26 interceptions. The Bears knew they needed to find somebody who could work well with quarterbacks. So Lovie Smith fired Ron Turner and called on old friend and colleague Mike Martz. He turned Kurt Warner into an MVP and Marc Bulger into a Pro Bowler. Why wouldn't he be able to figure something out with a megatalent like Cutler? Suffice to say their relationship got off to a rocky start.
Cutler had a hard time adjusting to the pass-happy Martz scheme. He was sacked a lot. Some wondered if the pairing was really a good fit or not. Soon though they began to develop a repoir. The Bears offense finished 2010 clicking and reached the NFC championship. The next year after another slow start Cutler was in the MVP conversation as he helped the Bears roll off five-straight wins. Then a freak accident resulted in him breaking his thumb.
The offense failed to adjust without him and the team collapsed down the stretch to finish 8-8. Martz was blamed for much of the issues, unfairly in hindsight, and got fired as result. When Cutler returned he had Mike Tice waiting for him as a replacement. That proved a disaster and the entire coaching staff was fired after the 2012 season.
Adam Gase – 2016
After a strong start to the relationship with new head coach Marc Trestman, things went off the rails for Cutler. He wasn't playing with the same swagger or confidence he used to. Inevitably a disconnect followed, then major controversies and Trestman was soon fired as well. When John Fox came in next he knew he had to find somebody who can try making Jay serviceable again. His solution was simple and obvious.
Adam Gase had a personal relationship with Cutler going back a few years. The two liked and respected each other and had wanted to work together. It soon became clear why. Jay delivered the most efficient season of his entire career, posting 21 touchdowns to just 11 interceptions and a 92.3 quarterback rating. At last the Bears had found somebody who could get through to Cutler and work around his shortcomings.
Then just like that Gase was gone. The Miami Dolphins hired him as their head coach. Predictably as had happened each time before, Cutler regressed. In what is likely his final year with the Bears he finishes with 1,059 yards, four touchdowns, five interceptions and a 78.1 rating. It's a bitter reminder of missed opportunities for both him and the franchise.
They were close many times but for one reason or another just couldn't make record play smoothly.
This article originally appeared on