J.J. Watt Pays Up After Losing Big Ten Championship Bet (Photo)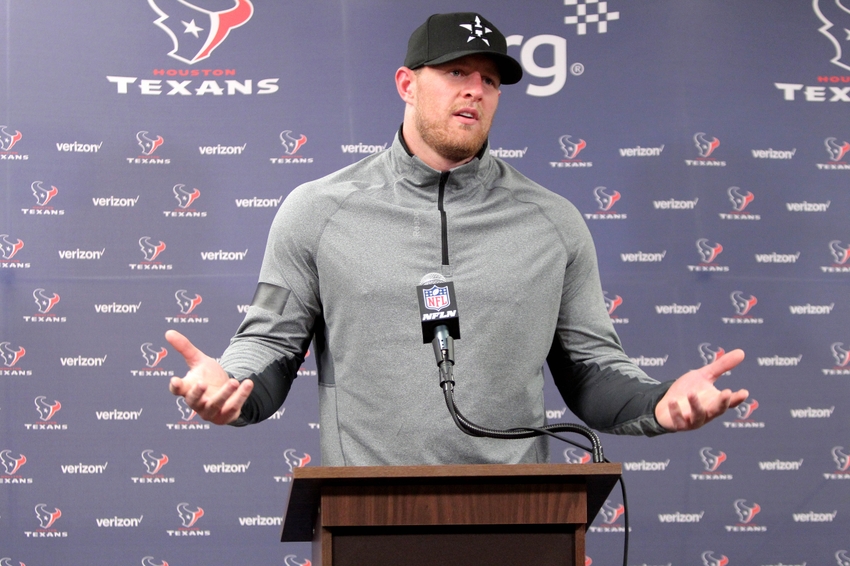 Houston Texans defensive linemen J.J. Watt and Devon Still had a bet on the Big Ten Championship game between their alma-maters. Watt paid up on Friday.
The Wisconsin Badgers run deep in the blood of Houston Texans star J.J. Watt. Watt dominated throughout his time in Madison before obviously wreaking havoc on the NFL. However, he's now teammates with Devon Still, who just so happened to play for Wisconsin's Big Ten foe in college, the Penn State Nittany Lions. So when the two schools met in the Big Ten Championship game one week ago, Watt and Still had a friendly wager on the game.
As we've seen before between college rivals in pro sports, the terms were simple. The loser of the bet has to wear clothes featuring the winning team's logo. Simple as that, right.
College football fans will be quick to tell you that Still's Nittany Lions delivered a fantastic performance in the Big Ten title game and ultimately won. Though they fell short of the College Football Playoff, the win was enough for Still to win the wager. Subsequently, the time came on Friday for the dominant Watt to give-in and put on his Penn State gear.
And what else are teammates for but to share pictures of you on Twitter at your least-proud moments? That's exactly what Still did with Watt paying up:
That is one unhappy future Hall-of-Famer right there.
Unfortunately for both Watt, Texans fans, and general fans of great football, the defensive stud rocking Penn State gear is about all we've seen of him in the 2016 season. He's been out virtually since the start of training camp and won't play in Houston's final four games of the year. But at least we'll have this moment that surfaced in his absence from the field.
More from NFL Spin Zone
This article originally appeared on