Film Review: How the 49ers Defense Can Thwart the Seahawks in Week 3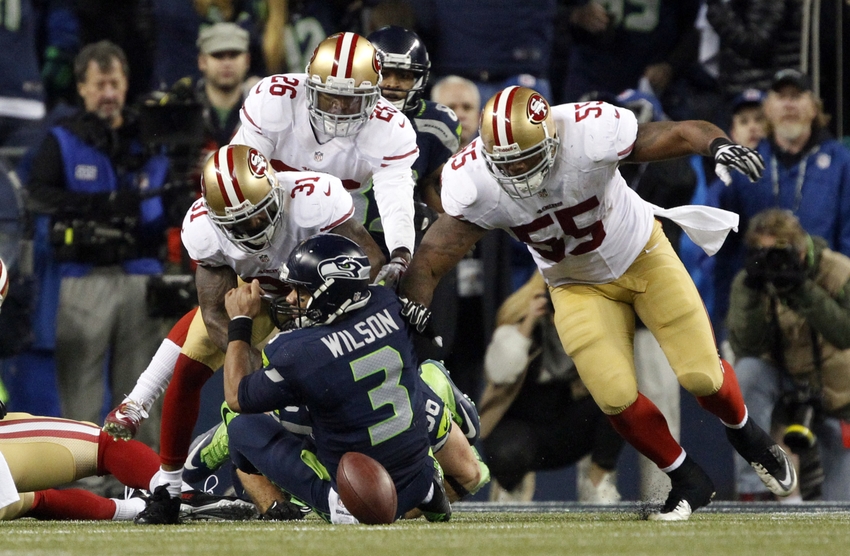 The San Francisco 49ers will try and defeat the Seattle Seahawks at CenturyLink Field for the first time since 2011. For this to happen, the Niners need an effective game plan against a suspect Seattle offense. Let's look at how it happens.
If the San Francisco 49ers are able to upset the Seattle Seahawks at CenturyLink Field in Week 3, the Niners defense will have to be the primary reason behind the victory.
The 49ers offense has an inconsistent quarterback in Blaine Gabbert and a lack of playmakers to efficiently move the ball. And Seattle's defense is still ranked No. 1 in the NFL.
Yet the Seahawks offense, especially their offensive line, is awful. Tremendously awful.
Looking at some of the film, Niner Noise takes a look at how an up-and-coming San Francisco defense can make the most out of this possible mismatch and keep Seattle's offensive funk going.
Let's consider the Seahawks' offensive stats for a second. Seattle ranks No. 31 in the league with just 15 points scored. Yardage-wise, the Seahawks have mustered a mere 497 — good for 26th.
And one touchdown. One.
No In-Editor Preview for 120 Sports Videos
Video Details
ID: 202193146
Source: 120 Sports
The Los Angeles Rams, the same team San Francisco handled in Week 1, held Seattle to just 306 all-purpose yards last week.
How do the 49ers repeat this in Week 3?
Time to break it down.
Ensure Seahawks Running Game Remains Stagnant
For years, Seattle relied heavily on its ground attack with now-retired running back Marshawn Lynch leading the charge.
With Lynch ending his career a year ago, Seahawks fans were hoping second-year pro Thomas Rawls looked to be the heir apparent after a strong 2015.
Rawls is averaging just 1.3 yards per carry this season. Fellow RB Christine Michael has a 5.0 yards-per-carry average. He may be the guy to watch in Week 2.
Just take a look at this preseason gif, courtesy of Pro Football Focus' Mike Renner, as an example:
Seattle's offensive line pushes to its right, which leads the Dallas Cowboys defenders to move in the same direction. The right-side edge defender commits too much to quarterback Russell Wilson, which opens up a huge gap through which Michael cuts back.
And Dallas' linebackers being out of position don't help much either.
Respecting Wilson's esapability is something the 49ers will have to do. But look for the second level of 49ers defenders to prevent such a wide opening.
Remember, Wilson is still dealing with an ankle injury and may not be as mobile.
Match DB Jimmie Ward on WR Doug Baldwin
Seattle slot wideout Doug Baldwin is still quarterback Russell Wilson's favorite target. He leads all Seahawks receivers with 12 receptions — nearly double anyone else — and has the team's lone touchdown on the season.
The 5-foot-10 target is a perfect matchup for 49ers corner Jimmie Ward.
Ward excelled in the nickel role last year. Primarily working on the outside this season, Ward should bump to the inside when the Seahawks go with three-wide sets.
On this fan clip from Seattle's game-winning Week 1 touchdown over the Miami Dolphins, we can see Baldwin take advantage of a corner not turning his head around on Baldwin's corner-fade route.
Russell Wilson finds Doug Baldwin in the corner of the ends zone for the game winning TD @JayDubEff #WeAre12 pic.twitter.com/3Itqh4aUht

— HighlightHub (@HighlightHub) September 11, 2016
Here's another look:
Russell Wilson: 27/43, 258 yards, 1 TD & 1 INT
Doug Baldwin: 9 catches, 92 yards & the game-winning 3-yard TD catch pic.twitter.com/MWRCksQGfs

— Lee Harvey (@MusikFan4Life) September 12, 2016
Miami's defensive back guesses the cut will be to Baldwin's right. The slight misjudgment puts the defender out of position just enough to give Baldwin the room needed to make the grab.
Ward probably won't make this same mistake. But having a safety providing some help towards the middle will ensure the top Niners defensive back will have help if the cut moves in this direction.
Simply put, Ward needs to read and react appropriately.
Contain QB Russell Wilson Within the Pocket
Quarterback Russell Wilson's mobility will be in question, thanks to his Week 1 ankle injury.
While not listed on Seattle's injury report, the ability to evade pressure may not be the first weapon Wilson uses against San Francisco's defense.
Take a look at the weak-side pressure the Dolphins apply, which forces Wilson to spin around and try to scramble to his right.
The convergence of Dolphins defensive end Jason Jones (No. 98) forces an early, erratic throw.
Right into the hands of the defense.
Why is this significant? Well, Wilson couldn't evade the pressure. And while it's not on the tape above, he couldn't escape further to his right because of Jones and additional converging defenders.
Just take a look at this stat from Pro Football Focus' Zoltán Buday:
Last year Russell Wilson led the NFL in passer rating (105.5) when he held on to the ball for 2.6+ seconds. This year he's dead last (39.8).

— Zoltán Buday (@PFF_Zoltan) September 20, 2016
This means edge-rusher Tank Carradine, as well as Niners defensive ends DeForest Buckner and Arik Armstead.
Collapse the pocket and converge. It's the name of the game.
Overpower and Maul a Weak Seahawks Offensive Line
How will all the aforementioned defensive approaches work for San Francisco?
It's simple — win the battles up front.
The 49ers pass rush wasn't a factor in Week 2. That will change this Sunday though. Just consider Pro Football Focus' zero-to-100 scale grades for the Seahawks this year:
LT Bradley Sowell — 42.2
LG Mark Glowisnki — 48.3
C Justin Britt — 78.7
RG J'Marcus Webb — 34.6
RT Garry Gilliam — 34.2
The left side is bad. The right side is even worse. Only Seahawks center Justin Britt has an adequate grade here.
Just watch how Rams defensive tackle Aaron Donald made quick work between Britt and right guard J'Marcus Webb:
Left guard Mark Glowinski also had problems against the Rams defense. Just look here:
If we flip the script, and insert the 49ers defense and rookie DE DeForest Buckner, we'd likely get the following result. Just take a look at this clip, courtesy of Niner Noise's own Nicolas McGee:
And if the Seahawks double up on Buckner, watch for second-year pro Arik Armstead to collapse the pocket from the other side of the line.
Interior pressure should work here. If the Niners set the edge, Russell Wilson shouldn't be able to escape the pocket. San Francisco should be able to contain any damage.
Of course these are all instances of "should," "could" and "maybe." The 49ers aren't going to be able to get to Wilson, running back Christine Michael or whichever offensive weapons the Seahawks feature all the time.
But the Niners can throw off anything Seattle is trying to do.
And that would put San Francisco in a great position to come away with a Week 3 win.
All statistics, records and accolades courtesy of ESPN.com, Pro-Football-Reference.com and Sports-Reference.com unless otherwise indicated.
This article originally appeared on