Fantasy Football Week 9: Monday Night Football Takeaways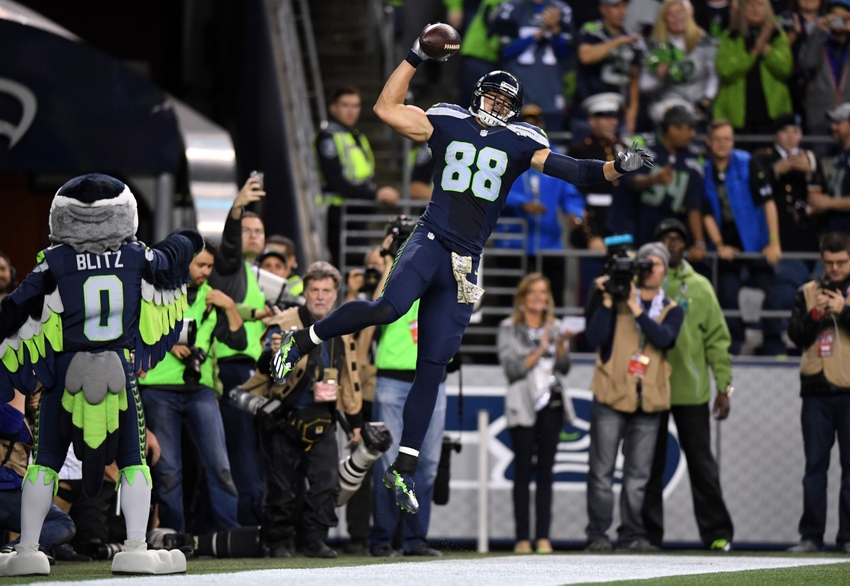 What were the major fantasy football takeaways from Monday Night Football with the Buffalo Bills and Seattle Seahawks?
Wow. So that's what a competitive and entertaining Monday Night game looks like! I mean, we had it all last night from start to finish. We witnessed two capable offenses, great individual efforts, jaw-dropping plays, controversy and some not-so chummy choice of words from Rex Ryan to the referees.
Chances are if you had to play against any fantasy relevant player in yesterday's game, you were feeling the heat because a lot of players came through for owners yesterday.
Here's a look at the good, the bad, and the in-between from Monday Night Football's game between the Bills and Seahawks.
The Good
Seahawks TE Jimmy Graham (8 receptions, 103 yards, 2 TDs) – I'm one of those people who wrote off Graham after last year's knee injury. A ruptured patellar tendon has ruined the careers of so many players in the past and I honestly believed Graham would never be the same. Well if it's possible, he actually looks better than ever. He only needed one hand to haul in each of his two touchdown receptions and has become the vocal point of this Seattle's offense. He is an every week TE1.
Bills QB Tyrod Taylor (27/38, 289 yards, 1 TD, 1 INT, 43 rushing yards, 1 TD) – Taylor has quietly been a QB1 for over a month now. However, after this game on primetime stage his ownership percentage is going to skyrocket. He played great from start to finish and his interception yesterday was his first since Week 3. Taylor also now has a rushing touchdown in three straight games and has no fewer than 28 rushing yards in seven straight games. Buffalo has a bye week in Week 10. But when they return, he'll be a backend QB1.
Seahawks QB Russell Wilson (20/26, 282 yards, 2 TDs, 10 rushing yards, 1 TD) – What a sight for sore eyes. The Russell Wilson we all have enjoyed watching over the years finally looked like himself yesterday. Although the 10 rushing yards won't jump out at you, he looked nimble on his feet and was able to extend plays outside the pocket. I'm not ready to throw him in starting lineups just yet. If he's able to go on the road to Foxboro and put together another solid fantasy performance, then I'll be comfortable.
Bills WR Robert Woods (10 receptions, 162 yards) – Where did this come from? This was easily Woods best game of his NFL career and looked the part of a second-round pick. He isn't much more than a WR 3/4 and owners shouldn't rush out to the waiver-wire to get him. First, the Bills are on a bye week ,so he won't help owners out immediately. And two, Sammy Watkins could return in Week 12.
Bills RB LeSean McCoy (25 touches, 120 total yards) – If you didn't know McCoy was dealing with a hamstring injury, you wouldn't have found out by watching him yesterday. He looked like his usual elusive self and ran well despite the tough matchup. Backup running back Mike Gillislee vultured a one-yard touchdown run that McCoy owners would have loved to get. It didn't appear McCoy suffered a setback and, with a bye week, to rest up, he'll go back to being a solid and reliable RB1 in Week 11.
The Ehhh…
Seahawks WR Doug Baldwin (6 receptions, 89 yards) – Owners actually need to be encouraged by Baldwin's performance despite being in the "Ehhh…" category. First off, Russell Wilson looked like himself which gives a huge boost to the entire offense. Baldwin's 89 receiving yards were his most since Week 3. If Wilson can continue to look right, Baldwin could have a strong second-half of the season.
Bills RB Mike Gillislee (10 touches, 36 yards, 1 TD) – A lot of owners probably did not play Gillislee after it became apparent Shady was going to be active in this game. If you did start him, you have to be happy with the results. He'll be no more than a handcuff coming out of the bye week, but a handcuff that could pay big dividends if McCoy gets injured again.
The Bad
Seahawks RB Christine Michael (5 carries, 1 yard, 1 TD) – This is the first time I'm putting somebody in the "bad category" even though he scored a touchdown. Michael continues to look unimpressive week after week and the coaching staff can't wait for Thomas Rawls to get healthy. When he does get back, he will be given every opportunity to take his job back.
Seahawks RB C.J. Prosise (4 touches, 15 yards) – With six teams on a bye week, Prosise looked like a sneaky PPR play. If you went that route, you were not rewarded. Prosise only finished with one reception and probably should have given more opportunities with how ineffective Michael was playing. Prosise needs to be left on the waiver-wire.
Bills TE Charles Clay (3 receptions, 9 yards) – With so many valuable tight ends on a bye week, I'm sure plenty of owners plugged Clay into their starting lineup. If you did, I'm sorry. Clay is too inconsistent and unreliable to be trusted even in the most dire situations.
This article originally appeared on