Chiefs Grades: Offensive Disaster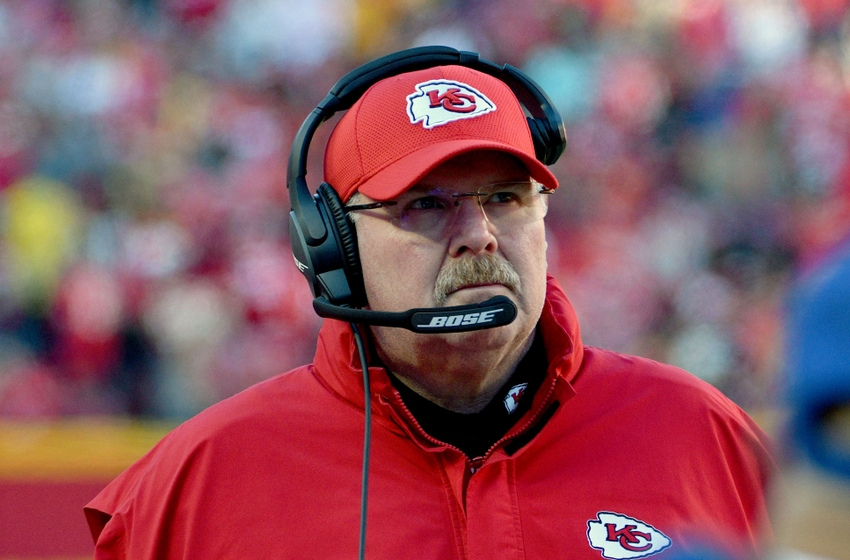 The Kansas City Chiefs lost in Arrowhead Stadium for the first time in over a calendar year against the Tampa Bay Buccaneers.
For the third straight week the Chiefs had trouble moving the ball and stopping the opposing offense on third down. A casual observer might say that in the NFL anything can happen and winning is all that's important. While true, the trend the Chiefs are currently exhibiting is disturbing. For three games now the Chiefs have not played a team with a winning record but could realistically be on a three game losing streak.
Now they have three straight games against contenders and two of them are on the road. Right now the Chiefs are just as likely to be 9-7 as 13-3 or 12-4 when the season comes to an end. If the offense can't start producing touchdowns in the red zone and more than four third down conversions per game then they could miss the playoffs entirely.
Offense: D-
Alex Smith is the issue. Andy Reid is the issue. The identity of the offense is the issue. This is not new information but the regression of this offense is going to sink this ship. Both Andy Reid and Alex Smith tried to take all of the blame upon themselves for the loss and yes they should have. I don't care that the defense gave up a lot of third downs when the offense has scored two redzone touchdowns out of their last eight. Sam Mellinger of the Kansas City Star let loose on Smith and explained why he is holding back a very promising season.
The truth is that the Chiefs have made their bed with Alex Smith and now they have to lie in it. I ave been a big supporter of Smith mostly because he is an awesome person and teammate, not because he is a great quarterback. For now there just isn't another option. The only thing the Chiefs could have done (and it's a big one) was draft any of the three or four quarterbacks that were available at the time.
But they thought they were ready to win now and needed an established guy under center. This next year's draft class looks as sad as 2013's with virtually no quarterbacks scouted as remotely NFL ready. Buckle up, Chiefs fans, Smith is here for at least one more year.
Defense: C
The defense did what it could. It didn't do it very well but without Marcus Peters and with Dee Ford leaving early due to injury, allowing 12 points through 3.5 quarters isn't terrible. The defense consistently gets put in terrible positions by the offense and by the end they are completely exhausted. Think if he didn't have to work so hard and often in Carolina that Peters might have been on the field Sunday. The defense forced fourth down in the redzone which for most teams is good enough to win. Who knew that one of the worst kickers in the league would go 4 for 4 on field goals and hit his only extra point attempt on a day where kickers were missing everything?
The reason this unit gets a C is because Tampa started an offensive line of backups and got zero sacks. Their only turnover occurred on a fluke fumble by Jameis Winston where he tried not to throw and it slipped out of his hand. They allowed 11-of-16 third downs to be converted including a game sealing third and three. Still good enough to win with an offense that actually produces but not what we expect from a "championship" defense.
Special Teams: A-
Still the unit that functions well when everything else is going bad. Dustin Colquitt had an especially good day punting. Without Tyreek Hill in coverage however it was tough to stop one of the bigger returns. Cairo Santos was again solid in kicking under pressure. It seems like he is always under pressure with his kicks but we have yet to blame Santos for any game lost and that is the mark of a good kicker. The only area of special teams that struggled was the return game. Only Hill managed to get the ball past the 25-yard line on a kick return.
Coaching: F
The offensive and defensive game plans were simply terrible. The Chiefs struggled to get pressure on Jameis WInston despite having Justin Houston and Dee Ford on the field at the same time. However, the way the pass defense played you'd think the Chiefs were blitzing 8 guys on every play. In truth the Chiefs don't blitz often unless it is 3rd and long. So why was the secondary still getting absolutely torched?
It wasn't deep downfield, it was screens and intermediate routes. Let that sink in. The Chiefs defense had a hard time stopping a team that they basically face every practice. That is how the Chiefs offense gets points. They get you with intermediate routes and screens until the red zone and field goal kick you to death. And the defense acted like this was the first time they had seen it.
Offensively the Chiefs seemed to think that only one team could have that philosophy in a single stadium so they refused play their game. Instead they ran the ball until they found short yardage situations.
Then they ran routes that took forever to develop so that Smith could panic and throw extremely off target. It got so bad that instead of trusting Smith to make a call near the goal line, Reid admitted that he called a play action fake with one read. The play relied on Bucs safety Chris Conte to fall for the fake run. The Chiefs had not run the ball with Ware near the goal line to that point. Instead he stayed back and nearly dropped the interception he was so surprised Smith actually threw it right to him.
Try to have a great Thanksgiving, Chiefs fans! Maybe this will be the turning point for a team that desperately needs one. This next game will be an excellent barometer for how the season will end for Kansas City.
More from Arrowhead Addict
This article originally appeared on