Bill O'Brien Should Channel His Inner Pete Carroll

Bill O'Brien faces a conundrum. He is determined to stay the course because to change quarterbacks admits  failure. Unfortunately, change is his only real chance for success.
O'Brien and Rick Smith tied their Texans' future to Brock Osweiler. As a result the Texans' head coach keeps doing the same thing over and over again hoping for a different result. The problem is that it gets clearer with each game that Brock Osweiler is not very good.
Through 11 games he has the lowest quarterback rating of all starting NFL quarterbacks and the fewest average yards per attempt. If Oakland defenders could catch balls hitting them in the chest Osweiler would have thrown 6 interceptions in the last two games.
As it is he has thrown more interceptions (13) than touchdowns (12). His offensive line was terrible beginning the season serving as a scapegoat for Osweiler's problems. However, as they improved he didn't. 99 total yards passing 3 games ago. Two games ago a statistical upturn, but only because 2 easy interceptions "dropped" into the incompletion category. Now three more interceptions. Let's consider the last three in the Texans loss to the Chargers.
The first interception was a scramble where Osweiler tried to hit DeAndre Hopkins breaking for the sideline. An accurate throw would  lead Hopkins outside to the sideline where only he could catch it. Instead the ball arrived inside, behind Hopkins so that a fast closing defender beat the star receiver to the ball.
Then there was the second. Osweiler sailed the ball 6 feet over the head of a wide open 6'5″ tight end. A safety, doing what safeties sometimes do, playing it safe 10 yards behind the receiver, caught the ball when it hit him in the chest.
Some will dismiss the third interception because it was a last second desperation pass. I don't. It's true that a Hail Mary has little chance of success. However, when the quarterback throws the ball so soon that Mary doesn't have time to get to the end zone there is no chance. The Charger defender could have signaled for a fair catch as he waited all by his lonesome for the ball to come down.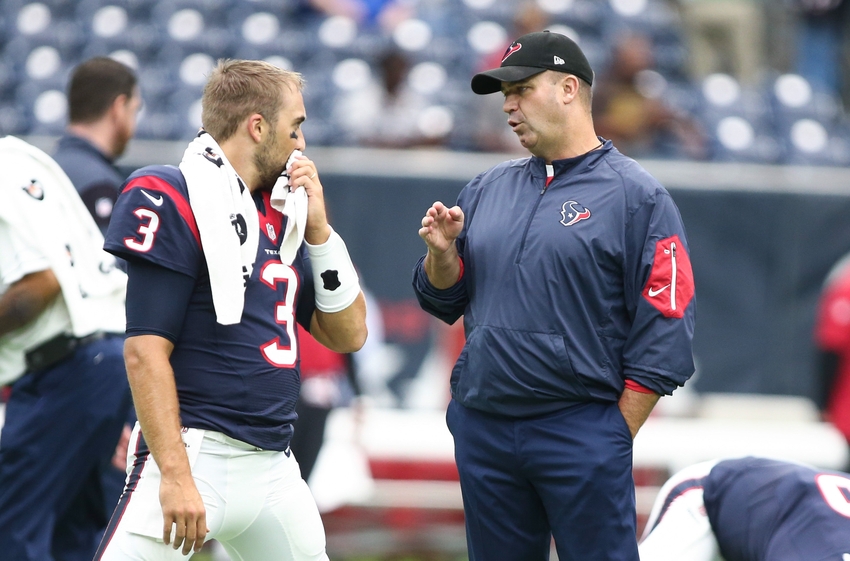 O'Brien needs to channel his inner Pete Carroll.
Carroll faced a similar situation several years ago. Courageously, Carroll designated Russell Wilson to start over just acquired for big money Matt Flynn. Sound familiar? The rest is history, including Super Bowl history. O'Brien won't make that leap. Only an injury to Osweiler can save O'Brien from himself.
It's unthinkable to wish an injury to any player, and that is not my point. My point is that O'Brien is locked into a free agency decision gone bad. He is allowing one bad decision to cause another, permanent second string status for Tom Savage.
Maybe Savage isn't the answer, but we'll never know while he languishes on the bench. Considering the number of quarterbacks coming through the system in the O'Brien era, I see no reason to believe that O'Brien or George Godsey has a special gift for recognizing or developing quarterback talent. What they proved is they can make journeymen adequate for short stretches. However, all the many candidates that took the field eventually failed, and now Brock Osweiler is on the brink.
The Texans missed on Derek Carr and Dak Prescott. It's not certain  they are missing on Tom Savage, but the cruelest twist of all would be if he succeeds for another team after never getting a chance in Houston. His contract ends after the 2017 season right along with Osweiler's guaranteed money. Does that mean the quarterback search starts all over again? If it does it will start with a different coach and GM.
This article originally appeared on