49ers must address receivers in 2017 offseason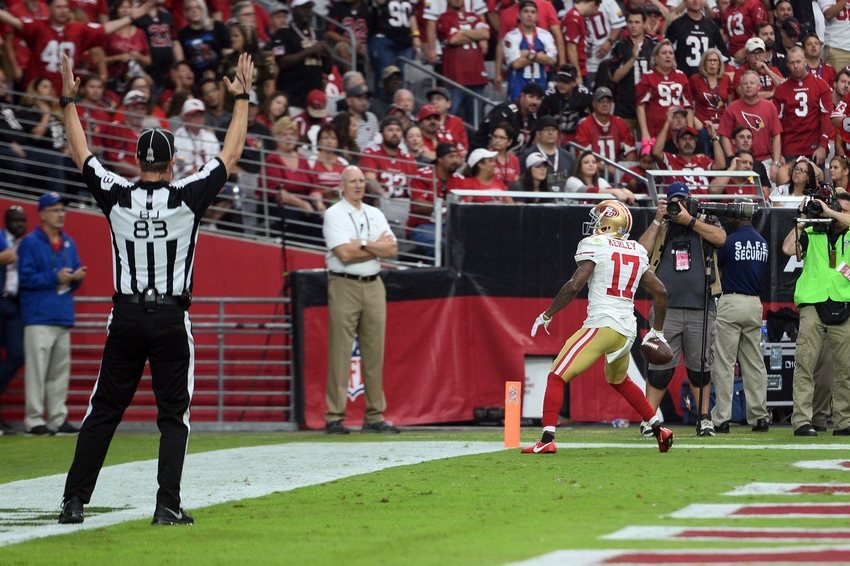 The San Francisco 49ers have had significant issues at many positions this season, including quarterback. Their biggest need, however, remains weapons on offense, and wide receivers in particular.
The San Francisco 49ers have been absolutely dreadful this season. Neither side of the ball has looked anything resembling good. In fact, this team is so bad it has set a record for the most consecutive losses in franchise history: currently 10 and counting.
So where do the 49ers begin to fix the broken-down machine? You could start just about anywhere.
The front seven on defense has struggled to stop the run and get to the quarterback all season. While suspensions and injuries — not least of which to NaVorro Bowman — have played a big role, the linebackers in particular are void of any depth.
On offense, the quarterback is easy to criticize. Yet, Kaepernick has actually begun to resemble something of a mildly decent quarterback in recent weeks. If he can keep that up through the end of the season, he will be the best option at QB next fall, especially with the lack of options in the draft.
Carlos Hyde is a solid running back when healthy, though he could use some help with depth. The offensive line needs to be addressed too.
Yet the biggest concern for the 49ers has to be the awful receiving corps the team puts on the field each week.
Torrey Smith is a solid receiver, but he's no true number one. Jeremy Kerley, despite having played fairly well for being a last-minute addition, should not be leading any team in receiving yards.
This unit needs help!
More from Niner Noise
When literally half of your receivers did not go through training camp with your team, there is a problem. Yes, injuries have played a role, but bad drafting and a lack of moves in Free Agency has as well.
Kaepernick may have improved, but if he doesn't have anyone to throw the ball to, what's the point?
Hence, if the 49ers want to have any chance at improving next season, they need to start with their position that clearly has the greatest need: Wide Receiver.
This article originally appeared on