2017 NFL Mock Draft: Post Week 1 Update
Post week 1 update of a 2017 NFL Mock Draft.
The NFL season just kicked off but that doesn't mean it's too early to look enjoy a 2017 NFL Mock Draft. In fact, there are fans of teams like the Cleveland Browns that might be already designed to the fact that their team won't be making a playoff run.
This mock draft is a combination of what I see as each team's needs as well as where I have each prospect ranked. You'll notice that I have some players rated higher than others who produce these type of articles.
It's very early in the process and I have yet to finalize any of my draft grades. There will be plenty of prospects who fall down my board as well as others who make dramatic climbs.
Everyone usually gets caught up in the draft order, but I ask that you try to not overact. This order was developed using the most recent ESPN Power rankings with a playoff scenario included. I realize that this is not what the final draft order will look like.
Please feel free to provide some feedback and check out the many other articles on the site.
1. Cleveland Browns- Luke Falk, QB, Washington State
The Robert Griffin III injury basically made things easier for the Cleveland Browns by showing he's not the long-term answer at the position. Cleveland needs to use one of their two 1st round picks in the 2017 NFL Draft to fix this long lasting problem.
Luke Falk isn't getting much love as the top quarterback prospect, but he's someone who should rise throughout the process. This is a prospect with a strong throwing arm, solid athleticism and the ability to make quick decisions.
Falk will have to overcome the negative stamp put on quarterbacks coming out of Mike Leach's spread attack, but his play on the field will help. He shows the ability to make reads and go across the field with his progressions.
Other quarterback options at this spot include Clemson's Deshaun Watson and Notre Dame's Deshone Kizer who currently is the darling of draft-twitter.
Cleveland could also decide to wait to address the position and take Texas A&M's Myles Garrett who is by far the most talented player in this draft. Garrett is an elite pass rusher who has the ability to immediately change the makeup of a defense.
2. Tennessee Titans (via LA)- Myles Garrett, Edge, Texas A&M
This pick was acquired from the Los Angeles Rams that allowed them to move up and select Jared Goff No. 1 overall in the 2016 NFL Draft.
The Tennessee Titans are in the position where they can target the best player available with this pick. It's an easy decision as Myles Garrett is an elite prospect with the potential to be a dominant pass rusher early in his career.
Garrett is a versatile rusher who can use his speed to attack the edge, counter inside and push the pocket with his strength. His tenacity and not-stop motor helps make him as close to a can't-miss prospect as we've seen in years.
Tennessee doesn't necessarily have a need at the position, but Garrett would represent an upgrade over Derrick Morgan and Brian Orakpo. It's also important to mention the potential savings to the salary cap that would come from letting go one of those two veterans.
Michigan's Jabrill Peppers is another intriguing option as someone who could help at either linebacker or in the secondary. His switch to linebacker this year has clouded his draft stock some as he already showed enough skills as a cornerback to be a top-10 pick.
3. San Francisco 49ers- Deshaun Watson, QB, Clemson
The San Francisco 49ers roster is in a state of flux thanks to recent coaching changes, early retirements and the lack of development by Colin Kaepernick. Finding a long-term answer at the quarterback position needs to be the franchise's No. 1 goal.
Clemson's Deshaun Watson would represent an immediate upgrade over what the 49ers currently have on the roster. Blaine Gabbert has had his moments but he's better suited as backup or spot starter.
Watson is a unique prospect who features the necessary physical attributes but also comes from Clemson's spread attack.
This offense rarely asks Watson to go through progressions and features a lot of designed quarterback runs.
We've seen that quarterbacks coming out of this type of system may need more time to develop.
However, there are things working in Watson's favor including his work ethic and passion for the game. He is a hard worker who has shown improvement each year. This is someone who'll take to coaching and work to overcome any problems.
Watson is also has excellent leadership ability which would be a welcome sign in the 49ers locker room. He's absolutely someone you can build a franchise around.
4. Chicago Bears- Jabrill Peppers, DB/LB, Michigan
The opening day loss to the Houston Texans was a huge disappointment for the Chicago Bears mainly because they led for the majority of the game. However, it also showed that this is a roster that still has plenty of holes.
Chicago's secondary really struggled to contain the Texans passing attack that saw rookie Will Fuller top the 100-yard mark. The secondary has been a problem area for the past few years with this season potentially being the worst group.
Michigan's Jabrill Peppers is someone capable of coming in and helping fix the problem. He's an elite athlete who has experience playing several positions. Last year, Peppers showed that he has the fluidity and awareness needed to develop into a lock-down corner.
The issue is that Michigan has since switched him to a hybrid-linebacker position. This position switch clouds where he'll fit at the next level. It's possible that teams will no longer see him as a defensive back which would potentially take him off the Bears draft board.
If this is the case, Chicago could look to address the offensive line with someone like Alabama's Cam Robinson. They could also look at the wide receiver group led by USC's JuJu Smith-Schuster.
5. Miami Dolphins- Tim Williams, Edge, Alabama
The Miami Dolphins need to start thinking of a plan to replace the aging Cameron Wake. He has been the team's top pass rusher for the past several years, but is starting to show signs of slowing down. They also need to prepare for the possibility that free-agent signee Mario Williams won't meet expectations.
Outside of Myles Garrett, Alabama's Tim Williams is the most explosive edge-rusher in the 2017 NFL Draft class. He's an elite athlete with the quick-twitch ability needed to attack the edge.
Williams pairs his quickness with good snap awareness and balance. He's not only able to gain the edge but can also flatten out and close on the quarterback. This is a pass rusher who won't just pressure the quarterback he'll actually register sacks.
The ability to get after the quarterback is only part of his game as he is also able to support the run. Williams is committed to gaining inside hands, delivering a jolt and anchoring at the point of attack. He does need to get a little stronger but is more than capable of setting the edge.
Look for Williams to continue to climb up draft boards as the process continues.
6. Buffalo Bills- Jonathan Allen, DL, Alabama
It seems as if nothing has gone right for the Buffalo Bills since the end of the 2016 draft. The injury bug has claimed Sammy Watkins, Shaq Lawson and Reggie Ragland. They're without Marcell Dareus and Seantrel Henderson because of suspensions and lost their first game of the season.
Things appear ready to fall off the rails at any moment. ESPN's power rankings have them rated pretty low which is why they have the No. 6 pick in this mock draft.
Buffalo's defensive line is in need of some help in the pass-rush department. Alabama's Jonathan Allen is a dynamic player capable of wreaking havoc in the offensive backfield. He'd be a great addition to the Bills attacking style of defense.
Allen is an interesting prospect in that he doesn't fit the mold of a traditional edge rusher. He has more bulk to his frame which helps him play with more power. This allows him to counter his quickness with a power rush.
He also does an excellent job against the run where he's tough to move off the line of scrimmage and can work off blocks. Allen's versatility is something that every defensive coordinator loves.
7. Tennessee Titans- JuJu Smith-Schuster, WR, USC
This is the Tennessee Titans second pick in the 1st round of the 2017 NFL Draft. Earlier, I had them select pass rusher Myles Garrett and now it's time to address the offensive side of the ball. Tennessee needs wide receiver help and have a chance here to land a difference maker.
USC's JuJu Smith-Schuster is a big-bodied wide receiver who uses his size to gain position. He knows how to box out defenders and is aggressive at high-pointing the football. This is someone who makes life easier on his quarterback.
Smith-Schuster would be a nice complement to Tajae Sharpe and give the Titans some stability at the position. This is a team that has seen early draft picks like Justin Hunter, Dorial Green-Beckham and to an extent Kendall Wright fail.
Clemson's Mike Williams is another talented wide receiver prospect the Titans could consider.
The Titans could also consider doing more work on the defensive side of the ball by addressing the secondary. Washington's Sidney Jones and Florida's Jalen Tabor are my top rated cornerbacks on the board.
However, it might be a little early for either of these guys to come off the board.
8. San Diego Chargers- Mike Williams, WR, Clemson
It's unfortunate but it's time for the San Diego Chargers to start making plans for life without Keenan Allen. The talented wide receiver just hasn't been able to stay healthy and has routinely put the Chargers in a tough position.
San Diego must consider adding a big-time playmaker at the wide receiver position if they hope to make a final Super Bowl run during Philip Rivers' career.
Clemson's Mike Williams is the most fluid receive prospect in this draft class. He easily gets in and out of his breaks which helps him run clean routes. His ability as a route runner is a really underrated part of his game.
However, Williams' best attributes are his size and speed. He has a long frame with the arm length needed to high point the football. This is an aggressive receiver who attacks by extending his arms and out leaping the defender.
Williams would be a nice complement to the speedy Travis Benjamin as well as fit in with Rivers' ability to stretch the field.
The Chargers could also go in several different directions including addressing the offensive and defensive line. Overall, this is a roster with plenty of holes to address.
9. New Orleans Saints- Jamal Adams, S, LSU
The New Orleans Saints are in an interesting situation thanks to their salary cap situation. This is a team that doesn't have much money to go out and sign free agents. They have routinely restructured the contract of veterans like Drew Brees in attempts to correct the issue.
This makes upgrading the roster a challenge and hitting on every draft pick necessary.
The majority of the Saints issues are on the defensive side of the ball. They could add a playmaking safety like LSU's Jamal Adams. Adding him to the mix would potentially allow them to shift Von Bell to cornerback which is another need area.
Adams could give them the option of moving on from the free-agent bust Jairus Byrd and potentially clear some cap space.
They could also improve the pass rush with someone like Auburn's Carl Lawson. He has the quickness needed to attack the edge and wreak havoc in the offensive backfield.
Alabama's Cam Robinson is someone who could be an option on the offensive side of the ball. He'd help the team keep the newly-extended Brees upright and healthy. The Saints have a need at offensive tackle thanks to the lack of development of Andrus Peat.
10. Jacksonville Jaguars- Cam Robinson, OL, Alabama
There'll be a lot of disappointed people if the Jacksonville Jaguars are picking in the top-10 of the 2017 NFL Draft. However, the people who create the ESPN Power Rankings weren't too impressed with the team's ability to hang with the Green Bay Packers.
If the Jaguars are drafting this early they could look to add some help along the offensive line. They currently have Kelvin Beachum and Jermey Parnell as their starting tackles but their long-term future is far from solidified.
Beachum is in the first year of a unique contract that could either turn into a long-term deal or end after the season. Parnell is a solid veteran but is far from an elite player.
Alabama's Cam Robinson has the physical tools to develop into a franchise left tackle and be equally as effective on the right side. He'd represent a long-term answer at either position while giving the team another young building block.
The Jaguars could also look to continue to build their linebacker corps by selecting Alabama's Reuben Foster. He'd be a younger and more athletic replacement for Paul Posluszny. This would give them three top-end linebackers in Foster, Telvin Smith and Myles Jack.
11. Detroit Lions- Reuben Foster, LB, Alabama
The Detroit Lions are in the process of remaking some parts of their roster while remaining in the playoff picture. They did a good job bringing in offense weapons like Marvin Jones and Taylor Decker to help overcome the loss of Calvin Johnson.
Defensively, they need to work on upgrading the overall talent of the linebacker corps. Tahir Whitehead and Deandre Levy are good outside linebackers, but they lack a playmaker in the middle.
Alabama's Reuben Foster is a game changer who is always around the football. He features the size needed to play near the line of scrimmage as well as the speed to make plays sideline to sideline. His experience against top-level competition means he should have an easier transition to the NFL.
Foster isn't just a run stuffer as he also does a good job holding up in coverage. He plays with good instincts where he's able to identify the developing routes and quickly react. His balance and overall fluidity ensures he can adjust his body.
The Lions could also look at adding more playmakers along the defensive line. Someone like Michigan State's Malik McDowell would give them a penetrator to put alongside run stuffers like A'Shawn Robinson and Haloti Ngata.
12. Atlanta Falcons- Carl Lawson, Edge, Auburn
Even after investing an early pick on Vic Beasley the Atlanta Falcons need help in the pass-rush department. Beasley struggles thus far in his career only make this need more pressing. Dan Quinn's defense is at its most effective when the front 4 generates the majority of the pressure.
Auburn's Carl Lawson has all the physical tools need to develop into a top-tier pass rusher. He plays with a good motor, keeps his pads down and features an explosive burst. Lawson is able to bend around the edge and get home.
The issue is that Lawson has struggled to stay healthy which could significantly hurt his draft stock. NFL teams are looking for players who are available on Sundays and at this point Lawson has some work to do in this department.
Should Lawson's medical history scare off the Falcons they could look at someone like Illinois' Dawuane Smoot. He's a prototypical defensive end prospect who features good size and quickness. His draft stock is just starting to rise.
Atlanta could opt to get more physical along the defensive line with someone like Michigan State's Malik McDowell. He's a hard-nosed defender who also features quickness to penetrate the pocket.
13. Cleveland Browns (via Philly)- Leonard Fournette, RB, LSU
This is the Cleveland Browns second 1st round pick and comes via the trade that allowed the Philadelphia Eagles to land Carson Wentz in the 2016 NFL Draft. Earlier in this mock draft they added a potential franchise quarterback in Washington State's Luke Falk.
Here they add another offensive weapon with LSU's Leonard Fournette. This is a dynamic playmaker who can be the featured option of an offense. Fournette would represent a significant upgrade over Isaiah Crowell and Duke Johnson.
He's an every-down back capable of working between the tackles, attacking the edge and breaking off long runs. Fournette is a capable receiver out of the backfield and has shown the ability to do some good work as a blocker.
Adding Fournette to an offense that has some big-play receivers like Josh Gordon, Corey Coleman and Terrelle Pryor makes a ton of sense. It would create an excellent opportunity for play action.
Cleveland's defense is still a major work in progress and could force the Browns to go in a different direction with this pick. They could look at upgrading the secondary by adding Florida's Jalen Tabor or Washington's Sidney Jones.
14. Indianapolis Colts- Sidney Jones, CB, Washington
The Indianapolis Colts have quickly gone from a team that appeared on the cusp of a Super Bowl title to one on the decline. This is an issue of the front office not doing a good enough job putting the proper pieces around star quarterback Andrew Luck.
One thing that would help is improving a defense that has struggled to keep opponents out of the end zone. The Colts secondary has been a problem—especially the cornerback spot opposite Vontae Davis.
Washington's Sidney Jones would be a great addition as someone capable of making teams pay for avoiding Davis' side of the field. Jones is an aggressive cornerback who excels at reading the quarterback and pulling down interceptions.
He has excellent ball skills and doesn't hesitate to jump a route. Jones is also someone who will come up to support the run. Overall, he's a well-rounded defender capable of developing into a turnover machine.
Indianapolis could also help Luck by bringing in a dynamic running back. Frank Gore is on his last leg and doesn't scare teams like he did in his prime.
Georgia's Nick Chubb or LSU's Leonard Fournette would be great options for the Colts.
15. Dallas Cowboys- Malik McDowell, DL, Michigan State
Defense is the name of the game for the Dallas Cowboys. Most of the media attention focuses on Tony Romo, Dak Prescott, Dez Bryant and Ezekiel Elliott but this is a team that lacks difference makers on the defensive side of the ball.
Dallas has several areas they could address including linebacker, defensive tackle, defensive end and cornerback. The defensive line is the most glaring problem and there's a handful of excellent prospects on the board.
Michigan State's Malik McDowell is a physical specimen who brings versatility to the field. He plays with a good combination of power and quickness. His skill set would make him a great fit as a 3-technique in Rod Marinelli's system.
Things at the defensive end position are extremely fluid thanks to off-field problems and injuries. Both Demarcus Lawrence and Randy Gregory have served suspensions and missed time with significant injures.
Dallas needs to make sure they do their homework in the offseason and figure out whether or not they can rely on these to players. Either way, it would be wise to bring in some depth at the position capable of serving as a replacement for the troubled pass rushers.
16. Washington Redskins- Christian McCaffrey, RB, Stanford
I have Stanford's Christian McCaffrey rated as a top-10 player in the 2017 NFL Draft, but his unique skill set and the value of the running back position push him down a little in this mock draft. However, he could quickly become one of the more dangerous weapons in the NFL.
McCaffrey is an explosive athlete who knows how to find the end zone. He's capable of scoring every time he touches the football. There aren't many offensive players who can do as much damage as a runner, pass catcher and returner.
The Washington Redskins need someone like McCaffrey in their backfield. Matt Jones is currently their lead back and his overall future is still in question. Jones is a hard runner who fights through contact but also takes a lot of big hits.
Adding McCaffrey would help take some carries away from Jones and add a difference maker on offense.
Washington could also look to upgrade the defensive line. They'd love to see Malik McDowell available here, but he's off the board in this mock draft. An under the radar option would be Clemson's Carlos Watkins who is starting to rise up draft boards.
17. New York Jets- Jalen Tabor, CB, Florida
The first week of the NFL season featured many surprises, but the biggest might have been how badly A.J. Green torched Darrelle Revis. The Cincinnati Bengals' receiver had a huge day catching 12 balls for 180 yards and a touchdown.
This is a sign that Revis is starting to slow down a bit and is no longer a lock to shutdown the opponents top receiver.
The New York Jets would be wise to start planning for the future by bringing in an eventual replacement for Revis. Florida's Jalen Tabor is a good candidate thanks to his overall feel for the position and athleticism.
Tabor is a little different  than Revis in that he's a better fit in zone coverage, but he does have the fluidity to transition. It would be a real benefit for Tabor to work opposite Revis for a few years and learn from one of the best ever.
The New York Jets could also look to upgrade the offensive line. They have aging veterans at several important spots. Someone like Notre Dame's Mike McGlinchey would be a great pick and someone capable of playing immediately at right tackle.
18. Tampa Bay Buccaneers- Dawuane Smoot, DE, Illinois
The Tampa Bay Buccaneers future is looking extremely bright thanks to the quick development of quarterback Jameis Winston. This gives the franchise options when it comes to the 2017 NFL Draft as they could focus on adding the best player available.
Illinois' Dawuane Smoot is a fast rising prospect who has shown a knack for generating pressure on the quarterback. He features ideal size for the position and the quickness needed to gain the edge. This is a well-rounded defender who also holds up well against the run.
Smoot would join a rotation that features veteran Robert Ayers and rookie Noah Spence.
Addressing the secondary is also an option with Brent Grimes past his prime. Alabama's Marlon Humphrey is a raw but physically gifted cornerback. He plays a physical brand of football and would be a nice fit opposite the smaller Vernon Hargreaves III.
The team could look to add another weapon at receiver to replace the aging Vincent Jackson. An explosive down-field threat such as Western Michigan's Corey Davis would be a great fit. He'd give them a quicker target to work opposite the big-bodied Mike Evans.
19. Baltimore Ravens- Marlon Humphrey, CB, Alabama
Scouting Report
The Baltimore Ravens defense is going through a transition period where its seeing a lot of their franchise stars hit retirement age. So far, they've done a good job bringing in young talent to help the front seven, but things in the secondary are still troublesome.
Jimmy Smith's play has gone downhill since he signed his extension which as really hurt the team. Shareece Wright and Jerraud Powers are stop-gap solutions that really shouldn't be in starting roles.
Alabama's Marlon Humphrey would represent an upgrade over both players and give the team a long-term building block. Humphrey is an elite physical talent who features excellent size and quickness. He's a physical corner who likes to keep his target close.
Humphrey is still a bit of a work in progress as he needs to improve his footwork and ball skills. However, his upside is too high to overlook.
Baltimore might want to take a long look at the running back prospects in this draft class. They need to upgrade from Justin Forsett and Terrence West. Georgia's Nick Chubb would make a ton of sense as someone capable of moving the chains and breaking off long runs.
20. Kansas City Chiefs- Jarrad Davis, LB, Florida
Derrick Johnson has had a great career with the Kansas City Chiefs but his time is running out. Kansas City can start planning for the future and at the same time improve immediately. They can find Johnson's long-term replace with Florida's Jarrad Davis.
Davis is a good athlete who has a good feel for the position. He's an instinctual defender capable of making quick reads and closing on the football. His experience in the SEC has prepared him to handle the type of physical blockers he'll see in the NFL.
Adding Davis at this point would also give him a chance to work alongside Johnson and learn the ropes. Too many teams fail to take advantage of opportunity to allow a young player to pick the brain of an established star.
The Chiefs need to also pay attention to the secondary as there's a hole at cornerback and the uncertain future of Eric Berry.
Iowa's Desmond King and LSU's Tre'Davious White would be strong options at the cornerback position. Both have a lot of experience and have started the season off strong. A safety to keep an eye on is Florida's Marcus Maye.
21. New York Giants- Jake Butt, TE, Michigan
The New York Giants used this past offseason to make significant upgrades on the defensive side of the ball. However, they didn't focus many resources on helping Eli Manning and the offense. Here they have a chance to make a significant upgrade to the tight end position.
Will Tye and Larry Donnell are serviceable players but lack high upside. Michigan's Jake Butt would solve that problem and give Manning someone capable of attacking the seam.
Throughout the course of his career, Manning has made good use of the tight end position so it makes sense to give him a real weapon.
Butt features a combination of good size, length and quickness. He has excellent body control that allows him to adjust and make the tough catches. His size and arm length give him the ability to high point the football.
He's not an elite in-line blocker but he shows enough effort and fights to gain inside hands.
The Giants could also help Eli Manning by bringing in a difference maker at the running back position. Georgia's Nick Chubb would be a good replacement for Rashad Jennings as well as complement Shane Vereen.
22. Philadelphia Eagles (via Minn)- Mike McGlinchey, OT, Notre Dame
The Philadelphia Eagles were able to land this pick, and get back into the 1st round, when they traded Sam Bradford to the Minnesota Vikings. This was a great move by a franchise that knew their future rests in the hands of rookie Carson Wentz.
With Wentz on board, the Eagles need to focus on keeping him healthy and upright. Their offensive line is a little shaky at the tackle position with Jason Peters getting up there in age and Lane Johnson suspension prone.
Notre Dame's Mike McGlinchey would give the team a bit of a safety net with a player capable of playing either left or right tackle. He even has the physical attributes needed to begin his career at guard and eventually move outside to replace Peters.
Another option would be to add more talent at the cornerback position. This group is thin at the moment and could use someone with high upside. Alabama's Marlon Humphrey would be a good fit, but he's already off the board.
Other options include LSU's Tre'Davious White and Iowa's Desmond King. Both players would represent an immediate upgrade to what's currently on the roster.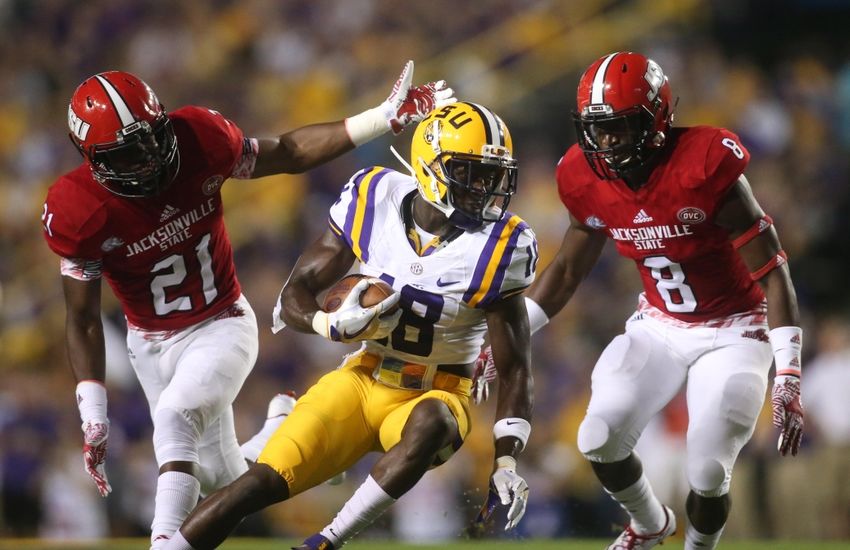 23. Oakland Raiders- Tre'Davious White, CB, LSU
Teams like the Denver Broncos have shown that it's important to have depth at the cornerback position. The fact they can lineup 3 top-end cornerbacks at the same time makes it tough for opposing offenses to create mismatches.
This is a strategy the Oakland Raiders can look to copy as they look to challenge the Broncos for the AFC West title.
Oakland currently had David Amerson and Sean Smith locked in as their starting cornerbacks, but don't have a standout No. 3 option. A lot of this has to do with the lack of development of former 1st round pick D.J. Hayden.
The Raiders have several options in this mock draft with LSU's Tre'Davious White, Iowa's Desmond King and Michigan Jourdan Lewis.
I have them going with White who ranks slightly ahead of the other two players in my rankings. White is a well build cornerback who has improved each year at LSU. This year he's off to a very strong start showing improve ball skills.
Depending how the season shakes out, Oakland could also be in the market for a running back. Latavius Murray has shown promise but is far from locked in as the starter.
24. Cincinnati Bengals- Corey Davis, WR, Western Michigan
After the 1st week of the season it's hard to say that the Cincinnati Bengals need more offensive weapons, but it's still an area of concern. The Bengals lack an elite playmaker capable of drawing coverage away from A.J. Green.
Brandon LaFell is an up and down performer and the jury is still out on rookie Tyler Boyd. Western Michigan's Corey Davis would provide the Bengals with a more explosive option capable of taking the top off the defense.
Davis isn't just a one-trick pony as he also runs clean routes and isn't afraid to work over the middle of the field. A top three group of Green, Boyd and Davis would give the Bengals an exciting young receiving corps.
Cincinnati will have some decisions to make in the secondary during the offseason. Adam Jones is past his prime and Darqueze Dennard has yet to meet expectations. The Bengals may need to consider bringing in another cornerback.
Michigan's Jourdan Lewis would be an interesting option as he'd be able to step into the slot corner position while letting Dre Kirkpatrick and William Jackson III work the edge. This would give the Bengals a really young and athletic cornerback group.
25. Denver Broncos- Raekwon McMillan, LB, Ohio State
The Denver Broncos showed on opening night that their defense was still a force to be reckoned with despite the loss of several key pieces. However, it's a long season and I'm sure we will see that losing linebacker Danny Trevathan will take its toll.
There isn't much that can be done for this season but long-term the Broncos could look towards the draft and Ohio State's Raekwon McMillan.
This would be a great fit as McMillan's strength is his coverage ability. He has a natural feel in coverage thanks to his ability to feel players enter his zone. McMillan also keeps a balanced base and his head on a swivel which helps him quickly react.
Denver might also look to add some more depth in the pass-rush department with Shaquil Barrett potentially hitting free agency and DeMarcus Ware getting up there in age. An edge rusher such as Louisville's Devonte Fields could be a good fit.
The Demaryius Thomas situation is worth keeping an eye on as things have not gone right since he signed his new deal. There may be a point where the team looks to get out of the money they owe him.
26. Houston Texans- Eddie Jackson, S, Alabama
The Houston Texans spent this past offseason remaking their offense and so far things look to be on the right track. If things continue to trend this way the Texans will be able to look at upgrading some areas on the defensive side of the ball.
At the moment, they have Quintin Demps and Andre Hal as their starting safeties. Hal has shown some promise but Demps is just a veteran filler.
Alabama's Eddie Jackson would give the Texans a big-time playmaker capable of adding another dimension to the defense. Jackson has tons of experience playing against high-level competition and has routinely made game-changing plays.
He capable of filling multiple roles including roaming the deep middle, supporting the run and dropping down into the slot.
The Texans might also consider adding depth at the inside linebacker position where Brian Cushing routinely appears on the injury report. Ohio State's Raekwon McMillan, who went a pick earlier, would be a good option.
Offensive tackle is another area to look at as Duane Brown is 31 years old and has dealt with some injury problems. This would be a pick for the future as Brown still performs at a high level when on the field.
27. Carolina Panthers- Nick Chubb, RB, Georgia
With Cam Newton under center the Carolina Panthers will continue to operate a run-heavy attack. They'd be wise to give Newton some help by replacing the aging and injury-prone Jonathan Stewart. Adding a more dynamic running back would help pull some attention away from shutting down Newton.
Georgia's Nick Chubb would be a perfect fit for Carolina's offense thanks to his ability to work between the tackles. Chubb features a nice blend of power and quickness. However, it's his vision that sets him apart.
He excels at locating the open running land and uses his quick feet to shoot through the hole. His strong build and low pad level help him pick up yards after contact.
The biggest thing to watch is Chubb's health as he's still working his way back from a major leg injury. So far, he as looked good but this is something every team will double check at the combine.
Despite investing heavily on the cornerback position in last year's draft, the Panthers could still use some help at the position. Iowa's Desmond King would make sense thanks to his ability to matchup on the outside.
28. Arizona Cardinals- Desmond King, CB, Iowa
Sunday night the New England Patriots exposed the Arizona Cardinals secondary—especially rookie cornerback Brandon Williams. This is going to be a trend all season long as teams look to avoid Patrick Peterson and pick on the inexperienced player.
Even if Williams is able to turn things around the depth at the position is a concern. Look for the Cardinals to use the 2017 NFL Draft to address this issue.
Iowa's Desmond King has already established himself as one of the top cornerback prospects in the class. In fact, there was a strong possibility that he would've been an early pick had he declared for last year's draft.
King is a physical defender who makes proper reads. He has a feel for the position at allows him to always be around the football.
The interior of Arizona's offensive line has some issues that could be addressed by someone like Ohio State's Pat Elflein. This is a powerful player who has experience at both center and guard. Elflein is a plug-and-play prospect capable of starting from day one.
A quarterback can't be ruled out either as the Cardinals eventually need to find the long-term replacement for Carson Palmer.
29. Pittsburgh Steelers- Devonte Fields, Edge, Louisville
The Pittsburgh Steelers have recently used 1st round picks on edge rushers Jarvis Jones and Bud Dupree, but so far neither has established themselves as impact players. Dupree is dealing with an injury that might force him to miss the season and Jones didn't have his 5th-year option picked up.
Pittsburgh continues to rely on the 38-year old James Harrison who won't be able to play forever. Unfortunately, it appears that the Steelers have to use another high pick to help their pass rush.
Louisville's Devonte Fields is one of the more explosive edge rushers in the draft. He has a lot of experience which he has used to develop a wide-array of pass rush moves. It also appears that his off-field issues are behind him.
The Steelers will be keeping a close eye on the development of Eli Rogers and Sammie Coates. If both fail to take advantage of their opportunities Pittsburgh could look to add a wide receiver early in the draft.
Wide receiver is a bit of a need because of the continued off-field struggles of Martavis Bryant. LSU's Malachi Dupre is a big-bodied target who features some similar traits as Bryant.
30. Seattle Seahawks- Pat Elflein, C, Ohio State
This is a value pick that also helps improve on of the more important parts of the Seattle Seahawks offensive lineup. Seattle is a team that wants to run the football, dominate time of possession and allow their defense make plays.
In order to employ this philosophy the offensive line needs to a powerful group capable of creating a push off the line of scrimmage. The issue is the Seahawks have had trouble finding the right pieces to the puzzle.
Ohio State's Pat Elflein is versatile and highly effective interior line prospect. He has experience playing at a high level at both guard and center. This versatility is something that is important because it allows the team to make adjustments in case of injury.
The cornerback position opposite Richard Sherman has been a revolving door since Byron Maxwell left via free agency. Jeremy Lane is a good player but is at his best when working out of the slot. Seattle could potentially make an aggressive move up the draft order to target Alabama's Marlon Humphrey.
Humphrey is a natural fit for Seattle thanks to his size and physical style of play. LSU's Tre'Davious White and Iowa's Desmond King would also make some sense.
31. New England Patriots- DeMarcus Walker, Edge, Florida State
I was one of the many who were shocked by the New England Patriots decision to trade Chandler Jones. He was the team's top pass-rushing threat and appeared to be a long-term building block. To this point, they still haven't replaced him on the roster.
Florida State's DeMarcus Walker is a fast rising prospect who has tons of potential. Walker is a long and strongly build defensive end that plays with a non-stop motor. He's a well-rounded player who generates pressure on the quarterback and sets the edge against the run.
Walker has started this year off on a strong note and if he continues on this pace it's likely he'll be off the board long before the Patriots get on the clock.
New England continues to deal with injury issues along the offensive line which might force them to move on from some players currently on the roster. Oregon's Tyrell Crosby and USC's Zach Banner are two guys the Patriots could consider.
The contract situations of Dont'a Hightower and Jamie Collins will be interesting to monitor. Both will demand big-money deals that could force the Patriots to choose between the two.
32. Green Bay Packers- Jalen Hurd, RB, Tennessee
Last year, the Green Bay Packers showed that they're losing patience with Eddie Lacy and his weight issues. He worked hard over the offseason to improve his conditioning but the fact is he'll always deal weight issues.
Green Bay's offensive attack would benefit from bringing in some competition. Tennessee's Jalen Hurd is an underrated prospect who'd give the Packers another hard-nosed runner.
Hurd is a big-bodied back who also features the second-gear needed to break off big gains. He's someone who can break tackles, move the pile and make something out of nothing. The added benefit is that he's highly unlikely to deal with weight issues.
It's important to remember that the running game was a major part of the Packers most recent Super Bowl run.
Green Bay should also look to improve the depth along the defensive line. They made a solid pick this past year by adding Kenny Clark but more is needed. A rising prospect like Clemson's Carlos Watkins is someone to keep an eye on.
A interior offensive lineman like Ohio State's Pat Elflein would be a good pick as someone capable of replacing the recently cut Josh Sitton.
This article originally appeared on