2017 NFL Draft: New York Giants Late-Season 7-Round Mock Draft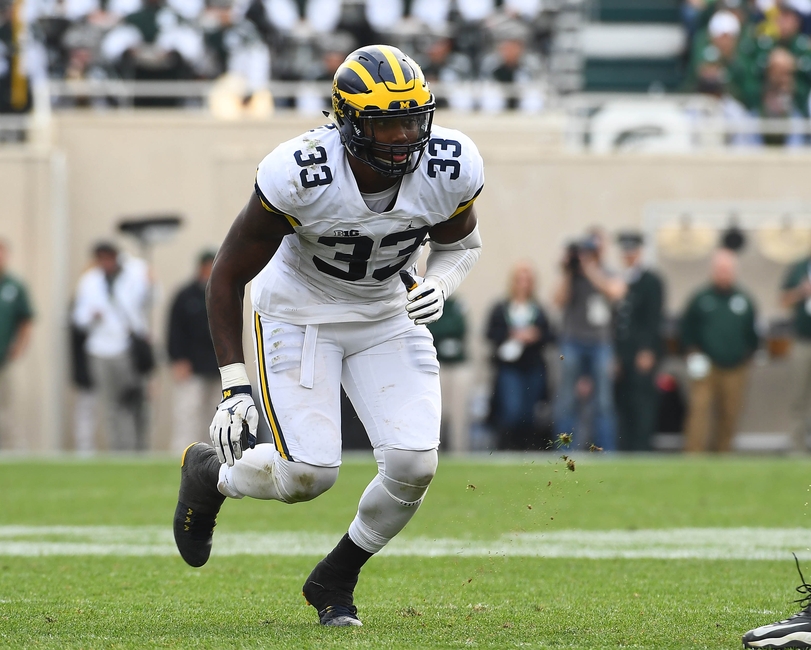 Even if the New York Giants do make the playoffs this season, it's not too early to mock what they could do when the 2017 NFL Draft arrives.
At this moment, the New York Giants are looking like a team destined for the postseason. While that could change in a big hurry, the 2017 NFL Draft isn't really on the radar of most G-Men fans. That, however, needs to change.
While fans may be focused on the playoffs, you better believe the Giants' scouting department is hard at work preparing for the draft. Still owning all seven of their original picks, New York should be excited about the potential this draft class possesses. That's why I've decided to take a look at what the Giants could hypothetically do with those seven selections.
Now please keep in mind that this is not a true prediction of what could happen on draft day. Instead, it's a commentary on New York's current needs as well as where the stock of the players mentioned is at this moment. Don't take it all too seriously.
With that in mind, here is my seven-round mock draft regarding the Giants' plans during the 2017 NFL Draft.
Round 1: Taco Charlton, DE – Michigan
This offseason, the Giants are faced with the pending free agency of Jason Pierre-Paul and Johnathan Hankins. Chances are they only re-sign one, which means they'll likely target a replacement early in the draft.
I already predicted Pierre-Paul would sign elsewhere, so now I'm mocking them a defensive end in the first round. And if they got Taco Charlton, I'm sure they'd be very happy with the results.
Charlton has been one of the fast risers of the 2016 draft class, having spent much of his season with the Wolverines terrorizing opposing passers. On film, you see an explosive athlete with the bend and agility to consistently round the edge and leave offensive tackles in his dust.
To top it off, Charlton is a rather strong run defender. While his pass rushing abilities are the main attraction, he's more than capable of holding his own against the ground game. After hitting an NFL training room, I'd imagine he'd be all the more stout when slowing the run.
It would obviously be a big blow to lose Pierre-Paul to free agency. However, if they did manage to get Charlton in the first round, there wouldn't be a huge drop in talent, potential or production. It seems like a good fit for a New York team that can't afford a decline in sacks.
Round 2: Roderick Johnson, OT – Florida State
The Giants have done a tremendous job of protecting Eli Manning this season. They're currently tied for the second-least amount of sacks allowed this year. However, the problem is that two of their offensive tackles are scheduled for free agency and may not return.
Both Marshall Newhouse and William Beatty are expected to hit the open market this offseason. Ereck Flowers and Bobby Hart have held their own on the outsides, but haven't received very impressive marks from Pro Football Focus. Some new blood at the position would be welcomed.
Now you need to be aware that Roderick Johnson is a bit of a boom-or-bust prospect. The Florida State product was seen as a sure-fire first-round selection heading into 2016, but has watched his stock fall after some disappointing performances. Now it's looking like he could go anywhere from the second to the fourth.
The biggest issue with Johnson is his pass protection, which absolutely needs to improve. All too often, he was beaten by faster, more athletic ends. There's no denying he holds his own as a run blocker, but must show more reliability as a pass blocker before the Giants would trust him to protect Manning. Despite the uncertainty, Johnson is an intriguing early-round option. Put simply, the upside he possesses outweighs the bust potential.
Round 3: Kendell Beckwith, ILB – LSU
It's rather surprising the Giants continue to ignore the linebacker position during the draft. Despite continued subpar play, the team appears unwilling to invest an early-round pick to help upgrade one of the NFL's most mediocre linebacking units. In this case, a third-round pick is already pushing it for New York. Seeing how average their linebackers have been in 2016, though, it seems warranted.
With that pick, I believe the G-Men could yield a prospect like Kendell Beckwith. The LSU star has spent the last couple of years as an every-down player for the Tigers, doing a great job of racking up tackles and making the occasional big play. While not quite at the level of prospects like Reuben Foster or Zach Cunningham, the tools are there for him to a be a plus starter in the NFL.
Beckwith really shines as a run defender, doing a great job of reacting to the play and plugging holes with power. While he doesn't possess the speed needed to fly all over the field, his instincts allow him to make up for his lack of athleticism.
If Beckwith can put up some good numbers at the Combine, he could easily hear his name called on Day 2. The production, tenacity and tackling abilities are certainly there for him to make a difference in the Big Apple.
Round 4: Rasul Douglas, CB – West Virginia
No one is going to deny that the Giants have a strong group of starting cornerbacks right now. The trio of Dominique Rodgers-Cromartie, Janoris Jenkins and Eli Apple is definitely getting it done in 2016.
That being said, there could be some issues further down the depth chart next season. In fact, three of New York's other cornerbacks are set to hit the open market in March, which could cause some problems for the Giants' secondary in 2017.
So why not restock during the draft? There are plenty of mid-round options with some serious intrigue, including Rasul Douglas.
Another one of the 2016 campaign's fast risers, Douglas has done nothing but impress scouts this season. Not only does he have the 6-2 frame the league is in love with right now, but he's been outstanding in terms of keeping opposing receivers in check. His eight interceptions on the year have also demanded scouts' attention.
I wouldn't be surprised if he continued to rise during the pre-draft process. For now, though, he seems like a solid fit for the Giants in the fourth round. Especially as their secondary keeps improving, adding playmakers like Douglas seems ideal.
Round 5: Cole Hikutini, TE – Louisville
For the last few years, the Giants have struggled mightily to get consistent production from their tight ends. Larry Donnell showed promise, but is always hurt. Will Tye is limited in terms of receiving skills, and Jerrell Adams is still a serious work in progress.
To make matters worse, Donnell is headed for free agency in 2017. Seeing the way his career has gone up to this point, a change of scenery may be in his best interests. If that's the case, New York may need to look towards the draft to find a new playmaker at tight end.
Look no further than Cole Hikutini, an underrated option out of Louisville with the potential to develop into one of the better receiving tight ends in the NFL.
Just look at Hikutini's production for the Cardinals this past year. While playing a complementary role in the Lamar Jackson show, the talented tight end has hauled in 49 passes for 656 yards and eight touchdowns. His blocking still needs work before he sees the field, but he's got the size and motor to be a difference-maker.
If the Giants truly are invested in finding a receiving threat at tight end, Hikutini should be on their radar when the 2017 NFL Draft rolls around.
Round 6: De'Veon Smith, RB – Michigan
The Giants already went to the Michigan well once, so why not make a return trip?
As we've seen this season, the Giants could use a power presence in their backfield. The trio of Rashad Jennings, Shane Vereen and Paul Perkins haven't exactly been spectacular, as New York has boasted one of the worst rushing attacks in 2016. While I don't necessarily think a sixth-round pick is going to fix that, it would be progress.
De'Veon Smith is a tough, physical runner who has starred for the Wolverines this season. Although he's been forced to split carries, he hasn't had much trouble racking up big yards, consistently finding the end zone, and punishing defenders who dare get in his way.
The Giants need a hammer who can pick up the tough yards and make something positive out of goal line carries. Smith has turned a lot of heads this season with his vision, physicality and awareness in the open field. If he continues to impress during the pre-draft process, he could easily find himself going higher than this. Even if that isn't the case, Smith would be terrific late-round option for New York.
Round 7: Tyrique Jarrett, DT – Pitt
Even if the Giants do end up re-signing Hankins this offseason, adding some more depth at defensive tackle wouldn't hurt. Spending a seventh-round pick at the position seems like a small price to pay to do so. I believe a guy like Tyrique Jarrett could be a name worth keeping an eye on at this point in the draft.
I'm not going to paint a prettier picture than there is. Jarrett is a limited prospect who may never be anything more than a backup in the NFL. Still, it's worth noting that his size and power could allow him to make an impact at the next level.
During his time with the Panthers, Jarrett has been an above-average run defender. He does a great job of using his sturdy frame to anchor and make a difference against the run.. Look no further than the 30 total tackles he's racked up this season.
You shouldn't expect much of a pass rush from Jarrett, who is limited in terms of athleticism and quickness. However, if the Giants want a solid run defender who can step in on short-yardage situations, the Pitt product seems like a good fit in the final round.
This article originally appeared on