LSU has two obvious choices to replace the fired Les Miles
LSU fired long-time head man Les Miles Sunday, sparking what figure to be months of speculation on the coaching carousel. The Tigers' vacancy is an extremely good one. LSU has great facilities, overwhelming fan support, a strong recruiting base and a stocked roster.
The downside is it does have shaky administrative support. AD Joe Alleva botched the Miles situation last year, and a source tells FOX Sports that it's about 50-50 on whether he'll still be the LSU AD in 2017.
The good news for LSU and its potential job candidates is that there's plenty of time to try to figure out the power structure.
The two most obvious candidates are FSU's Jimbo Fisher and Houston's Tom Herman.
Fisher worked at LSU under Nick Saban and has been a favorite of the power brokers down there, but last winter he passed on LSU's interest. Would Fisher be more tempted this time around? His buyout is, relatively speaking, manageable at $5 million. Yeah, the division he's in now — the ACC Atlantic — is tougher than it was a just a year ago, thanks to the emergence of Louisville and Clemson's continued to ascent, but I doubt that's enough to impact his thought process. After all, it's not like the SEC West is any cakewalk.
Herman's buyout is half of Fisher's. The 41-year-old is the hottest name in coaching these days. He's 17-1 at Houston. He played a big role in Ohio State winning the national title and beating Alabama along the way to do it. He's a brilliant offensive mind, who seems like he would be a good fit in any cultural setting.
Herman's a Southern California native and would be an ideal candidate IF USC opted to make yet another coaching change. It's still only six games into the Clay Helton regime (he's 1-5), but it's been a very rocky start and the AD who hired him, Pat Haden, is gone. My hunch is IF USC does force Helton out, they'd have to have a candidate set to be announced, as opposed to blindly wading into another coaching search, which they've flailed at three times in the past six years.
USC is as good as any college job in the country. You have great facilities and sit in an extremely fertile recruiting base, where the majority of kids grow up wanting to be Trojans. You're the heavyweight brand in the conference, and second isn't even close. In the SEC, LSU is an elite job, but you're still going to have to battle hard for every recruit. But the USC job is not open, and if you're a coaching candidate, you have to sort out exactly what's available now, not what might come open a year from now.
If you're Herman, you'll have some good options, starting with staying at Houston, where he's making about $3 million a year and has a shot at much more if UH gets into the Big 12. Herman is also a former Texas graduate assistant and there's still a chance the UT job could come open. Perhaps the thought of someone else hiring Herman away might prompt UT folks to put more pressure on Charlie Strong if the Longhorns don't develop fast enough.
A few other options to keep in mind for LSU are UNC's Larry Fedora and TCU's Gary Patterson. Fedora's a Texas native, who I think would love the chance to coach at LSU. He's done a good job at UNC and did very well not far from LSU while he was at Southern Miss.
Patterson has worked wonders at TCU, but my sense is he may be too entrenched there in Fort Worth. Heck, they're gonna have a statue of him up in front of those much-improved facilities.
Would LSU consider Alabama OC Lane Kiffin, the former Tennessee and USC head coach? It's possible, especially if the Tide rolls to another national title. Kiffin has done an outstanding job helping Nick Saban win another national title and seems to get the offense going regardless of having to break in three new QBs the past three seasons. I know Kiffin has learned a lot from his time under Saban and would be a more organized head man than he was at his previous stops.
Kiffin's a wildcard in this mix. An even bigger wildcard for the LSU vacancy is the interim Ed Orgeron. He's a Louisiana native and one-time LSU lineman. Orgeron's arguably the best recruiter in the country. He struggled mightily at Ole Miss but clearly learned from his mistakes — and from Kiffin's — and proved to be a much different style of leader when he got the interim job at USC almost exactly three years ago to this day.
Orgeron didn't coach the team the same way as he did the D-line, like he did when he was in Oxford. Instead, he was more like the charismatic, supportive guy he was on the recruiting trail. It worked, as he went 6-2 at USC despite having almost no depth on a probation-strapped team. He even defeated No. 4 Stanford despite having only one sub on his defense for the entire game.
Orgeron has a shot to get this job IF he can get this team to play like many folks thought they would going into the season. That would mean knocking off Alabama. It's a big if, but this is still a very talented team, especially on defense.
The biggest difference I see between this situation and the one Orgeron inherited at USC three years ago was back then many Trojan players weren't exactly sad to see Kiffin go. Orgeron provided a much-needed jolt of energy. At LSU, Miles was beloved by his players, so this transition dynamic, at least on the surface, isn't the same.
RANDOM STUFF
* The biggest surprise of the first month of the season for me is Wisconsin. The Badgers have knocked off two Top 10 teams, and their latest win at Michigan State was a blowout. Pretty impressive, especially considering the Badgers were starting a freshman QB in Alex Hornibrook, who leads the nation in completion percentage on third downs at 78 percent. Hornibrook was 6-for-6 against MSU on third-and-10 situations. The clutch vibe carries over more to his second half stat line where he's completing 73 percent as compared to 59 percent in the first half.
Hornibrook is a Pennsylvania native who had committed to Wisconsin coach Paul Chryst when he was the head coach at Pitt. The 6-foot-4, 215-pounder switched his pledge to Wisconsin in spite of a lot of other scholarship QBs on the Badgers' depth chart after Chryst got the job in Madison.
Asked to explain why Hornibrook seems to respond so well to pressure situations, Chryst told FOX Sports, "The best thing that he's been doing is he's been able to be himself. It's nothing magical. He's just a really good worker and he prepares very well. He's impressed me all along. Some guys just have it and some don't. He's always been a good passer and very accurate and he loves football."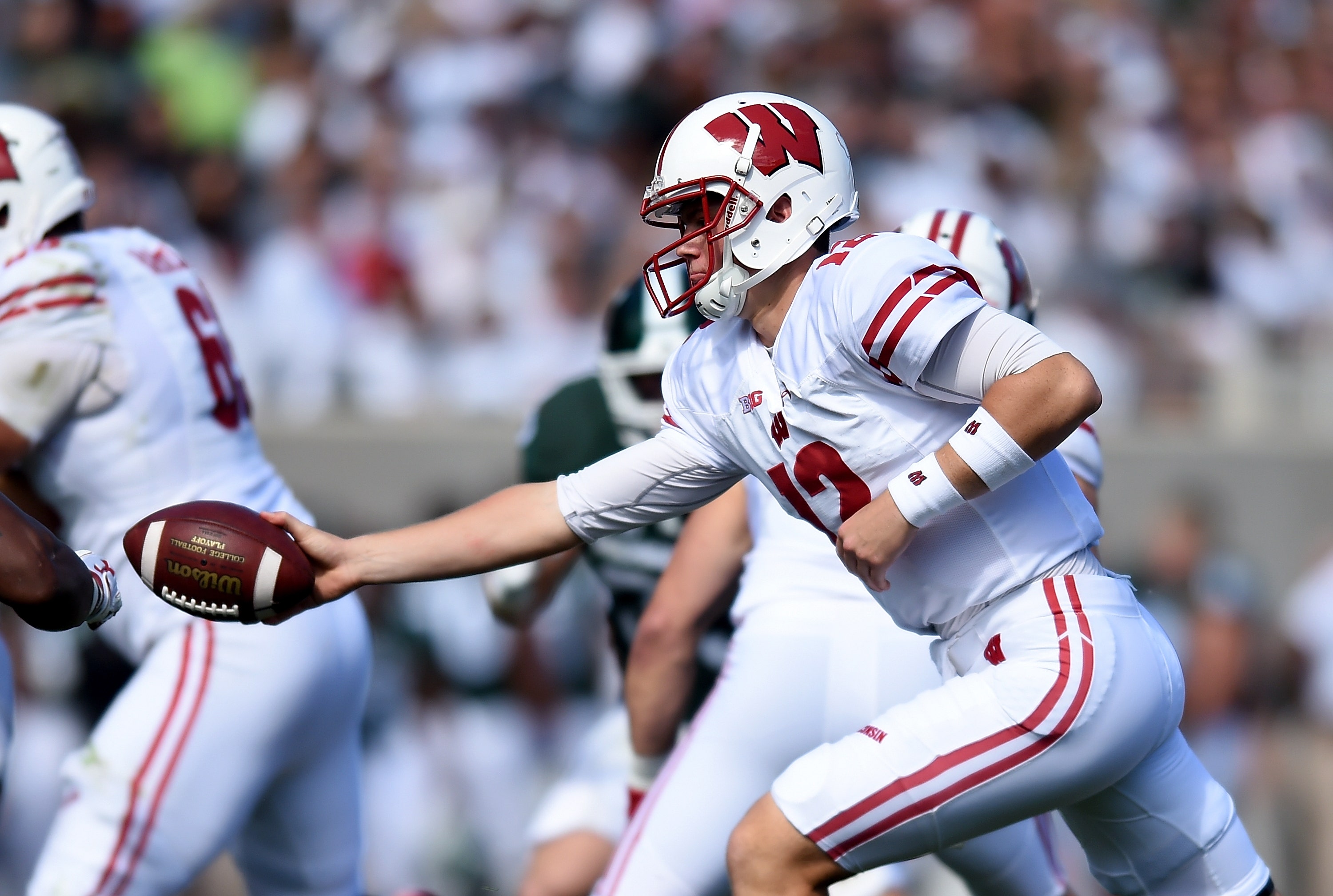 Perhaps the most amazing part of the Badgers' fast start is that it comes in spite of the team being ranked 12th in the Big Ten in yards per carry at just 3.94. Chryst was surprised when I noted that fact but said he knows the Badgers need to get better at running the ball.
This week Hornibrook and the Badgers face an even bigger test in Michigan, which leads the nation in TFLs (44) and is tied for No. 1 in sacks (17). The Wolverines' opponents are also converting on just 6-of-50 third down attempts — 12 percent — lowest in the nation.
"It's a really good scheme with really good players," Chryst said of Don Brown's defense. "They're aggressive and have guys (in the secondary) that allow them to be aggressive, and they're playing with confidence."
* Nebraska is worth keeping an eye on this year. The Huskers have good receivers and some good talent on defense. Another reason why: QB Tommy Armstrong, a talented guy who has been plagued by mistakes throughout his career. He threw 22 TDs last year but also had 16 picks. This year, his TD-INT ratio is 8-1.
* Only one other team in the country (Michigan) has scored more than Louisville and its star QB Lamar Jackson's 25 total TDs (rushing and passing) this year, and that's more than seven FBS teams had in all of 2015.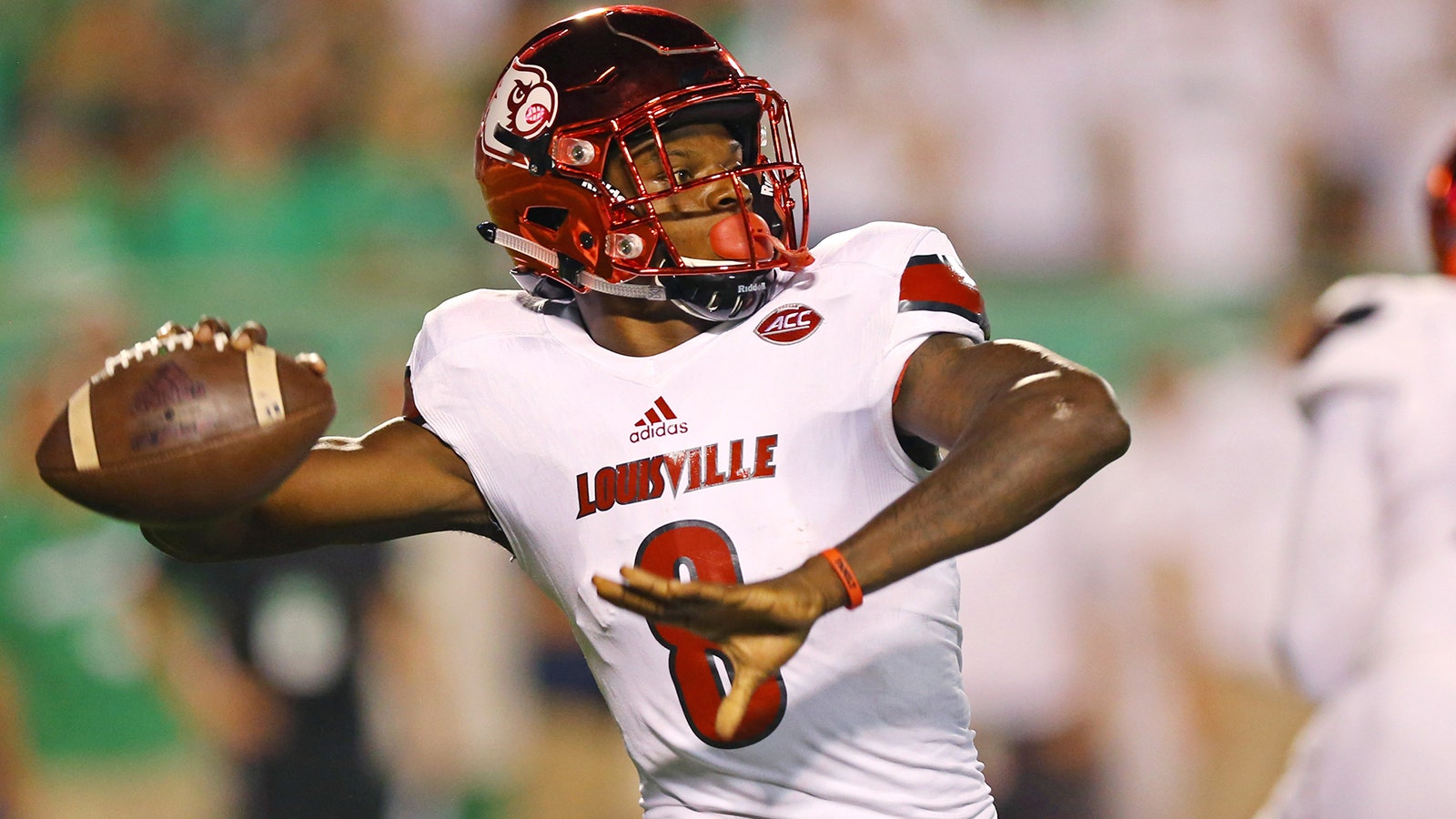 * Pretty impressive that WVU can lose Yodny Cajuste, a potential high draft pick, early in their opener and still have surrendered only one sack thus far this season. Last season the Mountaineers ranked No. 93 in fewest sacks allowed. Dana Holgorsen has talked about how much the addition of veteran O-line coach Joe Wickline would be to help out Ron Crook and it seems to be really paying off.
* LSU is not the only coaching vacancy out there. FIU canned Ron Turner. Butch Davis is an intriguing option. After all he's very tight with AD Pete Garcia. If Davis doesn't want it, FIU still will have a lot of strong candidates.
* I looked up teams that have the worst Red Zone defense in the country and was surprised to see some strong programs down there. FSU is No. 122, allowing 15 TDs on 18 trips, while Michigan State and Louisville were tied at No. 117 (8 of 10).
* Stat of the Week: As we reported earlier in the day, Notre Dame fired defensive coordinator Brian VanGorder with defensive analyst Greg Hudson taking over the D. After the Irish lost to Duke to drop to 1-3, the move was hardly a stunner. The Irish have allowed five plays of 60 yards or longer (worst in the country). What's really eye-popping about that is ND surrendered only five such plays in the 2012, 2013 and 2014 seasons combined.