Syracuse Basketball: Top Takeaways From Jim Boeheim's Post Game Presser
Paul A. Esden Jr./FanSided via Inside the Loud House

Fansided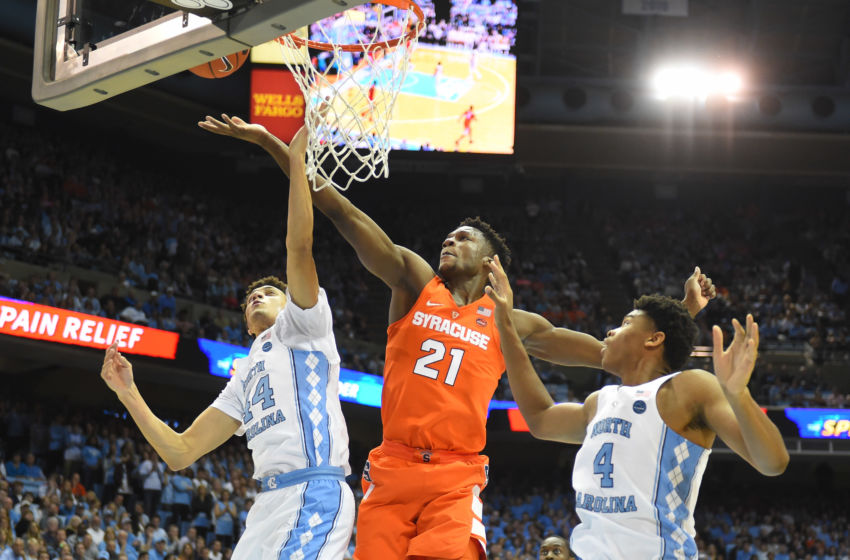 Another loss for the Syracuse basketball team, but the post game press conference didn't feel that way. Jim Boeheim was jovial due to his team's effort.
The Syracuse (11-8) basketball squad hasn't met expectations this season. That much is clear. Plus this team has yet to win a road game this season and many didn't expect that to start in Chapel Hill Monday night.
As expected the Orange were just outmuscled en route to a 17 point loss to one of the best teams in the country bar none. Despite that rout, Jim Boeheim after the game had a lot of positive things to say about his team.
From point guard problems, to rebounding issues, to quite simply road rage. This team has had its fair share of issues, but perhaps is there hope?
Boeheim answered several questions in his presser: could this game be a stepping stone? Roy Williams getting win No. 800. To Tyus Battle's constant improvement as a freshman.
Jim Boeheim said in his post game press conference that the reason SU lost was because simply they were outrebounded. The rebounding deficiency on the stat sheet after the game isn't surprising.
UNC is bigger than SU, plain and simple. Plus you consider any zone, especially the 2-3 zone is going to give up their fair share of rebounds.
They lost the boards battle by 20. Outside of Tyler Lydon having a magnificent performance the rebounding was nonexistent from rest of team.
But perhaps the biggest takeaway is that Boeheim called this the best outing on the road from this team this season. Although it's fair to cite that this team is currently 0-6 on the road.
It's not easy winning a lot of college basketball games for a long time. Which explains why Roy
More from Inside the Loud House
Williams became only the eighth coach to reach 800 wins.
But perhaps what is more impressive is being amicable with both Roy Williams and Mike
Krzyzewski. Boeheim jokingly said that is a feat in which very few have accomplished.
Boeheim said these two originally met as assistant coaches and have been friends for over four decades. Although Boeheim will always have the 2003 National Championship trump card over Williams when he was at Kansas.
The old adage keep your friends close and your enemies closer has never been more true. Boeheim said that they compete hard against each other and shake hands after and go play a round of golf, gotta love it.
It's hard to rely on consistent play from a 19-year old player in Tyus Battle who was playing high school ball last year. But his great play hasn't gone unnoticed by coach Boeheim.
While his last outing wasn't spectacular. He went 4-for-11 from the field, but still finished with 13 points.
What has been impressive has been his rock solid 45% shooting percentage from downtown. He's been kind of thrust around in terms of his role.
But I could definitely see him becoming our point guard next season (if he decides to stick around another year). He's young, brings a scoring punch whether off the bench or from the starting lineup.
Coaches are split, I hear some say you can take more from a loss than a win, others say there's no room for moral cookies. It seems like Boeheim leaned towards the latter in this presser.
There should be some solace taken that SU put on its best road performance against the cream of the crop in the ACC. The same can't be said for John Gillon who has fallen out of favor with his inconsistent play.
Boeheim has analyzed his team and says that this isn't a bad road team. Bad road teams are bad everywhere, SU is blowing out conference opponents at home when they win.
There is some there-there, but ultimately if SU wants to make it to the big dance they're going to need to get some of those skins on the road. There's still a second half to the season to go, but the Orange are running out of time.
This article originally appeared on