Well-fueled Kerwynn Williams runs for 100 yards in first NFL game
BY foxsports • December 7, 2014
GLENDALE, Ariz. -- It is called a Ker-wich -- a double peanut butter and jelly sandwich, dipped in milk. Kerwynn Williams has one every day, sometimes two. It fortified him as he set the Western Athletic Conference total offense record, and it worked again Sunday in his first NFL start.
After he was elevated from the practice squad on Friday, Williams became the first Cardinals running back to rush for 100 yards this season when he hit exactly that mark in a 17-14 victory over the Kansas City Chiefs, revitalizing a running game that had gained a combined 99 yards the last two games and now will be without starter Andre Ellington for the rest of the year.
The first three days of the week, Williams was the Chiefs' Jamaal Charles, giving the Cardinals' defense preparatory looks. Sunday, the next running back up outrushed Charles, who had 91 yards and scored two touchdowns.
"That's storybook stuff," Larry Fitzgerald said.
"I wasn't expecting today to happen," Williams said.
Williams' teammates were not surprised. Defensive end Calais Campbell started chuckling before a question about Williams was finished.
"I feel a lot better that he did that in a real NFL game, because he has been running through us all year," Campbell said. "Some guys were like, 'Slow down, you go too hard,' but he earned himself an opportunity and he capitalized on it. I told him before the game, you only get so many opportunities. Make the best of this one. The rest of the game you could see his confidence grow. He was a fighter."
Williams was signed to the practice squad Sept. 18 after he was cut by Minnesota. Vikings assistant coach Kirby Wilson recommended Williams to good friend  and Cardinals coach Bruce Arians.
"He has been the only guy on our practice field the last three weeks that made our players go, 'Wow,'" Arians said.
Stepfan Taylor started the game and Marion Grice played, but it was Williams who had the bulk of the carries and made the most noise. Williams and Taylor had six carries apiece in the first half, but Williams ripped off 9- and 15-yard runs on the go-ahead series in the third quarter and had all the running back carries the rest of the way.
"Stepfan was going to start it and get it and get us off to a good start and I was going to find a hot hand between one of the two young guys, and we found one," Arians said.
Williams, 5-feet-8 and 198 pounds, ended his Utah State career in 2012 with 6,928 all-purpose yards, still the WAC record. He led the Aggies with 1,512 yards rushing before going in the seven round of the 2013 draft to Indianapolis -- Arians was on that staff. He spent time on the Colts' and Chargers' practice squads last season.
"Quickness, explosiveness and an unbelievable change of direction," Arians said of Williams' attributes. "He can break down a guy in a hole and make him miss him. And he's got power for a smaller guy."
Williams said he was prepared for spot duty but ready for anything.
"I knew he (Arians) was going to feel it out and it was going to be running back by committee," Williams said. "For me, this week was the same as any other week. Coach (Stump Mitchell) does a great job preparing us all like we are going to play every week. I felt that added a different dimension to the offense, being able to run the ball."
Of his mindset while on the practice squad, Williams said: "I just try to do my best to give the defense a good look that they're going to face on Sunday. I want them to be prepared as possible."
As he was Sunday.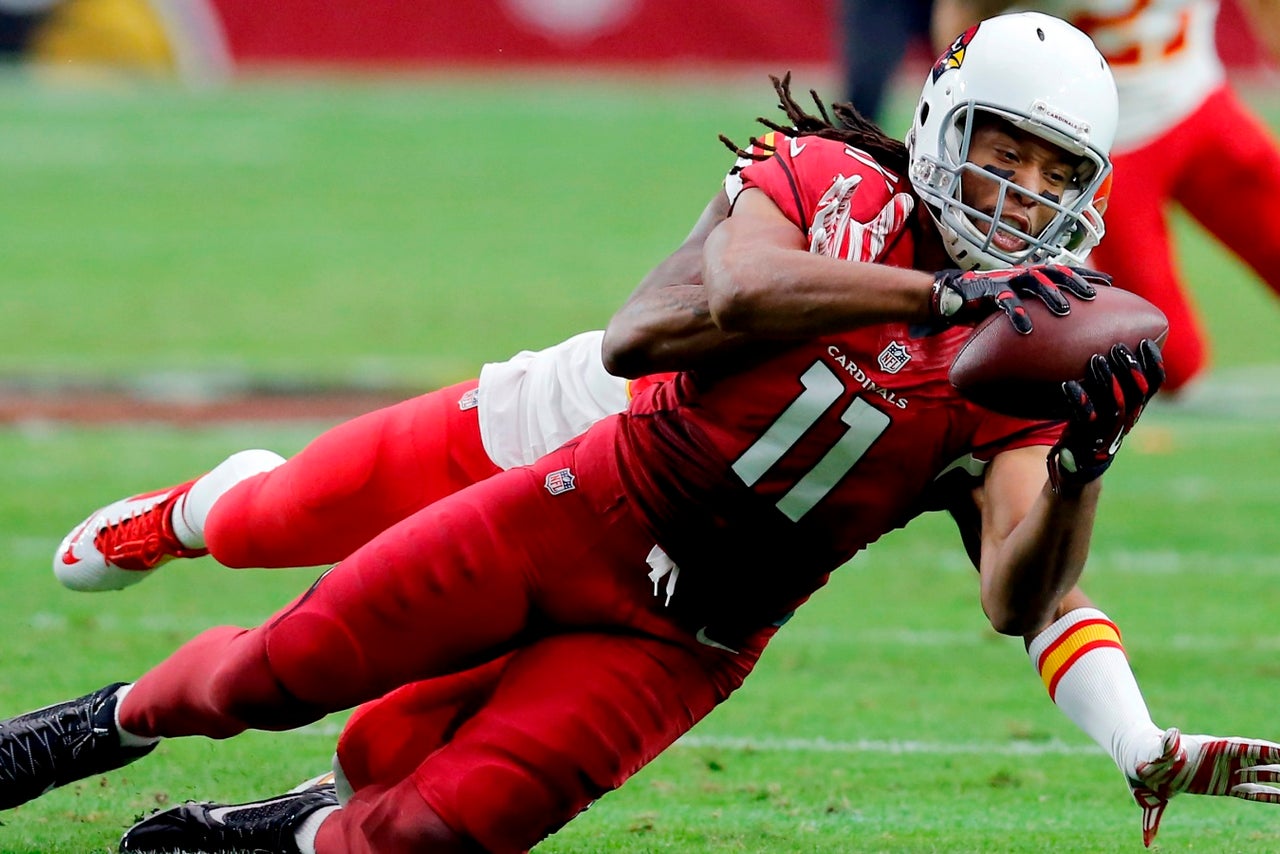 Cardinals receiver Larry Fitzgerald makes a catch against the Chiefs during Sunday's first half.
Fitzgerald returned to the starting lineup and caught four passes for 34 yards after he missed the previous two games with a sprained medial collateral ligament in his left knee suffered in the first half of the Detroit game. He was targeted nine times.
Fitzgerald did not look 100 percent but he seemed to say that does not matter at this point in the season. 
"I was good enough to go," he said. "In December football, we need all hands on deck. There are a lot of guys in this locker room that are banged up and hurting. You just have to fight through. To be 10-3 is something that's rare. We know we have something special going here. Everybody wants to be a part of it."
Michael Floyd also had four receptions, tying Fitzgerald for the team high.
Cornerback Antonio Cromartie left the game after suffering an as-yet undiagnosed injury with 10:47 remaining the fourth quarter. The Cardinals initially called it an Achilles' tendon injury but Arians said after the game that tests are still being performed.
"His Achilles' looks in good shape, so we'll keep our fingers crossed for him out there," Arians said.
Cromartie was a Pro Bowler in San Diego the last two seasons, and his loss could be challenging for team that likes to put corners Cromartie and Peterson on an island. Justin Bethel replaced Cromartie.
"Every day I just try to get a little better, so whatever happens I will be able to go out and still perform at the same level he was playing at and not let there be any drop-off on the defense," Bethel said.
An ankle injury to guard Paul Fanaika opened the door for Jonathan Cooper to make his first NFL start, and the offensive line did not appear to miss a beat with Cooper at left guard and Ted Larsen moved from the left side to the right. The Cardinals had a season-high 141 yards rushing, and quarterback Drew Stanton was sacked just twice.
"First start, I was pumped to get it, and glad I could get a victory as well," said Cooper, the Cardinals' first-round pick in 2013 who missed last season because of broken leg. "It's definitely been tough, and it makes it even more tough when you have friends and family saying you should be doing this or you should be doing that. My biggest thing was patience. Patience and have faith."
EXTRA POINT
Defensive tackle Frostee Rucker had the first two-sack game of his nine-year career as the Cardinals had five sacks, giving them 23 in the last five games. "I was fortunate," Rucker said. "I'm not playing for stats. The offense carried us all game, and we came up big when we it counted." Rucker has four sacks this season. Calais Campbell and Alex Okafor lead the team with seven after getting one apiece Sunday.
Follow Jack Magruder on Twitter
---
---