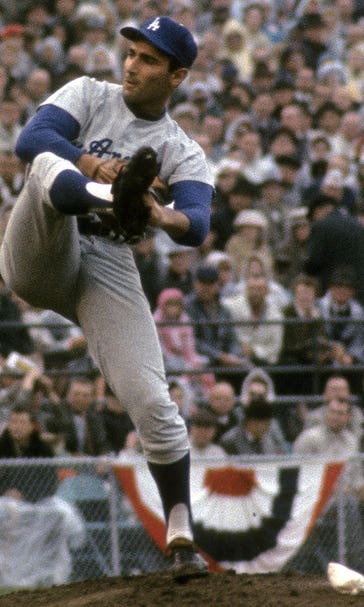 Sandy Koufax's Game 7 in 1965: One for the ages
October 27, 2015

Fifty years after Sandy Koufax pitched the Los Angeles Dodgers to a World Championship with shutouts in Games 5 and 7, we invited three of our favorite writers to reflect on Koufax's singular performance…
Jane Leavy: The 1965 World Series between the Minnesota Twins and the Los Angeles Dodgers is remembered chiefly for what didn't happen: Sandy Koufax did not pitch Game 1 because it fell on Yom Kippur, the holiest day on the Jewish calendar. That act of filial devotion elevated Koufax to the pantheon of patriarchs – Abraham, Isaac, Jacob and Sandee! – bestowed upon him an unwanted reputation for religiosity, and might have obscured accomplishments that ought to be inscribed in the baseball book of life. 
The Series opened in Minneapolis on October 6. Back on August 22, bad blood between the Dodgers and the San Francisco Giants had turned to spilled blood at Candlestick Park in San Francisco, where the two pennant contenders and perennial arch-rivals sent their best pitchers to the mound: Juan Marichal and Sandy Koufax.
A season of enmity erupted in knockdowns and brush backs. After Marichal decked Ron Fairly and Maury Wills, Koufax asked his catcher John Roseboro: "Who do you want me to get?" Roseboro replied, "I'll take care of it." The benches had been warned; a knockdown pitch would have meant a suspension, which Dodgers could ill afford in the midst of a pennant race.
With Marichal at the plate, Roseboro whizzed a return throw just east of his ear. Before Koufax could raise a hand to stop him, Marichal lifted his bat and cracked it over Roseboro's skull, leaving a two-inch gash and an enduring dent in baseball's beatific self-image.
Shaken, Koufax walked the next two batters and gave up a three-run home run to Willie Mays. He was stuck with a big loss and an unwarranted reputation.
The legend, as handed down, reinforced the already established notion that The Big Jew wouldn't knock anyone on his ass, wouldn't protect his guys, a perception that neatly and erroneously fit the stereotype of Jewish men: nebbishes or wise men, shylocks or scholars, tough only in negotiations.
This didn't allow for Sandy Koufax, who possessed toughness he didn't flaunt and pain tolerance he never acknowledged. In September 1965, he threw the most perfect game in baseball history, won the pennant clinching game on two days rest—and never missed a start all season.
By the beginning of the World Series, Koufax knew that the next season would be his last. Traumatic arthritis in his left elbow required a regimen of cortisone shots, codeine that dulled his reflexes, Butazolidan, an anti-inflammatory drug prescribed for broken down thoroughbreds, and gobs and gobs of Capsolin, a pitcher's salve derived from hot chili peppers grown in China.
By Game 7, his third start in eight days, Koufax was literally pitching on fumes. Jim Kaat, the Twins' starting pitcher, fled their ritual pregame handshake when his eyes began to burn from exposure.
That day Koufax was a two-pitch pitcher without a second pitch. When he walked two batters in bottom of the first inning, Don Drysdale got up in the bullpen. Roseboro kept calling for the curve; Koufax kept shaking him off. Finally Roseboro went to the mound for a conversation. "He said, 'Rosie, my arm's not right. My arm's sore,'" Roseboro recalled before his death in 2002. "I said, 'what'll we do, kid?' He said, 'F*** it, we'll blow 'em away.'"
Which is exactly what he did.
The ninth inning was his 360th of the year.
The Dodgers were leading 2-0 when he took the mound to face the heart of the Twins' order: Tony Oliva, Harmon Killebrew, Earl Battey and Bob Allison.
Koufax pitched from the shadows, his royal blue sweatshirt stained navy by sweat, his mouth hanging open after every pitch. Oliva grounded out. Killebrew singled. Koufax summoned the last measure of resolve and struck out Battey and Allison, both of whom represented the tying run.
In the end, he was too tired to celebrate: to pump a fist or jump into a teammate's arms. The two Series shutouts gave him a total of 29 complete games and 10 shutouts for the season. In 360 innings, he had struck out 411 batters and walked only 76, while going 28-9 with a 1.93 ERA.
Jane Leavy is the author of "Sandy Koufax: A Lefty's Legacy" (2002) and "The Last Boy: Mickey Mantle and the End of America's Childhood" (2010). Her next book is titled "The Big Fella, Babe Ruth, and the Advent of Celebrity."
Allen Barra: It's incredible, isn't it, how just one game can change your perception of a player?
It's hard to find evidence of the game anywhere, unless you know exactly where to look. But it was played, and Koufax pitched, and I remember it well. The Giants and Dodgers finished the 1962 season tied for first place, and faced off in a three-game playoff. Koufax, who had scarcely pitched since a finger injury sidelined him in July, started the first game for the Dodgers.
I remember my father saying, "They shouldn't do that. Even if he's over the injury, he's going to be rusty." My dad was right. Sandy didn't get out of the second inning, and the Giants went on to win the playoff and the pennant.
For some reason, the 1962 playoff game is not included as a postseason game on most baseball web sites, including baseballreference.com. Yet if you add it in his postseason record along with his World Series starts, his career postseason record was just 4-4.
Think about that. Our image of Sandy Koufax is that of a nearly invincible big-game pitcher, the last man standing in 1963 and 1965. But when Koufax took the mound on October 14, 1965, for Game 7 of the World Series in Minnesota's hostile Metropolitan Stadium, he was fighting for the legacy by which he would be judged.
On just two days rest – he had just pitched and won a complete game against the Twins in Los Angeles – Sandy produced a masterpiece: nine innings with three hits allowed and 10 strikeouts. In the space of three days, he pitched two complete games, giving up just seven hits and striking out 20.
If the Dodgers had lost that seventh game, Sandy Koufax's career postseason record would be just 3 wins and 5 losses. Yes, he would have been the same great pitcher we all know and still revere. But it just wouldn't have quite seemed that way, would it?
Allen Barra writes about sports for The Daily Beast. His latest book is "Mickey and Willie: The Parallel Lives of Baseball's Golden Age" (2013).
Steven Goldman: There are books on the World Series, purporting to be complete histories of the Fall Classic, that nonetheless skip lightly past the 1965 Series between the Los Angeles Dodgers and the Minnesota Twins. The Series went seven games, which seems exciting in the abstract, but the games themselves weren't particularly close and didn't feature much in the way of tense, seesaw action.
What ultimately happened is what, had we been there, we probably would have expected to happen: The surprisingly good Twins were ultimately defeated by the team that could start Sandy Koufax three times in seven games (this despite his skipping Game 1 for religious reasons).
Koufax's heroics were very nearly the end of him. He threw 336 innings in the regular season and 24 more in the Series. He had exactly 329 more innings left in his arm, 323 in the '66 regular season, and six against the Orioles in October. One World Series start, and he called it a career. Not coincidentally, the Dodgers were swept in the '66 Series, and Walt Alston never won another. The greatest lesson a hero can teach you is always to be there until he can't be—and that's what Koufax did.
Koufax's final postseason heroics are of a piece with 1965. It was a huge change year, with the postwar consensus about to shatter. It began with LBJ being inaugurated after a massive landslide, but the first combat troops (as opposed to "advisers") went into Vietnam, provoking much consternation on the left, and somewhere between the Voting Rights Act being adopted on August 6 and the Watts riots beginning on August 11, there was a massive backlash against the Civil Rights Movement. This was even the year Bob Dylan broke with the folk tradition and went electric. America fractured culturally and politically, and for a long time, universal heroes were not possible here. Paul Simon asked, "Where have you gone, Joe DiMaggio?" in 1967, but Sandy Koufax would have done just as well.
The Rolling Stones' top U.S. hit of the year was "(I Can't Get No) Satisfaction" and the Beatles' biggest was "Help!" Clearly something nervous was in the air— farther down the charts you could find Barry McGuire groaning about the "Eve of Destruction," and none of the really bad stuff had even happened yet. By the fall of '66, Koufax was done, race riots had broken out across the country, nearly 36,000 Americans had been killed or wounded in Vietnam, the Republicans picked up nearly 50 seats in the House, and Richard Nixon was gearing up to win the 1968 presidential election, finishing a complete U-turn by the American public. So, the story of the 1965 World Series is the story of an American era's final bow in the form of Mr. Koufax. What should have happened did happen, for the last time in a long time.
Steven Goldman is the author of "Forging Genius: The Making of Casey Stengel" as well as editor/co-author of the books "Mind Game," "It Ain't Over 'Til It's Over," and "Extra Innings: More Baseball Between the Numbers," among others.
---
---