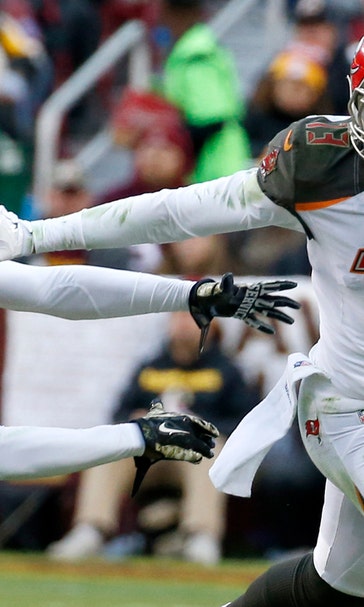 Recent play shows taking Mike Touchdown over Johnny Football was right choice for Bucs
BY foxsports • November 17, 2014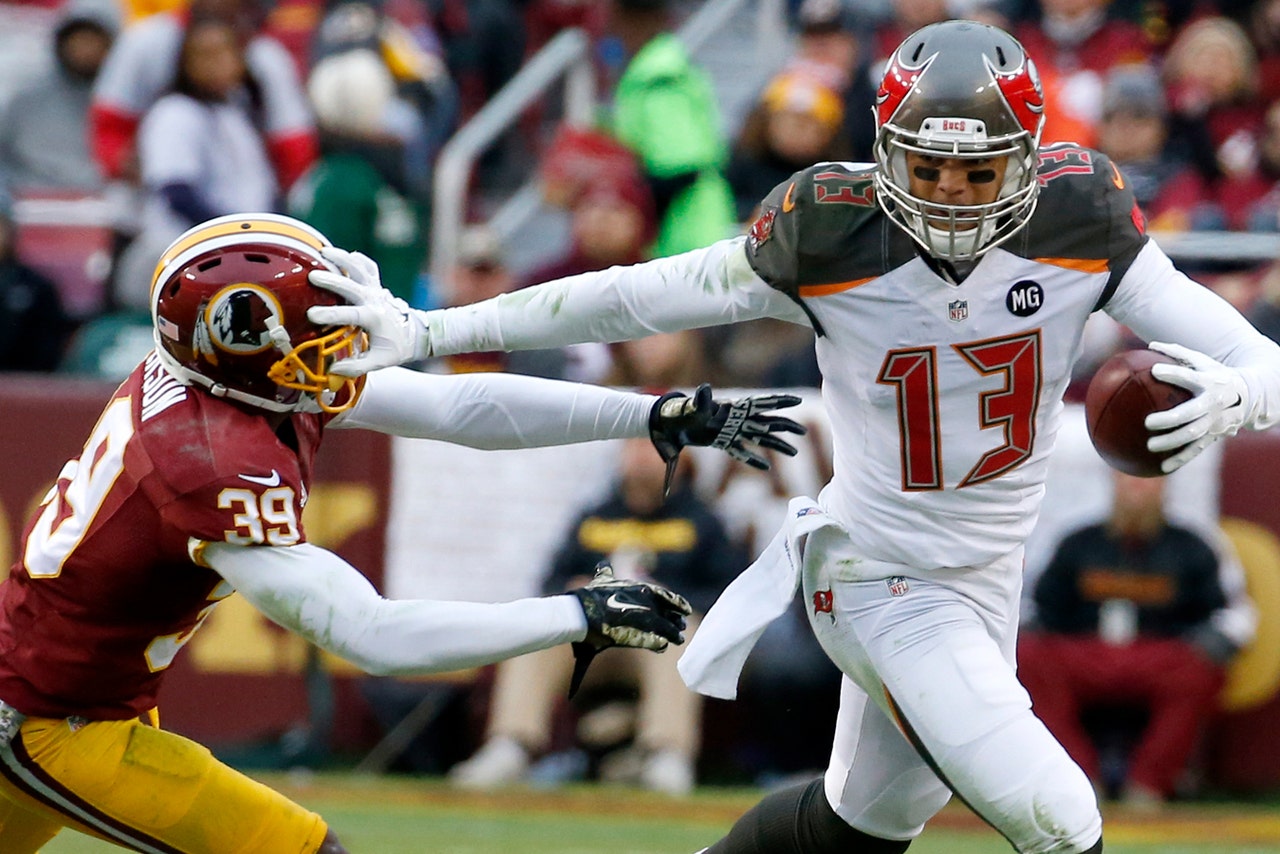 TAMPA, Fla. -- Once, there were cries for Johnny Football. Now, there should be calls for more Mike Touchdown.
Once, there were appeals for the Tampa Bay Buccaneers to pick one Texas A&M star with the seventh overall selection. Now, there should be sighs of relief that they chose another.
Can you imagine this Bucs life without Mike Evans?
Can you imagine if Lovie Smith and Jason Licht tapped Johnny Manziel on that fateful night in May instead of making Evans the first draft pick of Tampa Bay's new era, with yards upon yards and parallels to Randy Moss to come?
It's time to give Evans his due. He was the right choice back when he hugged Roger Goodell under Radio City Music Hall's bright lights. He was the right choice back when Smith and Licht embraced him as a building block for the future, back when Smith said, "We couldn't be more happy right now."
Hat tip to you, Coach.
"We had a list of players that we liked," Smith said Monday, a day after Evans ripped the Washington Redskins for a career-high 209 yards and two touchdowns on seven catches to help the Bucs improve to 2-8. "But we were unanimous in what we thought Mike Evans would do for our football team. And he hasn't disappointed us at all."
Sure, Manziel would have brought excitement. He would have brought national buzz, a flair for the dramatic and instant relevancy that the Bucs still lack.
But here's what Evans has gifted in nine games: Cold, hard results.
Elite results. Star-in-the-making results.
Excited yet?
Try 46 catches for 794 yards and seven touchdowns, all team highs. Try three consecutive games with at least 124 yards receiving. Try five touchdowns in that window.
So, Mike, do games like Sunday's make you feel validated?
"Yeah, I hope so," he said. "I just let my play speak for itself."
Never mind speaking. Evans' results have screamed.
Look, the Bucs need a quarterback. They can't pretend that a 35-year-old Josh McCown is the answer beyond this fall, and Mike Glennon has been average in 19 appearances throughout the past two seasons. Quarterback remains an area of need.
But hindsight is a funny animal. The number of swank pool parties that Manziel attended in the offseason is greater than the amount of regular-season passes he has thrown for the Cleveland Browns.
Evans, meanwhile, served the role of a meat cleaver against the Browns, Atlanta Falcons and Redskins in the past three weeks. He diced defenders on his way to becoming the frontrunner of a talented rookie receiver class.
Believe it. He has been better than Kelvin Benjamin (768 yards receiving). He has been better than Sammy Watkins (649). He has been better than Brandin Cooks (550).
Now picture Manziel, behind a bad offensive line, floundering in a system without its assumed coordinator. It's likely that his rookie year in pewter and red would have been a five-alarm disaster.
Manziel's confidence, so central to his success, would have turned to goo. Next year would have become a season-long effort to rehabilitate his momentum, perhaps with a new coordinator's system to learn.
There would have been intense scrutiny from national media, with satellite trucks popping up alongside the bushes at One Buc Place. The Bucs would have been questioned about their ability to develop a franchise face. Outside voices would have demanded more, more, more as the losses mounted.
Once, Johnny Football looked like the no-brainer pick to make the Bucs tick. Turns out, the right Texas A&M player was selected after all.
"He's still a rookie," Smith said of Evans. "For the most part, he doesn't sit in first class. He's back with the rest of the rookies somewhere back on the plane and just earning his stripes with our football team. So I think as you go back to his video at Texas A&M with Kevin Sumlin coaching him, you'll see some of the same things."
That's what the Bucs hoped for when they secured Evans. They wanted a playmaker. They wanted his 6-foot-5, 231-pound frame to be a sight to be respected. They wanted him to become a weapon to stretch defenses and make their attack more complex.
Mission accomplished so far. Remember when the Bucs' receiving corps consisted of Vincent Jackson and little else?
Last year, Jackson finished with 1,224 yards receiving and seven touchdowns. Tim Wright was a distant second at 571 yards and five touchdowns. Outside of Jackson, there was little reason to respect what the Bucs fielded as pass-catching options.
Tiquan Underwood. Chris Owusu. An injured Mike Williams.
That lineup isn't exactly Calvin Johnson, Dez Bryant and Demaryius Thomas.
None of them broke defenses. None of them have tantalized like Mike Touchdown.
"It's just making the play," Evans said. "I just hope to continue to make plays. That's all I can do."
Yes, it's wise to remember that rookie-year flashes can prove fleeting. Look no further than Doug Martin's 1,454 rushing yards in 2012 as proof of how hard it can be to sustain early momentum.
Doing so requires health luck, and it takes help from complementary parts as well. Time will show if Evans can be a dynamic player for years to come. There are no guarantees.
But for now, there's hope. Exciting, electrifying hope.
Evans over Manziel was the correct choice. Who knew?
Smith and Licht, to start.
You can follow Andrew Astleford on Twitter @aastleford or email him at aastleford@gmail.com.
---
---