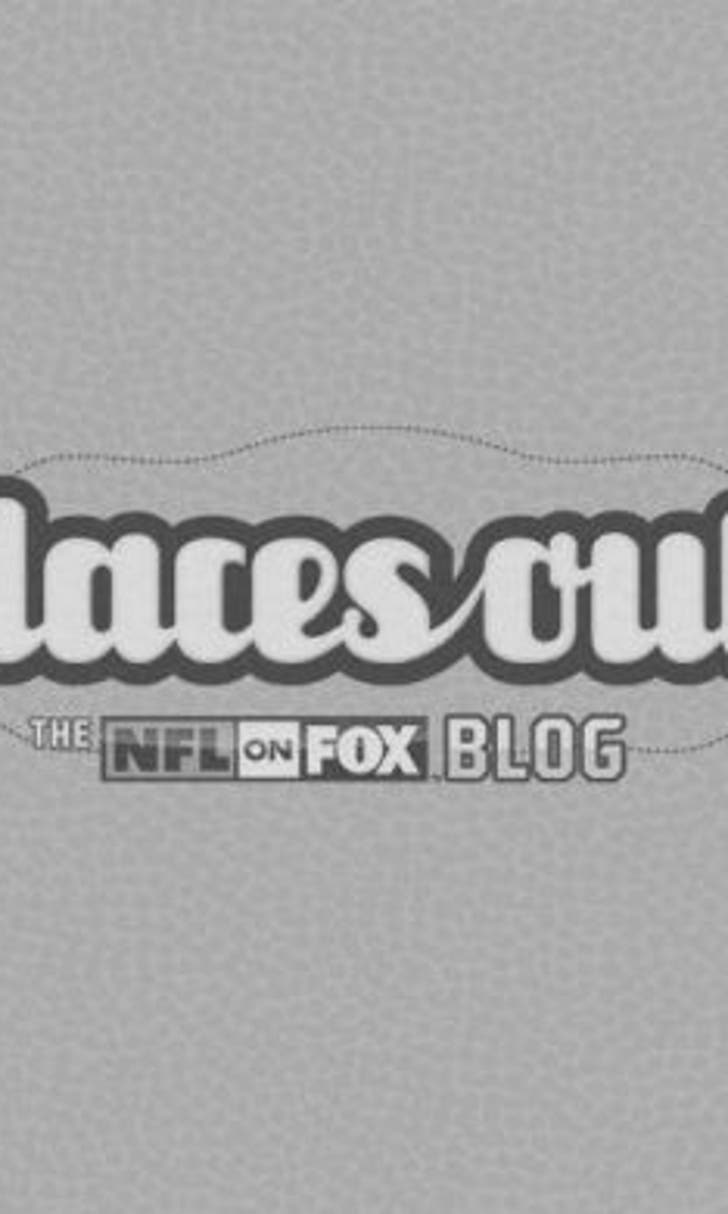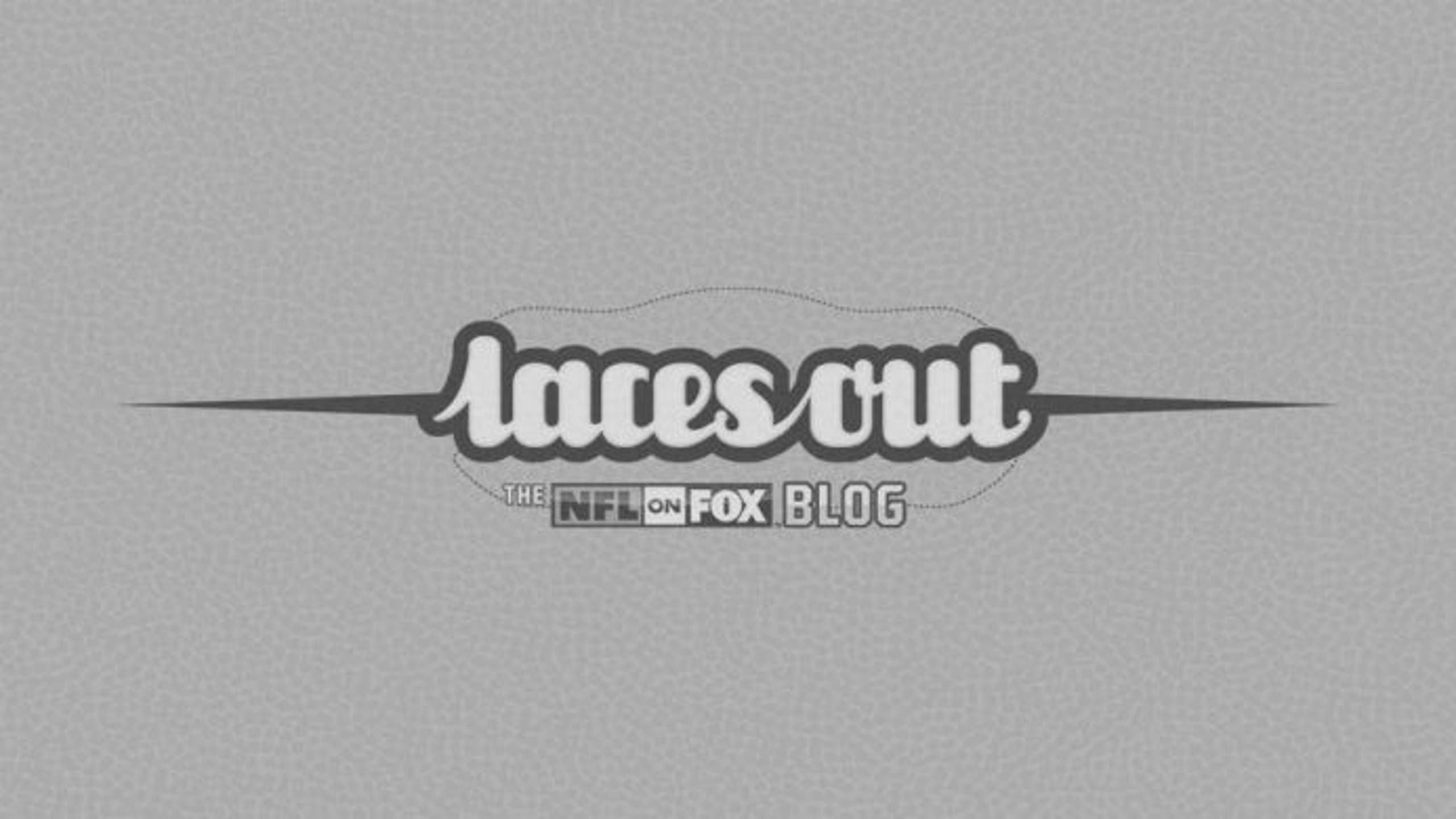 NFL Week 3 awards: Best and worst from Sunday's action
BY foxsports • September 22, 2013
By Andy Nesbitt, FOXSports.comWorst fumble by QB who wasn't touched by anybody on the play: Robert Griffin III. The nightmare start to the season continued for RG3 as the Redskins fell to 0-3 with their loss to the Lions on Sunday. This play pretty much sums up RG3 and the Redskins thus far as the QB fumbled away the ball after picking up a first down in the fourth quarter. Remember, the ground can cause a fumble if you're diving forward. If RG3 had slid, it wouldn't have been ruled a fumble. He had this to say about the play after the game: "It's the rule. It can be a sucky rule, but it's still one of the NFL rules, and they said it's a fumble. So, it's unfortunate, and I've just got to make sure if I dive forward, hold onto the ball. ... It was really unfortunate that we lost the game on two calls, two judgment calls."
Best catch that you will want to watch again and again: Antonio Brown, Pittsburgh Steelers. Forget the best catch of the day, this might be the best catch of the year when all is said and done.
Best hit by a quarterback: Jay Cutler, Chicago Bears. Instead of finishing off a fourth-quarter run by sliding, Cutler lowered his shoulder and absolutely leveled Pittsburgh's Robert Golden.
Most surprising sideline spat: Aaron Rodgers and Mike McCarthy. The Packers' star QB had a few words to say to his coach after Green Bay had to settle for a field goal in the second quarter. Rodgers explained what happened, courtesy of NFL.com: "We're both passionate about the game, and competitive. We want to win very badly and, you know, I went over and talked to him after that. Just got on the same page. Needed to talk; we did, and we moved on."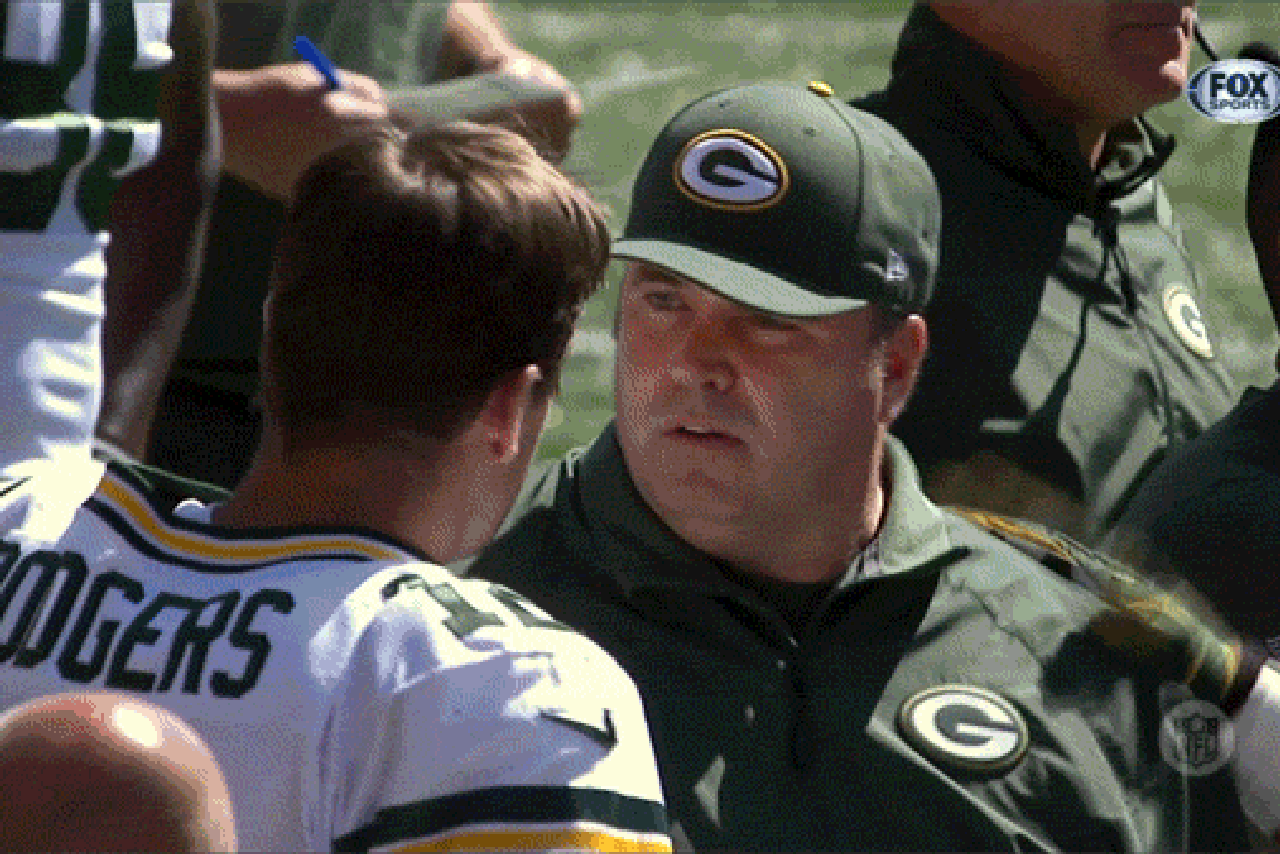 Best fumble return for a game-winning TD: Terence Newman, Cincinnati Bengals. Newman actually picked up a fumble by his teammate, Reggie Nelson, who initially scooped up a fumble by Green Bay's Johnathan Franklin, and took it to the house for the game-winning score in a thriller.
Best (or worst) touchdown celebration: Joseph Fauria, Detroit Lions. The rookie tight end channeled 'N Sync's "Bye, Bye, Bye" dance after scoring against the Redskins. We're still trying to decide if this is great or awful.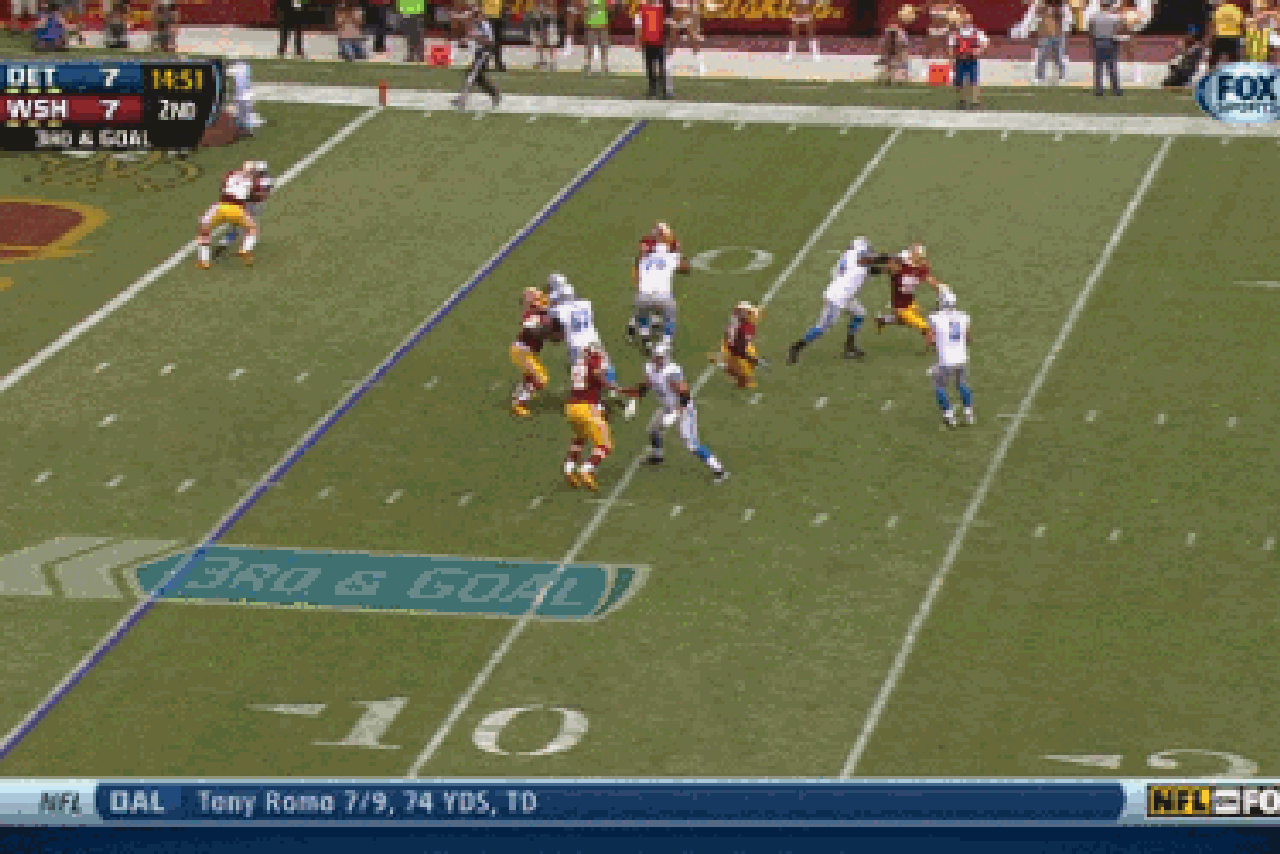 Worst TD celebration: Jordan Todma, Jacksonville Jaguars. The rookie running back out of UConn shushed the crowd in Seattle after scoring the first TD of his NFL career. The only problem with that? His fourth-quarter score cut the Seahawks' lead to 21 points.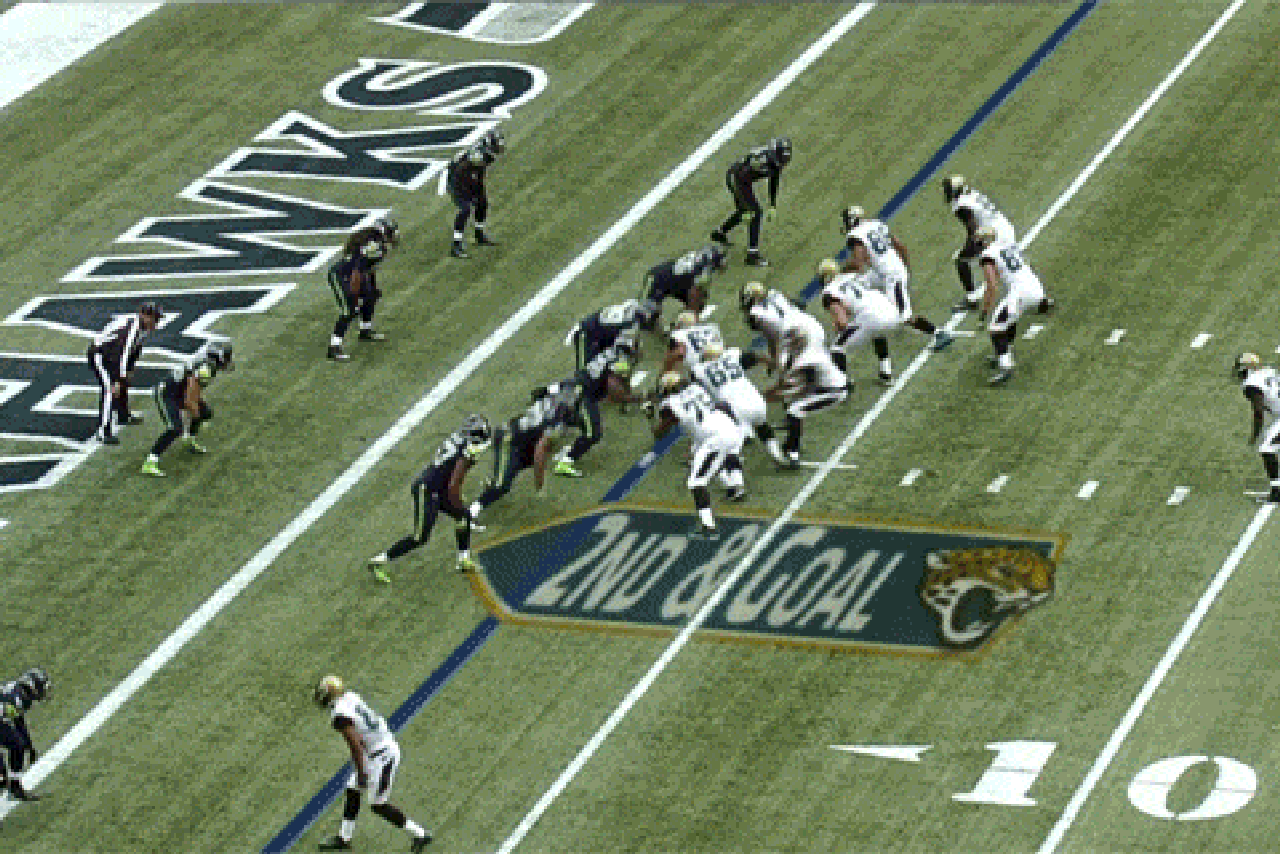 Best job of avoiding an injury on a scary hit: Kenny Britt, Tennessee Titans. The WR didn't miss any action after flying through the air and landing on his head on this play against the Chargers:
Best job of pulling off a fake field goal: Cleveland Browns. Who needs Trent Richardson when you can pull of something as awesome as this? Cleveland went on to stun just about everybody by beating the Vikings in Minnesota.
Best punt return for a TD: Tandon Doss, Baltimore Ravens. The third-year WR did a great job of staying in bounds during this electrifying return in Baltimore's big win over the Texans.
Best first catch in a player's NFL career: Justin Hunter, Tennessee Titans. The rookie wide receiver out of Tennessee made sure he will always remember his first catch in the NFL as his 34-yard grab with 15 seconds remaining gave the Titans a 20-17 victory over the Chargers.
Worst attempt at trying to score a TD with no time on the clock: San Diego Chargers. We'll give them a lot of credit for trying, but in the end it's hard not to laugh at San Diego's attempt to score a TD on the final play of the game in Tennessee. The end of the play is the best part as Philip Rivers just kicks the ball to a teammate, which is not allowed in the NFL. Enjoy:
Worst time to start celebrating: Sheldon Richardson, New York Jets. The rookie defensive end (No. 91 in the GIF below) thought the Jets had stopped Buffalo's Fred Jackson short of a first down. But while Richardson was waving his arms in celebration, Jackson raced on by and picked up 59 yards. Oooooops.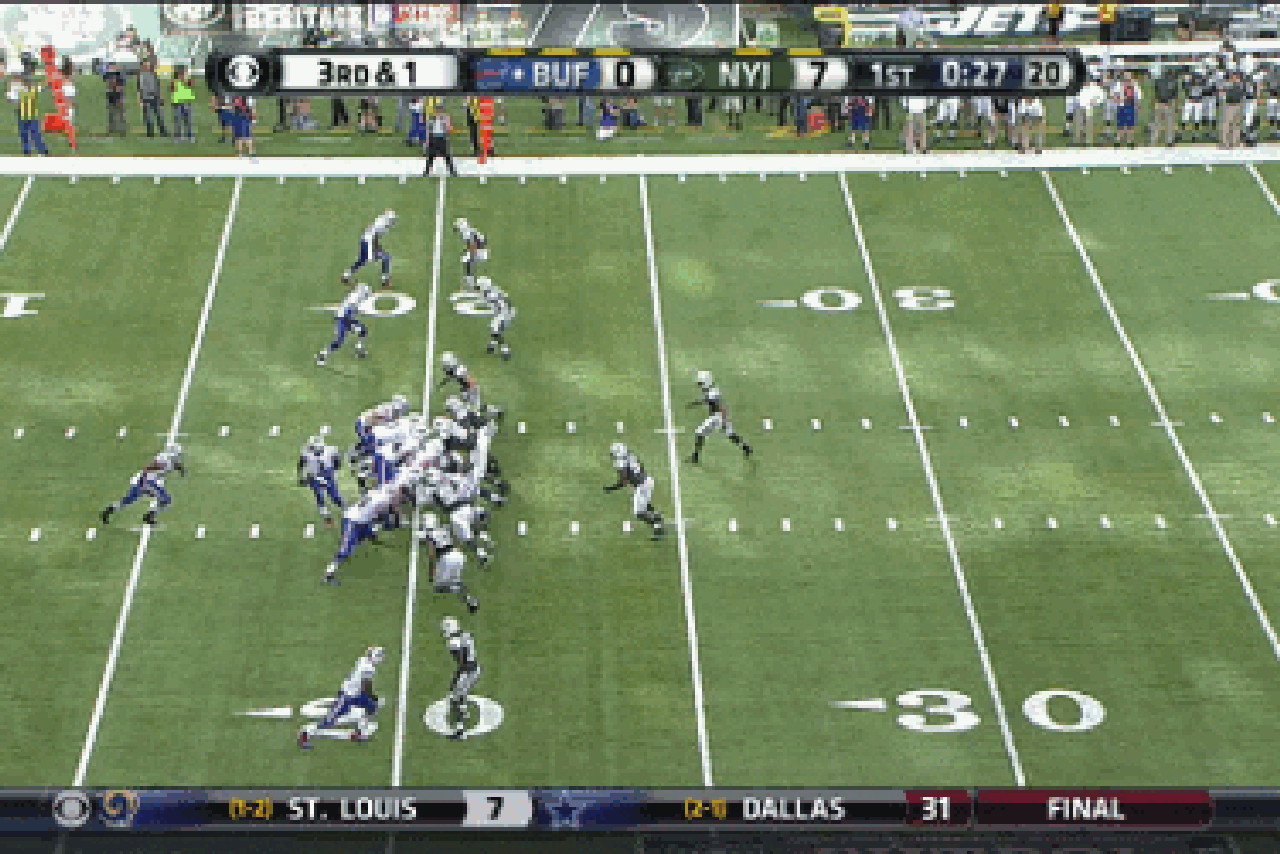 Best toss of a headset by a coach after a win: Jim Schwartz, Detroit Lions. Either Schwartz was pretty excited about his team's win in Washington or his headset had been annoying him all game long.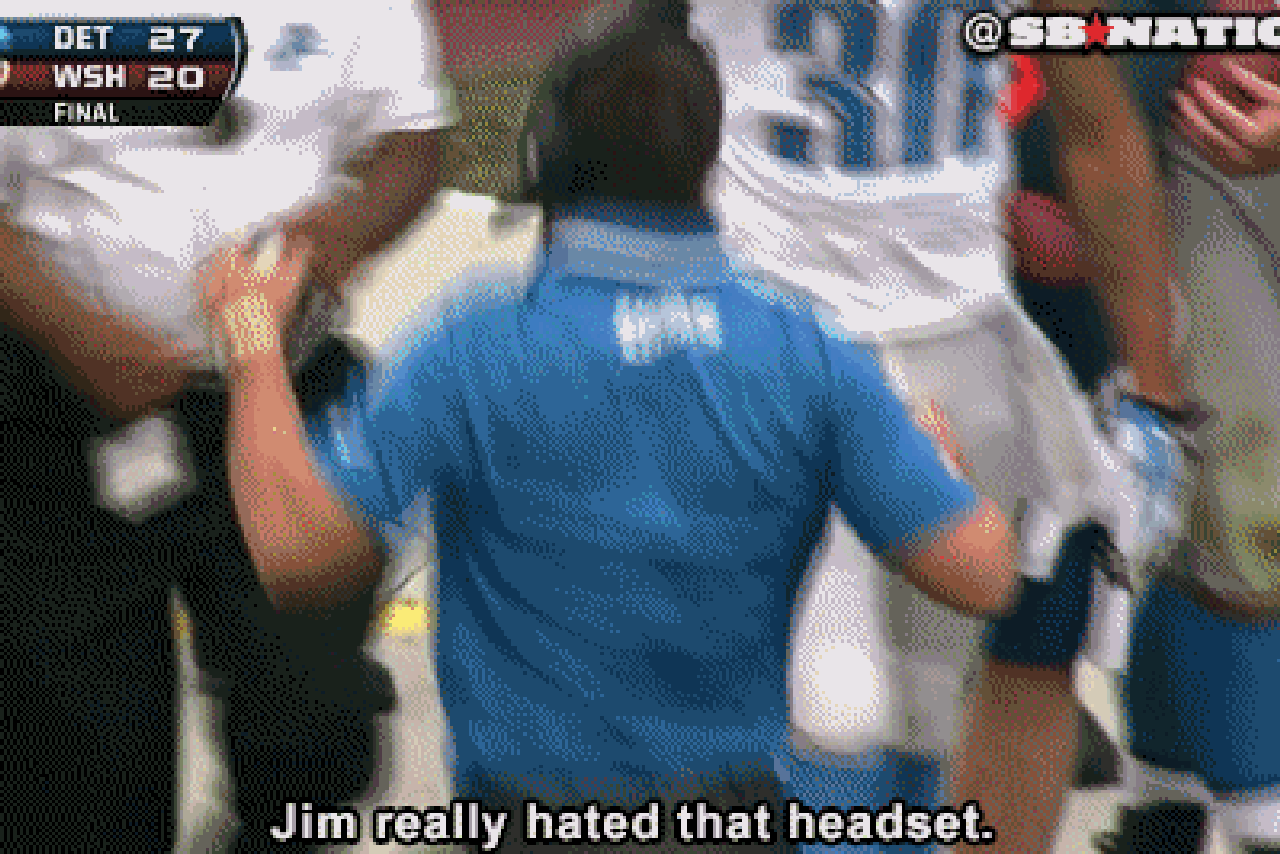 Worst performance by a two-time Super Bowl MVP: Eli Manning, New York Giants. Eli was sacked seven times (six of which came in the first half) and threw for just 119 yards in the Giants' embarrassing 38-0 loss to the Panthers. The Giants dropped to 0-3, which should go over well in New York City.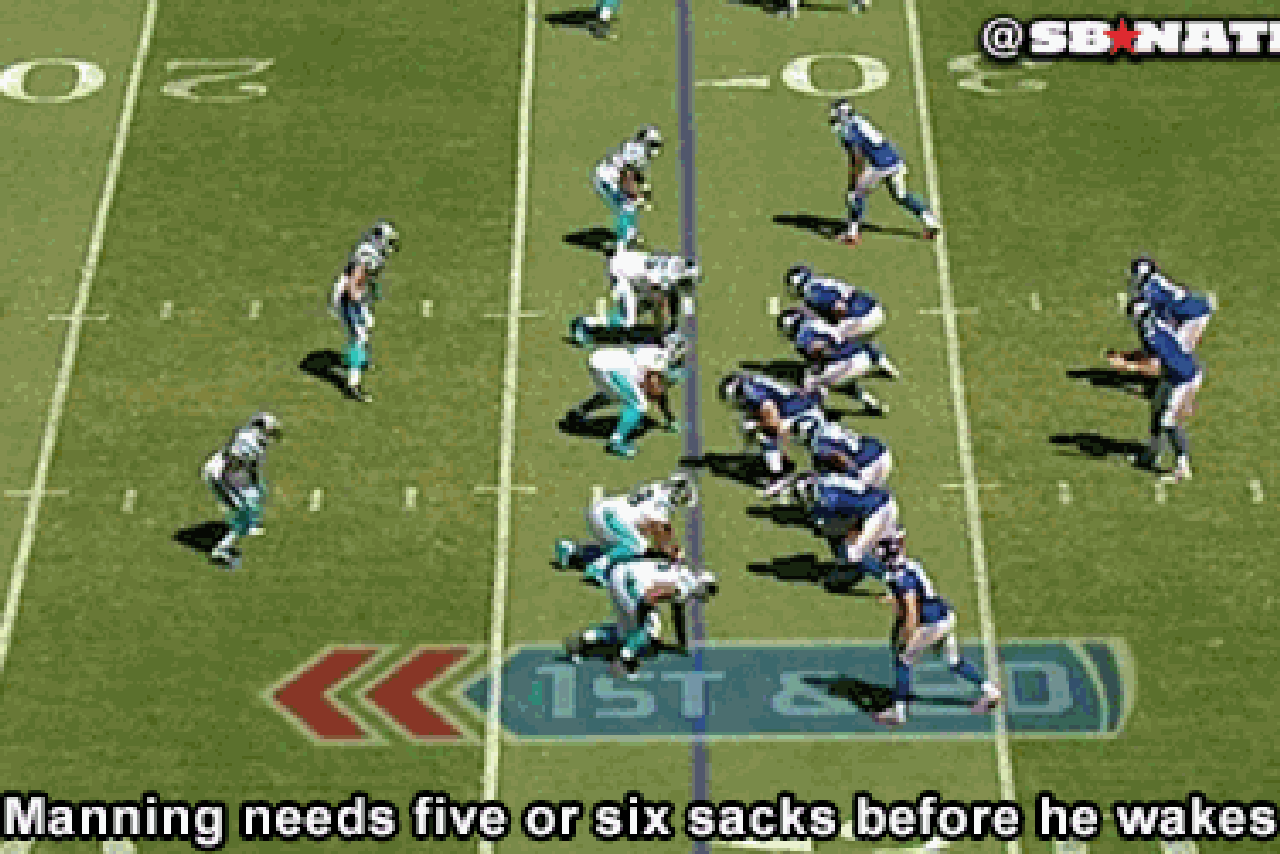 Worst snap while your QB is in the shotgun formation: New York Jets. The Jets have had some embarrassing fumbles in the past, and this one is right up there. When is it a bad time to snap the ball to your QB? Probably when he's walking up to the line of scrimmage to call out something to the offensive line. The Jets recovered the fumble, but still. Yikes.
Best first carry with his new team after being dealt in a stunning trade: Trent Richardson, Indianapolis Colts. The former Cleveland Brown got off to a great start with the Colts as he took his first carry into the end zone against the 49ers. Sure, it was only a one-yard run but a touchdown is a touchdown is a, well, touchdown: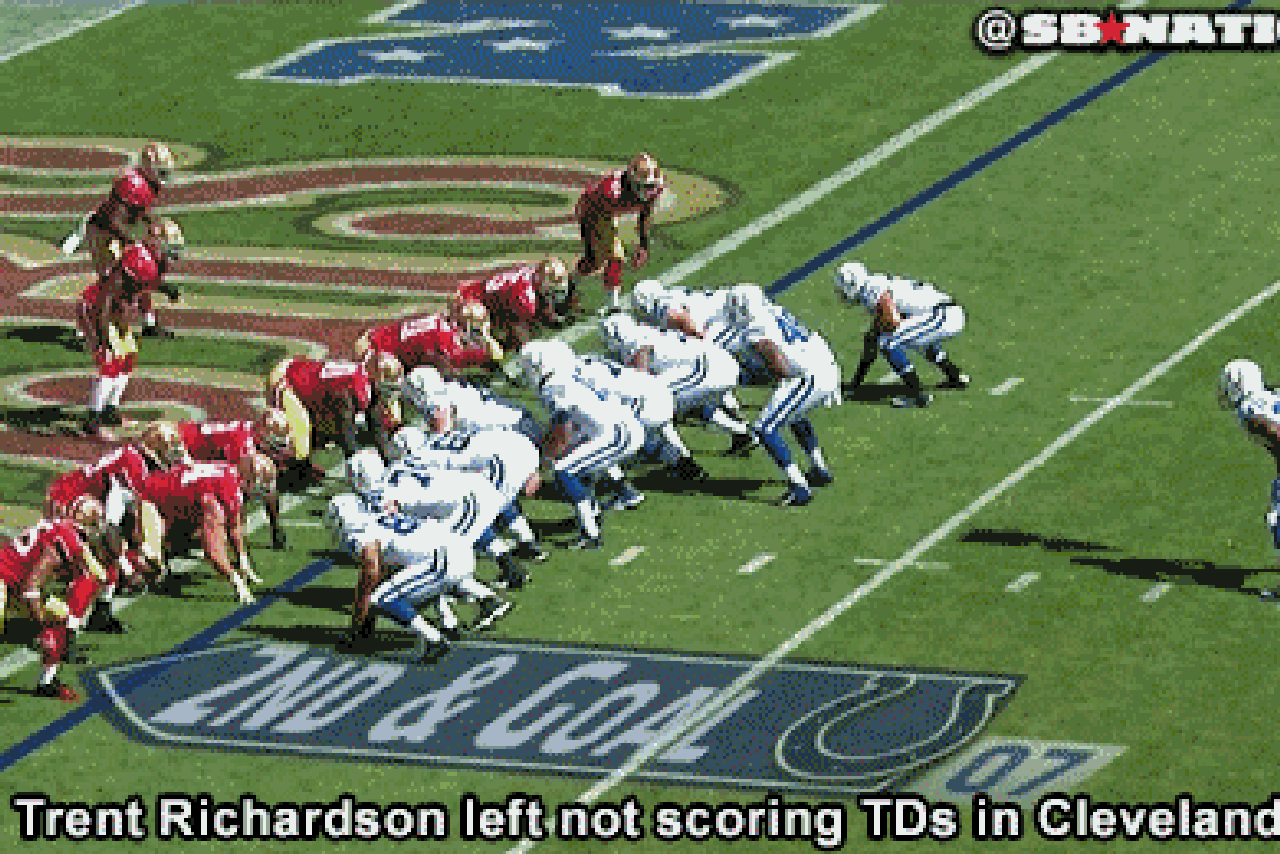 Best reaction after being hit in the groin: Ryan Taylor, Green Bay Packers. Did Taylor like being hit in the groin by Cincinnati's Vontaze Burfict? No, no he didn't. Did he get flagged for retaliating? Yes, yes he did. Double ouch.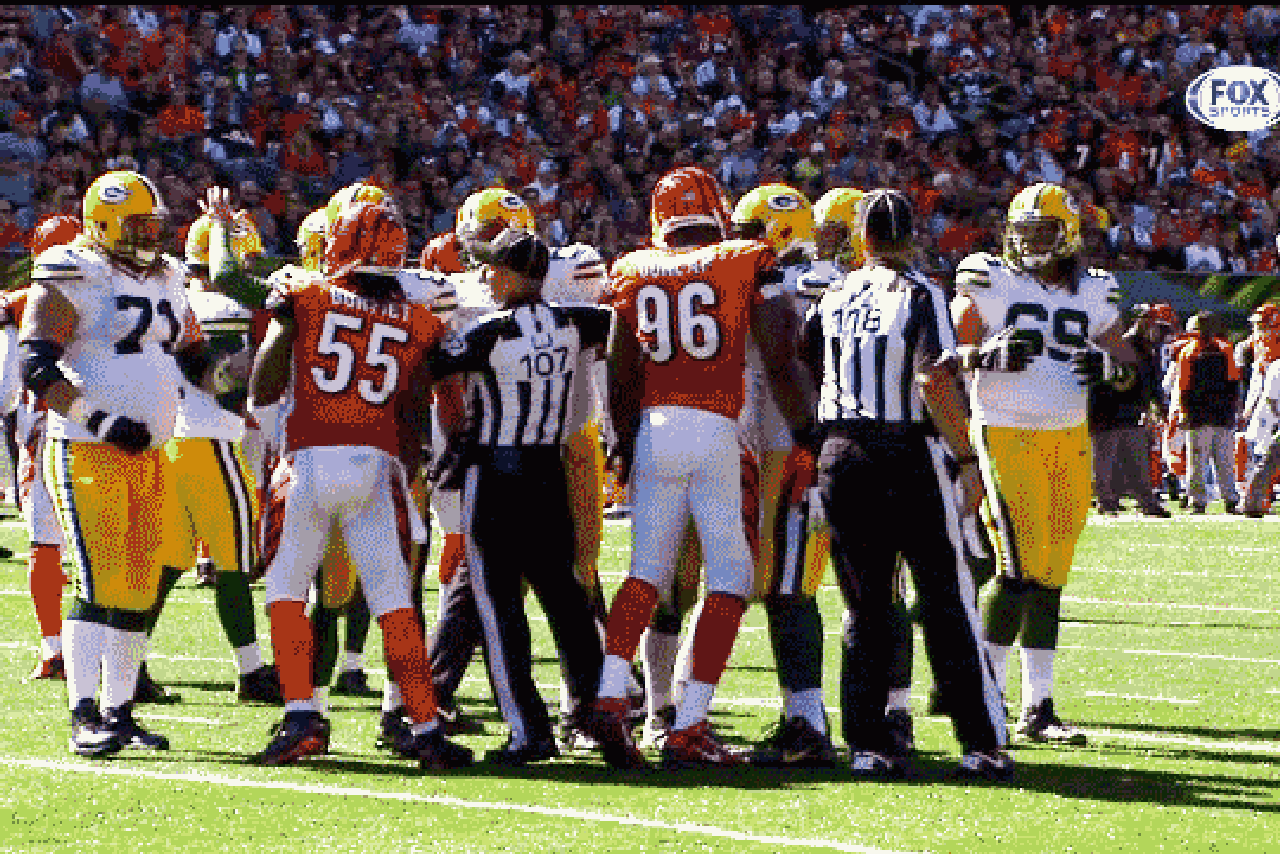 Best block that was deemed illegal by the refs:  T.J. McDonald, St. Louis Rams. Dallas' Kyle Wilber was having a fun time playing football on Sunday ... and then this happened (McDonald was penalized for the blind-side block):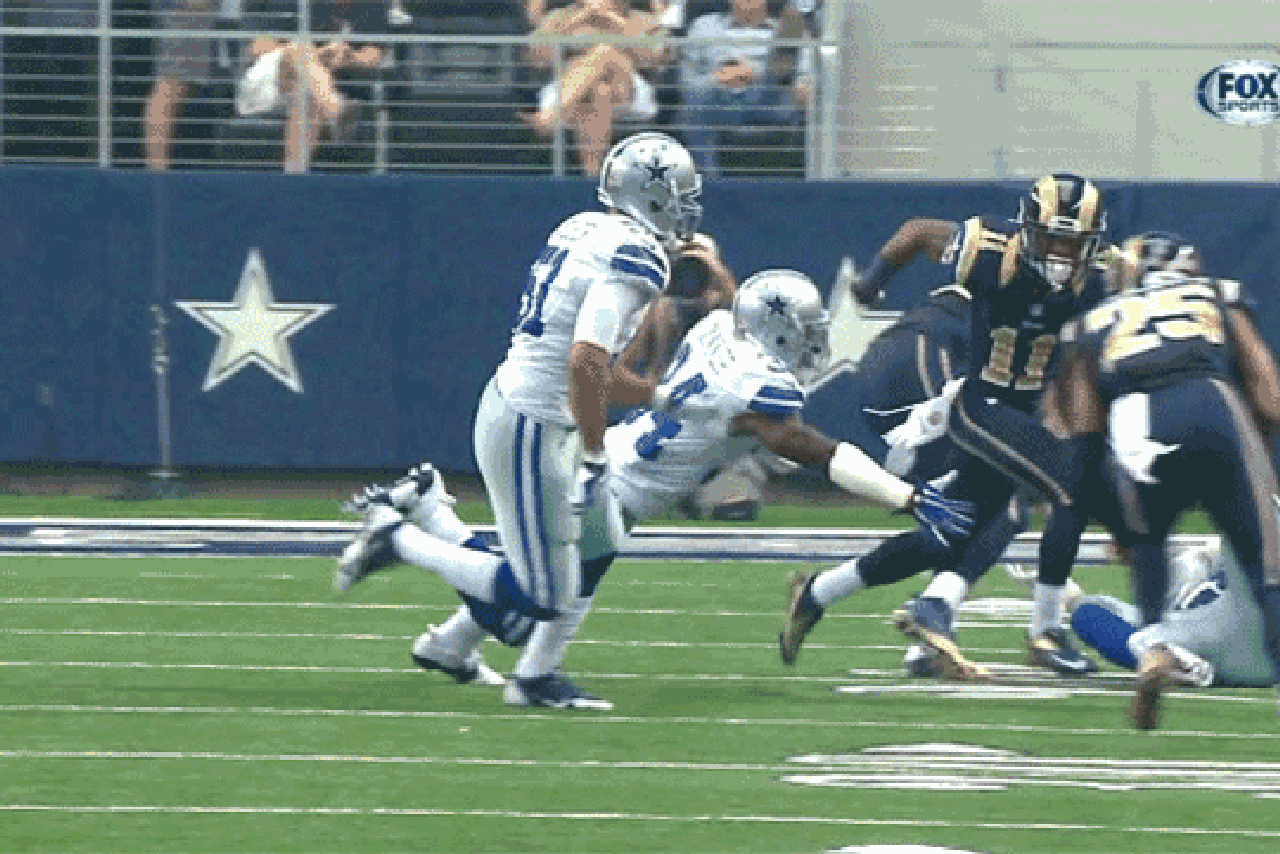 Worst attempt at a fake punt: St. Louis Rams. When is it a good idea to have your punter throw a pass? Probably never. Why? Because something like this usually happens: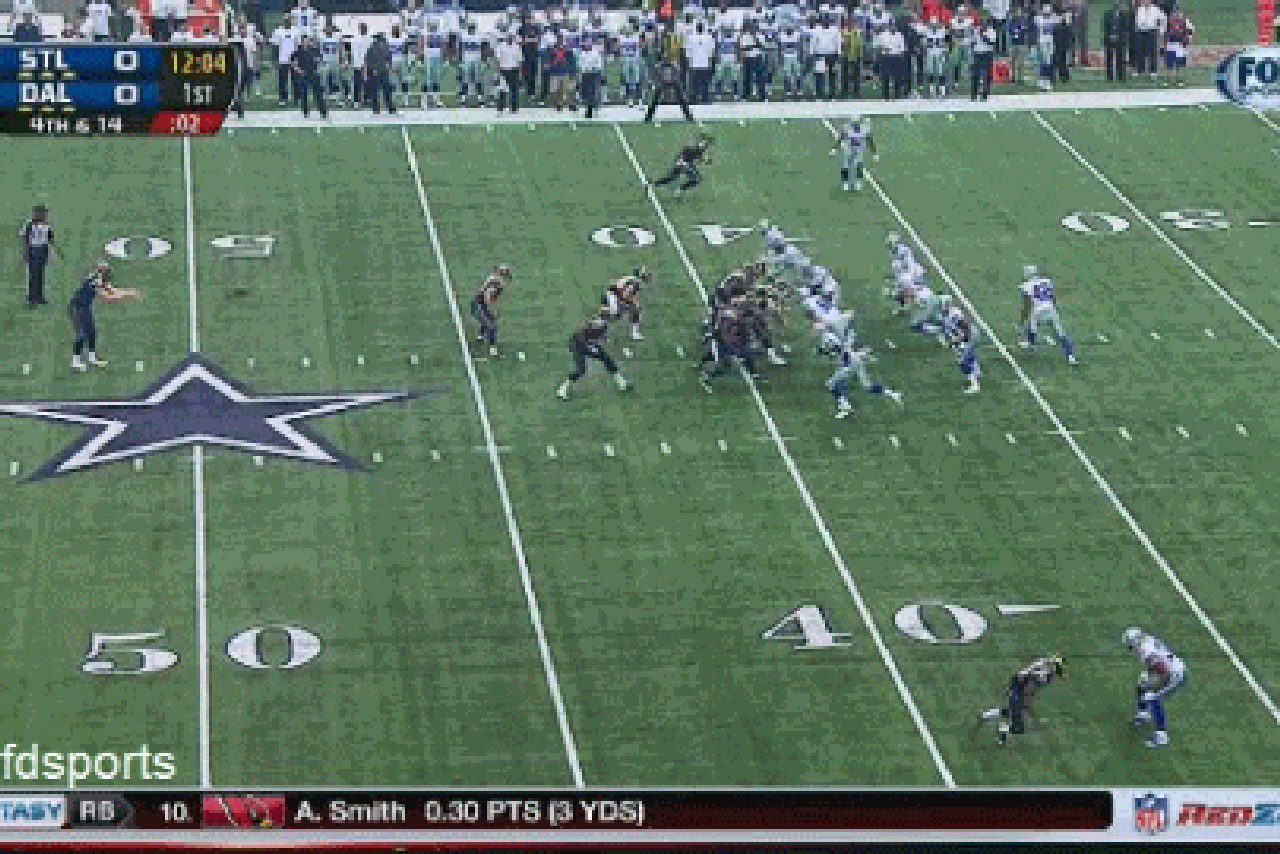 Highest-ever jump by a happy offensive lineman: Mike Pouncey, Miami Dolphins. Pouncey got some serious hang time (yes, we're joking) while celebrating the Dolphins' game-winning touchdown with just 38 seconds left against the Falcons.
Best job of avoiding being run over by a marching band: Pam Oliver, Fox Sports. Our own Pam Oliver made a couple of nifty moves - all while providing a pregame report on LIVE TV - to avoid being run down by the Ohio State marching band.
(GIFs courtesy of The Big Lead, @gifdsports, SBNation,@CJZero, and BuzzFeed Sports)
---
---