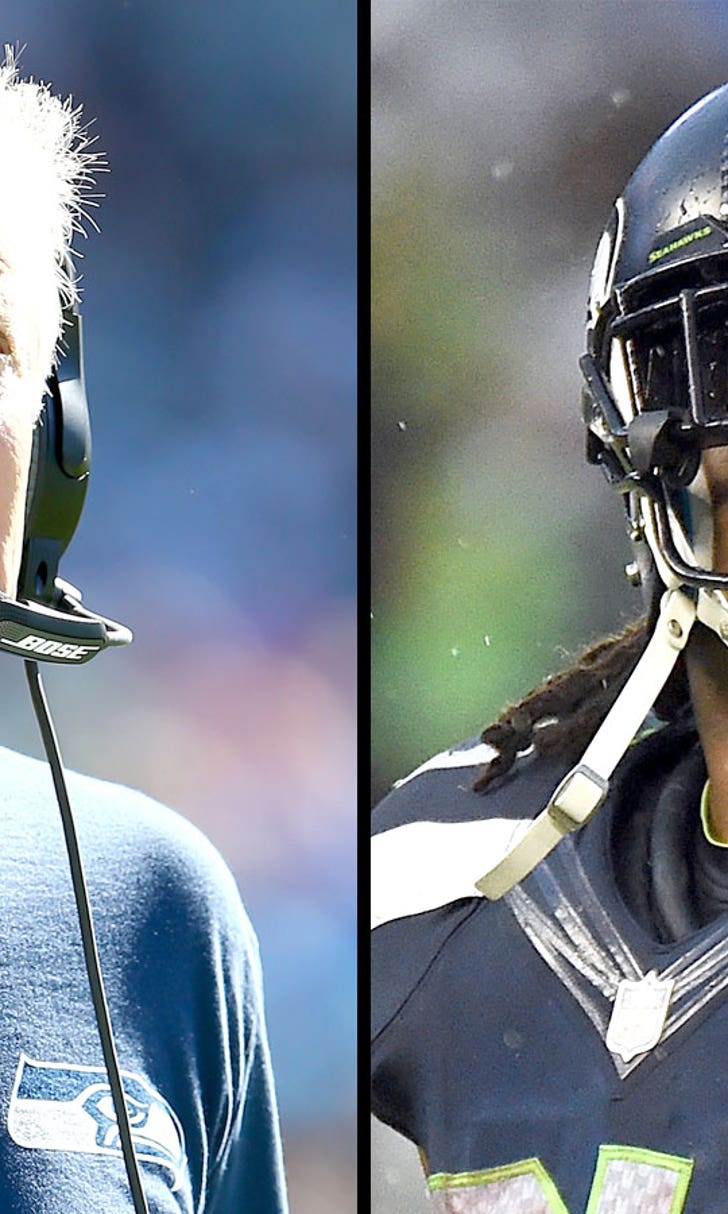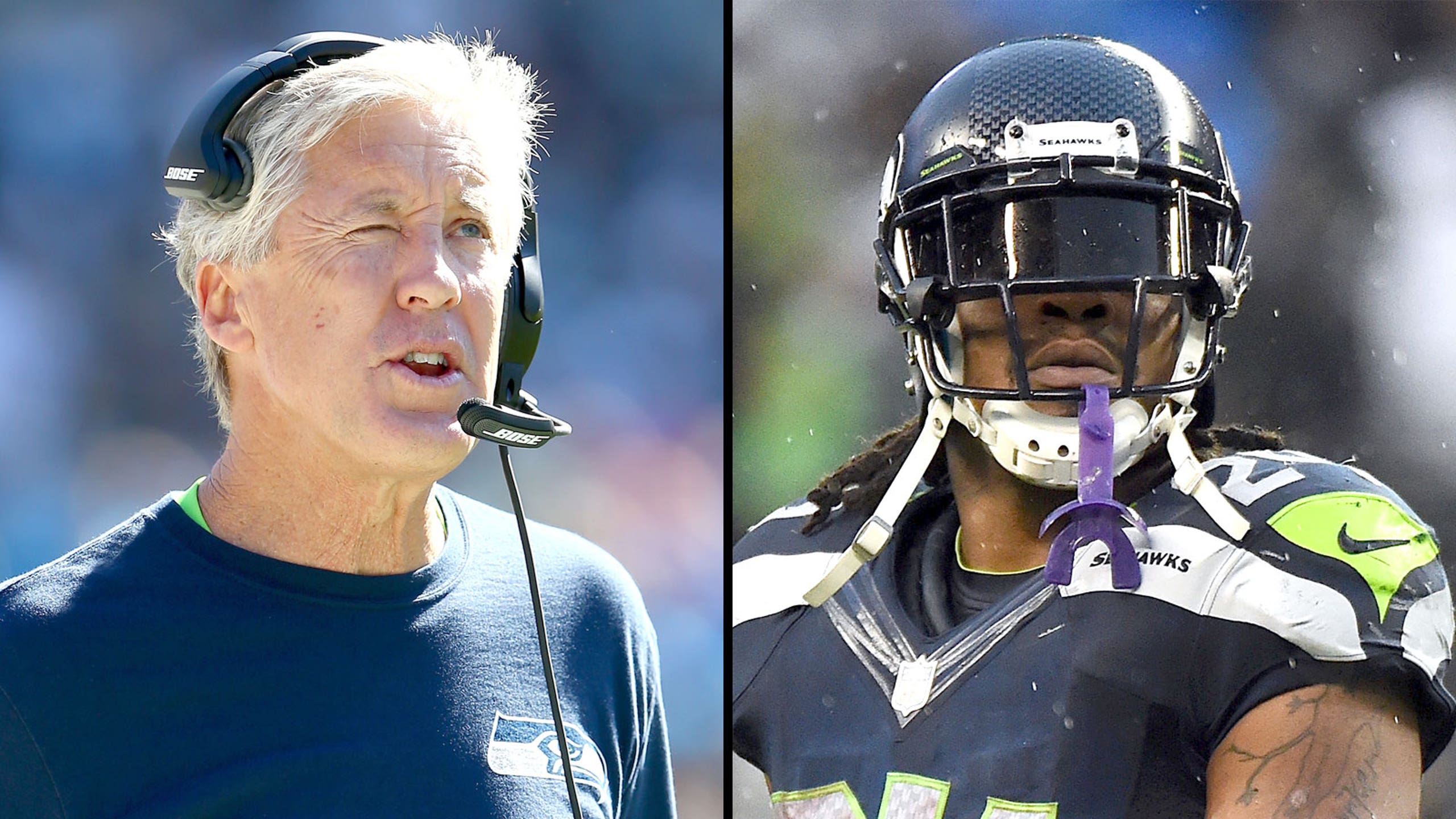 Carroll on relationship with Lynch: 'We're working through it'
BY Sid Saraf • November 17, 2014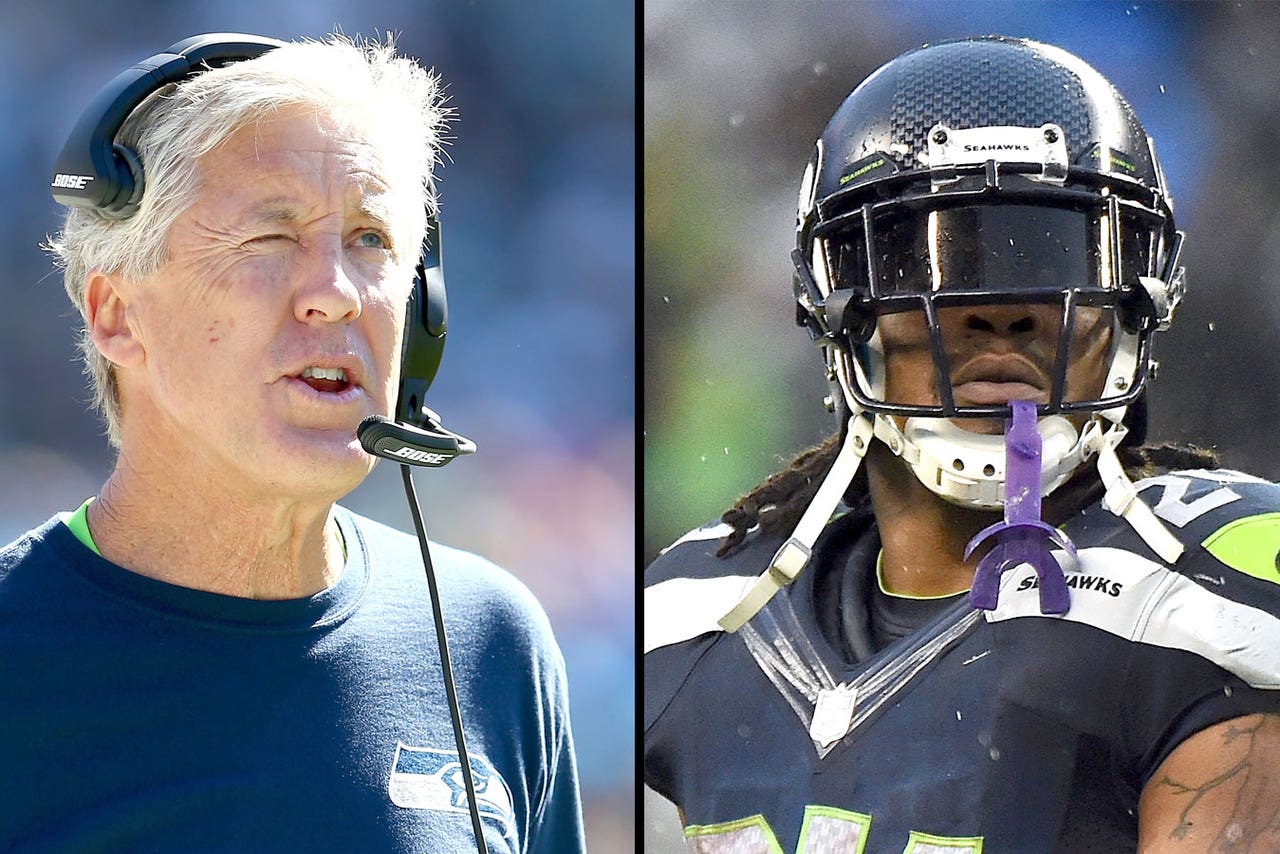 If you were to ask Facebook to describe the relationship between Pete Carroll and Marshawn Lynch, it would respond with, "it's complicated."
Lynch, the Seattle Seahawks workhorse running back, described what seemed to be a frosty rapport with his head coach Carroll in an interview with NFL.com on Sunday.
"Pete's my head coach. Well, I mean, you know, he's not really in my position meetings. ... It ain't like we get to chop it up like that," Lynch said.
In fact, Ian Rapoport reported that Lynch doesn't communicate with Carroll at all. But why? Lynch has been seemingly annoyed with swirling media reports that said the Seahawks wouldn't bring the veteran back next season. Despite Lynch's steady performances over the past few seasons -- including a Super Bowl title last season -- in the Pacific Northwest, his advancing age (28 is considered old for a running back) and increasing salary presented problems for the organization.
"I don't know, man. The Seahawks, their front office gets in the media; they talk a lot. I don't talk too much.  I just play the game," Lynch said on Sunday.
Carroll got his chance to respond on Monday, when he was a guest on ESPN radio in Seattle. He addressed Lynch's comments and the status of their relationship.
"We're working through it. Marshawn is a very private person and we've all learned that and we've respected that about him for years. I respected the heck out of that when we got to the Super Bowl last year and everybody was clamoring and all that.
"He is a very unique, special person. I think there continues to be questioning about this -- he's doing great. He's busting his tail. I've told you and reported about how it's been so obvious that he came back so determined to be good and to be on it. He's done a tremendous job. He's played great football. I don't think he's ever played better.
"So all that under consideration, I think (it) still goes back to summertime, talking about the contract and stuff like that. There was some conversations that not everything always works out exactly the way you want it. So we will do everything we can to keep our guys with us. You know that we've done that. Marshawn was the first guy we turned to way back when because he deserved it, he had earned it and he had been the guy that had shown that special quality and that makeup that we cherished so much, the competitiveness and all of that.
"Years later in the contract, you look at it, well, it's not quite the same deal. I think we had plenty of conversations about that in the summer time. He made his decisions to stay out and we respected that, too. We had no problem with that.
"So as we're moving forward, he's giving us everything he's got and we're working through it and that's where that is right now. This football team is determined to do well. We still have a lot out there. This is a tremendous finish opportunity and Marshawn, hopefully if he can get back again this week, he'll be right in the middle of it with us."
Everyone get that? That was a lot of words to say that Carroll and Lynch probably aren't going fishing together in their spare time. However, will they be able to keep it professional and make it through the season?
---
---