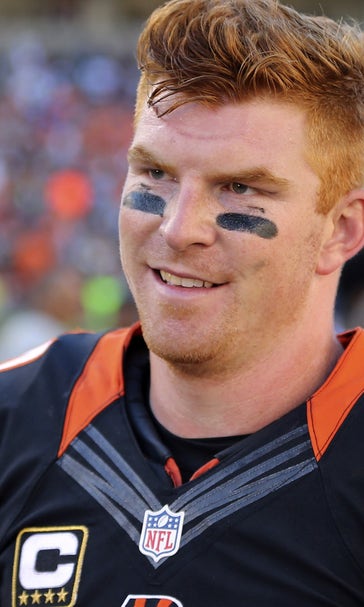 An almost completely healthy Bengals try to extend franchise record start
October 30, 2015

After managing to tread water without their franchise quarterback, the Pittsburgh Steelers hope to welcome him back just in time for a divisional showdown.
Ben Roethlisberger is keeping his fingers crossed that he'll be able to make a much-anticipated return Sunday when the host Steelers attempt to deny the unbeaten rival Cincinnati Bengals their best start in franchise history.
Pittsburgh split four games after Roethlisberger suffered a sprained left knee and bruised leg in the third quarter of a 12-6 win at St. Louis on Sept. 27. Since totaling 917 yards in the two games he finished, the squad has averaged 304 over its past five.
The Steelers (4-3) were down to third-stringer Landry Jones last Sunday after backup Mike Vick suffered a hamstring injury versus Arizona on Oct. 18. Jones threw for 209 yards with one touchdown and two interceptions in a 23-13 loss at Kansas City.
Now Pittsburgh's two-time Super Bowl winner is expected to be back under center on the early end of his projected four-to-six-week timetable. He lobbied to play against the Chiefs, but is now being cautious after experiencing discomfort late last week.
"That's why I said that we have to take this one day at a time," said Roethlisberger, who plans to wear a knee brace. "It's why I'm not getting my hopes up for Sunday."
Roethlisberger had been off to a hot start, completing 75.3 percent of his passes for 912 yards with four touchdowns and two interceptions. Star receiver Antonio Brown had 29 receptions for 436 yards and two scores in the three games Roethlisberger played in before totaling 17 and 235 without reaching the end zone in his past four.
In nine career meetings, Brown has burned the Bengals for 49 catches and 741 yards - his most versus any opponent - and six total touchdowns, including three on punt returns.
"Ben does a great job of pointing direction and giving baby signals with his eyes," Bengals cornerback Dre Kirkpatrick told the team's official website. "Antonio does a great job of reading those things and they rarely make mental errors."
Roethlisberger has gone 16-6 versus Cincinnati after throwing for a combined 667 yards with five TDs and one pick in last year's season sweep. He'll try to help Pittsburgh get within 1 1/2 games of the AFC North leaders in the first meeting this season.
"We are going to need him," coach Mike Tomlin said. "Cincinnati is really rolling on all cylinders."
The Bengals (6-0), who have matched the best start in team history, are almost completely healthy after getting a week off following a 34-21 win over Buffalo on Oct. 18. They're seeking a commanding 3 1/2-game division lead as they chase their second North title in three years after Pittsburgh finished first last season.
"That's our goal to be 7-0 and it'd be a good thing," coach Marvin Lewis said. "And it would last for about five minutes and then we'd be on to whoever we play next."
Andy Dalton has taken a huge step forward, leading the NFL with a 116.1 passer rating to go along with 14 touchdowns and only two interceptions, but he's only posted a 79.2 rating with 11 scores and seven picks while going 2-6 lifetime versus Pittsburgh.
He'll be facing a banged-up defense that is expected to be missing linebacker Terence Garvin (knee) and could be without cornerback William Gay (shoulder), defensive end Stephon Tuitt (knee) and safety Will Allen (ankle).
The Steelers will have to keep an eye on leading receiver A.J. Green, who had 11 catches for 224 yards and a touchdown in a 42-21 home loss to Pittsburgh last December. Green has totaled 44 receptions and 556 yards in his last five meetings.
Dalton and Green should be able to find openings in a Steelers defense that ranks 27th with 276.9 passing yards allowed per game. However, it has been one of the league's best against the run (99.7), which doesn't bode well for Giovani Bernard and Jeremy Hill.
Hill had 100 yards on 23 carries in a 27-17 loss in the most recent meeting at Heinz Field on Dec. 28, but he's averaging 53.8 yards per game and 3.1 per carry this season.
Pittsburgh's Le'Veon Bell posted his third 100-yard rushing effort in four games last weekend. He finished with 185 and two touchdowns in the first matchup last season before getting held to 20 on eight carries at home.
The Steelers have won three in a row and eight of their past 10 against the Bengals.
---
---