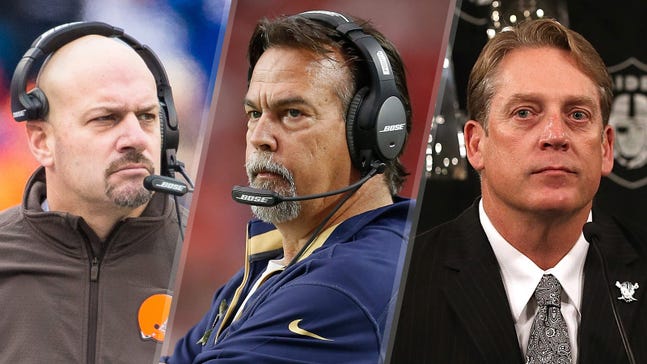 Schrager's NFL Mock Draft, Version 5: It's time to talk trades
Published
Apr. 13, 2015 11:00 a.m. ET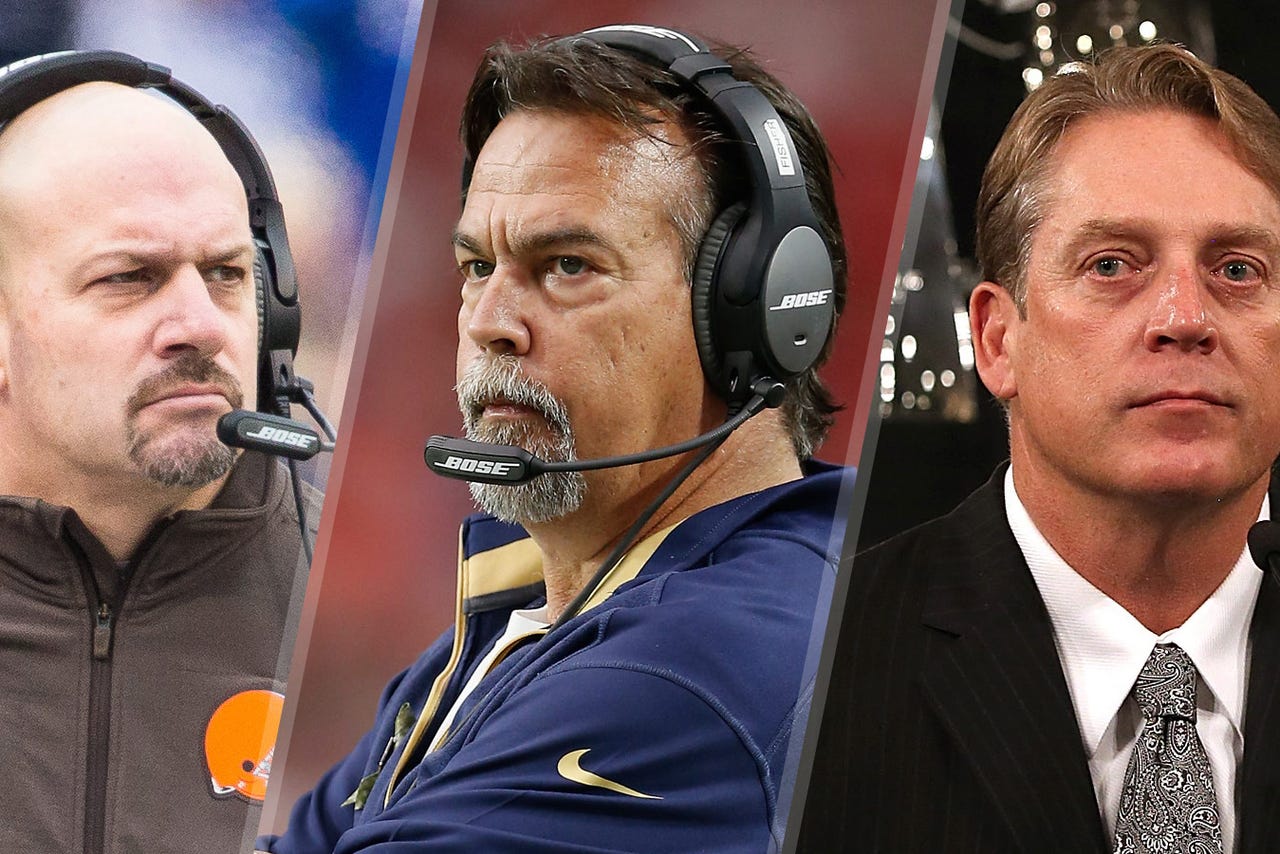 We've officially hit silly season. Trade rumors, prospects skyrocketing up some boards, others plummeting down others, and teams and agents blowing so much smoke to the media that you'd think it's one giant cigar bar.
I've spent the past few months speaking to several NFL decision-makers, getting to know many of the top prospects and watching their respective workouts in person. In addition to attending five different pro days, I've been with most of the league's top front office executives at the NFL Scouting Combine and the Owners' Meetings in Arizona. Some notes worth sharing:
1. I've had NFL executives tell me that after the top 10, it's a crapshoot as to which prospects will pan out. There are a few slam dunks in this draft -- Winston, Cooper, White, Williams -- a couple impact players after that, and then it's the great wide open.
2. Expect a lot of trades in the second half of the first round. Once those top two tiers of players are off the board, there's no real consensus on who fits in that third tier.
3. I had one NFC scout list his top three cornerbacks. I then had an AFC coach list his. Not a single name overlapped on the two lists. Good luck picking the right defensive backs in the first round.
A lot can change between now and the NFL Draft, but for now, consider this the blueprint. I've included a fun trade at the top that I could see happening. Dig in. Don't agree? Let me hear about it. Tweet me at @PSchrags or email me at PeterSchrager@gmail.com.
1. Tampa Bay Buccaneers: Jameis Winston, QB, Florida State
Winston's Pro Day was a bit of a circus, but his draft stock left completely unscathed. Some teams aren't as high on him as others, but the Buccaneers like the guy a lot. They've put more work into his off-the-field history than anyone in the media and are still comfortable with him being the face of the franchise. His meetings with Tampa Bay brass have been overwhelmingly positive and he's left a good impression on just about everyone in that building. When it comes to an NFL quarterback who's ready to start Day 1, he could be the most prepared for the challenge since Andrew Luck. Tune out the Mariota talk; Winston's the guy. 
2. Tennessee Titans: Leonard Williams, DT, USC
The Titans are finally talking up Mariota quite a bit, and I think that's the move. Whether they like him, there's no harm in pumping up his stock a little bit. There are rumors of a Philip Rivers-for-Mariota trade, and I can tell you a few league sources didn't shoot those down when I approached them. In the end, I don't see Ken Whisenhunt -- a longtime NFL coach who's never abandoned his system for a quarterback in the past -- going with a quarterback out of the Oregon system. Williams, the next piece in a Tennessee front seven that's been rebuilt this offseason, is the guy at No. 2. For now.
3.  Jacksonville Jaguars: Dante Fowler, Jr., OLB, Florida
After a good Pro Day on Tuesday, Fowler spent last Wednesday in Jacksonville, and from all I hear, it was a good visit. There's a lot to like in the versatile defensive star. I do know some teams aren't as crazy about Fowler's future in the pros as others. As one coach texted me last week, "Where do you put him? Are you sure he's a pass rusher off the edge? One that's worthy of a top-five pick?" I think Jacksonville's the landing spot.
4. St. Louis Rams (TRADE): Marcus Mariota, QB, Oregon
Here's where things get fun in my mock draft. I think there's a real possibility Washington takes Mariota at 5 or the Jets pull the trigger at 6. I believe the Rams and Browns are also interested. St. Louis has loaded up on pieces on both the offensive and defensive lines for years; The Rams make a big splash here and trade their 2015 (10th overall) and 2016 first-round picks for Oakland's fourth overall selection. With Sam Bradford now in Philadelphia, the Rams are looking for a new face of their franchise and the guy who'll lead them to Los Angeles if there's a move in the works (there is). With Nick Foles there on a third-round pick contract, they have the luxury of letting Mariota sit for a bit, learn Frank Cignetti's and Chris Weinke's offense, and still be competitive in 2015. Big swing here for Les Snead and Jeff Fisher. I like it.
5. Washington Redskins: Shane Ray, OLB, Missouri
It's been a good (albeit a tad bit quiet) offseason for the Redskins thus far. Defensive tackles Terrance Knighton and Stephen Paea and cornerback Chris Culliver were signed to smart deals and can all contribute at a high level next year. Ray fits the base 3-4 defense, filling any void the departed Brian Orakpo left as the outside linebacker opposite Ryan Kerrigan. He's arguably the best pass-rusher in this draft class.
6. Cleveland Browns (TRADE): Amari Cooper, WR, Alabama
Another trade? Why not? I know the Browns would love to get a top wideout and with two picks in the top 20, they've got some real juice come April 30. If this draft shakes out this way, I'd have to think Cleveland would be willing to make a big move up. This year's 12th pick and next year's first-rounder should be enough to get the Jets to trade back.
7. Chicago Bears: Kevin White, WR, West Virginia
An AFC front office executive described Chicago's 2014 offense to me as "one of the slowest I've ever seen," last month. Insert White, the ultimate gamebreaker. After a frustrating junior season in which he caught fewer than 40 passes, White hauled in 107 as a senior and then absolutely tore up Indianapolis. At 6-foot-2 and 215 pounds, he ran a 4.35 40-yard dash and left scouts with their jaws dropped after catching just about everything thrown his way. The Bears have upgraded their defense in free agency; here's the offensive sparkplug.
8. Atlanta Falcons: Randy Gregory, OLB, Nebraska
After a failed drug test at the Combine, Gregory went through the media wringer. Well, guess what? Teams weren't as thrown off by it as you might think. There seems to be more concern about how his game translates to the pros. One thing is for certain: The guy can fly off the edge. He weighed in at just 235 pounds at the Combine, but there's hope he can get bigger at the next level. Dan Quinn's looking for pass rushers. Atlanta hasn't had one since John Abraham left town. Here's your guy. 
9. New York Giants: Ereck Flowers, OT, Miami:
Who? I know Ereck Flowers hasn't been listed as a top 10 pick in many other mock drafts. Well, this isn't other mock drafts. It's mine. Why Flowers before Iowa big man Brandon Scherff? Multiple front office executives have told me they project Scherff as a guard more than a tackle in the NFL. Flowers? He's a tackle first, a guard second. Ferocious, the bench press leader at the Combine, and versatile at either tackle or guard spot -- €"I like Flowers to the Giants at ninth overall.
10. Oakland Raiders (TRADE): DeVante Parker, WR, Louisville
The Raiders move back six spots, scoop up a future first-round pick, and get a guy I'm told could be listed higher than both Amari Cooper and Kevin White on some teams' boards. Parker ran a 4.45 40-yard dash and had a 36.5-inch vertical jump at the Combine even though he is still coming back from a devastating foot injury he suffered in 2014. A great kid who could be the guy Derek Carr grows old with, this would be a celebrated pick by fans of the Silver and Black.
11. Minnesota Vikings: Brandon Scherff, OT, Iowa
Just because I have Flowers going before Scherff does not mean I think Scherff plummets. The dude can play. He can be a guard or move outside and play tackle, and can do either right away. He was No. 2 on Bruce Feldman's Freaks List last year and has some real football IQ. Teddy Bridgewater was under as much duress as any quarterback in football last year. Adding Scherff to the young offensive line would be a wise -- €"albeit, not sexy -- pick at 11th overall.
12. New York Jets (TRADE): Vic Beasley, OLB, Clemson
This is the first-rounder Cleveland trades with the Jets in the Amari Cooper deal. A coach I spoke with said he expected Beasley to weigh in around 235 pounds at the Combine and that there was a fear he was too light. Beasley not only weighed in at 246 pounds, but he also did an outstanding 35 reps of 225 pounds on the bench the following day. Great fit for what Todd Bowles is trying to do in New York; can get to the quarterback and stop the run.
13. New Orleans Saints: Alvin "Bud" Dupree, DE/OLB, Kentucky
The Kentucky star posted the fastest 40 time among all linebackers, clocking in at 4.57 seconds with a 42-inch vertical -- while battling a groin injury -- at the Combine. Dupree can get to the quarterback, and with all the big QBs in the NFC South, there are never enough quality pass rushers to go around. Good fit for the 3-4 scheme that Rob Ryan employs.
14. Miami Dolphins: Trae Waynes, DB, Michigan State
Waynes could go earlier, depending on team needs in the top 10. He is a 6-foot, 186-pound corner who starred in a man-to-man defense at Michigan State. He played on an island against some of the best players in the country, and according to sources worked his tail off with Pitt head coach Pat Narduzzi and MSU secondary coach Harlon Barnett to polish his game. He does it all and runs a 4.32 40-yard dash. Miami beefed up the front seven in signing Ndamukong Suh. Now it needs to address the back end.
15. San Francisco 49ers: Danny Shelton, DT, Washington
Get ready for a new-look 49ers team in 2015. Gone are linebackers Patrick Willis and Chris Borland; Michael Crabtree and Frank Gore aren't coming back, and oh yes, Jim Harbaugh, Vic Fangio, and Greg Roman will all be coaching elsewhere in 2015. Jim Tomsula is a defensive line coach at heart, and if the 345-pound Shelton -- €"a guy who's far more mobile than other 345 pounders in the league -- €"slips to 15, I can't see Tomsula and GM Trent Baalke passing. Shelton's from Sacramento and comes from a family of ... 49ers fans.
16. Houston Texans: Nelson Agholor, WR, USC
You don't replace an Andre Johnson, but the addition of Cecil Shorts III was a quietly sound signing. I can't see Houston being done at wide receiver. Agholor's the fourth wideout on my board and a guy who runs smooth routes and has good size and speed. He can step in Day 1 and play.
17. San Diego Chargers: Todd Gurley, RB, Georgia
I had a good chat with a front office executive last week, and he shared that Gurley -- a few months removed from an ACL surgery -- €"is the rare running back that's actually worth a first-round selection. San Diego could be the perfect spot at 17th overall. Gurley's often compared to Adrian Peterson. High praise. If the medicals check out, this could end up being a steal.
18. Kansas City Chiefs: Jaelen Strong, WR, Arizona State
Arizona State hasn't had a first-round pick since 2003, when Terrell Suggs went to Baltimore. Strong will end that drought on April 30. A JuCo transfer who originally was only recruited by one school -- Eastern Michigan -- Strong came into his own last season. He's got the size (6-3, 215 pounds) and the hands to be a No. 1 starting receiver in the NFL.
19. Cleveland Browns (from Buffalo): Andrus Peat, OT, Stanford
Peat's father, Todd, was a starting offensive lineman for the Phoenix Cardinals in the 1990s, and this younger version, though not quite a finished product, showed real flashes at Stanford. He's 6-foot-7, 314 pounds, and could compete for the starting right tackle job in Cleveland next year.
20. Philadelphia Eagles: Byron Jones, CB, Connecticut
Jones was the breakaway star of the Combine, setting a record 12-foot-3 inch standing broad jump, but he's not just a raw athlete. He can play. He missed a few games last season with a shoulder injury, but is healthy now. Chip Kelly loves his athletes.
21. Cincinnati Bengals: La'el Collins, OT, LSU
Collins weighs in at 305 pounds and has a good physical frame. He did it all at LSU, can play tackle or guard and could be a nice addition to an offensive line that is already pretty strong (when healthy).
22. Pittsburgh Steelers: Landon Collins, S, Alabama
Collins is the best safety in the draft, but at least one NFC scout told me that his work on special teams could be what excites him most about the prospect. Troy Polamulu's retirement only highlights a need for more safety depth. Collins wore No. 26 at Alabama to honor his idol, former Miami Hurricanes great Sean Taylor. He also has some of Taylor's game -- the explosiveness, the versatility, and the leadership -- in his repertoire.
23. Detroit Lions: Kevin Johnson, CB, Wake Forest
The Lions haven't drafted a cornerback in the first round since 1998, but they could this year if Johnson slips out of the top 20. A talented 6-foot, 190 pound cover corner, he went through position drills at his Pro Day a few weeks back and got rave reviews. He never missed a game at Wake and handled some of the nation's best wide receivers.
24. Arizona Cardinals: Jalen Collins, CB, LSU
At 6-foot-1, 203 pounds, Collins has the size and speed to be a real player at the next level, despite just 10 career starts in college. I know everyone has Arizona going running back in the first round; don't be shocked if they pick another defensive back. He'd join the Honey Badger and Patrick Peterson as LSU DBs in Arizona.
25. Carolina Panthers: T.J. Clemmings, OT, Pittsburgh
Carolina might not be done with the offensive line just yet. They added Michael Oher and Jon Martin last month, but that's not enough. Clemmings is a converted basketball player whose best days are yet to come. Could have the most potential of any tackle in this draft.
26. Baltimore Ravens: Breshad Perriman, WR, UCF
Perriman's a 6-foot-3, 210-pound speedster whose father (Brett) had a  productive NFL career. The Ravens lost Torrey Smith and Jacoby Jones and could use a new speedster for Joe Flacco's long balls. Perriman might not be around at 26, but I like this fit.
27. Dallas Cowboys: Melvin Gordon, RB, Wisconsin
If Gordon's still on the board at 27, he could well be a Cowboy. A 6-foot-1, 207 pound burner, Gordon's often compared to Jamaal Charles and Reggie Bush. He had 17 runs of more than 40 yards last season.
28. Denver Broncos: Eddie Goldman, DT, Florida State
Asked which players he emulated his game after, Goldman didn't offer the typical responses; he listed Merlin Olsen, Carl Eller and Tony Brackens. The Broncos have some big bodies up front, but could see a Day 1 starter in Goldman.
29. Indianapolis Colts: Damarious Randall, S, Arizona State
Not a household name yet, but Randall is quietly moving up draft boards across the league. He's had a few good workouts and put on quite a show down in Arizona a few weeks back with a lot of league personnel on hand.
30. Green Bay Packers: Stephone Anthony, LB, Clemson
Anthony hasn't been listed as a first-rounder in many mock drafts, but I like him in Green Bay. He's 6-3, 235 pounds and can both get to the quarterback and perform in coverage.
31. New Orleans Saints: P.J. Williams, CB, Florida State
A DUI less than a month before the draft is up there with one of the stupidest things I've seen in recent draft history. But I'm not sure Williams is out of the first round because of it.
32. New England Patriots: Arik Armstead, DE, Oregon
Often compared to Cardinals star Calais Campbell, Armstead could play either the three-technique or the five-technique and performed at a high level for a great Oregon team. At 6-foot-8, 290 pounds, the sky is the limit for Armstead with good coaching. He'll find that in New England.
SECOND ROUND
33. Tennessee Titans: Marcus Peters, CB, Washington
34. Tampa Bay Buccaneers: D.J. Humphries, OT, Florida
35. Oakland Raiders: Shaq Thompson, S/LB, Washington
36. Jacksonville Jaguars: Devin Smith, WR, Ohio State
37. New York Jets: Cam Erving, OT/OG/C, FSU
38. Washington Redskins: Cedric Ogbuehi, OT, Texas A&M
39. Chicago Bears: Malcolm Brown, DT, Texas
40. New York Giants: Owamagbe Odighizuwa, DE, UCLA
41. St. Louis Rams: Eric Rowe, CB/S, Utah
42. Atlanta Falcons: Eric Kendricks, LB, UCLA
43. Cleveland Browns: Preston Smith, DE, Mississippi State
44. New Orleans Saints: Dorial Green-Beckham, WR, Oklahoma
45. Minnesota Vikings: Devin Funchess, WR/TE, Michigan
46. San Francisco 49ers: A.J. Cann, OG, South Carolina
47. Miami Dolphins: Eli Harold, DE, Virginia
48. San Diego Chargers: Carl Davis, DT, Iowa
49. Kansas City Chiefs: Nate Orchard, DE, Utah
50. Buffalo Bills: Hau'oli Kikaha, OLB, Washington
51. Houston Texans: Jordan Phillips, DT, Oklahoma
52. Philadelphia Eagles: Danielle Hunter, OLB/DE, LSU
53. Cincinnati Bengals: Sammie Coates, WR, Auburn
54. Detroit Lions: Ameer Abdullah, RB, Nebraska
55. Arizona Cardinals: Jay Ajayi, RB, Boise State
56. Pittsburgh Steelers: Maxx Williams, TE, Minnesota
57. Carolina Panthers: Ronald Darby, CB, Florida State
58. Baltimore Ravens: Quinten Rollins, CB, Miami (Ohio)
59. Denver Broncos: Laken Tomlinson, OG, Duke
60. Dallas Cowboys: Benardrick McKinney, LB, Mississippi State
61. Indianapolis Colts: Mario Edwards, Jr., DE, Florida State
62. Green Bay Packers: Jake Fisher, OT, Oregon
63. Seattle Seahawks: Hroniss Grasu, OG/C, Oregon
64. New England Patriots: Doran Grant, CB, Ohio State 
---
---