Top 10: Ranking the biggest Freaks you must watch during bowl season
This week's top 10 list: The biggest Freaks to watch this bowl season.
Here's my ranking and guys to pay close attention to in the coming week-plus.
10. BENARDRICK McKINNEY, LB, MISSISSIPPI STATE BULLDOGS
Watch: Orange Bowl vs. Georgia Tech (Dec. 31, 8 p.m. ET)
9. JEFF HEUERMAN, TE, OHIO STATE BUCKEYES
Watch: Sugar Bowl vs. Alabama (Jan. 1, 8:30 p.m. ET)
The Buckeyes have more than their share of freaky athletes — linebacker Joshua Perry could easily merit a spot on here — but I went with the 6-5, 255-pound tight end. Heuerman, who has caught 17 passes and two TDs this season, wasn't on our Freaks list this summer, but he should've been. In the Buckeyes' offseason testing, he did 24 pull-ups, benched 465 and vertical jumped 37 inches.
8. CHUCKY HUNTER, DT, TCU HORNED FROGS
Watch: Chick-fil-A Bowl vs. Ole Miss (Dec. 31, 12:30 p.m. ET)
A second-team All-Big 12 pick, the 6-1, 305-pound Hunter is one of the strongest men in college football and will be a big problem for the Rebels' O-line. He has eight TFLs and is one of the anchors of a stout defense thanks to some jaw-dropping weight room numbers: a 520-pound bench, a 460-pound clean and a 750-pound squat for two reps.
7. DeVANTE PARKER, WR, LOUISVILLE CARDINALS
Watch: Belk Bowl vs. Georgia (Dec. 30, 6:30 p.m. ET)
The Dawgs' improved defense will be tested by the 6-3, 211-pounder who caught 35 passes for 735 yards and five TDs in just six games this season. Parker is a rangy target with terrific explosiveness, having been timed at 4.39 in the 40 to go along with a broad jump of 10 feet, 10 inches and excellent reach (80-inch wingspan). He also has repped 225 pounds on the bench 17 times and produced a pro agility time of 4.1 seconds.
6. SHANE RAY, DE, MISSOURI TIGERS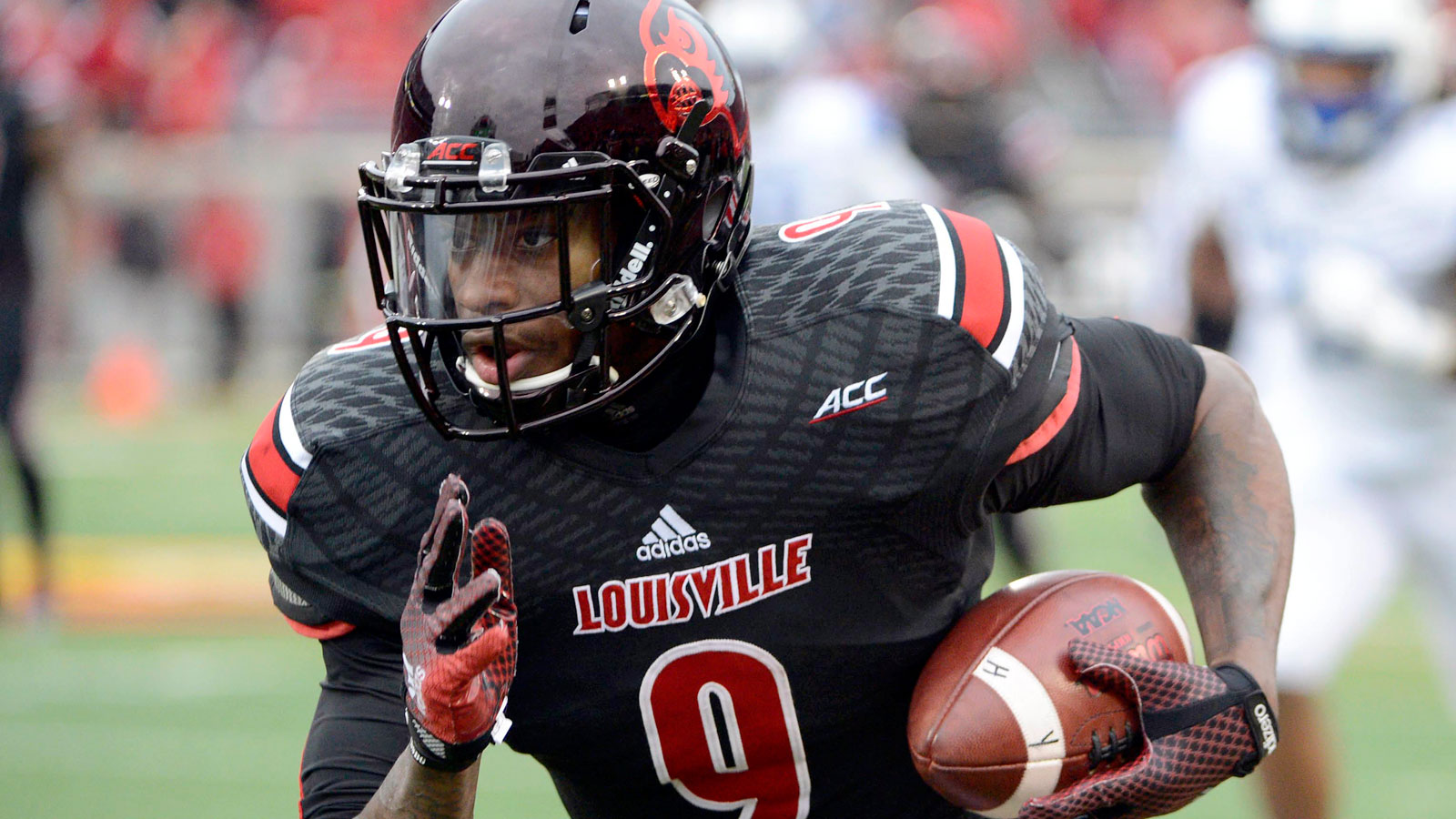 Watch: Citrus Bowl vs. Minnesota (Jan. 1, 1 p.m. ET)
The Tigers' latest impact D-lineman, Ray is the most dynamic athlete Mizzou has had on its line in a very long time. The 6-3, 245-pounder has clocked a 4.44 40, vertical jumps over 40 inches, broad jumps over 10 feet and bench presses over 400 pounds. And he proved to be a lot more than just a workout warrior this season, setting the Tiger sack record with 14 and also piling up 21 TFLs.
5. SHAWN OAKMAN, DL, BAYLOR BEARS
Watch: Cotton Bowl vs. Michigan State (Jan. 1, 12:30 p.m. ET)
4. MYLES GARRETT, DE, TEXAS A&M AGGIES
Watch: Liberty Bowl vs. West Virginia (Dec. 29, 2 p.m. ET)
3. MARCUS MARIOTA, QB, OREGON DUCKS
Watch: Rose Bowl vs. Florida State (Jan. 1, 5 p.m. ET)
The Heisman Trophy winner's freakiest numbers are on his stat sheet — a 38-2 TD-INT ratio — but it's his wheels that make him even more special. At 6-4, 220, Mariota doesn't appear to be as fast as he is, but keep in mind he also ran one of the fastest 40 times on the Ducks this spring, clocking in the low 4.4s, according to Oregon coaches. He was even faster than teammate Devon Allen, who later won the NCAA 110 hurdles national title.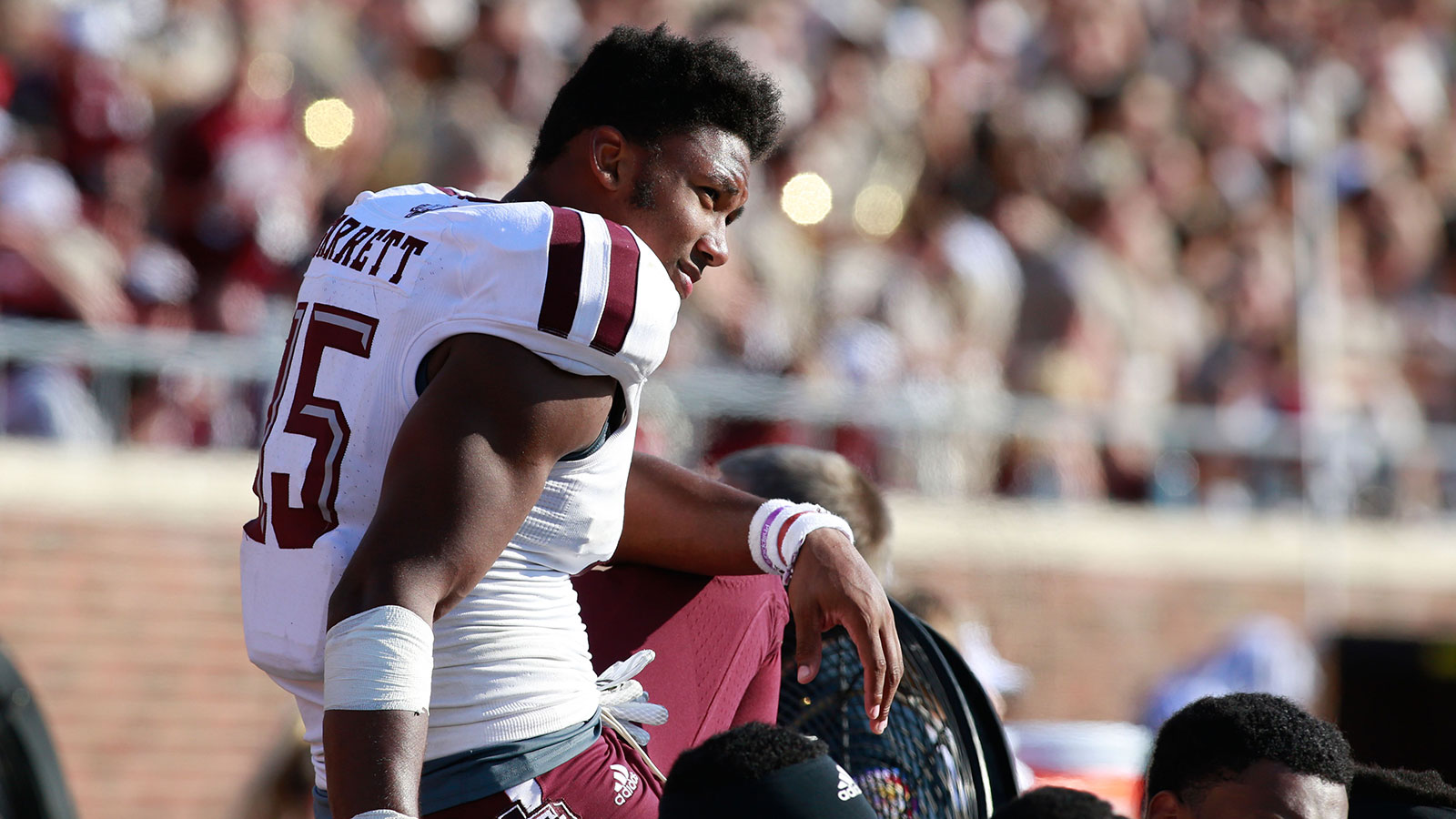 2. BRANDON SCHERFF, OT, IOWA HAWKEYES
Watch: Gator Bowl vs. Tennessee (Jan. 2, 3:20 p.m. ET)
One of the country's top linemen, the 320-pound Scherff first flashed on the Hawkeyes' radar when he was a 280-pound high school quarterback who also threw in the mid-80s as a pitcher, averaged a double-double in basketball, played on the varsity tennis team and won a state championship in the shot put. The Hawkeyes have cranked out some elite O-linemen, but their strength coach says, in terms of pure explosiveness, Scherff is the best they've had. Here's some proof: This year-old video of Scherff hang-cleaning 410 pounds three times.
1. SAMMIE COATES, WR, AUBURN TIGERS
Outback Bowl vs. Wisconsin (Jan. 1, 12 p.m. ET)
One of the most explosive big-play receivers in the country, the 6-2, 202-pound junior averages 23.9 yards per catch and torched archrival Alabama last month for 206 receiving yards on just five catches. Coates, who has already graduated and said he will leave Auburn after this season for the NFL, should put on quite a show at the NFL Combine in a few months. Tigers strength coach Ryan Russell told me they'd hand-timed Coates eight times in the 40, dropped out the highest and lowest and said the big wideout's average was 4.25. Coates' vertical jump: 44 inches. He also benches 405 pounds. Russell added that Coates also did three strict chin-up reps despite having three 45-pound plates strapped to a weight belt around his waist.
Bruce Feldman is a senior college football reporter and columnist for FOXSports.com and FOX Sports 1. He is also a New York Times Bestselling author. His new book, The QB: The Making of Modern Quarterbacks, came out in October, 2014. Follow him on Twitter @BruceFeldmanCFB.