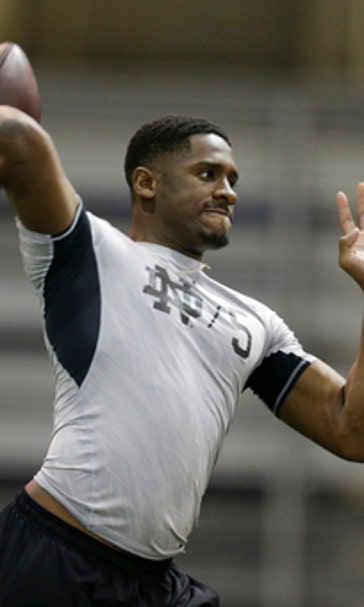 Colts give former college star Golson chance to shine
May 8, 2016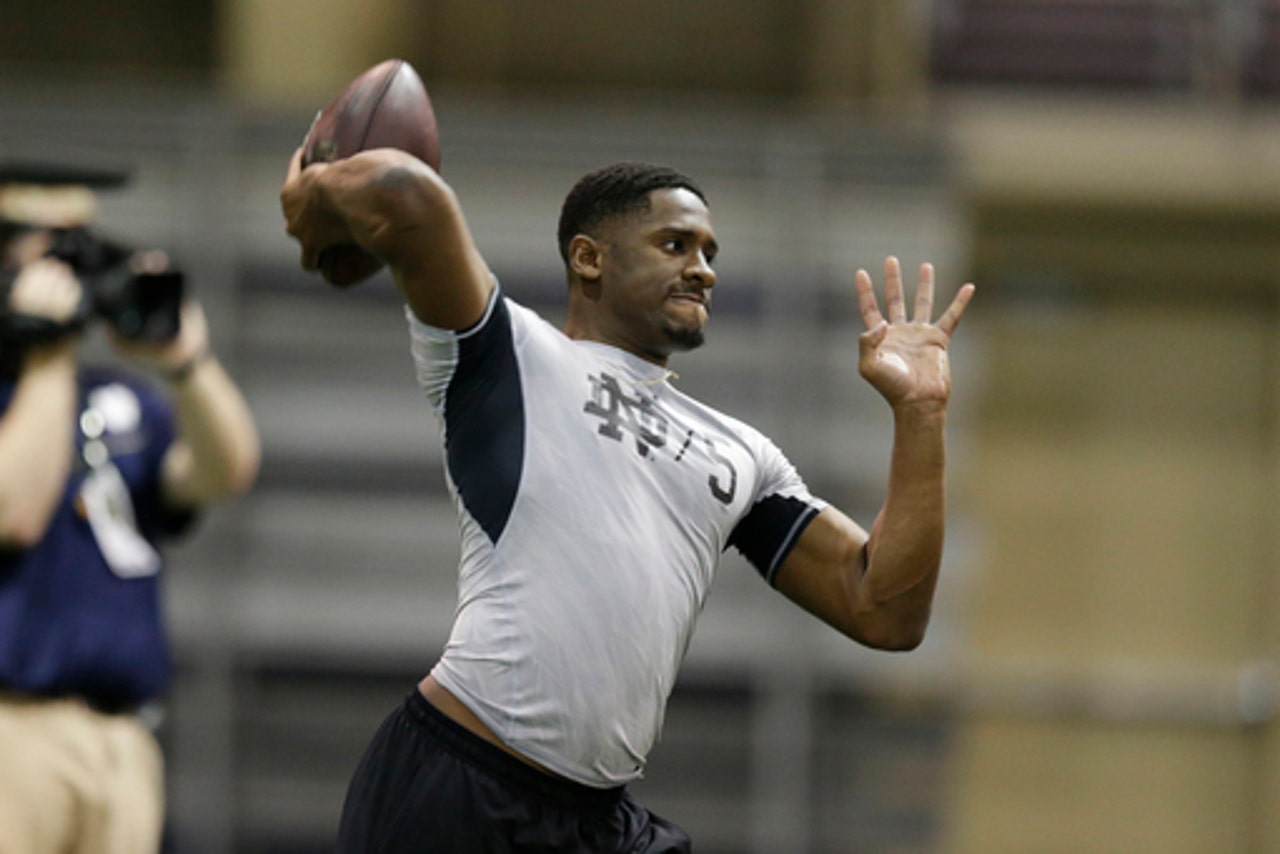 INDIANAPOLIS (AP) Everett Golson still has a chance to play pro football.
And after everything the former college star has been through the past few years that will have to suffice for the moment.
The former Notre Dame and Florida State quarterback, who wasn't even invited to league's annual scouting combine in February, spent this weekend auditioning at the Indianapolis Colts' rookie minicamp.
''I've been so fortunate because I've seen different philosophies, different approaches,'' Golson said Friday after arriving in town. ''I think that will help me here.''
Golson has plenty of life lessons to help him survive as a longshot to make an NFL roster.
Indianapolis didn't draft the 6-foot, 199-pound South Carolina native, didn't even sign him as an undrafted rookie. Instead, the Colts asked Golson to come in for a tryout.
The reason is that they needed Golson here this weekend to help the practices function.
With no rookie quarterbacks on the roster, the Colts invited Golson and two other quarterbacks - Blake Frohnapfel of UMass and Ammon Olsen of Southern Utah - to throw and hand off. Of course all three are hoping they're impressive enough to earn one of the 90 spots on a training camp roster.
But it's better than nothing.
''It's hard to get into one of these facilities, especially for the guys that you're talking about, the tryout guys,'' coach Chuck Pagano said when asked what he's looking for from the invited tryouts.
''Just like anybody else, see if somebody pops, see if a guy is able to retain the information that we've thrown at him and then from a physical standpoint how does he move around, can he better our football team, can he better our roster.
''Sometimes that happens. It's happened before. I wouldn't be shocked to see one of the 18 or 19 guys we have out there.''
Golson could be near the top of the list.
Just a few years ago, Golson was considered one of college football's top quarterbacks.
After leading Notre Dame to the national championship game after the 2012 season, it seemed as if Golson's career was taking off.
Instead, he was suspended the following season for ''poor academic judgment.'' When he returned to the field in 2014, Golson led the Fighting Irish to a 6-0 start and a top-five ranking before his season unraveled. Golson threw 10 interceptions in his final seven games with the Irish. Notre Dame went 2-5 during that stretch and Golson was benched for the first time in his career.
So after earning his degree, Golson headed to Florida State, jumpstarted his career by winning the starting job and beginning 6-0 before missing the next two games with a concussion. Golson threw only 12 passes the rest of the season.
''I think it made me stronger, I think its character,'' Golson said, referring to his struggles. ''You're not tested when things are going well, you're tested in adversity and I've certainly had my share of adversity.''
As well as second chances.
Now, with perhaps a final chance to impress the skeptics, Golson is doing what he can. In Indianapolis, he looked and sounded more like the talented player who played at two of the nation's biggest football powers.
The only question is whether that will be enough for the Colts or another team to keep Golson around this summer.
''I'm here to learn, so being around these guys will help,'' he said.
---
AP NFL website: www.pro32.ap.org and www.twitter.com/AP-NFL
---
---